POV Holder:
Neda
Next POV
April 26th
POV Used
No
POV Ceremony
April 21st
HOH Winner:
Adel
Next HOH:
April 24th
Original Nominations:
Sabrina and Rachelle
Current Nominations:
Sabrina and Rachelle
Have Nots
No havenots this week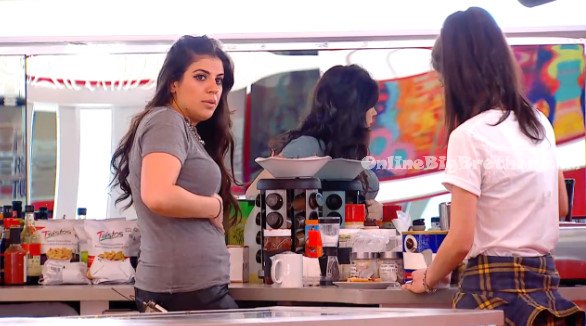 10am – 11:40am Big Brother blocks the live feeds for the power of veto ceremony to take place. When the live feeds return – we learn that as the Veto holder Neda decided not to use it on either of the nominees.
Sabrina and Rachelle are in the kitchen doing their dishes. Sabrina comments on how she really doesn't feel like being around any of them. Sabrina is complaining about not feeling well. She says that she thought eating would help but says it just made it worse. She heads into the diary room to ask for medication. Meanwhile – Adel and Neda head out into the hot tub room. Adel says if I some how make it to the end I would rather lose than get their (Gremlins) votes. F**king idiots! Rachelle joins them. Adel says today's mission day for someone. Rachelle asks do you think so? They don't usually on ceremony day. Adel says yesterday was so boring. Rachelle says she thought there would have been a lot more endurance competitions in the season. Adel, Rachelle and Neda lay out to suntan.

12pm – 12:10pm Adel starts talking about how Sabrina talked about having diarrhea during the veto ceremony. He says that he really doesn't understand why she needed to tell them. Sabrina is listening to Adel talk outside the hot tub door. Sabrina goes in and tells Adel that they asked her if she threw up and I didn't so I said I was having diarrhoea. Adel says I still don't understand why you had to tell us but okay! Rachelle returns from being in the diary room and says that they really make you feel like you need to campaign eh!?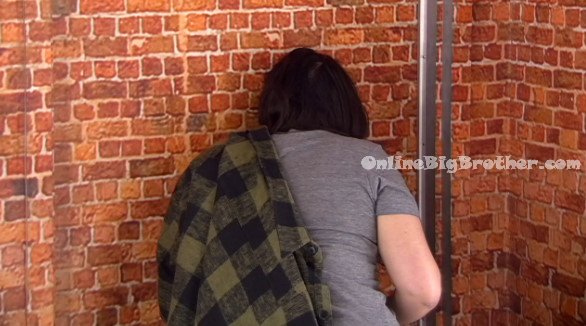 12:40pm Adel asks if any of them would be surprised if Allison was Canada's Player? None of the house guests would be surprised. Sabrina and Neda don't think she is but that there is something else up with her. Sabrina thinks its weird that within 48 hours she was in a relationship with Andrew.
1:15pm – 1:45pm Sabrina heads inside to the main bathroom to clean and fold towels. She then heads into the kitchen to clean. Meanwhile out in the hot tub room the other house guests talk about random things and lay in silence while suntanning. The house guests talk how Anick was the hottest girl. Neda says she doesn't think so and barely remembers her. Jon and Adel head inside. Sabrina asks does he really sit here and talk bad about me all day long? Neda says that Jon said something sassy about you first. It's so ridiculous now, like get over it! I should be the one talking bad about you. He is so much. It is to the point that he is looking like a real big bully. Neda says when it starts to get nasty I tell him to stop.
2pm In the kitchen Jon and Adel start cooking lunch. Heather joins them and helps cut veggies for the pasta sauce.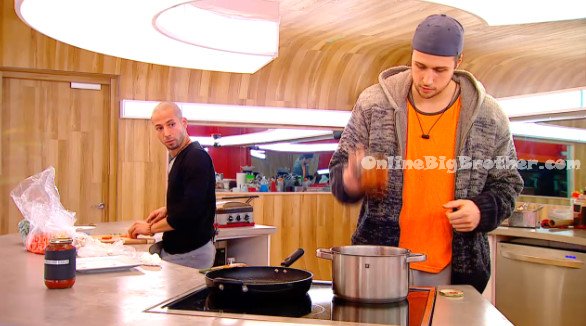 2:10pm – 3pm In the bedroom – Sabrina asks Rachelle what the hell am I going to do with out you. Sabrina says she thinks she's not feeling well because the thought of her not being here is stressing her out. Rachelle asks what Adel was saying about her. Sabrina tells her about what she overheard him talking about when she came out to the hot tub earlier. Sabrina thinks the way people are acting is going to change peoples opinion of them. Sabrina says she's lost weight since coming into the house because her pants are big now and used to be tight. Rachelle says lucky! Sabrina says you're an Ethiopian compared to me. Sabrina asks if it will be a double eviction. I hope so! Rachelle says I am so confused the guys thought Anick was a bombshell! Rachelle tells Sabrina that she hopes Sabrina gets modelling after this. Rachelle says if I got offered to do Maxim, I would sh*t my pants. Sabrina asks imagine if they got the both of us to do it .. the two Gremlins. Sabrina burps and says she is literally going to throw up everywhere! Rachelle and Sabrina practices poses in the mirror. Rachelle then says I am going to sh*t myself .. I'll be right back. Rachelle comes back and Sabrina says I think we are going to do some serious modelling after. Sabrina asks why don't you campaign. Why don't you tell Jon if you win you will get rid of Adel. Rachelle says I've already said that a million times. Rachelle says Jon is going to look bad this week I guarantee it after what I've seen. They lay down to sleep. After awhile big brother wakes Rachelle up but lets Sabrina sleep.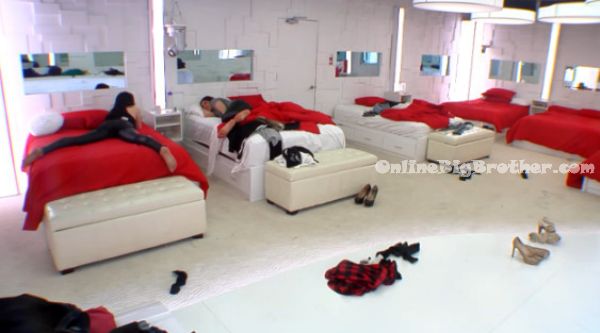 2:40pm – 3:15pm Jon, Neda, Heather and Adel sit down at the table to eat the pasta dish they prepared. Adel asks do you think the big man (production) knows when they're (Sabrina) crying wolf? Heather says they know all. Adel says what the f**k are we going to do with the rest of the day now? Jon says make a hundred more pasta sauces. Heather, Neda and Jon start studying the past dates of the season. Jon asks Neda if she would be a str!pper for a lot of money. Neda says no. Nothing against them, its just not me. Adel asks Jon if he would. Jon says yeah, for a lot of money I would.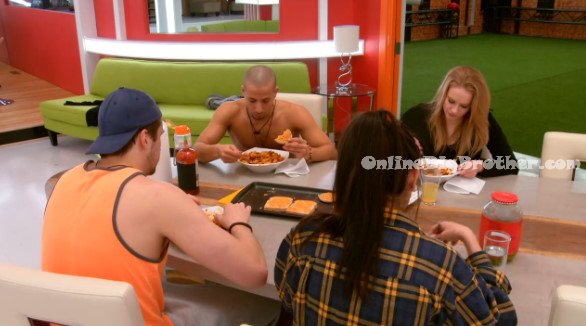 [polldaddy poll=7983425]
If you're enjoying the live feed updates this season, please consider donating. Simon and I work 24/7 all season long to keep you updated on everything that happens inside the BBCAN house. Any amount is greatly appreciated! Your donations go directly to paying the server and bandwidth fees required to run this site.
Stay connected and interact with other Big Brother Fans on our Facebook page.
And Follow: @BigBspoilers and @Dawgsbigbrother on Twitter for the most up to date spoilers.