POV Holder:
Neda
Next POV
April 26th
POV Used
No
POV Ceremony
April 21st
HOH Winner:
Adel
Next HOH:
April 24th
Original Nominations:
Sabrina and Rachelle
Current Nominations:
Sabrina and Rachelle
Have Nots
No havenots this week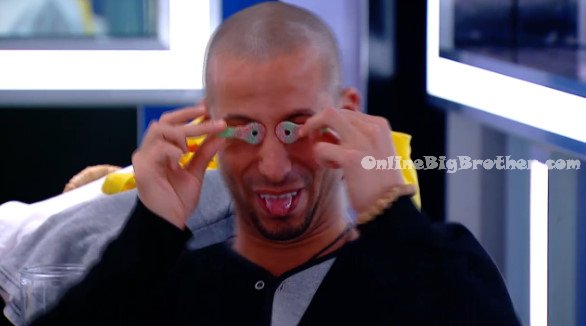 3:20pm – 4pm
Jon, Neda, Heather and Adel head up to the HOH room where Rachelle is listening to Adel's HOH music. Rachelle tells them that his music makes her want to just go to the club to get drunk and grind. Neda calls Jon out for touching his balls all the time. It's gross. Jon asks her if it would be gross if she has her man's balls in her hand all the time. Adel leaves and comes racing back in and tells them guys come look there's a bunch of beach balls and stuff. The others jump up to run out the the HOH room. Jon says he's a liar. Adel asks if we fill up a condom with water and toss it around will it pop. Neda and Jon say eventually. Jon says that he and his friends attached a condom to the shower and let if fill up till it hit the bottom. Adel asks that big?! Jon says well yeah they have to be big enough to fit me. Neda is listening to the HOH music while stroking Jon's leg. Neda says it really would be the worst thing ever if Sabrina won HOH next week. Adel ask who I am.. He bends down behind the couch and holds sour keys over his eyes. He stands up and says the roundness of the sour keys will tell you who I am. Adel goes to take a bath. Jon asks Heather for massage.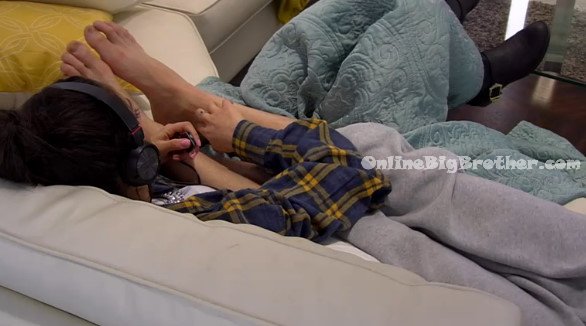 4:25pm Adel taking a bath asks them to come look. Heather goes to see what Adel wants them to see. He tells her to guess which house guest he made out of bubbles. Neda comes in next and then Adel calls Jon to come look. Jon says no way, I already know its me. Adel laughs. Adel asks Neda if you were a boy in this house who would you date? Neda says good question. Neda says probably Heather. Heather says if I was a guy there would be no f**king way I would ever touch Sarah, Allison or Ika. Adel asks Jon if you were a girl which dude would you like to get pumped by? Jon says probably me. Adel says what you've got a ye@ster with gross a$$ foreskin. Jon asks Deli if you had a v@-J@y-J@y which guy would you date? Jon asks me? Adel says no way you've got a ye@ster.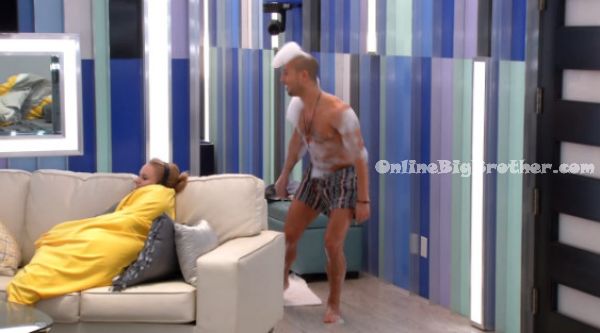 4:30pm – 4:45pm Jon and Neda start wrestling he sits on her and spanks her with a shoe. Jon, Neda and Jon head out to the backyard to throw the Frisbee around.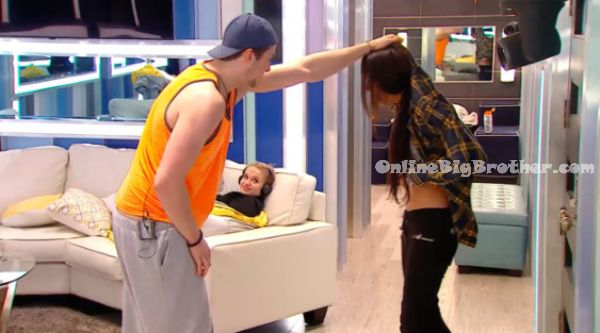 5pm In the bathroom – Sabrina lays in bed and looks up at the camera and says what's up?! She heads into the bathroom with Rachelle. They comment on how bored it is in the house now. Sabrina says it will be till the end they're all just going to pick each other off now. Rachelle says I wish something would happen, I'm so bored!

5:10pm – 5:20pm Adel, Heather and Neda head inside the house to hide from Jon so that he won't know where they are when he comes out of the diary room. Heather tries to hide in the bed ottoman but can't fit because she says her butt is too big. Heather and Neda then hide between the wall and Allison's old bed. Neda says this blanket smells! Heather says yuck! Neda says it smells like Andrew. It hasn't been washed since Kyle was in it.
Meanwhile Jon comes out of the diary room and finds Sabrina & Rachelle in the backyard – He asks they were Neda, Heather and Adel are? They tell him they don't know. Jon goes to the bedroom and looks in. He asks what the f**k is going on?! He runs to the backyard and asks what the f**k is going on? He then runs around the entire house and finally comes back to the bed room and finds them. They all laugh. You guys are all idiots! I knew you little f**ks were trying to pull something!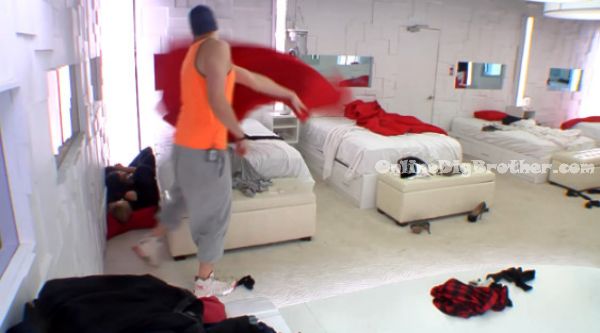 5:30pm – 6pm Jon says lets make the agreement that if any of us in the alliance f**k each other then they don't get the other three votes in jury. Neda says that's a good agreement to make. Jon says I don't think any of us would do it but its just a good agreement to have. Adel agrees. Adel says once one of the gremlins goes then all four of us have a really good chance at getting some real paper! Jon says the biggest thing this week is that Sabrina can't win HOH or veto this week. Heather & Adel say she won't win anything. Adel and Jon head to the HOH room and fill Heather in on how if any of them screw over their alliance they would lose the other 3 jury votes. Adel forgets Jon's last name and asks what it is. Jon won't tell him and tells Heather not to either. Adel finally remembers it and says Jon Bardy! Adel says he can't wait to frame his Canadian flag that everyone has signed. He says he still wants to get Arisa, Peter, Gary and Anick to sign it.

Sabrina and Rachelle in the storage room eating all the raspberries so that no one else can have them.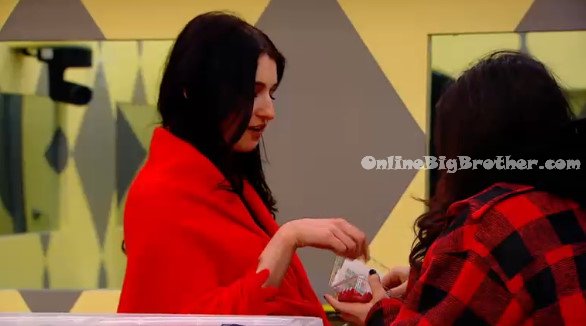 [polldaddy poll=7983425]
If you're enjoying the live feed updates this season, please consider donating. Simon and I work 24/7 all season long to keep you updated on everything that happens inside the BBCAN house. Any amount is greatly appreciated! Your donations go directly to paying the server and bandwidth fees required to run this site.
Stay connected and interact with other Big Brother Fans on our Facebook page.
And Follow: @BigBspoilers and @Dawgsbigbrother on Twitter for the most up to date spoilers.