POV Holder:
Neda
Next POV
April 26th
POV Used
?
POV Ceremony
April 21st
HOH Winner:
Adel
Next HOH:
April 24th
Original Nominations:
Sabrina and Rachelle
Current Nominations:
?
Have Nots
?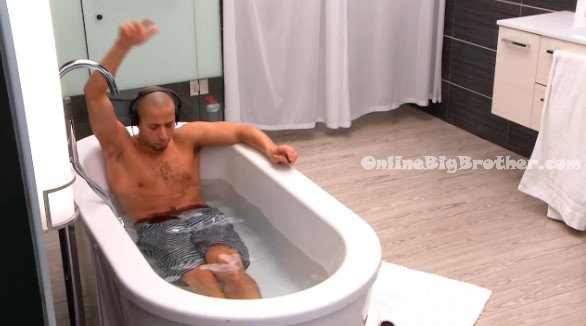 7am – 8:15am Adel wakes up and takes a bath while listening to his HOH music. Adel heads out into the backyard and sits down on the steps by the pool. He looks up at the house guests photos. He starts talking about each of the house guests. He says that he wants to rip apart each of the jury members before they go to guarantee himself 20 G's. Is it a cry day today? Nope I'll let you rest. I could convince him that after we're going to make a lot of money after. You don't wear suit, you don't make money! Right Andrew .. you piece of sh*t! There still could be America's Favorite and I've pulled a lot of sneaky sh*t. If I want he hundred grand then I rid with gonads and if I keep slaughtering people .. that guarantees me something. You guys think you can beat me in cardio, in questions… Everyone's going to vote for Heather.. well not everyone. If I make it to the end I will make everyone laugh and cry. They think I only have Arlie's vote .. F**k they think I have Canada's vote too. Jon I need to get rid of him. There is no scenario they will keep Sabrina.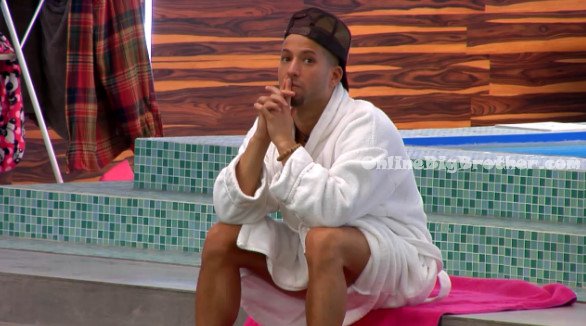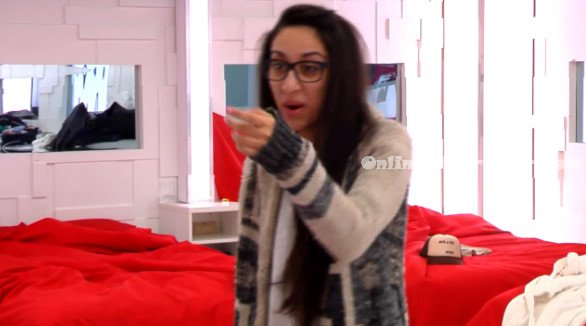 8:20am – 8:40am Adel heads into the main bedroom and comments on how Sabrina looks like Snookie because of all the tanning lotion she's been using. Jon asks Adel why he came into their room with his underwear on. Adel because they woke me up with the lights an hour and a half ago. Neda gets up and looks at Sabrina and says holy sh*t! She tells Sabrina she looks so dark compared to Rachelle. In the bathroom – Rachelle says good thing I didn't spray that sh*t on myself, I would have been f**ked! Sabrina says I knew I sprayed a lot. Rahcel says I don't think it looks bad. Sabrina says I don't think so either. The house guests start getting ready for the power of veto ceremony that will be held this morning.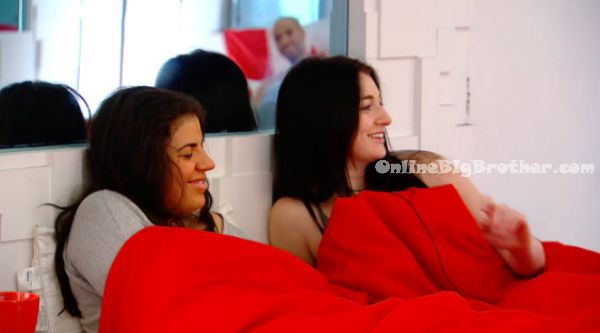 8:55am In the bathroom – Neda is doing her makeup and ends up breaking off one of her eye's eye lashes off with the eye lash curler. Sabrina says that its so noticeable and that it will take forever for them to grow back.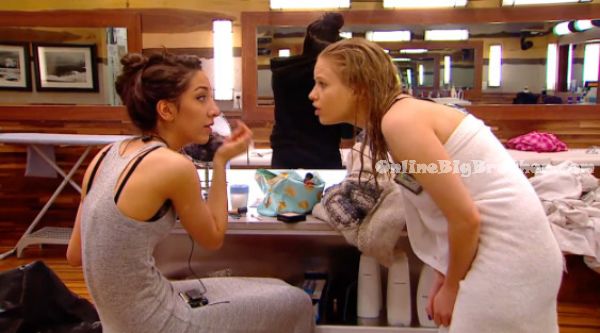 9am – 10am Jon and Adel head out to the hot tub room. Adel says Big Brother woke him up with the lights a 6am. Adel says its f**king HOH not slum dog. Adel asks have you been thinking of the big picture? Jon says we'll see who wins HOH this week and then start thinking about it after final 4. Adel says he is going to talk to the season 1 house guests to find out how much they got paid for appearances. He says then I'll up it by 5 or 10 times. Adel says I made more on EI (Employment Insurance) than being in here. Jon says unless we win the 100 grand. I would be happy with the 20 G's. Adel agrees. They head back inside and up to the HOH room. Adel asks if Canada found out last night that he won HOH. Jon says yeah. Adel and Jon laugh about how Arlie thought they would be next to the jury. Jon says our final four is so strong. Jon leaves the HOH room and heads down to the kitchen with Neda where she practices her Veto Ceremony speech. "This is the power of veto ceremony… ..I have decided not to use the power of veto." Jon tells Neda to make sure when she is out here getting ready for the Veto Ceremony she has to make sure she tells Big Brother not to say names because we can hear everything in the main bedroom. Neda and Jon talk strategy for the final 3 part HOH. She says what would be best is for you to throw the endurance to me so that I can win it and then you could beat her (Rachelle) hands down in the physical competition. They talk about the possibility of Sabrina winning HOH this week. Jon think Sabrina would not pass up a chance to get out Adel. Neda disagrees and says she would put you up. If I was her and if she knew anything about this game she would put you up because you to get to the end you have to win competitions. Jon says but she's not you, she's way dumber than you.
10am Big Brother blocks the live feeds for the power of veto ceremony to take place..
[polldaddy poll=7983425]
If you're enjoying the live feed updates this season, please consider donating. Simon and I work 24/7 all season long to keep you updated on everything that happens inside the BBCAN house. Any amount is greatly appreciated! Your donations go directly to paying the server and bandwidth fees required to run this site.
Stay connected and interact with other Big Brother Fans on our Facebook page.
And Follow: @BigBspoilers and @Dawgsbigbrother on Twitter for the most up to date spoilers.