POV Holder:
TOM
Next POV
March 9th
POV Used
POV Ceremony
March 11th
HOH Winner:
TOM
Next HOH:
March 14th
Original Nominations:
Garry Suzette
Current Nominations:
Last Evicted Houseguest
Danielle
Have Nots
Alec, Topaz, Aneal, Jillian
9:27pm Kitchen Random chit chat about their swearing
Andrew: "I said Horse co*** thats not swearing"
Liza says production has made it clear to her to be herself so that means swearing.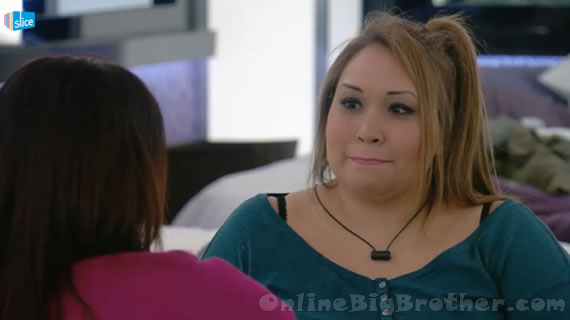 9:30pm Suzette and Jillian Bedroom
Suzette apologizes for the things she's said during the last couple days. 3
Suzette says she on the block against Garry how is she able to campaign against him. Suzette says she wants to leave the house with respect and honesty. Jillian doesn't know what that vote will be she thinks it's going to be a house vote but she hasn't talked to Tom yet. Jillian also adds that she likes Suzette and that is real she's not going to lie to Suzette to her face.
Jillian is going to send Emmett in to talk to her. In the hallway Jillian grabs Emmett tells him to talk to Suzette. He doesn't want to. Jillian explains that she wants to apologise, "She's a human being Emmett go talk to her"
9:38pm Have Nots Topaz and Alec
Topaz is saying that the competitions are going to be so random. Liza could win a HOH during Double Eviction. They start kissing..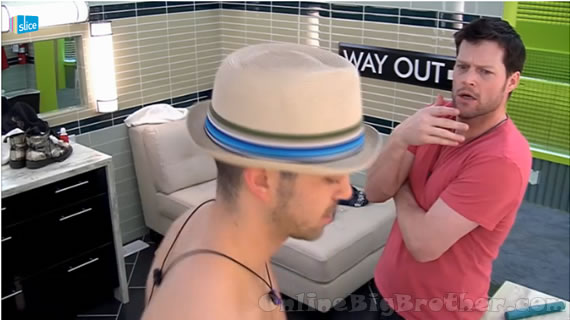 9:43pm Bathroom Alec and Andrew
Alec says there is no point for Tom to be mean to Suzette it's done she's going home. Alec says the next plan is to take out Aneal. Alec: "Every Time we are talking Aneal is there.. and we're starting to get worried about a girls alliance grabbing Aneal" Alec isn't as worried about Garry anymore because he's close to Topaz, "I would prefer to go after Aneal than Garry.. I'm most concerned about what Liza will do" Andrew and Alec both agree that talking to suzette and smoothing things over is the best idea. Talk moves to hosueguests that have had s$x in the Big brother house. Andrew starts talking to the camera saysing he would never have s$x in the house nor would he even m@sterb@te "I'm not going to m@sterb@te"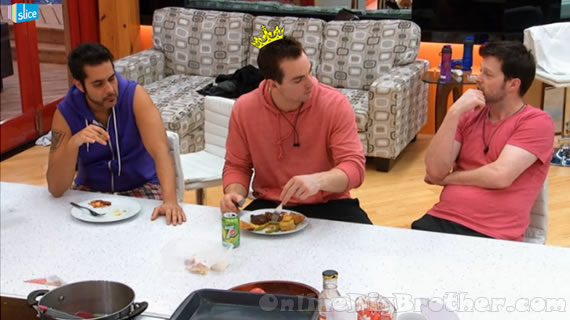 9:52pm Kitchen Tom saying that he needed to win it and he won it nows he's got 2
9:55pm Kitchen Suzette Apologizes to the house and starts crying.. She's sorry for what she said to Tom he's won 2 POV's and a HOH he's doing a very good job.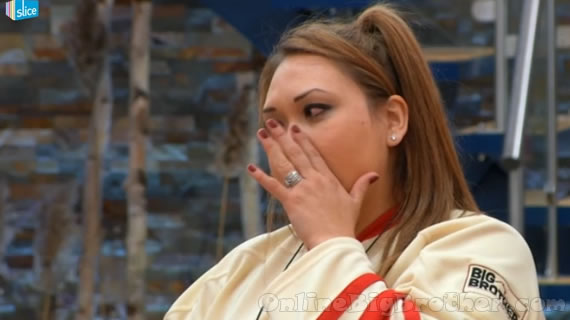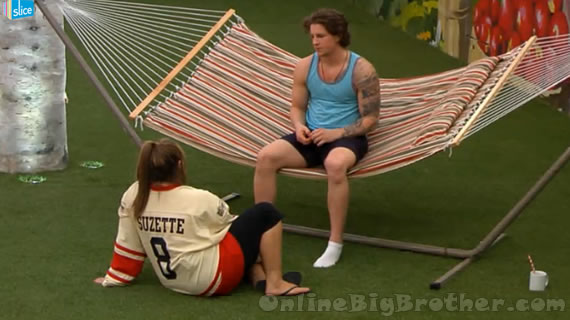 10:04pm Suzette and Emmett hammock
Suzette is apologizing for being disrespectful to Emmett, Tom , Jillian and Liza. Emmett says he didn't appreciate her comments because his family is watching this show including his grandma and she wouldn't want to hear those things. Emmett adds that Jillian is a teacher and the things Suzette said may not look good for her carrier.
Suzette starts to try saying she's been treated so badly in the house people have treated her like a 12 year old.
Suzette: "I'm just not use to be yelled at like a kid when I have kids"
Emmett: "People say things in this house that they would not get away outside.. I do accept your apology"
Suzette: "I'm going over major hormonal changes.. I just had a baby before coming into the house"
Suzette: "to be honest to you I haven't had my menstrual for two years and I got it right before the POV"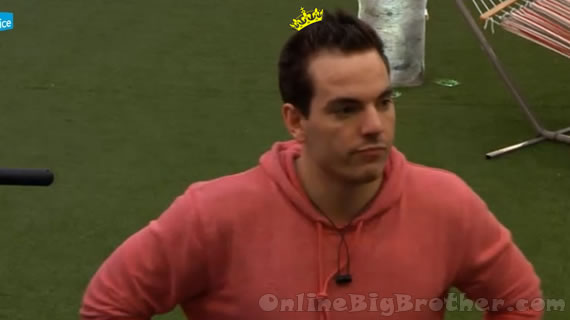 10:20pm Bros in the backyard
Chatting about Suzette's apology. Tom: "you can't start the game over again clean slate.. I want it to be 10 nothing.. i want to send a message" Tom mentions all he'll say to Suzette is he accepts her apology but she's going home on Wednesday to a 10 to 0 vote, "Just accept it". Tom is going to use the POV and put Aj up as the pawn. He's talked to him about it and it's going to be cool.
Share it YO!!
Tweet