POV Holder:
Alec
Next POV
March 16th
POV Used
POV Ceremony
March 18th
HOH Winner:
Gary
Next HOH:
March 21th
Original Nominations:
Tom and Liza
Current Nominations:
Last Evicted Houseguest
Aneal
Have Nots
Jillian, Emmett, Talla and Alec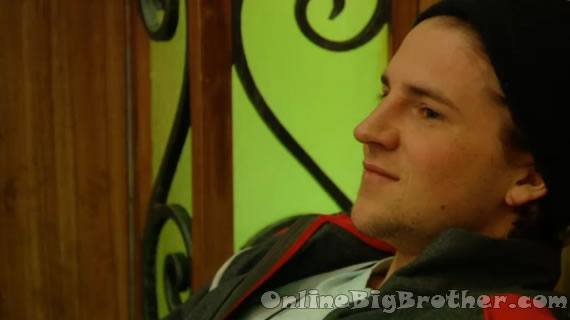 10:05 Havenots Room Emmett, Jillian and Gary.
They are talking about the nominations. Gary thinks that Tom is using Liza because she's good at talking to people, Gary: "Tom gained my trust by taking me off the block"
Gary confirms that Alec won the POV and Tom/Liza are nominated. Gary says he's done talking now he's made the decisions he doesn't want this week to be miserable. Gary says he's telling everyone the target is Liza and provided Alec doesn't use the POV Tom or Liza are going home this week.
Gary: "I want to make it clear that I want Tom gone Next week"
Gary says that the entire house would put up Liza "Everyone in this house wants her A$$ because she's made deals with everyone.. I have two weeks to burn her because I have this week to tell everyone about her lies.. "
Gary lists off all the people that would put Liza up
Jillian: "Canada will probably vote her back in"
Gary: "Canada would keep Liza? She's a sl*t.. She uses her T!t and A$$ to get the guys" (LOL)
Gary: "what would be enjoyable to me is her walking around this house and nobody trusts her.. "
Emmett: "She's very cunning.. she has the ability to talk to people and persuade them.." Emmett points out that Gary told him that Liza was able to get inside his head even though Gary knew she was lying..
Jillian feels down for being duped by LIza.. Jillian really trusted her. Gary: "You were her target DAY ONE"
Suzette joins them and starts talking about how mean Liza was to her last week. Gary: "She's a dirty player.. She's evil.. Everyone knows they can trust that B!tch"
Gary tells Jillian after she watches the first weeks episodes she's going to hate Liza. Gary mentions that Talla and Peter both want Liza gone now (Or so he thinks)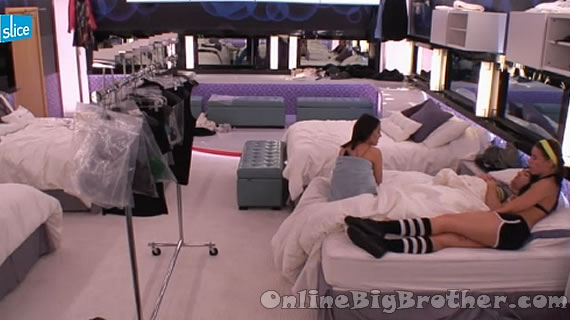 10:10pm Bedroom talla and Liza Liza is convinced she's going home this week. She tells Talla to get out Topaz, Emmett and Alec. Talla asks her who she should team up with. Liza says Tom and Maybe AJ, "Get Alec and Emmett out do it for Tom and Do it for me" Talla cannot understand why womsone would "Shake" up the house so early she thinks Gary is making a mistake. Tom joins them, Liza says she had a chance to save herself and she lost it's on her. Talla starts to cry saying things like everyone thinks she is stupid.. etc etc..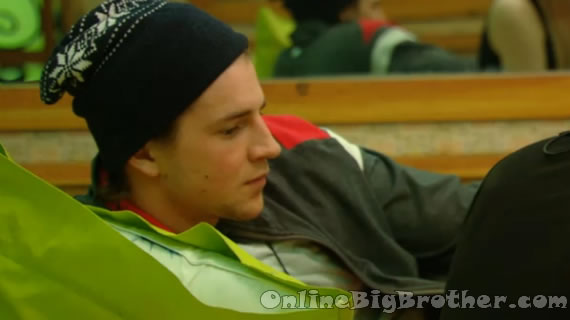 10:30 Have nots room Emmett and Peter Emmett thinks when Alec doesn't use the POV on Tom he'll leave the four alliance. Peter isn't sure that will happen thinks it'll be a dumb move for Tom. Emmett says Gary has made it pretty clear that he wants Tom gone. Peter says a lot can happen between now and Thursday.
Peter: 'He's (Tom) been acting outside the four for a long time.. " Emmett asks what will Tom do if he stays.. Peter: "Tom needs to LAY LOW" Emmett: "Ya but can Tom Lay Low"
Peter brings up that now that Tom has no power all he's doing is isolating himself. Emmett: "He should be out here making friends" Peter: "Even his HOH was isolating"
Emmett wants to keep Gary around for awhile because Gary likes them and he's a competitor that deserves to be here.
Peter says right now he's voting out Liza until Gary tells him to do otherwise.
They start working through the Positives and negative of keeping Tom. Peter: "The negatives if we keep him.. he's going to be a wild animal he'll be out of control" Peter says the positives of evicting Tom is they do not have to continually do damage control and it frees Emmett up a bit because the perception of the house is that Emmett is two pairs with Jillian and Tom.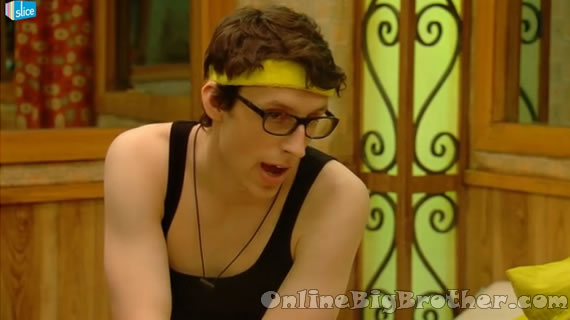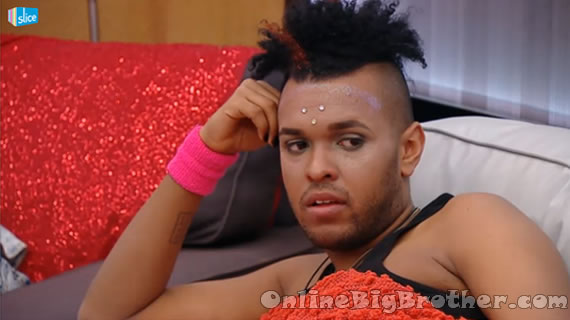 10:53pm HOH room Gary, Alec and Peter
Gary confirms he wants Tom gone this week but he wants Liza to think she is going home. He explains to them that Liza has nobody in the house because all her lies are coming up and everyone knows she spreads poison.
Peter mentions that Tom leaving makes it easier for them to keep an eye on Liza.
Gary is worried that LIza may have enough time these next two weeks to "spread her poison"
Alec is worried about how Tom and how he'll react when the POV isn't used to save him. Alec is planning on Tom bullying him to use the POV than bully him for votes when the POV isn't used. .
Gary: "you are not going to use it right"
Alec: "I gave you my word and I will NOT USE THE POV"
Gary mentions to Alec that he needs to take it slow with Suzette because Suzette was saying how fake Alec has been hugging her. Alec gets defensive and says "um I like top hug that is the type of person I am" gary: "Look you don't need to get defensive when i'm trying to help you went from, zero to hugging her and it aroused her suspicions"
Gary: "Talla is broken.. it's 100% confirmed."
Gary forms an alliance with Topaz, Alec, Peter and himself he calls it "Fourgy" (Gary has been forming a lot of alliances lately)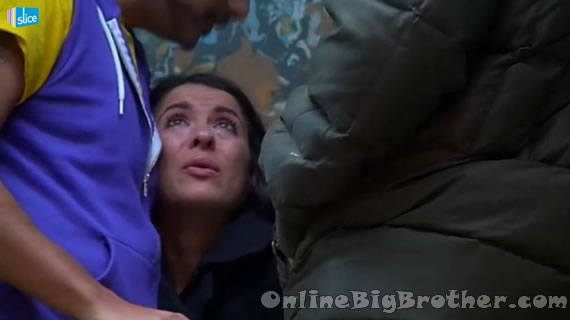 11:00pm Hot Tub room AKA smoke hole Andrew, Talla and Aj Talla is sobbing because Liza/Tom's game is F***** and she was behind them 100%.
Talla says that Liza knows that she is defeated and Talla feels bad for her. Talla says words hurt in this house. She mentions suzette calling Tom a redneck and all the girls sl*ts. Talla continues to sob says she's been trying to play a clean game.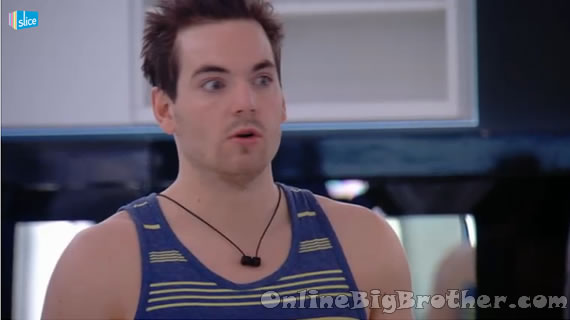 11:14pm Bedroom Tom and Peter Tom is pissed at Alec and Emmett because they knew he was going up and they never told him. Tom: "Alec probably won't use the POV on me.. I thought we were in an alliance" Peter says he totally agrees they should have told him. Tom: "At this point if I win HOH Topaz and Gary are going up.. I'm just pissed off that Emmett and Alec knew all day and they never told me.. that's low man.. that's lower than low.. I'm still sticking to the four because after this the four better make it all the way.. if there is anymore hiccups I'm pulling out of the four"
Tom defends Liza saying all she's doing is playing the game, :Ya she talked a little too much.. she was trying to help us out.. and to have Emmett and Alec to pull the reigns because Topaz feels threaten…." Tom: "Sounds like if I put Alec and Topaz up on the block it's fair to me.. "
Tom : "It's ain't right it ain't tight.. I spin more rhymes that a lazy Suzanne.. I'm innocent until my guilt is proven .. Peace JRock (Tom's Trailer Part boys reference just got him a fan.. OBB is now a Tom fansite.. lol )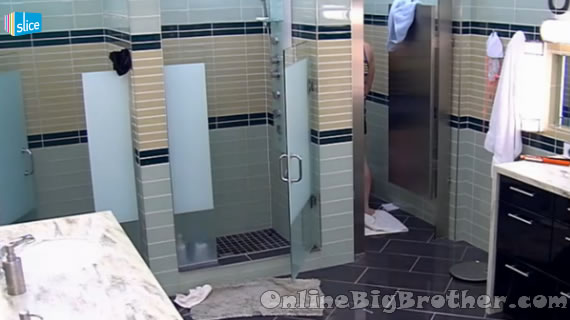 11:26pm Tom peeing with the door open
11:56PM Back to the HUSH HUSH
Stay connected and interact with other Big Brother Fans on our Facebook page.
And Follow: @BigBspoilers and @Dawgsbigbrother on Twitter for the most up to date spoilers.
Share it YO!!
Tweet