POV Holder:
Andrew
Next POV
April 13th
POV Used
?
POV Ceremony
April 15th
HOH Winner:
JILLIAN
Next HOH:
April 18th
Original Nominations:
Andrew and Peter
Current Nominations:
?
Last Evicted Houseguest
ALEC & TOPAZ
Have Nots
Talla & Andrew (Servants for haves)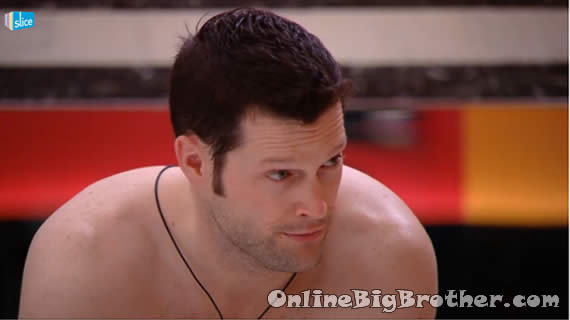 10:37pm Kitchen Andrew and Talla
Andrew: "I Thought Peter would have done much better at the puzzle.. I ripped it up just because someone wears glasses doesn't mean
Talla: "aren't you so happy"
Andrew: "I'm over the moon.. "
Andrew: "To make it to final 4 I have to win competitions.. I've now won 2 POV's and 2 HOH's and 10K I'll be a target"
Talla congratulates him says he did great today. From the sounds of it Peter did not do well in the comp.
Andrew Won Power of Veto

(Video uploading)
Sounds like the target is Peter. Emmett says Andrew cannot win the Next HOH or Veto. Jillian brings up the competition and how she's sh1tty at those types of puzzles. Jillian is in an bad move. Big Brother comes over the speakers and tells her she will be called into the Diary room next (Peter is in it) Jillian says she's on her period.
(Sounds like Peter is the target this week)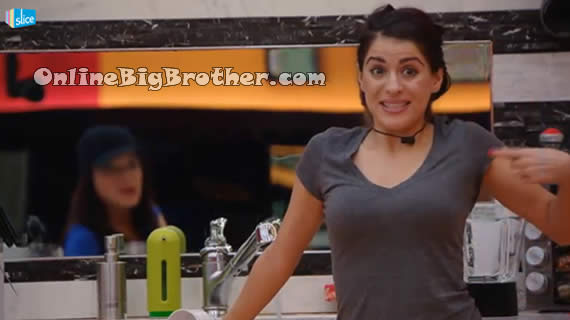 10:51pm Kitchen Emmett, Talla, Andrew and Jillian.
Emmett: "that was a big veto a 3 parter" (POV comp was 3 parts with the puzzle part having to do with spelling out sweet dreams)
They talk about how poorly Peter did at the POV comp. Andrew keeps pointing out how Peter completely failed at the puzzle part. Sounds like Emmett was just seconds behind Andrew during the physical component.
There is some talk about the instructions/rules from production being unclear. Andrew: "Next time we all need to tell them to clarify the rules"
Talla jokes around about her nomination speech.. Andrew laughs "You are going to fart and burp"
Andrew to Jillian: 'You are as cranky as chips"
Jillian says she wants to get into the Diary so she can go to bed.
Andrew: "Were you yelling in there"
Sounds like Emmett wanted to dispute something that happened (Perhaps during the POV) Emmett starts to explain it to Andrew but is cut off by Big Brother who reminds them to stop talking about production. Emmett says he went in the DR and "Made a Case about it.. that is what I did my BA in I made a case… "
Andrew: "Hopefully he doesn't pull an Alec.. " (Talking about Peter)
Emmett: "it's going to be a tough week for Pete"
Andrew: "He's going to be all over Jillian.. he's going to try"
Talla asks Jillian if he'll be able to get to her.
jillian: "No he knows that":
Emmett and Talla head into the Storage Room.
Andrew tells Jillian: "I'm so happy I won that.. I probably lost my chances of being taken to the final 2.. I'm very happy I won that though"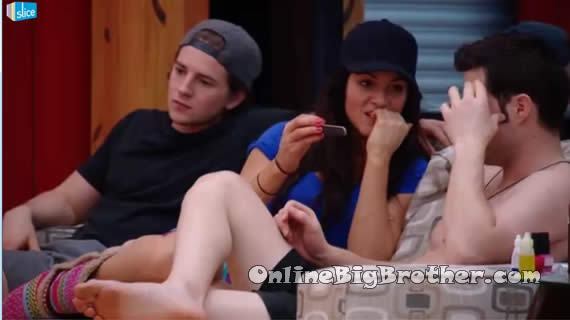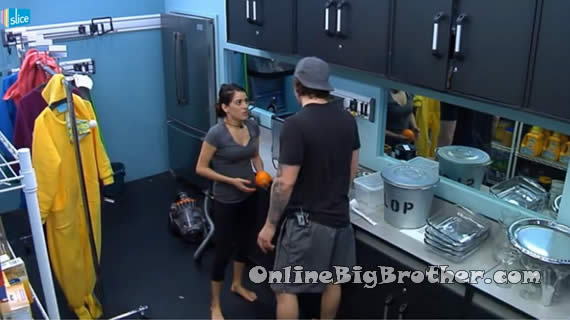 11:10pm Storage room Talla and emmett
Emmett days he's going to be straight up with Peter right away so they don't have another week like Alec. Talla points out that Peter has been a solid competitor in the POV.
Talla: "All we have to worry about is Thursday"
Emmett: "Thats a big Week Talla.. there is only 2 ways you can make it to the final 3 either winning HOH and POV"
Talla points out that Andrew has won 2 HOH's 2 POV's and 10G's from the brick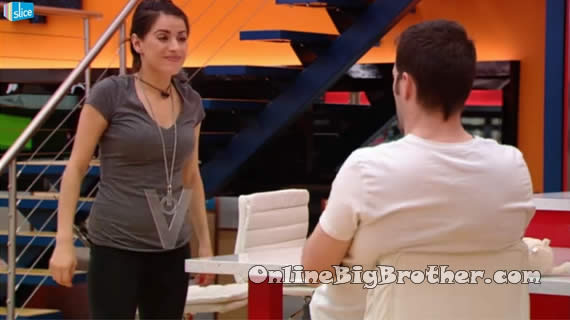 11:13pm Talla and Andrew Kitchen
Andrew is reassuring Talla he will be voting Peter this week and it would be incredibly stupid for Jillian to vote out Peter even if Emmett votes to keep him.
Talla says she's talked to Emmett and he's going to be honest with Peter and get right to the point.
Talla: "I would be surprised if he voted Peter at this point" (Emmett)
Andrew: "I know Jillian will vote to keep you"
Peter jokes that the veto upside down is a "A" for Andrew.
Andrew: "I have to take a massive slop dump"
Big Brother "Andrew could you please put the POV into the storage room as well as the gift card for the shopping spree" Gift card for 10K at the brick
Andrew: "Emmett was pissing me off"
Talla: "I know that.. I knew what the rule means.. it is what it is.. no point in saying anything"
Andrew: "I understand sorta what he was saying but you still need to shut the hell up"
From the sounds of it Emmett was helping Jillian out verbally. I think Emmett got disqualified I all confirmation in the next video..
Talla: "Do I have to Campaign"
Andrew: "No.. look me in the Eye I promise you I will not vote you out"
Talla: 'Jillian is my friend she won't do that" ( if the vote is split Talla is convinced JIllian will get rid of Peter over Talla)
Andrew: "She put me on the block not you.. And I won the Veto.. great for me sucks for you.. that is how I want to be in the competition by winning competitions" (Andrew and Peter were the nominees and will take himself off the block and Talla will go up)
Peter comes out of the Dairy room. Andrew: "Wow it felt you were in there for 2 hours" Peter: "Felt like 10 minutes"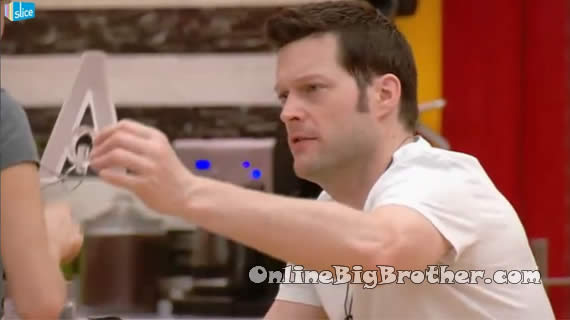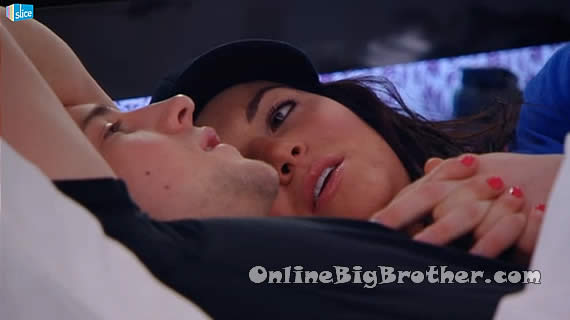 11:35pm Emmett and Jillian HOH
Emmett saying in the HOH if Andrew drops first he'll drop out second and let Talla win the HOH.
Jillian agrees.. Emmett: "doesn't matter who wins the HOH on Thursday .. it's all about the VETO The biggest competition of the year"
Jillian: "worst case is you win the HOH and he wins the VeTO then he gets to choose between me and Talla and he picks Talla"
Emmett: "Best case scenario one of us wins HOH and the other wins Veto.. You almost won that veto.. me you and Talla will all be competing for Veto (If Andrew wins the HOH) "
They head to the downstairs bedroom. Jillian is whimpering that she wants to go into the Diary room… and she wants to go home, "I can't do it anymore.. I'm serious.. I don't want the 100K anymore.. who gives a sh1t about that I want to go home.. it's not worth it.. really isn't". (She's in a bad mood and they are taking the loss of the veto hard.. they are going to freaking explode when Gary/Alec comes back it's going to be epic)
Emmett tells her Andrew will want to take Talla to the final 2 and Jillian to the final 3, "He's not going to take another guy.. you got a good chance so chill out "
Jillian: "Should we get rid of Talla to force Andrew to take us.. "
Emmett: "He'll take Peter he's the weaker person"
Jillian: "How come that never happens in the states.. you never see people get disqualified.. "
Emmett: "They've been doing it for a longer time.. these guys this is the first year they've been doing it.. doesn't matter.. "
Jillian: "They knew it didn't help me at all they could have overlooked it.. They wanted Pete to compete"
Big Brother "STOP TALKING ABOUT PRODUCTION"
Jillian: "We would have probably gotten rid of Pete anyways"
Emmett: "We're going to get some luxury items this week.. we have that to look forward to" (Gary Glitter is the luxury item they are getting)
Jillian: "My sister's fiance is a Lawyer I wonder what he would say about this situation"
Emmett: 'Doesn't matter we have no rights.. all there is to do is buckle up and get ready for next week"
Jillian: "They don't care about my eyes they don't care about my health.. "
Emmett: "What are you going to say to Pete now"
Jillian: "We care about each other more than they will ever care about us"
Emmett: "Andrew is not on my side we know that"
Emmett points out that during Emmett's disqualification Emmett was arguing it and Andrew had the chance to stick up for him about it and he didn't. (Andrew thinks the DQ was just)
Emmet mentions how lucky they were for putting Andrew and Peter up because if it was Talla and Peter Emmett could have gone up.
They start chit chatting about Emmett's spooky corn maze
Video uploading
[polldaddy poll=7031963]
Stay connected and interact with other Big Brother Fans on our Facebook page.
And Follow: @BigBspoilers and @Dawgsbigbrother on Twitter for the most up to date spoilers.