POV Holder:
Andrew
Next POV
April 13th
POV Used
?
POV Ceremony
April 15th
HOH Winner:
JILLIAN
Next HOH:
April 18th
Original Nominations:
Andrew and Peter
Current Nominations:
?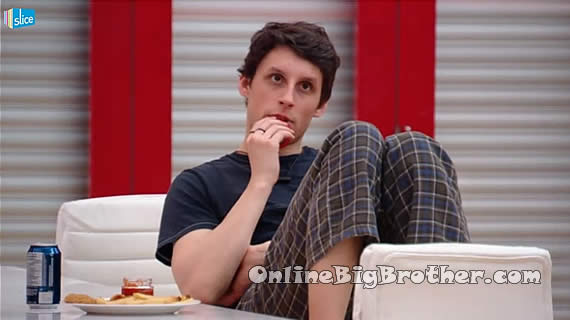 12:10AM Peter and Talla in the kitchen
Talla thinks Bret Hart (The Canadian wrestler from Calgary ) was so dreamy.. Peter goes into explaining about the hart family and the history of BRet hart's wrestling career. Apparently Bret Hart still lives in Calgary and had a stroke in 2000. Talk moves to Hulk Hogan and Jessie (From Big Brother 10/11), "He's jacked as sh1t .. if I was Jacked as sh1t I would do it to but all I have is a mouth" (Talking about Jessie)
Peter says his earliest memories as a child was wrestling.. He admires it on so many levels, Wacky story lines, Grand shows, Good guys bad guys, Spectacular move.. It's like watching super heroes every week" Peter adds that the UFC is really popular "Largely because they took elements that made wrestling popular in the 80's and updated them"
Talla saks if people are still into wrestling
Peter: "wrestling goes in cycles.. right now is a downturn.. WWE is doing alright but TNA impact isn't because they are really small audience"
Peter: "I've been a WWF/WWE fan my entire life.. but I watch any wrestling I can get my hands on"
Peter wants to be an announcer or a mouthpiece manager for wrestling .. (I totally can see Peter being this)
Peter: "If anybody knows JEssie from Big BRother please hook me up with a job with TNA.. they can pay me in f***ing chicken nuggets and fries"
Peter says in the 80's all the wrestlers were on steroids, "Nowadays they take steroids seriously like the NFL, NBA and NHL.. if you get caught 3 times with drugs in your system you are kicked out of the WWE"
This is a 30 minute conversation about Wrestling.. It's great if you are a pro wrestling fan..
Andrew joins them and wrestling talk continues..

(Video uploading.. it's over a hour so will take some time)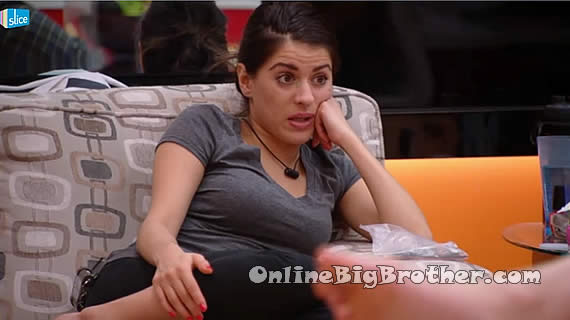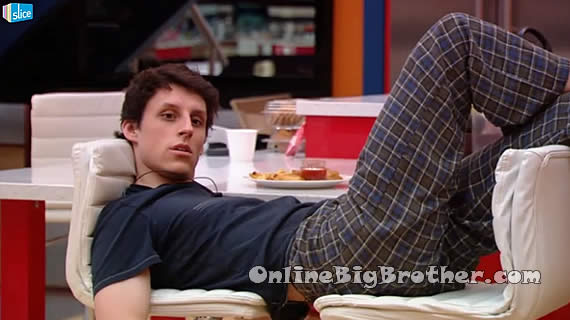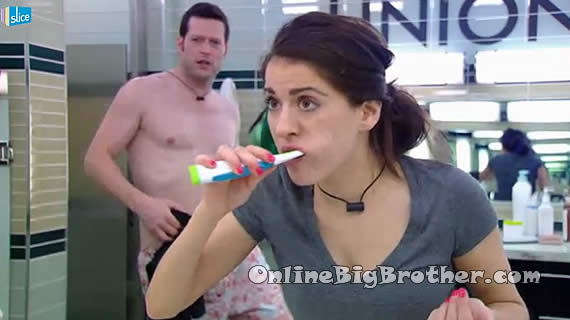 Bathroom Talla and Andrew
Talla tells him that Peter isn't going to campaign against her they both have agreed to have a good time for this week, "I think he already knows.. " Andrew: "The only time I would do campaigning is early on when there is a lot of people, hey everyone who wants to keep me"
Andrew talks about the luxury competition they will have this week so everyone has that to look forward to.
Talla: "I'm happy for you"
Andrew: "Thank you"
Talla: "I would love to win something.. anything.. even winning some luxury even to me that is winning"
Andrew: "I took a massive dump in here it was horrible"
(talla washes her makeup off because she doesn't think she's going into the Diary Room tonight but she does get called in and freaks out because of it)
Talla lathers her face up
Andrew: "You look like a nightmare you look like a goddamn zombie.. like me"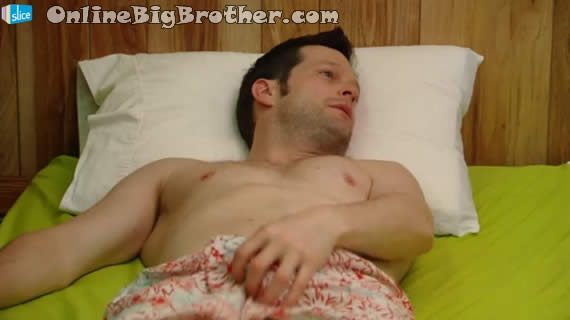 They head into the have nots room. Andrew: "I tell you what this mattress isn't going to be as good as the Serta mattress I'm buying at the Brick.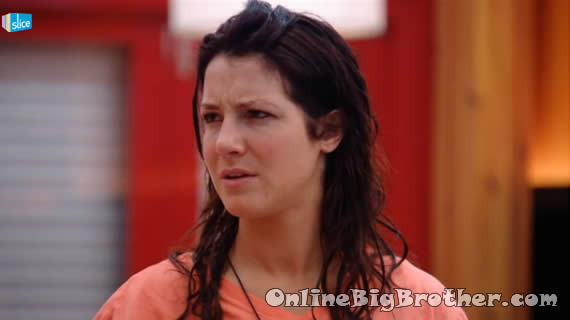 1:20AM Andrew and Jillian
Jillian says that she thought Pete was suppose to be the smart one at puzzles. Andrew: "Now i'm starting to get concerned about Talla"
Jillian: "You or Emmett will win the HOH"
They both agree that Pete is gone this week.
Andrew: "I will take you over Talla in the finals"
Jillian: "would you honestly"
Andrew: 'I wouldn't take Talla to the final 2″
Jillian asks him if Emmett wins the next HOH and Andrew wins the POV who would he keep. Andrew: "I would get rid of Talla.. I'm nervous.."
Andrew wants final 3 to be Emmett, Jillian and himself but wants the final 2 deal to be him and Jillian.
Andrew: "I think we have a better chance with the final HOH.. the first part is endurance which you will probably win then the second one could be like the Veto today and the final 2 part will be the mental and I thin I will do better than Emmett in that"
Andrew asks her if she has a final 2 with Emmett
Jillian: "No I promise"
Andrew adds that he feels Jillian's social game is better than Emmett. She adds that he really likes Emmett but there is people in the house that didn't like how he treated them.
Andrew: 'He talks down to people"
Jillian: 'He talks down to me.. I don't like it"
Andrew: "He's a great guy.. he has some flaws.. but we all do"
Andrew confirms he's taking Jillian if he's the deciding vote next week because she can win that final HOH Talla cannot
Andrew: "I know you will beat Emmett in the final 2.. I know I shouldn't tell you this he has no blood on his hands you have 3 HOH's"
They start counting Jury Votes.. Jillian: 'Oh my god I don't have anybody.. you should take me" (to the end) Andrew: "I want to"
Jillian: "I really would take you to the final 2.. we will have to make the biggest deal ever shake on it.. "
Andrew: "Shake on it and look each other in the eye"
She heads to bed
Andrew adds that Emmett does have a lot going for him already "Real estate"
(Gary/Alec is really going to mix things up with these players.. )
(Video Uploading)
2:00AM Sleeping
[polldaddy poll=7031963]
*** Message to Fans of OBB ***
If you enjoy the content on this site please consider a donation to help keep the spoilers rolling.
Share it YO!
Tweet