POV Holder:
?
Next POV
April 27
POV Used
?
POV Ceremony
April ?
HOH Winner:
Jilian
Next HOH:
April ?
Original Nominations:
GARY & TALLA
Current Nominations:
?
Last Evicted Houseguest
Andrew
Have Nots
Gary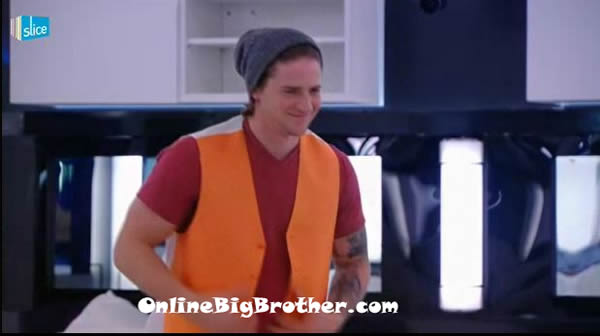 ** While the live feeds were down, the nomination ceremony happened where Jillian as head of household nominated GARY and TALLA for eviction. **
1:45pm – 2:10pm The Big Brother Canada Live Feeds come back on from showing the hush hush screen. Emmett and Gary are in the main bedroom. Emmett asks Gary if he knows where a piece of clothing of Jillian's is. Gary says I don't know where that b!tches clothes are at! Emmett tries on Gary's Ralph Lauren yellow and white vest. He asks Gary what he thinks. Gary laughs and says no .. you look like dumb and dumber. Emmett laughs at how Gary is now using 4 of the trunks for his clothes. Emmett leaves the room. Meanwhile in the kitchen Talla and Jillian are playing puck ball. Gary comes into the kitchen and makes a slop shake. Emmett goes back to the bedroom and paces back and forth.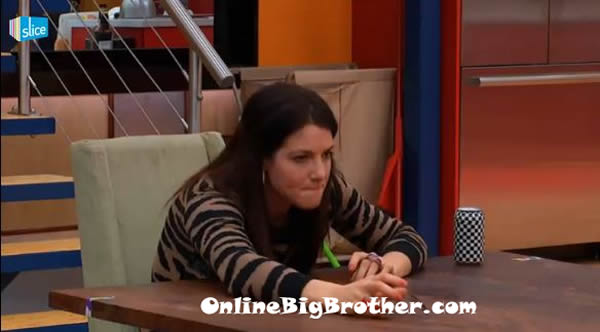 2:10pm Talla argues with Jillian about what her score is. Talla says you were in your niche. Jillian asks do you even know what niche means? Jillian tells Talla that she has a score of 7. Talla says 8. She says I am not going down to 7. Emmett and Jillian head up to the HOH room. They start studying the events past events of the house. Jillian asks who won the POV and was evicted the same week? Sounds impossible but its not. Emmett isn't sure. Jillian says Peter, he won the POV week 8 and I won HOH and put him out. Emmett asks who was the only house guest to win the POV and use it on someone else. Jillian says Tom. Emmett says yup. Jillian says until I win POV this week and save you. Or I guess if I win it I wouldn't have to use it. Jillian asks what's one house guest she said in the diary room she is not taking to the final two? Jillian laughs. Emmett says better not be .. or it will be a sour right home. They continue to study events that happened on certain days. Talla breaks up their studying by coming up to join them. Emmett heads down to the main bedroom to study alone. Talla and Jillian continue to talk. Talla says I can't believe I dreamt about # 4 last night. But I'm on the MARKET! Jillian gives Talla the ipod and tells her to listen to a song. Talla asks if its a song about Emmett. Jillian says no, about someone else. She then tells Talla not to mention the song or sing it.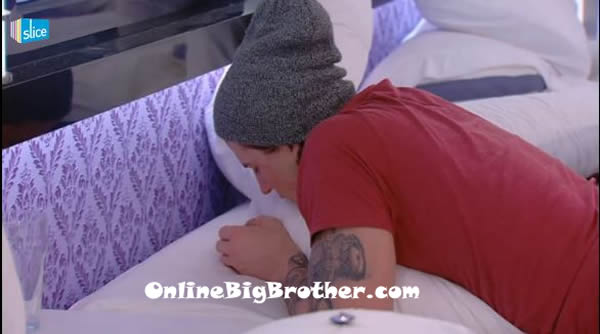 2:45pm – 3pm Talla and Jillian wonder how the rest of the week will play out. Jillian thinks the 3 part HOH competition will be on Tuesday, Wednesday and Thursday. Jillian tells Talla .. Okay lets kill this! (The POV Competition) They talk about wanting the POV to start. Jillian says it would be less stress full if you or I win it. Talla says I want to win it to feel the power. Jillian says that she knows what Gary would do if he won. Talla agrees. Jillian asks Talla do you know what you would do if you won it. Talla says yeah of course we have a final two deal. Jillian comments that she knows she isn't going to win it. Talla says well that is negative! Jillian says I can't win a POV to save my life. Talla talks about how she got two awards last night .. best freak out and best entrance. Thank you Canada. Jillian says I didn't win any awards. Talla talks about her Maze Melt Down Freak Out. Talla clears her throat and says I am every guys nightmare when I clear my throat. I went from every guys dream to every guys nightmare. Talla starts talking about past events and how things happened. Talla says I have to tell you something but I can't. I was BUSY and then out of no where he popped in and then I continued to be BUSY! Jillian says I have no idea what you are talking about.

3:10pm Gary is sleeping on the kitchen couch. Up in the HOH room Jillian reads her HOH letter to Talla. In the letter her mom tells her to make sure she continues to play the game for herself and NO ONE ELSE. Jillian says come on! (She wants the POV to start.) Talla says it's probably not going to happen until we are all done our diary room sessions.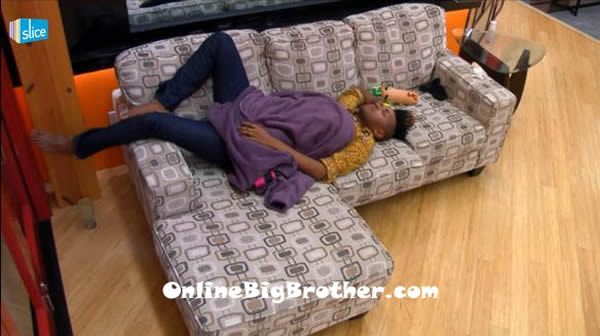 3:20pm – 3:30pm Talla heads down to the bathroom and changes into her bathing suit and then goes back up to the HOH room to shave her legs in the bath tub. Talla says I NEED WINE! Or a glass of champagne! Talla puts bubbles on her breasts and says LOOK JILL I GOT BUBBLE-PLANTS! Jillian says I don't know how to handle living with you!
Talla puts bubbles on her chest "Look I got BUBBLE-PLANTS!" Jillian "I don't know how to handle living with you!" twitter.com/DawgsBigBrothe…

— Dawg (@DawgsBigBrother) April 27, 2013

3:35pm Big Brother switches the live feeds to the Hush Hush screen …
4:15pm Still Hush Hush.. Looks like the MOST IMPORTANT Power Of Veto Competition is happening right NOW! Whoever wins this will be the second person along with Jillian to secure their spot in the FINAL 3!! (Unless Jillian wins it)
Who do you want to win the Veto?
5:45pm Still Hush Hush..
6:36pm Hush Hush.. yo
7:31pm HUSH HUSH
9:07pm HUS HUSH
Please consider donating. Simon and I work 24/7 all season long to bring you all the live feed updates and spoilers. ANY amount is greatly appreciated, your donations go directly to paying the server and bandwidth fees needed to run this site.
[polldaddy poll=7063051]
[polldaddy poll=7065421]
OnlineBigBrother.com
Stay connected and interact with other Big Brother Fans on our Facebook page.
And Follow: @BigBspoilers and @Dawgsbigbrother on Twitter for the most up to date spoilers.