POV Holder:
?
Next POV
?
POV Used
?
POV Ceremony
?
HOH Winner:
Alec
Next HOH:
?
Original Nominations:
?
Current Nominations:
?
Last Evicted Houseguest
Tom & Liza
Have Nots
?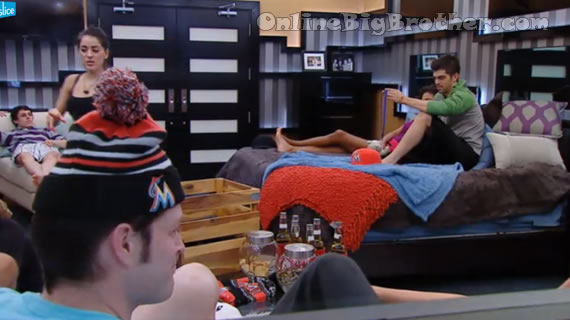 1:25AM HOH Room Alec is the new HOH he's chatting it up with the other players.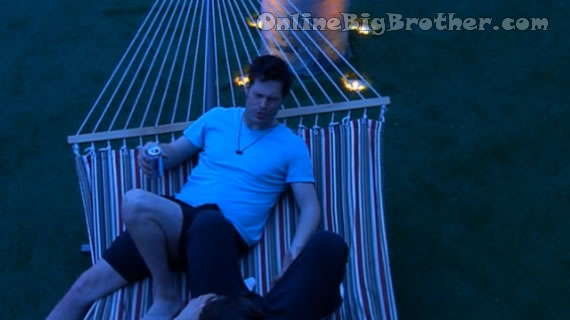 Andrew and Emmett Andrew calls Alec a pussy says he thinks, "Now watch Aj goes home.. I wanted you to win.. HOH" Andrew is pissed that he never got a thing for his HOH not even a note from his brother. Andrew seems pretty confident that he's not going up. Andrew really wants to make Suzette the target but is worried AJ could go home but he's acting a bit crazy (i'm hearing a bit of slurred speech he may be tipsy). Emmett is seems to be on the same page as Andrew. He cannot believe that they would do that, mentions that even Ian got something last year.

(Video coming)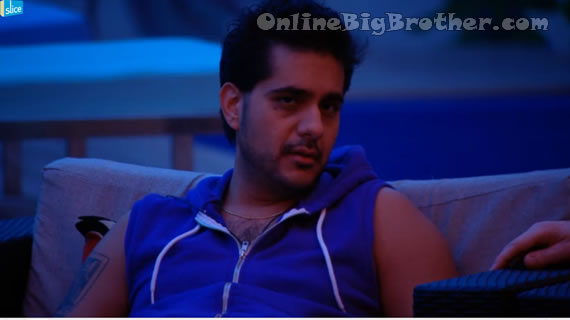 1:43AM Backyard ANdrew and AJ They want Suzette out. AJ mentions that there is no way Gary deserves to leave before Suzette. He adds "Gary deserves to make it to Jury he's earned it".
Andrew: "I'm good with Alec… but i'm paranoid like a fuc**ing stoner". There's some talk about Suzette being Suzette being Canada's Player. Aj thinks Topaz can separate game and her friends ship with Gary.
Andrew: "I don;t think Topaz will pick Alec over GAry"
AJ: "That is what we have to get into his head"
Andrew warns AJ that Peter talks more game than anyone else in teh house. Points out that Peter has been up in HOH since Alec got it.
(Video coming)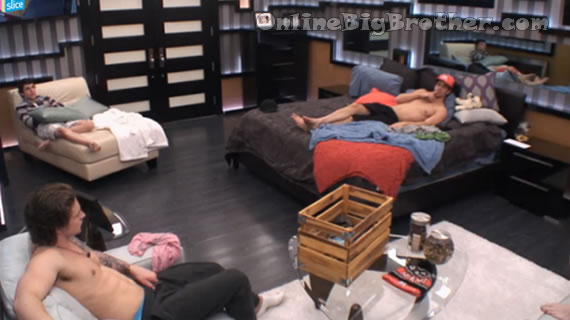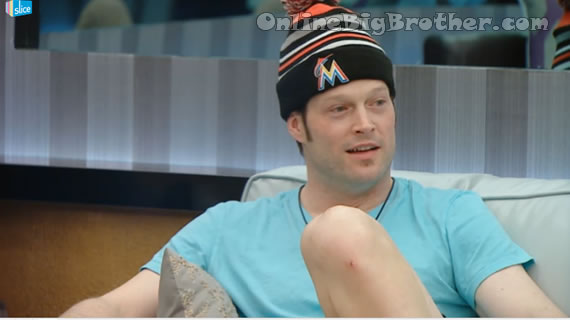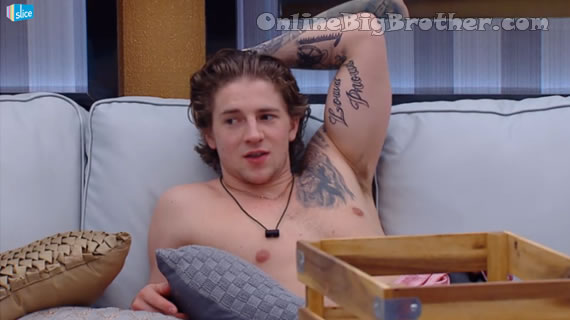 2:05AM HOH Andrew, Peter, Emmett and Alec Alec is saying that the plan is to put up AJ and Suzette. Alec feels that whoever goes up against Talla and Suzette is safe and AJ is the most safe out of everyone. Andrew asks if Aj wins POV and takes himself down who will Alec put up.. Andrew thinks Talla would be a good pick. Alec: "Yup that is what i'm planning". Emmett jokes that the worst thing they would do to someone is have them be the second jury member when Suzette is the first.
Emmett explains his vote to Tom, He knew Tom was going but he was still buddies with him. Emmett says Alec would do the same thing with Peter and vice versa.
Alec wants to bring the entire house up minus Gary and Suzette and tell Aj that he is the pawn. He wants AJ to be able to count the votes and be OK about the nomination.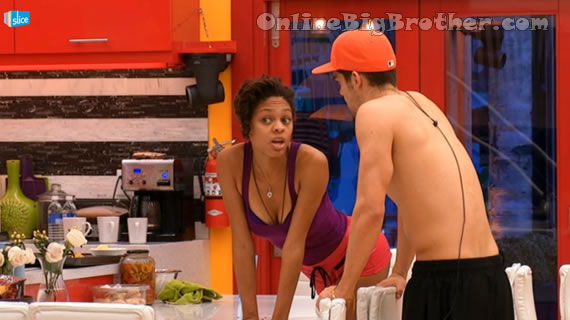 2:00AM Downstairs Topaz give Alec a update about Susette Alec wants to bring the house upstairs so they can talk about the nominations.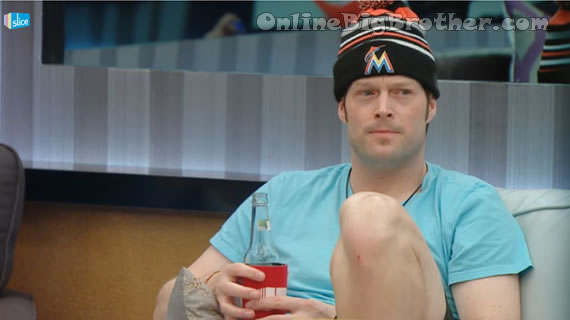 2:20AM HOH There's a party starting in the HOH room.. Unfortunately Suzette wants joins them..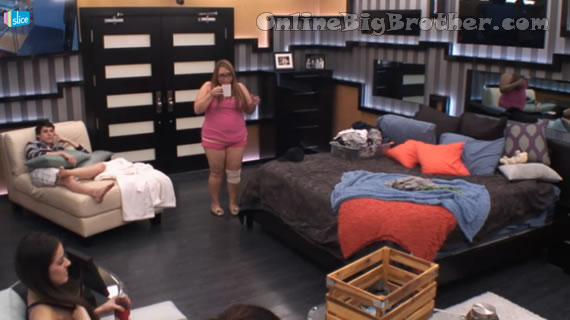 Suzette comes in and the party stops..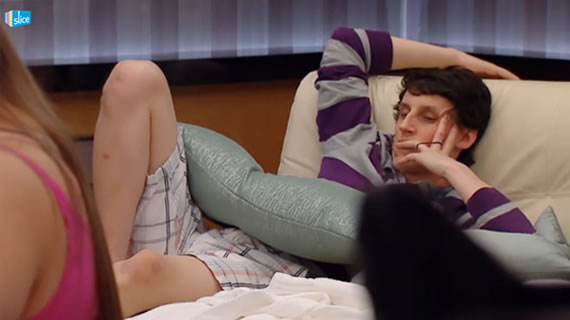 2:33AM HOH Everyone but Topaz and Gary Random conversations everywhere.
Emmett thinks Power of Veto is tomorrow, Nominations have not been done but AJ and Suzette will go up. They have six beer Alec and Andrew are drinking one each. I think they had drinks before.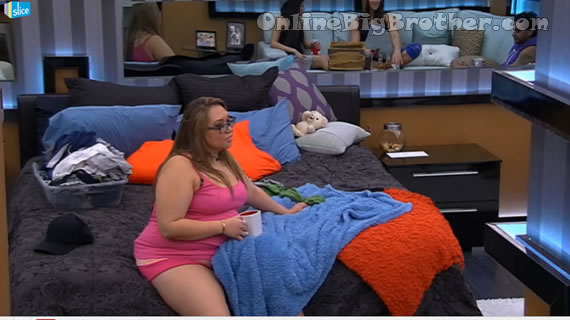 Everyone waiting for Suzette to leave..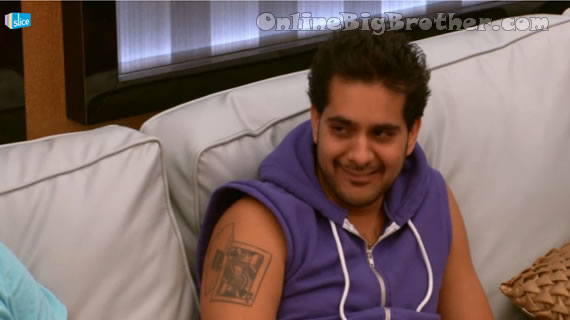 2:42AM HOH Topaz comes up and tell Suzette that Gary wants to talk to her.. Suzette Leaves with Topaz.
Emmett does think they should tell suzette right now that she's going home. Talla thinks that maybe they shouldn't even tell her. Alec: "I don't know what the advantages and disadvantages to telling her. Emmett thinks it should be just Alec that tells her, "If we are up here and we talla her it will be hard on her" Andrew: "She may have a clue"
Alec goes outside to talk to Topaz, Alec wants Topaz to be with him when he tells AJ. Thinks that maybe they should tell them that Gary is the replacement nomination because Talla is in the HOH. They doubt Suzette will win the POV so there really isn't anything to worry about. Alec just wants to make sure word doesn't go back to Gary he wants her to talk to him about it.
Topaz and Alec head back to the HOH.
Alec: "Suzette is going up and is going home"
Jillian: 'Unless there is another canada vote"
Alec: "A pawn is needed."
AJ: "I've already done that.."
Alec: "Would you be against that… I would give you my word you would not go home"
Aj: "Personally yes I have a problem"
The house pretty much tells AJ they will give him their word that they will not use the POV there's no chance of him going home.
Peter: 'It will be a clean sweep" They go around and promise him they will not use the POV if they win it.
AJ: 'fair enough"
Alec wonders if they he should go tell Suzette. everyone thinks tonight is not the right time.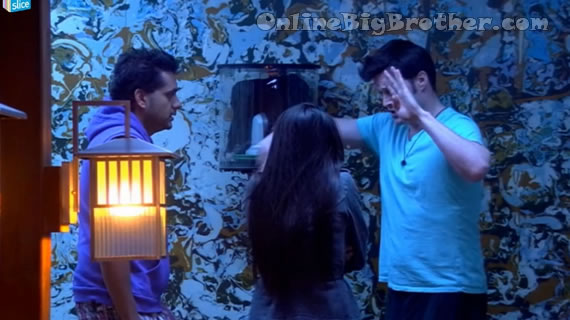 3:05AM Smoke hole Talla, Andrew AJ Andrew says maybe if he wins POV he'll use it to save AJ force Alec to put up Gary. Talla: "you going to do that?"
Andrew: "I don't know I would have to think about it"
Andrew explains to them on one side of the house you Have Emmett and Jillian two power players. On the other side you have Gary, Alec, Peter and Topaz. "Then there is us the 3 stooges" Andrew explains they should think about getting allied with the powershouses (And pull some POWERSHIFTS)
Talla tells them she will keep them in the loop.. they head inside to go to bed. (The 3 stooges alliance is formed.. kinda)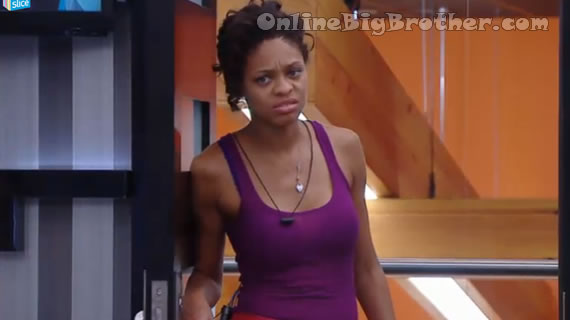 3:23AM AJ, talla, Alec
AJ asks them is there a chance Gary will win it and use it on Suzette. Alec: "No.. The entire house will be after him if he does" Alec: "This entire house swore to yo they would use the veto.. I'm telling them all to "FIGHT FIGHT FIGHT" for POV (Alec is sounding a bit like Tom right now) Alec: "If anyone breaks their word this fuc*** cast is a bunch of liar"
Talla thinks POV Is tomorrow. Peter disagrees says it'll be Sunday, Tomorrow will be nominations. Topaz briefly joins them reassures Aj he's safe.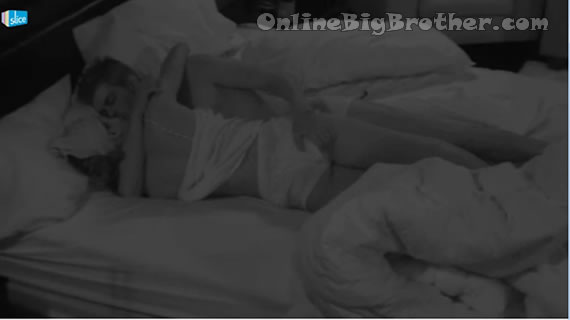 4:32AM Alec and Topaz kissing

[polldaddy poll=6985048]
Share it YO!!
Tweet