POV Holder:
Alec
Next POV
March 16th
POV Used
POV Ceremony
March 18th
HOH Winner:
Gary
Next HOH:
March 21th
Original Nominations:
Tom and Liza
Current Nominations:
Last Evicted Houseguest
Aneal
Have Nots
Jillian, Emmett, Talla and Alec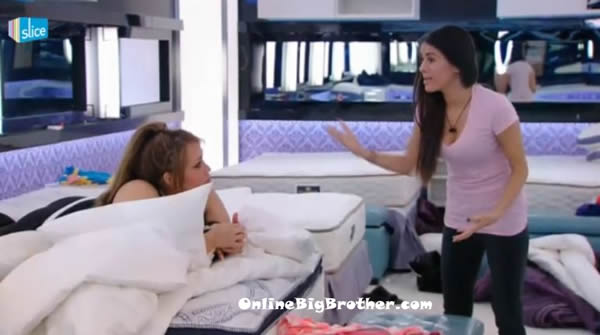 12:25pm
Talla talks to Suzette in the bedroom. Talla talks about how she is thinking for herself and wants to take it day by day to get out the biggest threat. Talla says you have to think about who has a better chance of winning HOH. Tom does and Liza doesn't, she hasn't won anything. Liza comes in and says that Jillian just told her that she is voting for her to stay no matter what so lets not keep talking about it. Suzette asks if she is in a final five alliance and where her loyalties lie. Talla explains there were final five, final four and a top nine deal… but all of that has changed now. Suzette talks about how she doesn't trust Liza. Suzette says that she trusts Tom because he has always been honest with me. She says that Liza has lied to me. Suzette asks so you are keeping Tom? Talla says umm.. I am going to wait till Thursday and do what the HOH wants but even then on Thursday it can all flip.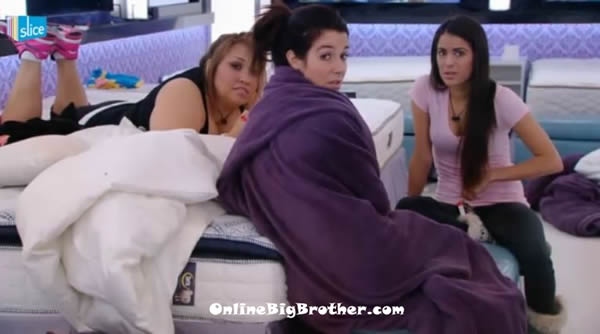 Jillian comes in and they discuss who to keep. Jillian says that she think she wants to keep Liza. Jillian says that Emmett might be the only one to vote to keep Tom. He has to go, I am good for it. She says I don't think we should talk much longer because the guys will see and change it. Talla goes to ask Liza is she stays how can I trust you, that you aren't going to turn on me. Liza tells her she can, we just just need to stop talking about it. Stop not trusting me, I am all you have so lets do this! Talla starts getting aggravated. Liza talks her down. They agree on their cuffmance. Talla says lets just make this happen and take out the guys.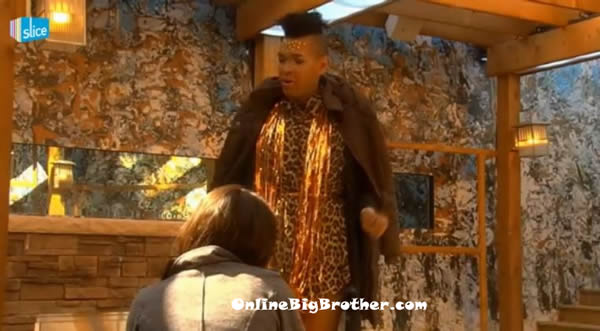 1pm – 1:35pm
Talla talks to Gary and says you know what we talked about last night… Gary says yeah, she apologized to you? Talla say um ..I wouldn't say that. Gary says that he thought he could trust her. Gary tells Talla that she needs to be happy that she isn't on the block, there are two big targets on the block. Talla asks so who do you want to go Gary says Liza. She is campaigning hard and I want her gone. Talla says okay you can't trust Liza and Tom can win competitions, they are both big threats. Talla tells Gary to just tell her what is happening on Thursday so that she knows what to do. Gary gives her a bracelet and tells her that this is just to remind you that this is just a game and to not take anything too personally.

Gary then goes and gives Tom, Liza, Aj, Andrew and all the other house guests. Meanwhile Aj is in the kitchen cleaning. Tom and Liza are on the couch laying together. Gary is making pizza's.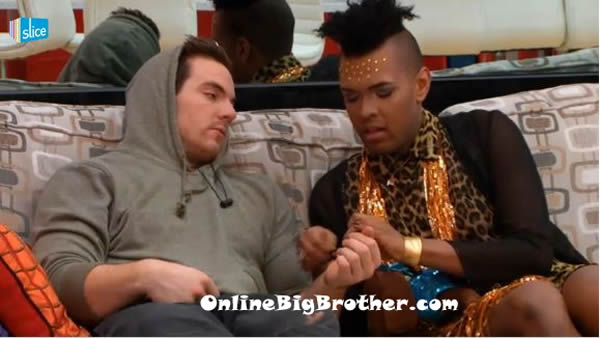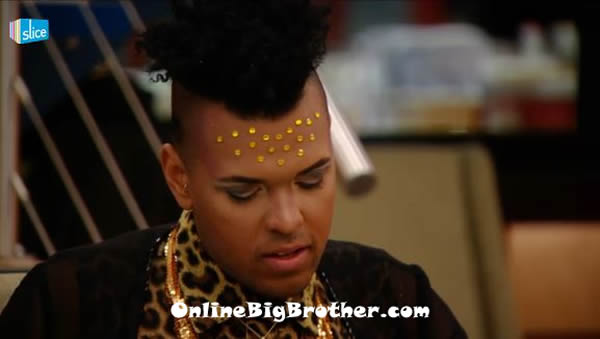 1:45pm Gary is making his pizza's and says that every piece has to be perfect. These pizza's have to be perfect! Alec comes into the kitchen and spits into the sink. Gary tells him that it weirds him out that he spits in the sink. Alec says its only there for a second and then it goes down.. I will spit in the garbage from now on. Gary comments on how his roommate blows his snot out into the sink. Gary tells Emmett that he just came out of the closet.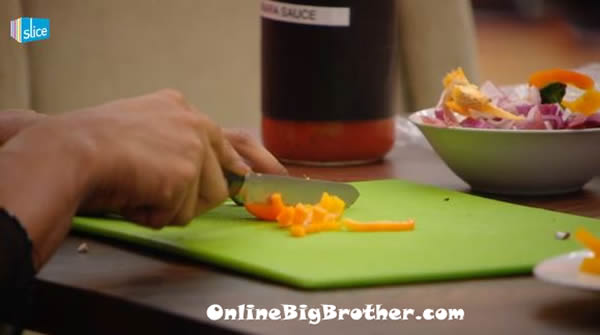 1:50pm – 2:15pm Tom and Liza are lying in the hammock. Tom talks about how he is going to start messing with people by taking their things and hiding them. He asks Liza that allowed right? Liza says yes. Tom says that he is going to take Topaz's bandanna that she loves so much and hide it. The conversation turns to talking about hanging out after the season is over. Tom tells Liza that he wants to have a conversation with her outside of the house about what they could have together. Liza says that she is seldom ever drawn to someone and didn't think that she would be drawn to one of fourteen people. Tom talks about how he is always told that he is the guy girls want to be with when they are in a relationship but will never leave their relationship for him. He says that he is okay with being alone because he doesn't have to feel.. there is no pain in being lonely. Liza tells him that he is missing out on so much. Tom says when he first saw Liza get out of the van in front of him he though there she is my dream girl.
OnlineBigBrother.com
Stay connected and interact with other Big Brother Fans on our Facebook page.
And Follow: @BigBspoilers and @Dawgsbigbrother on Twitter for the most up to date spoilers.
Share it YO!!
Tweet