POV Holder:
Gary
Next POV
April 20th
POV Used
?
POV Ceremony
April 22nd
HOH Winner:
Emmett
Next HOH:
April 25th
Original Nominations:
Gary and Andrew
Current Nominations:
?
Last Evicted Houseguest
Peter
Have Nots
Gary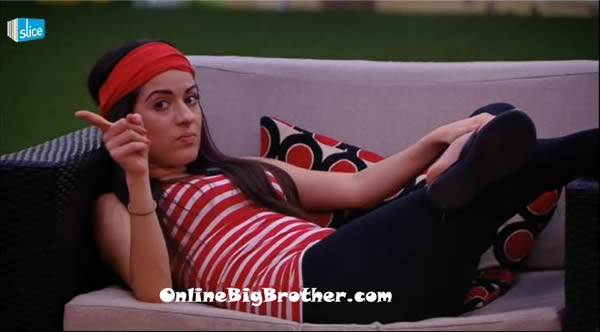 1pm When the live feeds come back Andrew and Talla are out in the backyard talking. Talla says that she doesn't know everyone's game.. but.. Andrew says yeah well you can't, you don't see the diary rooms or other conversations.
Talla comments on how it was great to have Dan in the house to talk to. She bring up how Alec and Peter wanted to copy him. Andrew says that he would never come in here copying someone else's game. Andrew says that Gary is in here messing up our game. Talla says her vocabulary has shrunk .. LOVE IT! Andrew says the other thing with Dan here is that he is here compiling information.. but I don't think that's true. Andrew says all we know is that I am on the block. Talla says and I will be up next to you tomorrow. Andrew says we don't know that yet. Talla asks where is Dan. Andrew says I think he is in the bathroom. Talla says he is bi-partition. Andrew says bipartisan? Talla says yeah she had good talks with Dan. Talla says this was the best day of my life. Andrew says that he wishes we knew what was up with him (Dan). Talla comments that her brain is full of stuff. Andrew asks her 24 times 50. Talla says we all know it's not full of numbers. Talla says this is the best thing I have ever earned.

Meanwhile in the bathroom. Jillian is talking to Dan in the bathroom. She says that either way she is going to talk to them before they vote them out.. She says I really don't want either one of them to go home. Andrew joins them.


1:25pm – 1:45pm Andrew goes into the storage room and starts talking to Dan. Andrew says that he was worried that Dan would be going around sharing information. Dan says no I, if I was doing that it would have already gotten around because you guys would have already shared information. Andrew says that he feels confident .. Emmett, myself and Jillian.. Talla doesn't know this.. we are the east coast alliance. Andrew brings up how he did have a final 3 deal with Emmett and Jillian. Dan says but not the situation has changed. Have you asked for Gary's vote. Andrew says a little bit but not really. Dan asks how do you feel about Emmett as the tie breaker. Andrew brings up how he was mad at he Emmett for putting him up on the block. Dan tells Andrew the only thing you care about are votes now. You either need Jillian and Emmett or Gary and Jillian. Dan says you have been up twice by your own alliance .. and there were other options. Andrew says yup. Dan says I just grasped that. Andrew says I know what I need to do, I need to get Gary's vote. I think Emmett and Jillian will do some of the work for me too. Dan says you have a couple plays if you feel safe then you don't need to do as much. Dan finishes the conversation with .. you need to think about how comfortable you are and if not you need to take action… They leave the storage room.
1:50pm – 2:05pm Andrew and Dan continue talking out in the backyard. Andrew brings up how he doesn't see any of the jury members voting for Gary after getting voted back into the house. Andrew says and the jury members don't really care for Jillian either. Dan says that's not good for her but that's good for you or whoever she is up against. Andrew comments on how he is jealous of Emmett's looks. he's soft spoken and what he's done in his life. Emmett joins them. Emmett leaves. Andrew starts telling Dan about Alec. Dan comments that he is going to go check out the bathroom. Andrew thanks him for the conversation.
2:10pm Jillian and Emmett are whispering in the bathroom.
2:20pm – 2:30pm Andrew and Jillian are in the bathroom talking. Andrew comments how I know you guys put me up twice and you did it for whatever reason .. but it doesn't matter as I won the veto in that first time and then Gary won it so I would have been up any ways. The conversation turns to talking about the veto punishments. Andrew says that he buzzed in for all of them. He says that Gary is quick, I wouldn't want to go up against him in a gun fight. Talla joins them. The camera then turns to the hallway were Dan is listening in on their conversation. Dan joins them. He questions Jillian about her kiss with Jillian and points out that she didn't hold out her arm to push him away. Andrew gets called to the diary room. Jillian says that she feels like she wants to play whatever hand she is dealt. Dan says but you still have to make a decision. Jillian says I could take the safe route or I could choose the risky route. The conversation turns to Jillian's past relationship and if she will date Emmett after they get out. She says yes, he's a good guy. Meanwhile: Gary and Emmett are in the bedroom talking. Gary is telling Emmett about what the Jury house were saying about Jillian and Andrew. Emmett says that he knows all that. Emmett says that he won't take Talla to the final 2. Gary tells Emmett you, me and Jillian need to talk later because I need to know where Jillian's head is at with Talla and Andrew. Emmett says yeah later.
3pm Jillian is told she has completed her punishment as a bathroom attendant.
2:40pm – 3:35pm Emmett has a quick conversation with Talla out in the backyard. He tells her that he wants to tell her something later. Talla asks should I be worried? Am I going to be sh!tting bricks? Emmett says no, you will be happy. Emmett goes up to play a game of chess with Dan. Emmett tells Dan that he is opening up peoples minds in the house and he is closing them. Dan says you sure are hustling. Emmett talks about how he wants to get to the final two with Jillian because he knows he can beat her. He says that there is no speech that she could come up with that would be better than mine. I have an answer for every move in this game. Emmett says that he doesn't want to be in the final two with Andrew. He says that if he is there with Gary.. Gary won't get the votes because he got a second chance to come back and people will be pissed about it. Emmett asks Dan what he thinks of him. Dan tells Emmett that people are attracted to you and know you are a threat but they aren't really scared of you. Dan says that he was worried about coming in here that it would be seen as an unfair advantage for someone. Emmett says well you can see how it doesn't benefit me. Emmett tells Dan he would like to talk to him after to shoot the sh!t and get pointers on his game.

3:50pm Emmett starts telling Dan about Liza and how she was poison. He tells Dan how he said this chick is poison and I've got the cure. Dan says this chess game is like your game .. I see moves where I can take you down but you have pawns in place to take me out. ..Not that I am here to take you down. Big Brother comes over the speaker and says Dan we need to do a complete … Then the feeds cut out.
OnlineBigBrother.com
Stay connected and interact with other Big Brother Fans on our Facebook page.
And Follow: @BigBspoilers and @Dawgsbigbrother on Twitter for the most up to date spoilers.