POV Holder:
Godfrey
Next POV
May 29th
POV Used
Yes
POV Ceremony
April 26
HOH Winner
Pili
Next HOH
April 29th
Nominations:
Sindy and Brittnee Godfrey
Have Nots
Brittnee, Sarah, Kevin, Godfrey
POV Players
Godfrey, Pilar, Sindy, Willow, Bobby, Kevin.
Host is Sarah
If you are outside Canada and want to watch the FREE Big Brother Canada Live feeds sign up for a VPN service here https://www.hidemyass.com/vpn/r16399/. It's safe to use, easy to set up, and cheap. Need to know more check out this post explaining how to set it up.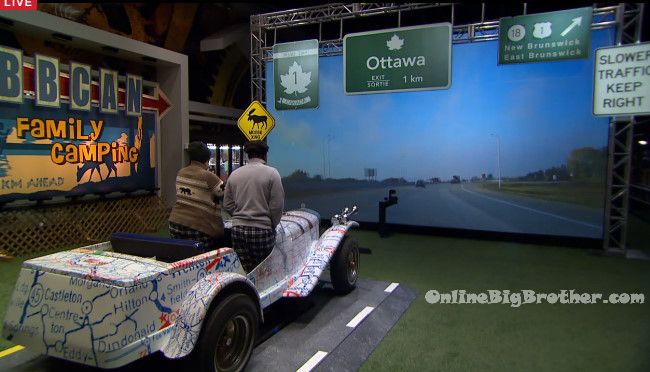 7:10am – 8:30am Big Brother blocks the feeds. When the live feeds return the car is fixed and Godfrey and Brittnee are working their shift driving the highway. Godfrey asks how long would it take to get from Toronto to Calgary? Like 4 hours? Brittnee asks what you think it takes 4 hours? It takes way more than that. She tells him it would take more than a day. All of a sudden on the screen it says Big Brother Canada After Dark. (I wonder if the house guests will "camp" out in the backyard and get to watch BBAD on the screen.)
9am – 9:15am Godfrey says oh I hope we get to see it! Big Brother blocks the feeds and when they return the after dark is gone off the screen. Godfrey & Brittnee talk about rats and mice getting into everything. Godfrey says you need a cat to get rid of them. Don't buy one of those pu$$y a$$ cats. Get one from the streets YO! A fighter! Don't tell them you're going to get it to catch mice. They don't like that. Tell them you're going to domesticate it.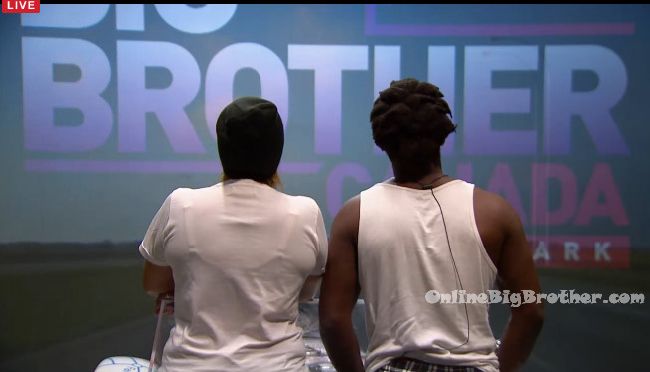 9:25am Sarah joins them. Brittnee says I am sorry about last night. I know Big Brother isn't personal like that. SHe tells Godfrey that he really stepped up to the plate. Your a great guy! You've been stepping up to the plate a lot. Sarah heads back inside
The map pops up on the screen and Brittnee & Godfrey realize they're in Regina. Sarah joins them again. Brittnee tells her that they legitimately changed the tire. Sarah asks what? Really? Okay. Brittnee tells Godfrey I didn't come here to be a pawn. Because I've had unanimous votes every time thats great and make me "the perfect" pawn but I don't want to be known for that. Godfrey says hopefully they put up those girls as a pawn. They have done nothing. Godfrey says its going to come down to back and forth, back and forth because now there are strong people on both sides. Britt says if I was supposed to open up to Willow I would have by now. Godfrey says no matter who goes home Willow would be happy. If I went home a part of you would be sad because what we have is real.
9:45am – 10:25am Pilar and Ashleigh take over for Godfrey and Brittnee. Ash tells Pili she is pumped and wants to win (HOH) so bad. Ash says as soon as Godfrey is gone we'll need to decide who is better to get rid of Bobby or Bruno. I think B staying is better for us. This whole game has turned into a couples game. Not just showmances, everyone is a couple. Ash almost falls when she rubs her eyes. Ash says if we approach B and Sarah .. they have nothing and will grasp on to anything. If we're going to have this conversation with B and Sarah we need to talk to them before the next HOH.

Out in the hot tub room –
Sarah and Willow are talking. Sarah sasy
10:40am Out in the hot tub – Bruno tells Brittnee that she is obviously staying and going to be here next week. He tells her that he wants to work with her. Bruno says that Zach has to go up next week. Brittnee agrees. Zach joins them and the conversation ends.

Big Brother Canada 3 Bruno & Britt talk about… by OnlineBigBrother
10:45am – 11am Big Brother blocks the feeds. Bruno and Zach are talking in the hot tub. Zach says he just wants to get through this next week. Bruno says oh yeah you're good. Zach wonders if Brittnee would come after him. Bruno says he doesn't know. Kevin comes out and tells Zach & Bruno that a guy came out dressed in a cop outfit to give them a ticket for speeding. (The feeds were blocked during this)
In the backyard – Sarah and Willow make it to Winnipeg. Sarah "That's the game though, who can give the best fellatio and to the most" Sarah says she knew these guys were f**king with her during the "Game set match" competition when she shot at Bruno and I looked over and saw Zach look at Bruno. Godfrey takes over Willow position so that she can pee. Sarah tells Godfrey that she is pumped up for Wednesday. Within our group lets you and me stay really close. Godfrey says Yeah I got you. Willow comes back. Godfrey says this is a good shift.. no snow, no getting pulled over, no sleeping outside.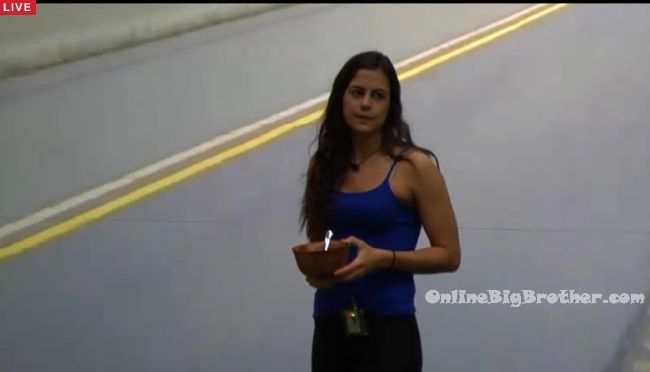 11:30am Bruno and Godfrey are in the bedroom. Bruno says that he already has his speech ready for Wednesday. Godfrey and Bruno say team "Black & Bru!" Godfrey says lets get these people out of here! Load em up in the wheel barrel!
ALLIANCES IN THE HOUSE
There are always a lot of Alliance but we've tried to make sense of it all.. Read our alliance help guide
[polldaddy poll=8819718]