POV Holder:
?
Next POV
April 3rd
POV Used
?
POV Ceremony
?
HOH Winner
Bobby
Next HOH
April 1st
Nominations:
Brittnee and Kevin
Have Nots
Jordan, Brittnee, Naeha, Godfrey
POV Players
Godfrey, Willow, Johnny, Britt, Kevin, Bobby.
Jordan is the VETO HOST!
If you are outside Canada and want to watch the FREE Big Brother Canada Live feeds sign up for a VPN service here https://www.hidemyass.com/vpn/r16399/. It's safe to use, easy to set up, and cheap. Need to know more check out this post explaining how to set it up.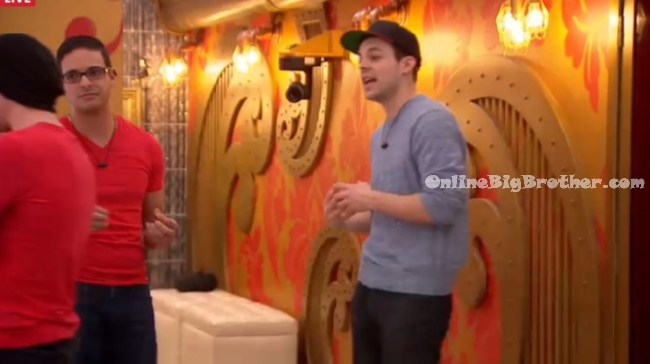 POV PLAYERS: Godfrey, Willow, Johnny, Britt, Kevin, Bobby
Jordan is the VETO HOST!
Up in the HOH room – Kevin is talking to Bobby and Johnny. He tells Bobby that if he hadn't heard the conversation the girls had in the bathroom Bobby wouldn't know the information. Bobby thanks him. Godfrey comes into the HOH room. Bobby says that he might have to nominate one of the girls if the veto is used. He says that he needs to think about what he would do. Kevin tells Godfrey that the girls were throwing his name out. They agree that they need to go out and win the veto.
The cameras switch to Sarah and Cindy in the bedroom talking about how Kevin heard them talking about why they didn't understand why Godfrey didn't go up. Sarah says I just wish we had grabbed Kevin and talk to him. They're all against him. Naeha says he should have put up Godfrey and B. Sarah says Risha told me specifically there is a guys alliance and Graig initiated it. Naeha says that Graig needs to go. Sarah says Godfrey was the plan for the whole week so how were we not supposed to freak out.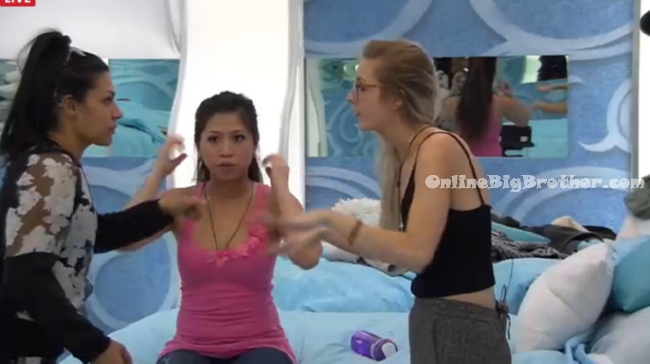 In the kitchen Kevin tells Godfrey, Graig, Britt that he heard Sarah and Naeha talking about how they would never vote a girl out and that the girls would be going after the guys. Graig thanks him for exposing it. Kevin says I'm not the one to draw the line, I'm just exposing it.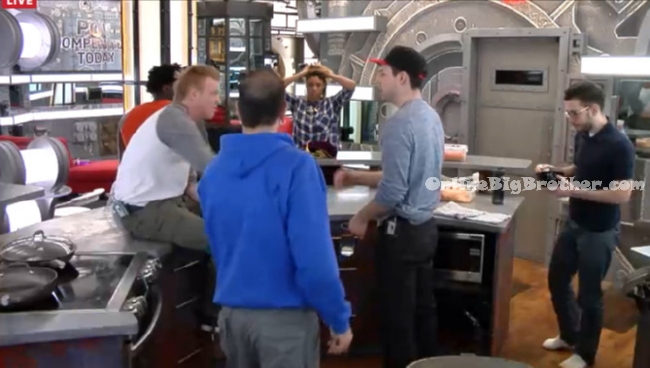 3pm In the kitchen – Graig, Bruno and Godfrey are talking. They talk about how they think Cindy is the head of the girls and needs to be backdoored. Graig heads up to the HOH room. Graig says he wants Cindy out because she mentioned his name. Cindy is the brains. She's Neda! In the HOH bathroom – Graig talks to Zach, Bruno and Willow about wanting Cindy out. Bruno says Sarah is a feminist. As soon as I head that I knew she would start a girls alliance. Graig says there isn't a guys alliance, its all about the Chop Shop! (Ash, Bobby, Bruno, Graig, Zach, Willow) Willow tells Graig you have to tell me if they're coming after me. Graig says for sure I will. To the end!! To the end!
In the bathroom – Johnny, Graig, Bruno, Kevin and Bobby. Graig says we have to get Kevin off the block. Graig asks Johnny if he'll take Kevin off if he wins the veto. Johnny says I don't know. Graig and Bobby ask isn't that your boy?! Johnny says we don't talk game. We've never talked game. Kevin is going to the bathroom and pops his head around the curtain and says we haven't talked game. If we don't get him off the block they are going to get rid of me, Bobby, God, You!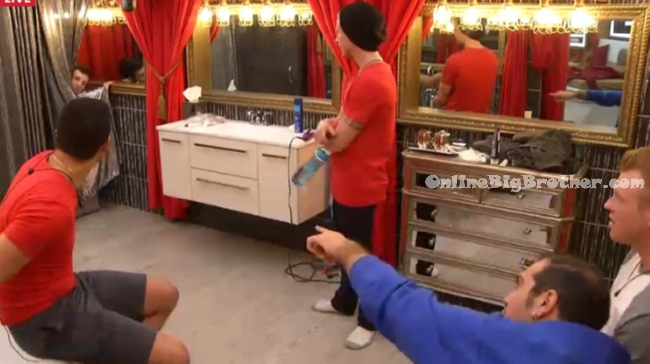 3:35pm Sarah talking to Graig. Sarah says I wish I wasn't all in on this. Graig tells her she's straight. You're all good with us. We're straight. Sarah says I just don't want things to get skewed.
3:40pm In the bedroom – Zach is talking to Kevin saying I don't want to be mixed in with Graig and Godfrey. Sarah joins them and he reiterates what he just said. Sarah says the first thing I thought about was that you're too smart a guy to get mixed up in that. Sarah says the veto hasn't even been played yet. Sarah says that she figured why not put up Godfrey who most people didn't trust and wanted out. It would show all the guys aren't together. Zach leaves. Sarah says its not enough to just stay another week. I want to stay longer, I want to make it to jury and beyond that. Kevin leaves. Naeha comes in. Sarah tells Naeha that she was just trying to explain that it was just a debate and not girl power. Naeha tells her we have to be careful. Sarah leaves. Bobby comes into the room. Naeha asks if she can talk to Bobby. Bobby says that he's in a difficult situation. He's not happy that Cindy brought up his name. Naeha says that she isn't a part of it and doesn't want to be brought into it.

Cindy talking to Kevin about what happened. She says she's mad to Graig. I'm sure he'll be apologizing to me tomorrow. Cindy asks Kevin if he's been talking much game with anyone. Kevin says no, not until the last 2 house. Cindy tells Kevin it shows so much character from you that you will sit here and talk with me after you heard me say that if I had to choose I would pick Britt over you. Meanwhile in the bedroom – Bruno, Bobby and Graig have a chop shop meeting:
4:15pm Nick, Graig, Bruno Godfrey and Pilar are working out in the living room. The house guests are waiting for the POV to start.