POV Holder:
Neda
Next POV
April 26th
POV Used
NO
POV Ceremony
April 21st
HOH Winner:
Adel
Next HOH:
April 24th
Original Nominations:
Sabrina and Rachelle
Current Nominations:
Sabrina and Rachelle
Have Nots
Neda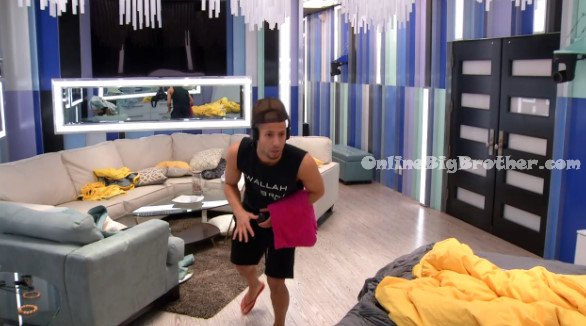 9:30am – 10:30am Big Brother wakes up the house guests. Adel is listening to his HOH music and dancing all over the HOH room.
In the main bedroom – Rachelle says she thinks it's going to be a double eviction tonight. Sabrina says well I'll see you in 15 minutes then. Sabrina tries again to convince Neda to throw the HOH to her. Trust me, trust me I won't put you up. Neda says I am just worried about there being a twist or something. Like Canada has the veto and takes Adel off and puts me up. Sabrina says even if that happened I'm the tie breaker. Neda says I will need to see what the competition is like. Sabrina says its way better for me to take out one of your alliance members than for you to. Sabrina asks Neda who she wants out. Neda says either one (Adel or Heather), it doesn't matter to me. Sabrina questions why it doesn't matter. Neda says I just need to sit down and think about it.
In the kitchen – Heather comments to Jon that as long as Sabrina follows right after Rachelle, that's all that matters to me. Jon says we just need to win HOH. Sabrina joins then in the kitchen and asks Jon if he notices that she's lost weight. Jon says no. Sabrina says but you noticed that Rachelle had. Jon says he wouldn't notice it if it was a gradual loss. Jon and Sabrina head up to the bathroom. Rachelle and Sabrina talk to Jon about how they believe yoga helps in endurance competitions. Jon disagrees with them and leaves the room. Jon says just do yoga and your fine! Rachelle tells Jon to go suck a popsicle! Neda tells Rachelle and Sabrina that Jon is just messing with them. Jon returns and admits that yoga helps in endurance competitions. Rachelle comments that she could take 3 months off yoga and go back and still do everything she used to do. Jon disagrees and says wow I think that's super human-y of you.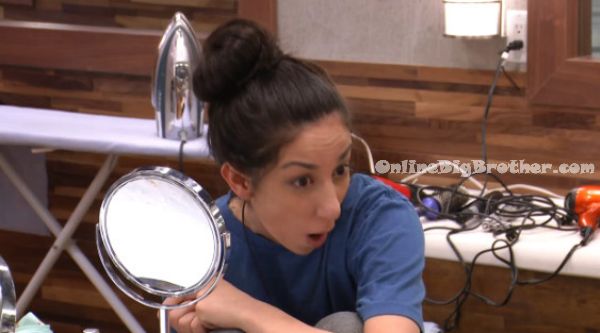 10:35am Sabrina gives Rachelle a spray tan..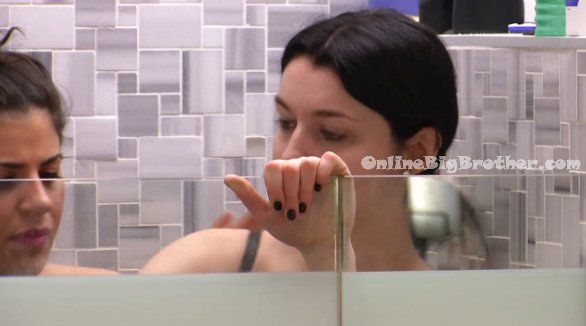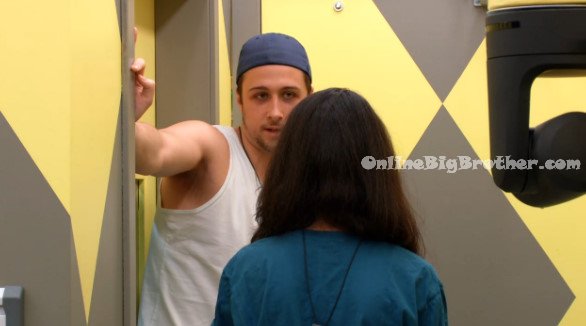 11am Jon asks Neda in the storage room – did you decide who you would get out if its a double? Neda says I think we'll vote out Heather. Jon says that's what I think too. Neda says I would lose out on her jury vote though. Jon says me too. Neda says no you don't, I'd lose it more than you do. Jon says we've been working on since day 1 me and Heather. Neda asks Jon did she ask you? Jon says that Heather said if Neda asks me for a final two I am just going to say yes. Neda asks did you ask her that? Jon says she came to me, she just brought it up. Jon and Neda start studying the dates/events of the house. They talk about how Jon has never been on the block and how both Neda and him have never had to pack their bags.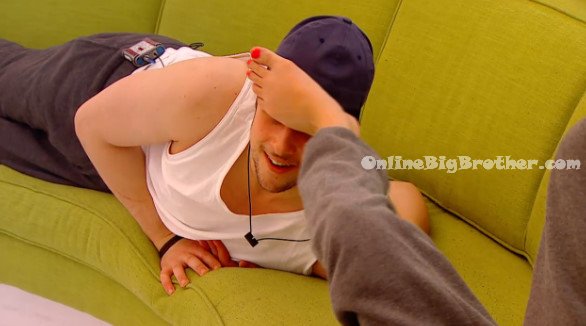 Jon tells Neda I think that because of Adel's nomination speech .. Canada would not vote for him. Sabrina comes out of the diary room and Jon asks her if she is okay, are you sick? Sabrina stops at the stairs. Neda says its eviction day. Jon says oh sorry. Sabrina starts to cry and says she is so sad. I don't even go to the bathroom without her (Rachelle). Sabrina asks them to be nice to her this week. Neda and Jon both say then will and that they like her. Sabrina starts crying and heads up the stairs saying these people are so evil I don't want to be here without her. Sabrina says if Adel is mean to me one more time I am going to throw him down the stairs. At the top of the stairs Sabrina sees Adel and asks him to just please be nice to her. Adel doesn't say a word and goes into the HOH room. Sabrina says that's so rude, he's a f**king a$$hole! In the living room – Jon tells Neda if its endurance and its just me and you I will step down .. because it will probably be physical next week.

11:45am In the main bedroom – Sabrina tells Neda that she asked Jon if it was a double eviction who would go and he told me to ask you. Neda says that she hasn't decided who it would be – either Heather or Adel. Neda tells Sabrina that she would have to go on the block though. Sabrina says just please put up Adel. He is going to win this. Neda says that Adel isn't going to win anything. They talk about different scenarios and what might happen if there's a twist. Rachelle tells them that she was told not to wear a dress. Sabrina says she was told that too.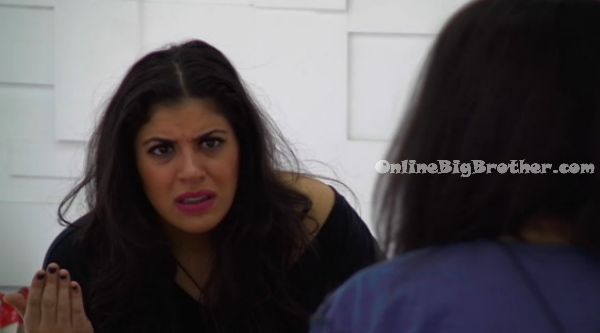 11:50am In the storage room – Adel says to the camera that his motion is in plan.. now I am going to go tell Neda that Sabrina is going to manipulate all the votes in the jury house against me. Here we go!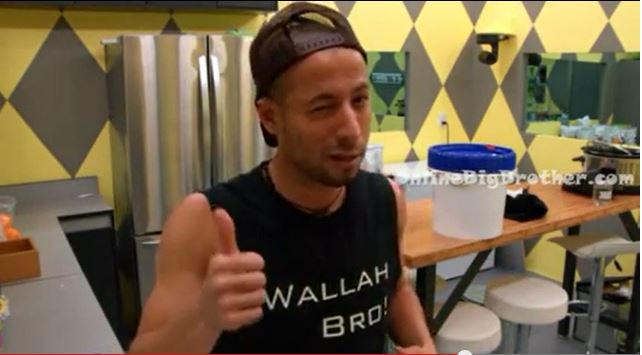 12:20pm In the living room – Neda tries to sleep on the couch and Big Brother wakes her up again. Jon looks at the camera and says What a TURD!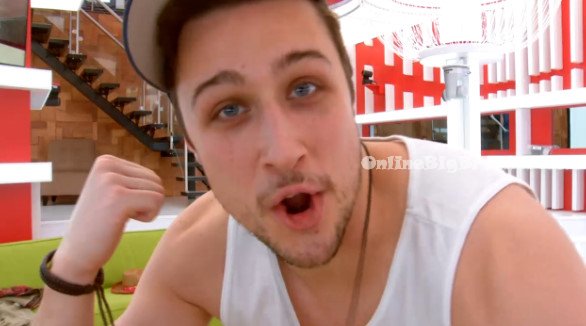 12:40pm Big Brother tells Neda that to answer her question she is on slop until after the eviction. Neda says okay thank you.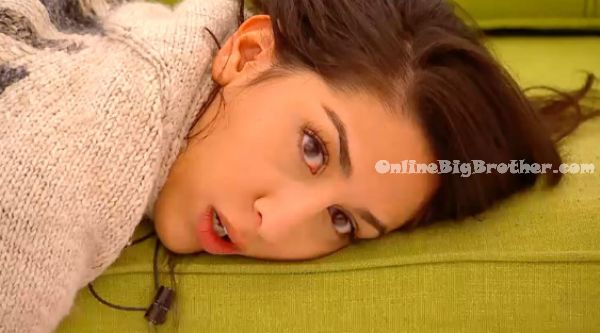 12:50pm – 1pm Big Brother blocks the live feeds..
1:55pm Still blocked..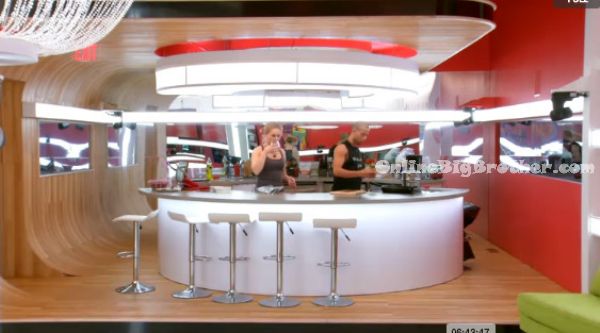 2pm The live feeds are turned back on with Adel and Heather in the kitchen cooking. Adel heads up to the bedroom to tell Jon that food is ready. In the bathroom – Big Brother tells Rachelle that she can't wear that necklace because it interferes with her microphone. Rachelle says I've worn it before, let me lengthen my microphone. Big Brother then blocks the live feeds again..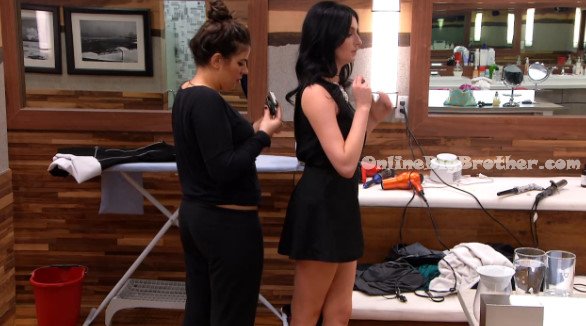 2:25pm – 3pmThe live feeds return again – Sabrina and Rachelle are sitting in the chairs on the landing talking. Rachelle says I want to go! I am so excited to go out there. She says she's a little nervous about going out on the stage. Rachelle wonders if they will f**k sh*t up and bring back Arlie. Sabrina says they have done that more than once before. Rachelle heads downstairs and Sabrina practices her eviction speech.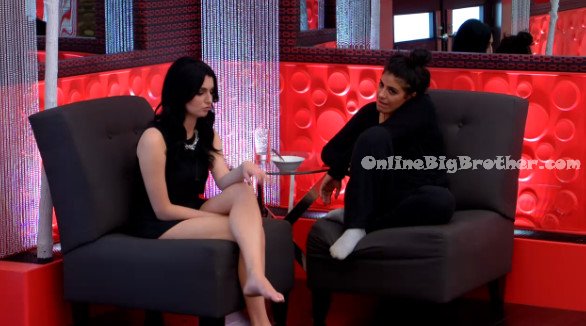 Looks like from the leak that it isn't going to be an endurance competition like the house guests were speculating. It's weird that big brother has been building something in the backyard all morning but it doesn't look like much to show for it. Also why did big brother tell the house guests to wear running shoes / no dresses?? Was all that just to throw the house guests off on what would be happening tonight? So another buzzer competition tonight? Where are all the endurance competitions?
LIVE FEED LEAK of TONIGHTS HOH COMPETITION!! https://t.co/usD2QoV3T5 @bigbspoilers #BBCAN2 pic.twitter.com/RU1cStD8IV

— Dawg (@DawgsBigBrother) April 24, 2014
6:20pm Feeds have been blocked all afternoon as usual on eviction night with no other live feeds leaks..
If you're enjoying the live feed updates this season, please consider donating. Simon and I work 24/7 all season long to keep you updated on everything that happens inside the BBCAN house. Any amount is greatly appreciated! Your donations go directly to paying the server and bandwidth fees required to run this site.
Stay connected and interact with other Big Brother Fans on our Facebook page.
And Follow: @BigBspoilers and @Dawgsbigbrother on Twitter for the most up to date spoilers.