POV Holder:
Andrew
Next POV
April 13th
POV Used
?
POV Ceremony
April 15th
HOH Winner:
JILLIAN
Next HOH:
April 18th
Original Nominations:
Andrew and Peter
Current Nominations:
?
Last Evicted Houseguest
ALEC & TOPAZ
Have Nots
Talla & Andrew (Servants for haves)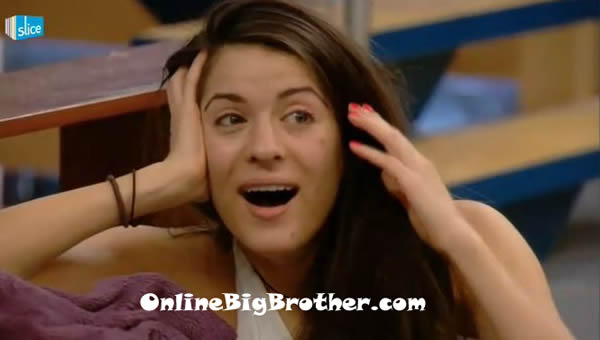 9:10am Big Brother wakes up the house guests. Talla heads to the kitchen and tries to reset the oven clock. Big Brother tells her numerous times to change her batteries but she continues to try and set the time. Big Brother then cuts the feeds. When they return: Andrew and Talla are in the bathroom. Talla is complaining to Andrew that the way she woke her up was rude. He says sorry and leaves. Talla is in a really bad mood. Big Brother tells them they have 2 minutes to gather in the living room. Andrew says one thing I know about you is that you are not a morning person. He says one day you are going to make some guy very miserable. The video of Emmett and Jillian starts and Andrew and Talla realize that it is the exact same video as yesterday. Talla says wake me up when its me on the screen. Andrew says he is just an a$$ grab king. I never noticed he looked like such a douche. Talla says he is such a milkman. Andrew says this is when you are thankful that you are not in a showmance. Talla says oh my god. Andrew says wait till he is on top of her.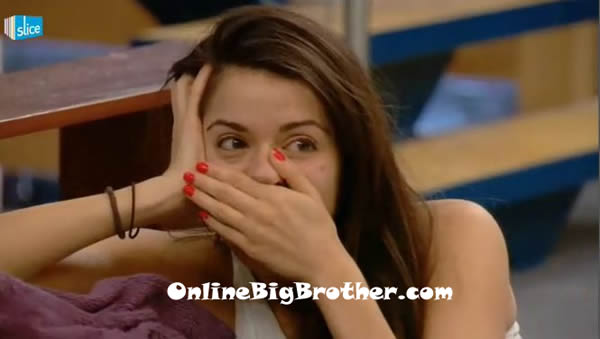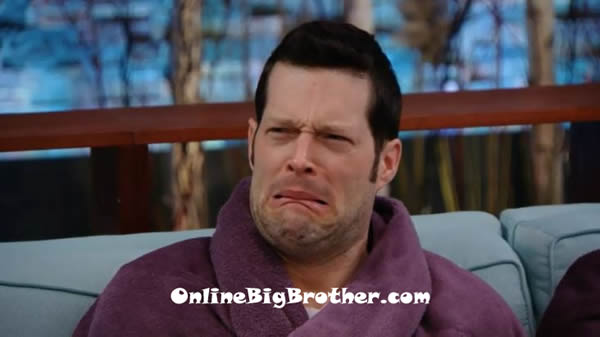 Andrew says he look am I the milkman or the monkey man.. Andrew then starts making monkey noises. Andrew says the poor people on the cameras. Andrew says I might as well be on the beach kicking sand in my face. I don't think I ever want to kiss another person in my life. We are playing a game and these people are tonguing each other. Talla says okay, I need to see where I come in. Andrew says Yeah that's important. I never want to hangout with these people again. Talla says okay I saw me twice, I look good. Andrew says tomorrow big brother can we have a new one.. Talla and I farting. Andrew says she is so sweet and look at him. When it ends Talla says thank you for ruining my morning.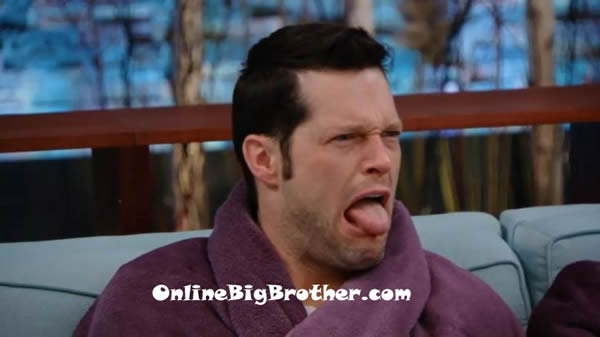 Video showing the actual makeout video courtesy of Youtube user BBxx2000xx:

9:40am – 10:15am Andrew and Talla head into the bathroom. Andrew and Talla talk about how Peter is campaigning and he wishes they could just tell him that we are all in an alliance and you're going home. Jillian walks in and Andrew says hey look its the girl from the TV! They talk about how it was the same video. Emmett joins them and Andrew says hey its the guy from the TV! Andrew and Talla go to the storage room. They do a dance about being in the final four. They then head to the kitchen to make slop. Andrew complains about having to drink the slop and then make the other a$$holes food. Can you go to the fridge and grab me some berries. I will grab your berries all right! Andrew tells Talla I know it sucks that you are going to be on the block but at least we know that Peter is going home! Talla says at least I am a pond. She wonders if there will be another double eviction. Andrew says no! Talla talks about being a pond again. Andrew stops her and tells her it is a pawn not a pond. A pond is a body of water, a pawn is a chess piece. Andrew brings up how he doesn't like how Emmett went on a tirade yesterday and said everyone cheated and they should review it. Andrew says no we didn't and no I do not agree to that. Andrew says I can't wait for this 72 hour sh*t to be over so I can say hey fu*king a$$hole get your own damn coffee. Andrew goes to tell them that they got one of their luxury items (hockey nets with a ball and sticks). Emmett and Peter come out to look at the luxury item.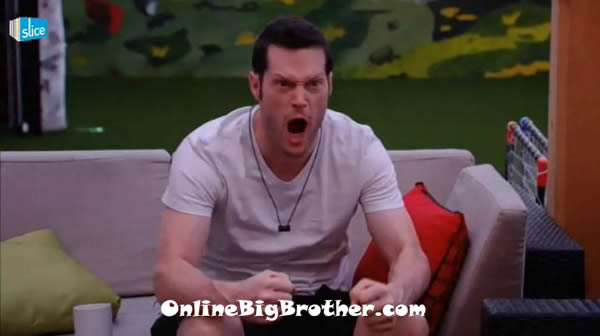 10:30am – 10:45am Andrew makes breakfast for Peter and Emmett. Andrew heads back outside to talk to Talla. Andrew talks about how there are only 3 competitions left till the finals. Talla asks Andrew if he's thought about who he would take. Andrew says he hasn't even thought about it. Andrew heads inside. Jillian comes out and joins Talla. Jillian tells Talla that she has been think that Talla has a pretty good chance of going to the final 3. Jillian says that she is worried that they guys have deal. Andrew comes out. Talla changes the subject to say that Peter said he won't campaign. Andrew says he better not because I will tell him don't even waste your breath because I am voting you out. Talla is worried Andrew will vote her out. Andrew says I have told you a hundred times I am not voting you out. Andrew is called to the diary room. Talla calls for Peter and Emmett to join her. They talk about the luxury the got. She tells them that RC cars would be cool. Peter agrees.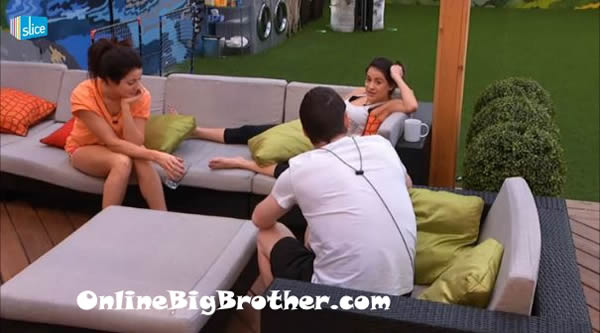 10:55am – 11:10am Andrew and Talla are in the bedroom removing all the sheets. Andrew is annoyed with Emmett and how he is talking to Peter.
Please consider donating. Simon and I work 24/7 all season long to bring you all the live feed updates and spoilers. ANY amount is greatly appreciated, your donations go directly to paying the server and bandwidth fees needed to run this site.
[polldaddy poll=7031963]
OnlineBigBrother.com
Stay connected and interact with other Big Brother Fans on our Facebook page.
And Follow: @BigBspoilers and @Dawgsbigbrother on Twitter for the most up to date spoilers.