Head of Household Winner – Cody
Have nots – Ian, Kevin, Memphis, NicoleA
Nominations – Kevin &
Power of Veto Players are -?
Power of Veto holder -?
Power of Veto Ceremony -?
Safety Suite – Kaysar & Janelle
Live feeds —-> Grab your Live feeds here. Try it free.
Rank the houseguests —-> Big Brother 22 Ranking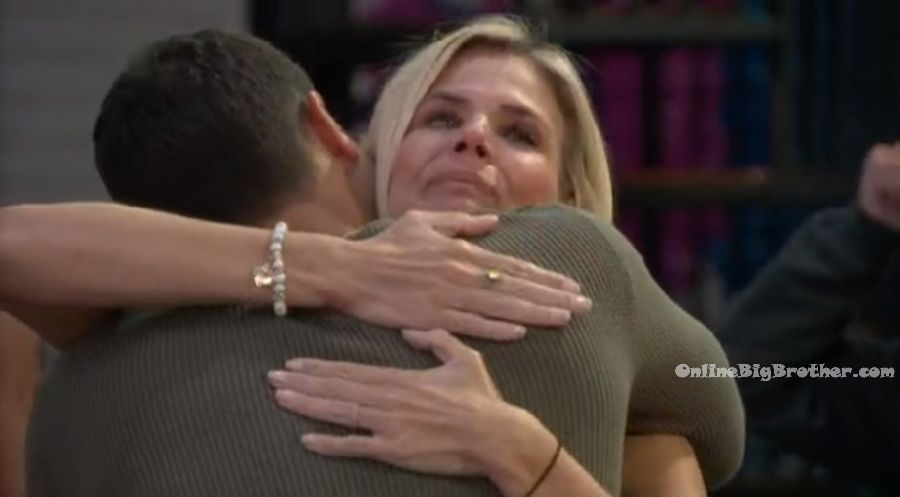 6:03pm The live feeds return from being blocked for the first Nomination Ceremony! As HOH Cody has nominated: Kevin and Keesha.
All the house guests are in the kitchen. Everyone is hugging Keesha and Kevin. Keesha is crying. Keesha heads to the bathroom. She talks to Janelle. Keesha – I didn't want to cry. I knew it was happening. I hate when I break down emotionally. I am not surprised at all. I mean I knew it was coming. It so much emotion.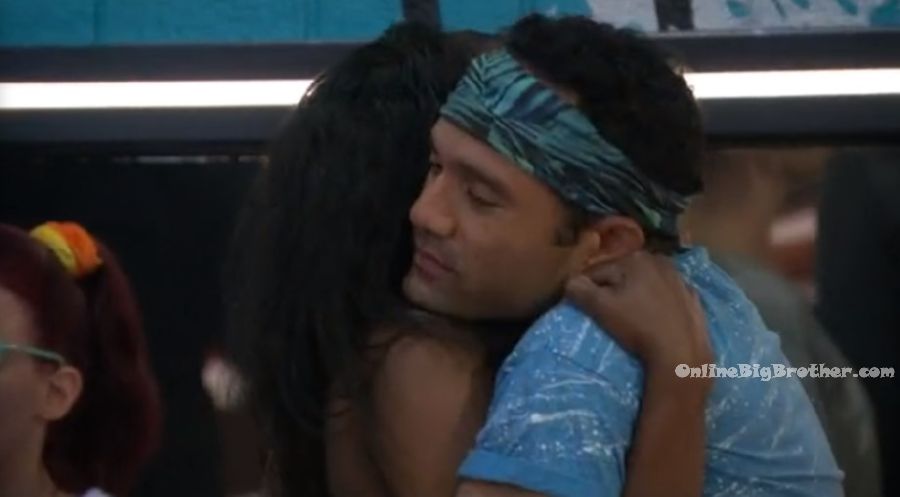 Outside the HOH room. Nicole and Cody. Cody – this is the hardest part. Nicole – Don't feel bad, its a game. Cody – I know but seeing Keesha crying. Like she hasn't been down at all and Kevin came to me earlier. Nicole – what is your thought process.. like what do you want out of your HOH? Kevin comes up and Cody says he should talk to him. They head into the HOH room. Cody – I am so sorry. I was like thinking and I couldn't really say anything when we were talking.. you know because I can't really say anything. I don't want you to go home. I feel like you and I can have a connection. Like we can work together. Its so hard. I wish you did something to piss me off so it would have been easier. I don't dislike keesha. I just haven't been around her. I don't have anything against you. When you said we're different .. I don't know what you mean by that. Kevin – that's just my own baggage. Cody – I don't know how the veto .. like you might be fine and save yourself. After two days it doesn't mean anything about you and me. It is just so hard after two days. Kevin – I really would like to work with you. I never would have made that offer if there were like weird vibes or something like that. Its not like I would even put you up. Cody – I wouldn't even be mad if you did. I would understand that. I don't want you to think like we're different. Kevin – I don't have anything against anyone.. maybe everyone is misting me. Cody – I don't think so .. you've played the game before .. nothing really comes up in the first few days. No one is really going to show who they really are till like 5 days in. I don't want this to be like oh he nominated me and now we're separating. I want us to work together and if you win HOH and if you need to put me up to help you.. Kevin – that is not how I want to play. If I can magically get myself out of this situation .. I would rather play strategically. I would like to return the favor. Kevin – Is there anything I could do better? Cody – no, its not like we were having conversations and I thought like I don't trust him. There is nothing I could say that you need to change. After the veto if the noms are the same .. when people come to me I am going to tell them I have a good relationship with Kevin .. I would appreciate if he stays. I am not even going to have this conversation with Keesha. I will say I am sorry but I have a genuine connection with you.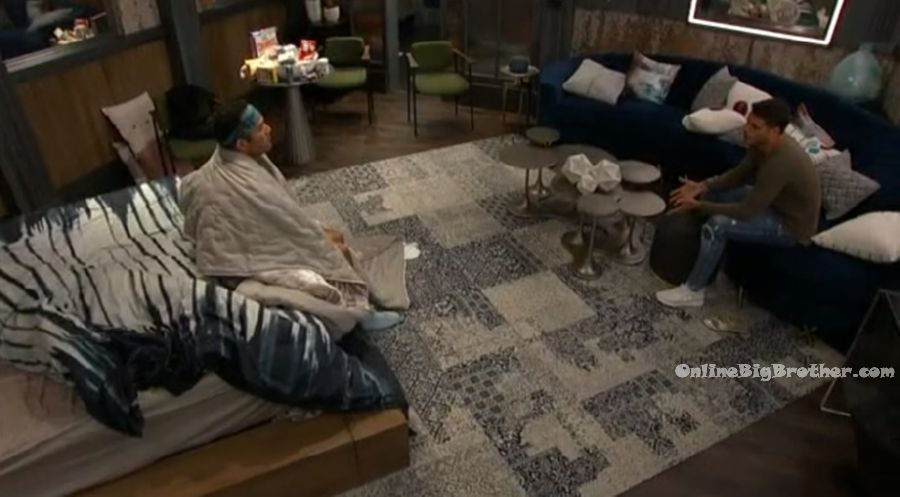 Kevin – I am going to try and win the veto. Cody – I am going to be on your side no matter what. Kevin – I hope they don't shun me. Cody – I have already talked to production about that .. for people to do that to someone I find that disgusting. I won't let you sit by yourself. Kevin – I am going to look for opportunities. And if you notice any I would appreciate some nudging. I am just going to try and talk to people and get the votes. Cody – my only advice is to act natural. Just be normal. Ask about how people are doing and what they're missing in their outside life. Because not a single person is going to know how they're going to vote yet.
6:35pm HOH room. Keesha joins Cody to talk about being nominated. Cody – I am so sorry. I didn't even know where to go with that. I said it to Kevin too.. I wish one of you had said something to make it easier. There is no one in here that has shown their true colors. I don't want it to be awkward. There was just nothing to grab at. Keesha – what did you grab at? Cody – we just hadn't really talked. Cody – I can't look at you and be like .. I want you to go home. I don't know how we will be in 4 days… we might be tight! Keesha – yeah! Cody – I am really sorry. I feel bad. I feel horrible. Keesha – its hard when it is this early in the game. Its easy when you have someone you're after.
6:40pm Living room. Janelle, Enzo, Kevin, Ian.
Enzo – This sucks bro man! It does! Kevin – I know. And when I talked to him he was like there was nothing to really go off. Its been two days. Janelle – the first one is always so hard. Enzo – that was just so awkward! I was like what the f**K yo! This sh*t is real now! I was saying 10 years ago when I was playing this I didn't give a f**k! Like right now while that was happening I was like yo this sh*t is awkward! Janelle – it took forever!! That was the longest nomination ceremony I have ever sat through. Kevin – I am just going to try really hard in the veto. Do you guys think it is tomorrow? Janelle – oh definitely its tomorrow. Enzo – we need to get outside! You win the veto and then we get Champaign tomorrow night! You know what I mean!
7pm Outside the HOH room. Daniele and NicoleA.
Daniele – I have to tell you something. I feel really bad for never getting back to you about doing your pod cast. Nicole – oh its okay. Daniele – I have to tell you because all of this was going on and I said to Dom because I feel uncomfortable I don't know what to do and I don't want to say the wrong thing. And he said just don't do it and stop stressing out about it. Nicole – I appreciate it .. I understand. I know what we had to do to come on here. They talk about the noms. Nicole – it makes it so much easier when there is a public enemy. Daniele – maybe we just need to start poking someone. Enzo joins them. Daniele – who are you feeling better about? Enzo – its hard .. Kevin is funny and Keesha is sweet. Daniele – Kevin is sweet too. There's not even any point in talking about it until after the veto.