Head of Household Winner – Nick
Nominations – Jessica and Cliff
Intentions – Nicole or Cliff
Power of Veto Players are Nick, Jackson, Jessica (picked Christie), Cliff, Kat
Power of Veto winner – Kat
Powers in the game
Ovi – Nightmare (Dead unless he comes back?)
During the night, Ovi could secretly wake up the house and call a new Nomination Ceremony, with the Head of Household naming two new nominees. The original nominees would have immunity for the week. The power is able to be used for the first six Nominations.
Jack – Chaos
After chips have been drawn for a Veto player draw, Jack could force a re-draw for the players. This power could only be used once and is able to be used until there are six players left in the game.
Christie – Panic
At any of the next four Power of Veto Ceremonies, Christie can turn the Golden Power of Veto into the Diamond Power of Veto and allow the current veto holder pull someone off the nomination block, but instead of the Head of Household naming the replacement nominee, the veto holder names the replacement.
Grab your live feeds —->  BB21 Live Feeds Subscription Link
Rank your houseguests —->  Big Brother 21 Ranking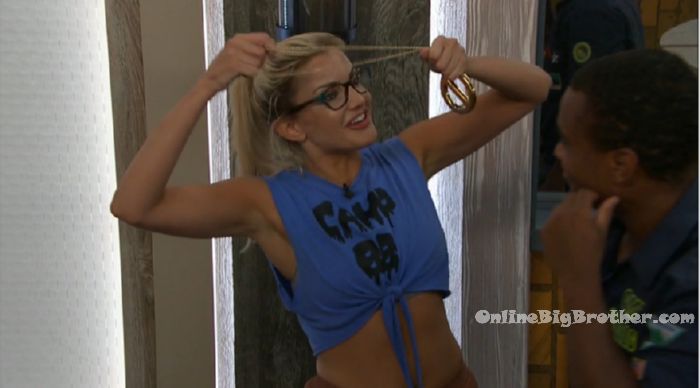 9:41pm The live feeds return from being blocked for the Power of Veto competition.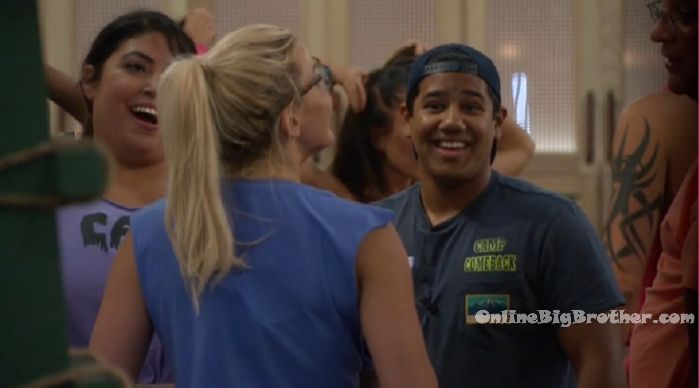 POWER OF VETO Winner: Kat
The live feeds come back and most of the house guests are in the kitchen. Kat – I told you I'm a comp beast! Kat goes to the storage room with Jess. The start dancing around the room. Jess – this is perfect because that means you're not going to be put up as a pawn!! Kat – you're coming off the block! Obviously I'm taking you off! He (Cliff) said I'm so glad I picked you. Jess – you have to be like I didn't pick you, I just choose you. It was a house guest choice. I am taking you off for sure! I am taking you off no matter what. Jess – do you want to tell him just in case he has a power. Kat – I will give him I'm like conflicted. Jess – maybe you can say you have to talk to Nick. Jess – thank you do much! I owe you so much!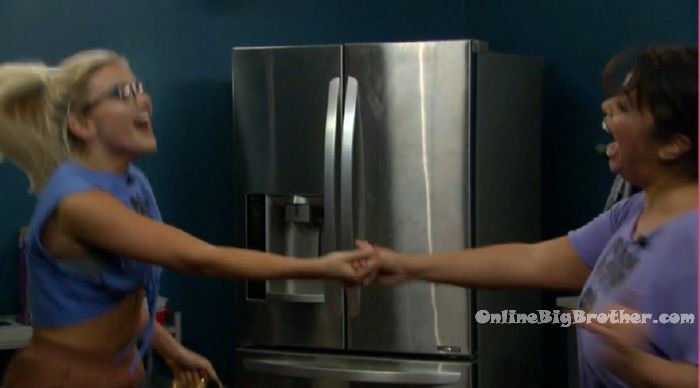 Kat & Jess celebrate Kat winning the VETO! "Obviously I'm taking you off!"#BB21 @bigbspoilers pic.twitter.com/qDTIvFPvSb

— Dawg (@DawgsBigBrother) July 14, 2019
Bathroom. Christie, Jack, Tommy and Bella. Christie – I was like make me lose in a really weird way. I don't want to have to use it on Jess because I don't know who I'd want to use it on. I don't want to win it. They (production) are literally going to air me pacing saying make me lose in a really weird way. Nick was like look and kicks my piece over .. it was near him my 17th piece. I was like I only have 16, I only have 16 .. my other piece was there the whole time. Crazy, I wasn't meant to win it. I didn't want to have to win it. Like it would have been weird. If I used it her and not Cliff. He would hate me. Bella – Kat has a relationship with both. Let her do it. Its perfect. Tommy – we were in the boat room today and we literally said Kat you could win this today. We think this is yours!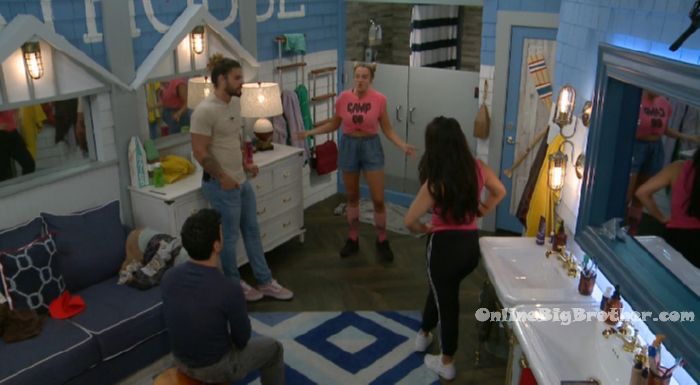 Bathroom. Nick, Bella, Tommy, Jess, Cliff, Kat, Christie, and Holly. They're all talking about the competition. Nick – you were not supposed to finish it that quick. Kat explains her strategy in winning the competition.
Bedroom. Christie and Analyse. Christie – I wasn't pshyc'd to win it because I didn't want to use it and I wasn't going to use it on Cliff. And if I didn't use it, it would have been weird and not nice. I was really excited to play but wasn't excited to win it. Holly joins them. Christie – all day I was in a weird space because of this Nicole thing. Bella and Nick are pushing to get Nicole out and I don't think that's the best thing. Its not sitting well with me. The way Tommy explained it to me .. Nicole wasn't the big liar that she was made out to be. If Kat doesn't use it… she is probably going to use it because they're going to bully her into using it. To be totally honest, I am not voting out Nicole. I don't care if I'm the only one.. I am not voting out Nicole. I am not going to be voting out someone (Nicole) that is going to be gunning for them (Nick & Bella). Its not all honky dory like we'll go to the nice and then fight it out.. I am not going to nine with them. I want to go to six and I want someone else to take a shot at them. I don't want it to be one of us. I am not going to vote out somebody that's going to potentially help us. Listen, we'll all talk about it as a group but I am not voting her out. Analyse – we'll all talk about it. Christie – just six. And if we do all decide to keep Nicole we are not telling her until after the eviction. And we tell her its the six and we all believed her. And Holly – I love your head space.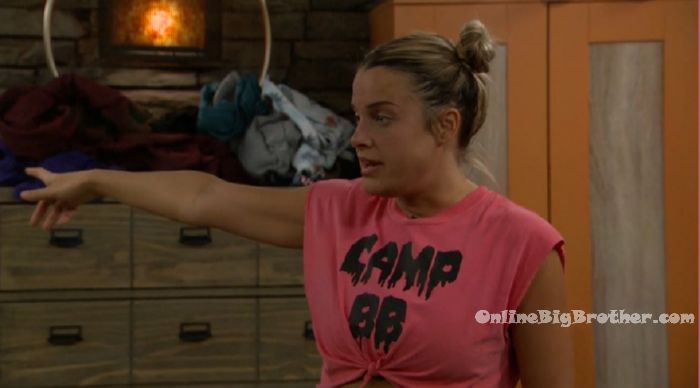 Jackson and Jack. Jackson – how did I do? Jack – pretty sh*tty did you throw it?! Jackson – like a f**king bomb! So what is this thing about keeping Nicole and Jess… what the f**k. Jack – you have to wait until we're private, private for that. Jackson – Sketchy, I did not know what to do. Jack – you're good. Jackson – I did not know what to do.. after you told me that I did not want to win it. Not a chance. I don't want that heat. Especially after you told me to take Cliff off and then I had already told Jess and Nick. Jack – I didn't say to take Cliff off. I said take Jess off. Its okay. Jackson – Kaitlin is HOT! DAMN! Jack – shes another face we haven't seen .. and she was in two hours of makeup.. don't give her too much credit. She looked great. Jackson – so fill me in? Jack – snakes are still snakes. Regardless of the Nicole situation. Bella is just more trash and just a b***h! Doesn't want to hear anything that Nicole says and is just fighting off why are we trying to get rid of someone that is trying to call her out. Some of it was true but also dude she was f**king pushed around. Christie and Tommy brought this up that we should fight for Nicole. Cliff needs to go. He is a puzzle solver. Nicole doesn't need to go. Jackson – okay, done deal! I just hope we can trust Nicole. Jack – well she is obviously not with Nick and Bella. Jackson – but can we trust her to keep her mouth shut?! Jackson – the idea is to not tell her until after the vote. After she lives, then we go and say these 6 people had your back this whole f**king time. Jackson – okay. Jack – then we come out of this with 7. But kat has to Jpull Jess off. She is going to pull Cliff off .. how do we get her to not pull him of. Maybe you work on her. Jackson – this is going to make things interesting. Jack – they're (Nick & Bella) are trying to eliminate their one witness. They still did all that bad sh*t and so did we. Jackson – I'm down.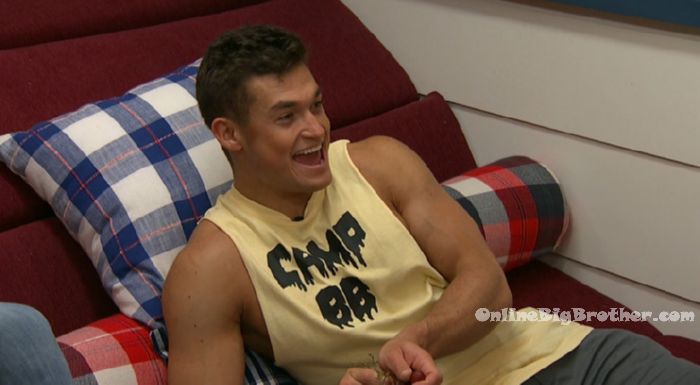 Kemi and Nicole. Kemi – you have to have a conversation with Nick.
Kemi – she really wanted to work with you because she connected with you in finals. (sequester) Nicole – this is what I said to Bella when I saw that he was in the lead ..I knew that people wanted him out and that's why I was shaking so badly. He was in the lead and people wanted them out. I was like oh my god which way do I go. We connected on day one with our anxiety, we both weren't eating. I don't know.. it just sucks so bad. Because Bella is such a jealous person .. especially when a girl is around Nick. Nick and Sam made the joke that I'm their favorite sausage fest. Kemi – even with that I think you're still good. They're going to put you up.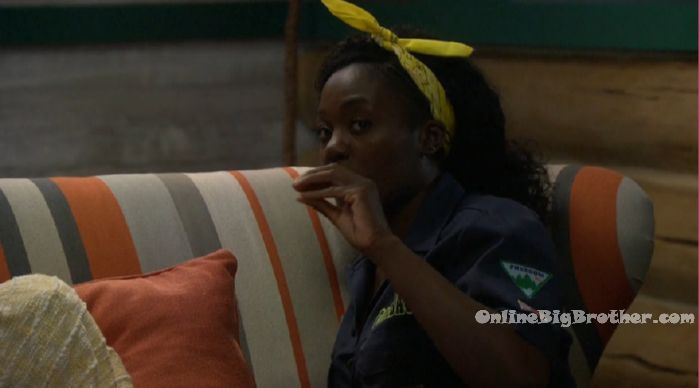 10:23pm Storage room. Jackson and Kat. Jackson – congratulations! Do you know what you're going to do? Kat – I'm going to use it on Jess. Jackson – cool! I think that's the best move.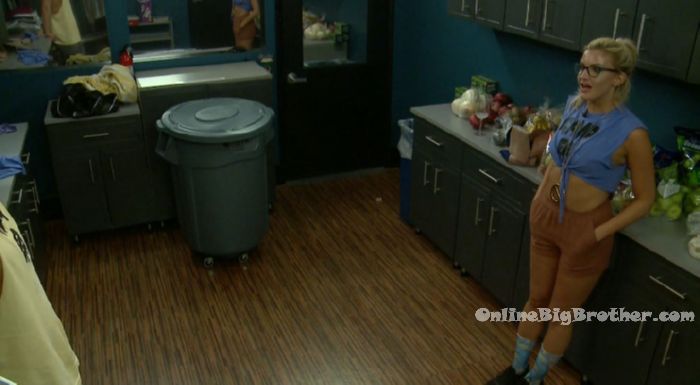 Jess and Christie. Christie – I love you and I want you to stay. I want to be loyal to you in this game. I feel a connection to you. Jess – me too. Christie – I feel that I would rather have you and Nicole here any day over Cliff. I just think that he is more dangerous than Nicole. Nicole wants loyal people to work with. I would rather her here especially if she is going to take a shot at manipulative people .. you know what I mean?!? There is a wall comp coming .. which I feel like she (Nicole) could win it. Get her revenge! I am sorry but Bella is the one that exposed the black widows. I was there, I watched it go down. I love Bella as a person but she is playing every person in this game. On a personal level, I would love to be friends with Bella outside of here but she is the bully not Nicole. Cliff is the better option to go home. I want you to come off the block.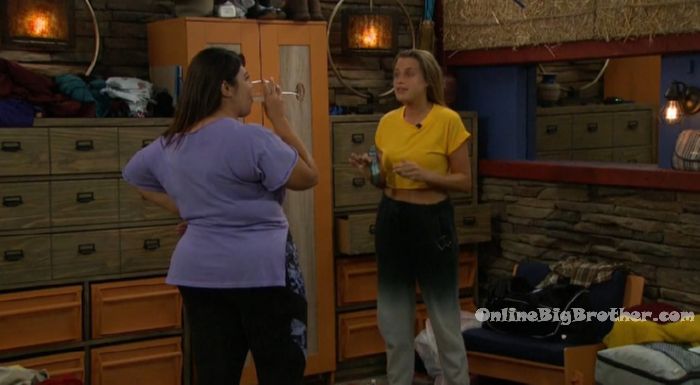 11:20pm – 11:35pm Bedroom. Jess, Nicole and Kemi. Jess – you don't have to talk to Bella or even look at her. You know she's not a number for you. Nicole -I guess its just scary because I don't know what she's telling people. Jess – in a perfect world I would want you and Cliff to stay. Our numbers are dwindling. Kemi – if next week one of you don't win .. its going to be more of the same. Jess – the game starts now… and yeah you f**ked up .. you tried playing both sides.. so what?! At some point everybody does that sh*t. Nicole – it wasn't even intentional. Jess – you said your peace. You don't need to keep apologizing. If Nick and Bella keep talking about it they with dig themselves a hole… that's just the nature of the beast. It's not over till the fat lady sings .. and this b***h ain't singing!
11:56pm Nicole and Kemi. Nicole is crying while Kemi plucks her nose hairs. Kemi – the weight of the world isn't on your back and its okay to sometimes be upset. This is so much more than a game.



12:30am – 12:55am Kemi and Bella. Kemi – the difference between Holly and Bella .. if Holly and Bella both murdered someone you would know exactly how Bella did it. Whereas you would have to figure out how Holly did it. So Bella's personality is more attractive because its so surface and you see it coming. You know exactly how to approach it. How to deal with it. How to destruct it.. or destroy it. Nicole – I've gotten that my whole life… I can't read you. Kemi – when you meet another Bella in the world you will know how to approach it.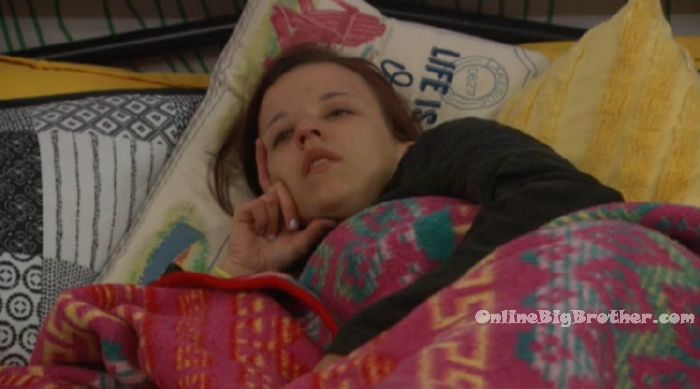 1:07am – 1:15pam Bedroom. Jackson, Jack, Holly, Christie.
Christie – we just have to be prepared to handle the wrath. We're all going to need to be emotionally and mentally prepared for the wrath of Bella. Jackson – that's cool. Fine! Christie – I'm cool, bring it on. Analyse – okay then I can go off. Christie – at that point yes. Because at that point she won't have a leg to stand on. You (Bella & Nick) tried to backstab us first and we beat you to it. We saw right through it and we played your game for a week because you're in power. You took the first jab and we beat you to it… BYE BOOBOO! Holly – him (Nick) not having control.. he is going to lose it. Holly brings up how Nick brought up working with her and others. Christie – Bella is just a conniver. Jack – I want her (Bella) to go first but Nick and Sam are the bigger threats. And she will be alone.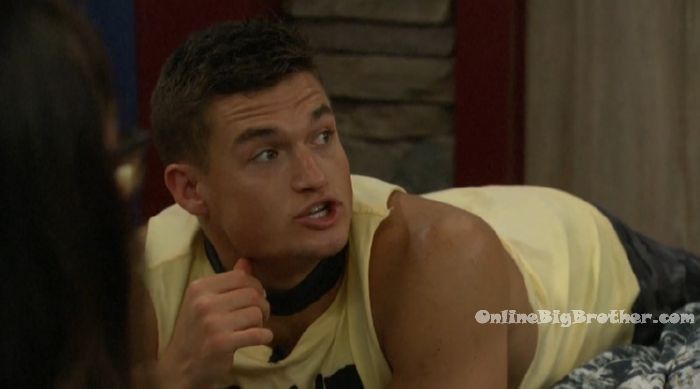 1:26am – 2am HOH room. Bella and Nick. Bella is annoyed with Nick Nick – I didn't mean to shush you or tell you to stop. Bella but it was super condescending. Bella – it made me feel really sh*tty. Nick – I feel super bad about that. Bella – you cut me off and were very dismissive. It was super sh*tty. Nick – I am so sorry. Nick – for your game I had your best interests. I'm not mad, I was just afraid for your game. It didn't look good that you were all alone. We said that we would always have Tommy or Holly around for conversations with Nicole. Its for your protection. I was literally looking out for you as a person. I am actually really really sorry. I love you a lot and I care about you a lot. And I don't want anything to happen to you.
2:20am Kemi brings up how she had a final two with Bella called "RUsh Hour". Nicole – who created it? Kemi – Bella. Nicole – we had a final two called "safari girls". And I overhearing her telling Cliff that he deserves it and how she wasted a final two with him.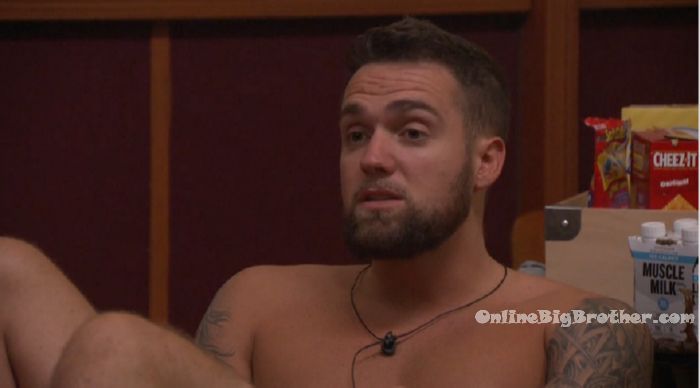 3:50am Nick and Bella. Nick – Tommy called me out. Tommy, Sis and Holly up here. We were talking if we would backdoor each other once we got to eight or nine. I was saying I don't think I could do it and they were agreeing. When we get to nine, I was like yeah it will be tough when we have to get Sam out. Tommy goes would you actually really though? And they were like yeah you're really close to him. I thought I don't think I could actually put him up but at that point, it didn't even matter. If that was what was best for the team .. I would be cool with getting him out at that time ..even if it was a complete fabrication I would never put Sam out. ..But like he (Tommy) brought it up and since he's part of the nine now I didn't have a choice. But then I felt like a liar. Bella – you don't have to because at that point 9 is way too close to 8 and is when its a free for all. Nick – well 9 is really the free for all. That's what I'm scared if its 10 .. who would be left… Kat .. they could easily flip at 10. Maybe we do need to win ten.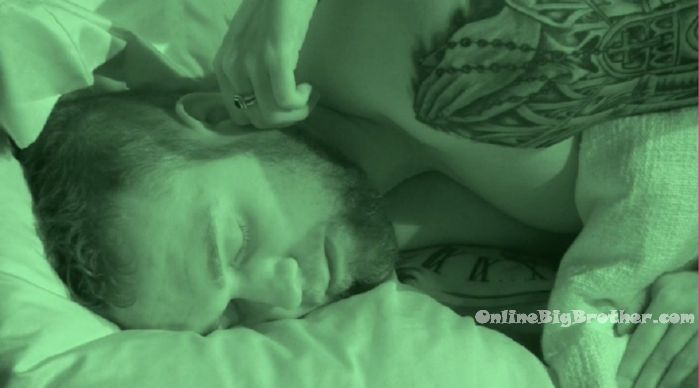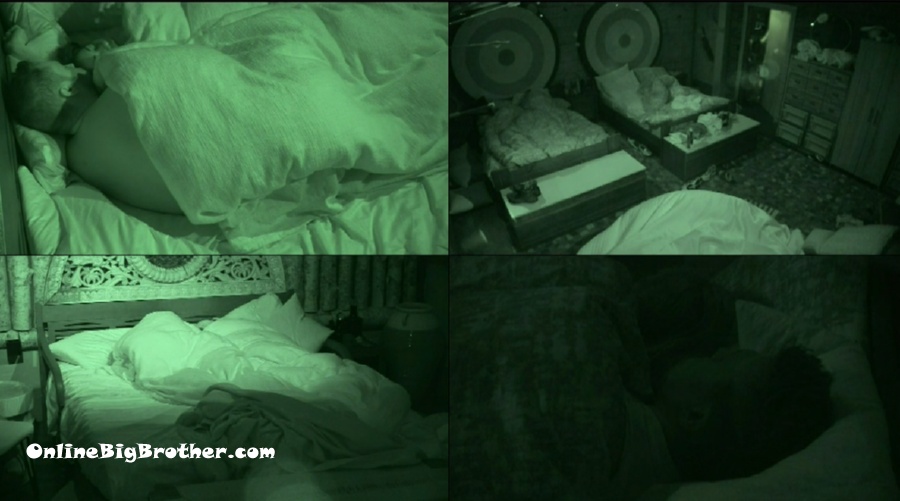 9:16 am Everyone sleeping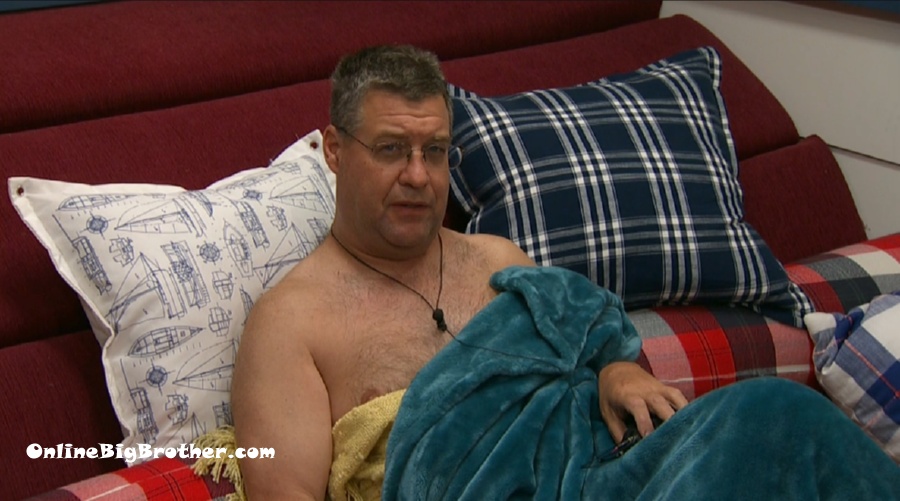 9:21 am Cliff is up
Cliff – It's been difficult for me really difficult for Nicole
Cliff – Nicole kinda blowing up her game, unfortunately, mine by talking about who she thought cast the rogue vote and blaming it on one of the couples. (you blew your own game up well before Nicole did)
Nicole – I need to distance myself from Nicole because I don't need people associating what she did with what I did
Cliff has been saying that Nicole was associated with Kemi more lately and he had nothing to do with it. (her telling Nick and Bella that the house is targeting them)
Cliff – I have to play my game and she made a bad a few bad decisions in talking and saying and the things she did. Did help any that I was over her talking about an alliance between her and Ovi so between the two I just have to distance myself and hope I can survive this thing.
Kemi – They (g8tful) all talk shit about each other once someone finds out they are talking shit about them.. AHHHH #BB21 pic.twitter.com/BGJmI5wdY1

— OnlineBigBrother.com (@bigbspoilers) July 14, 2019
10:24 am Kemi and Nicole
Kemi – they all talk shit about each other once someone finds out they are talking shit about them.. AHHHH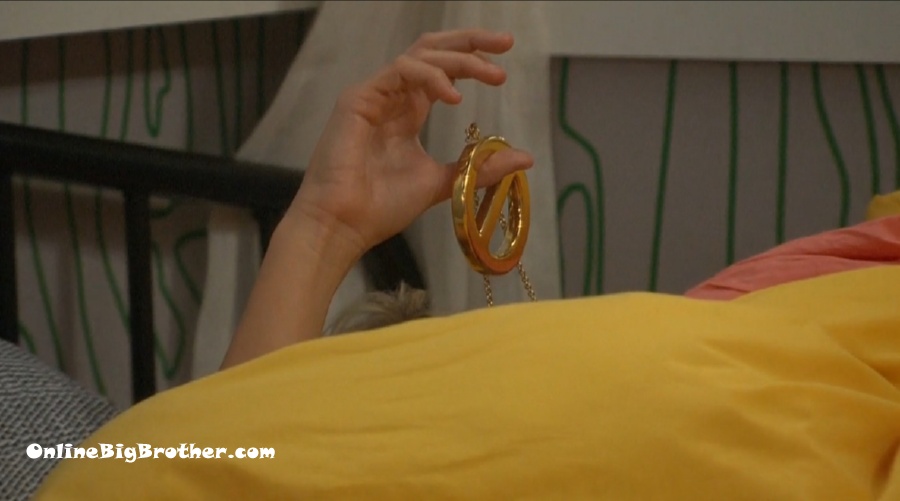 11:00 am Kat slept with the Veto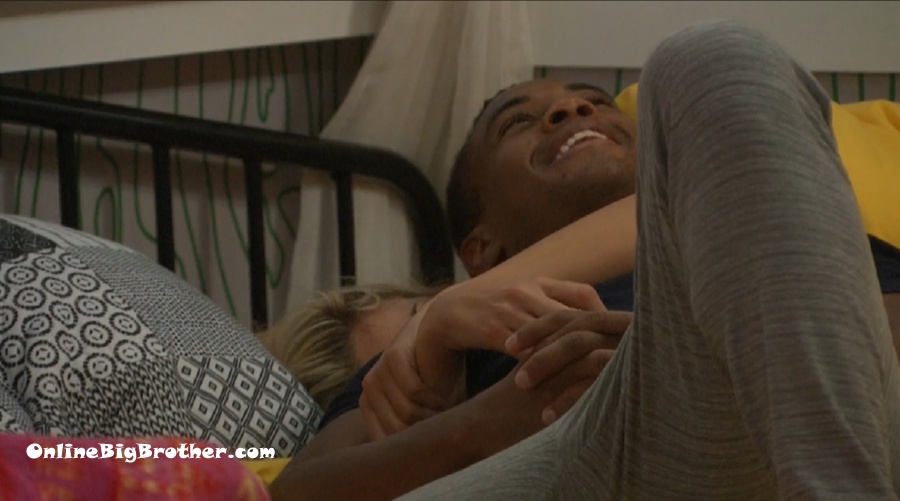 11:03 am Nicole, Kemi, Kat, and David
David asks if this is what their mornings are like
Kemi – David, stop acting like this is day one for you in the house you are here
David – I've never slept in none outcast positions .. I can only lay two ways on my bed
David says today he's going to learn backgammon today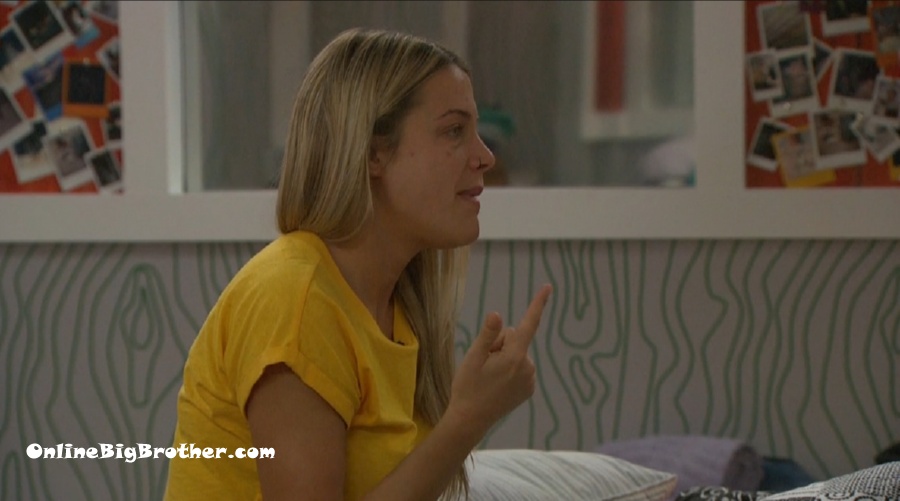 11:21 am Christie, Tommy, and Sis
Tommy points out that someone is coming back this week are they the target or are they going back to Nick/Bella. the person that comes back will be given safety for 3 weeks
because they will be taking a shot at each other
Christie says Nick and Bella should be the target after this week. She has a hard time living with people that think they got one over on them and f* us first by flipping the house and their plan didn't work Now they're team gr*ful team gr*ful
Christie – trying to squirm outta a whole mess and bullying someone to take the heat for it.
Christie- I won't vote Nicole out I don't care if I'm the only one I don't care if it ruins my game (she's got the DPOV)
Tommy – it is a game but if I have to vote Nicole out I will vote Nicole out
Tommy and Sis both say they will be the ones that put up Nick and Bella.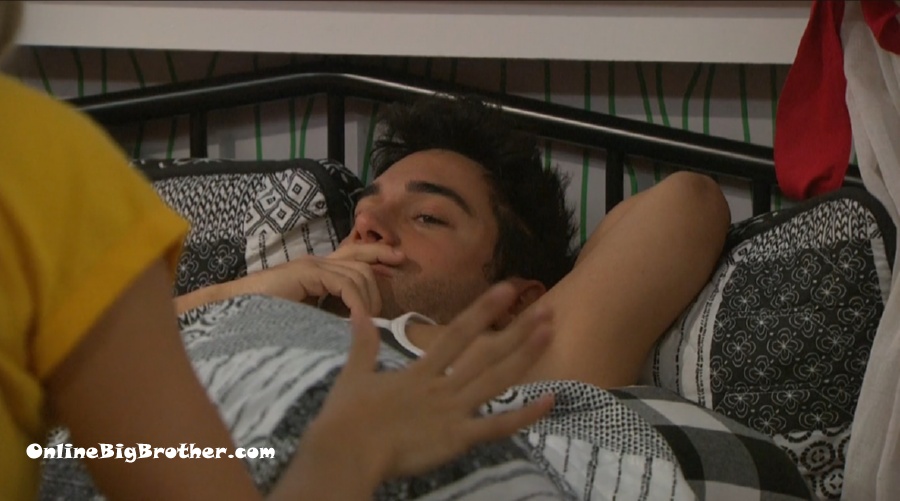 11:30 am Christie, Tommy, Jack, Sam
They agree Nicole would be the one they would want back for camp comeback
Tommy – David I fear the most. I fear the unknown. We didn't get any time to know him..
Tommy – I'm not convinced this isn't all an act. Like picking up your plates all that stuff I'm not convinced because then you see glimpses of another side of David the one where he gets woken up he gets pissed like which one is the real one
Christie says if David comes back and he's the pissed David they can all just agree to laugh at him he'll self destruct
Tommy says David will be a competition beast "look at his body he's doing sick workouts with Jack"
Christie mentions how clumsy David says she's not scared of him.
Christie goes on about Ovi and Cliff left in the house with the power will be a threat. they need to get Cliff out this week.
If you are one of the generous people that donate to help keep the updates coming, we're giving out a bit more this year. Check out this page for more details: OBB Members