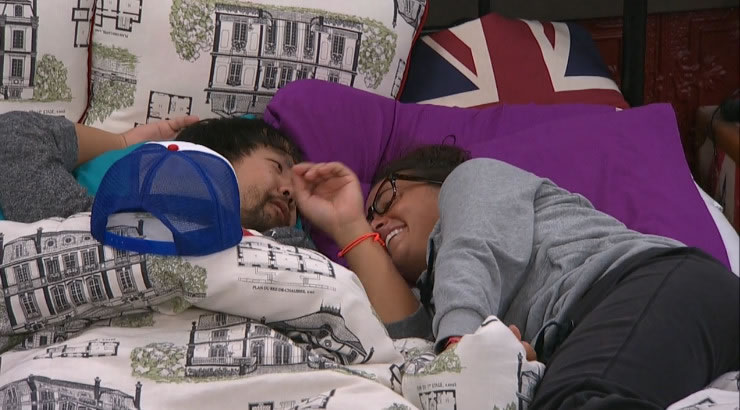 Last week ended with Michelle being evicted. Victor wins the Head of Household and nominates Natalie and James. He tells them it's revenge for their backstab. Fair enough. James accepts his fate and tries to keep Natalie off the block saying he was the one that talked her into taking Victor out last week. Natalie essentially tells Victor and Paul it was all James idea to backstab them. This doesn't have the affect they thought it make Paul and Victor want Natalie out more.
The POV is played and Corey wins, he doesn't use it. The "Final 4" alliance decides to target Natalie this week and James next week. At this point of the game you need to win some competitions to advance so game talk 1 week deep is pretty irrelevant. (less than 2 weeks left in the game)
Wednesday night a fan with a blow horn got close enough to the wall surrounding the house to yell Nicole and James have a pre show final 2. This caused a considerable rift between Natalie and James who where in the backyard at the time. It's apparent that the Natalie/James showmance is over but they continue to be friends. Not really surprised there.
So instead of a long winded break down here's the essentials…
Lots of poker, lots of domino's, Paul made fries at least twice, Nicole's nostril will fit a loonie, Corey still boring, James still playing for AFP and Natalie's fan club is officially shutdown.
Watch the HoH Competition play out TONIGHT (September 8th) on the Big Brother Live Feeds at 10pm ET! Also don't forget you can now get 1-month FREE with promo code: FALLACCESS – expires 9/16/16!
1-month FREE with promo code: FALLACCESS
Watch the next month of the feeds for FREE – 1 month free!!!
My Predication
Natalie goes to jury 3-0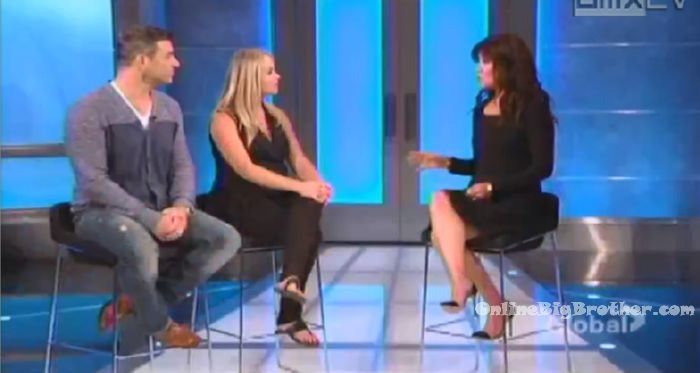 Jeff & Jordan are special guests on the show. They talk about how she got pregnant in Mexico. She thought she was having a girl and wanted to name her Sailor. Now that they know they're having a boy they're not sure what they will name him. They talk about the season. Jordan thinks Victor will win BB18 and Jeff thinks Paul will win.
Next up they show the jury house. Da talks about how Z is right back with Paulie. (LOL) Da – "He's like a fly at a picnic, he just keeps coming back. Now Bridgette and I don't exist." Michelle enters the jury house. She tells them about how Paul called her a c**t. They watch the endurance HOH competition.
Results from live show
Corey votes to evict: Natalie
Paul votes to evict: Natalie
Nicole votes to evict: Natalie
Evicted House Guest: Natalie
Julie reads a quote from Natalie when she was up in the HOH room talking to Paul & Vic. "I put trust in the wrong peoples hands, I really trusted James and his opinions." And asks if she thinks it could have been perceived as throwing James under the bus. Nat says she wasn't trying to throw him under the bus.
Will there be anything romantic between you and James? Nat says honestly it could, I'm not going to say yes or no. She says she will talk to him again if he works with Nicole & Corey. She supports him in whatever he does.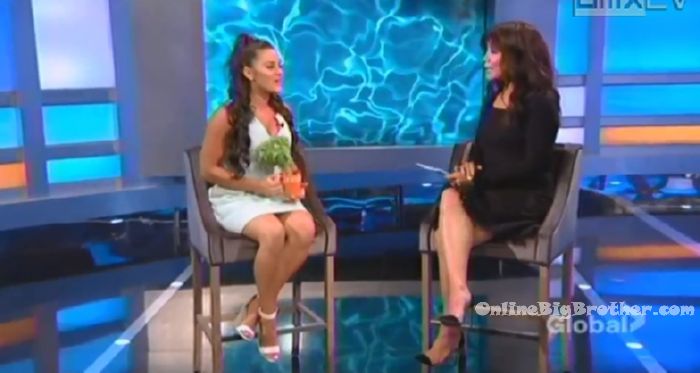 ENDURANCE HOH – Slip and Slide competition: "Slide in Theater"
8 gallons of butter to fill up the large container. If they fill up the smaller container they will get a larger scoop to transport more butter per trip. Corey and Paul go for the larger container. Nicole and James are going for the smaller container.
1-month FREE with promo code: FALLACCESS
Watch it all on the feeds – Live Feed 1 MONTH FREE Trial!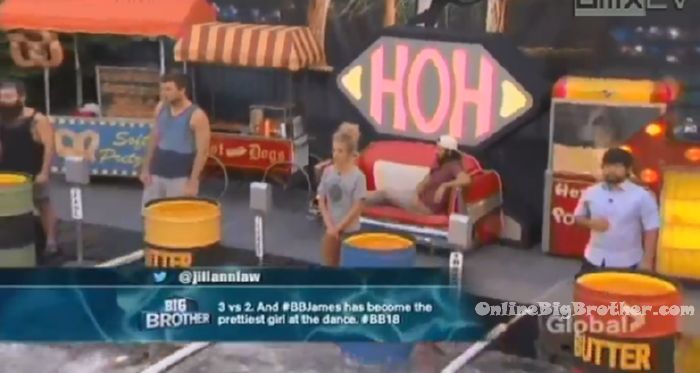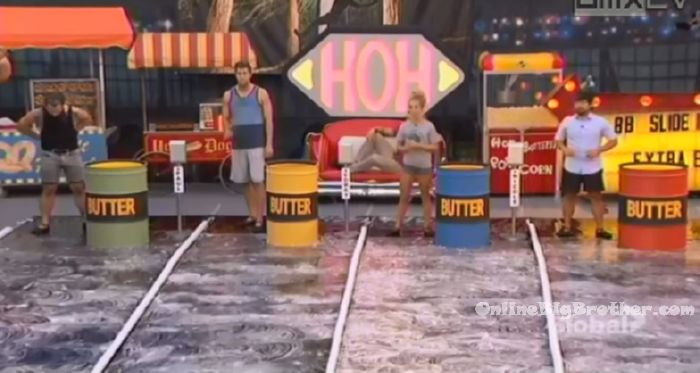 Julie announces there will be a special eviction episode on Tuesday Sept 13th. On Wednesday there will be another eviction.
7:03pm The live feeds turn on with the house guests racing to fill up their containers.
7:10pm Victor takes advantage of the snacks and has a hot dog. Paul takes a fall and then on his way back he take another hard fall. They're going to be really bruised up after this one. Victor "Butter not slip!"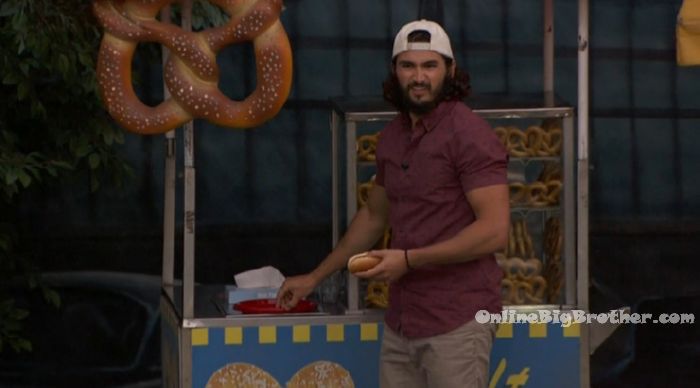 So far its looking like Corey is in the lead…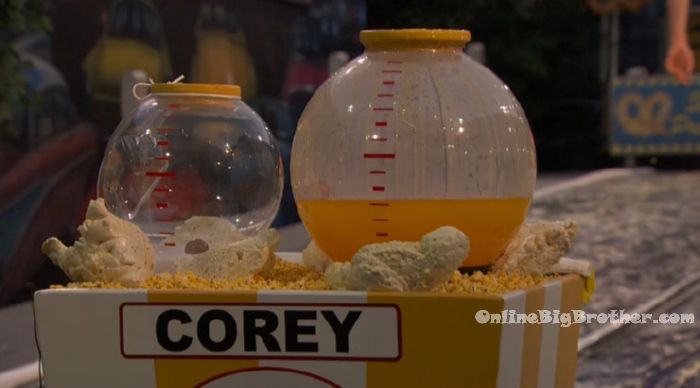 Nicole is getting closer to filling up the smaller container.. (James stopped going for the smaller container.)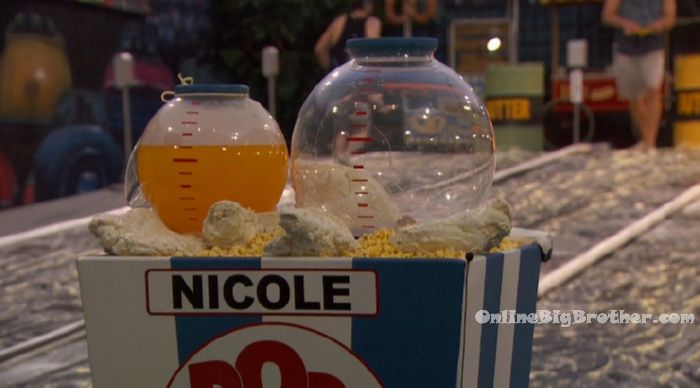 7:30pm – 7:35pm Nicole has filled up her smaller container but can't get the ball out. She says that it keeps knocking more butter out but she can't get the ball out. Big Brother blocks the feeds. When the feeds return Nicole has the bigger scooper. Paul takes a big fall and yells f**k!
7:40pm – 7:50pm Corey is still in the lead. Paul is still trying to fill up his smaller container. Paul tries to grab his ball. "Its not the slipperiest thing I've ever fingered!" Nicole takes a hard fall.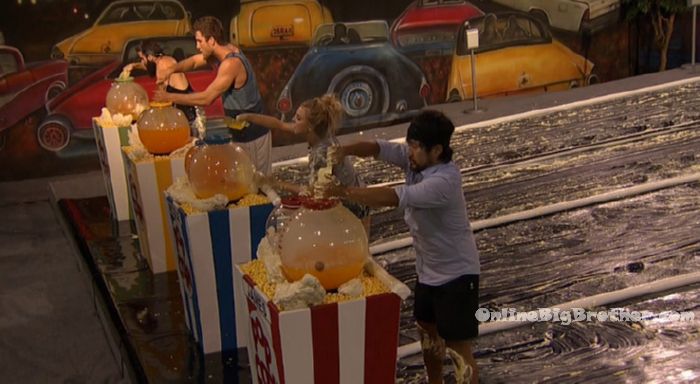 7:55pm Nicole is catching up and now has about half of her large container full. Corey is still in the lead with about 3/4 of his full.
1-month FREE with promo code: FALLACCESS
Watch the endurance on the feeds – Live Feed 1 MONTH FREE Trial!
HOH Winner: COREY
Corey – I didn't say butter I said Butt hair
Corey wins HOH #BB18 pic.twitter.com/PifbLj3fCN

— OnlineBigBrother.com (@bigbspoilers) September 9, 2016
[polldaddy poll=9517035]
Show your appreciation by making a donation.
Donations support this site more than anything. If you dig our spoilers please find a way to support us.