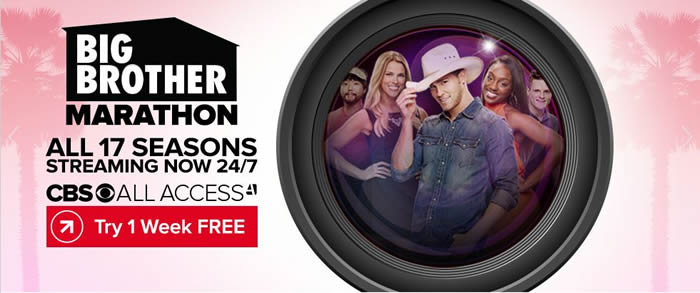 Big Brother 18 is scheduled to premiere on Wednesday June 22 and we're excited to announce MORE exclusive content if you subscribe to the live feeds. By signing up for the live feeds today, you will get to test them out for FREE for 1 week. As a member of CBS All Access, you'll have access to the VIP chats with Big Brother Alumni, the Big Brother Marathon (Now playing every episode from Big Brother 1 – 17), Big Brother Alumni Hotseat videos, and be able to watch any episode of your favourite CBS show. The first set of VIP chats have already happened but below are the second set of Alumni VIP Chats.
Subscribe today for your 1 WEEK FREE Trial!
The following Big Brother VIP chats will be released 24 hours prior to the date and time.
Big Brother Alumni VIP Chats:
June 1 at 1pm Pacific Time – Jessie Godderz
June 3 at 11am Pacific Time – Rachel Reilly
June 3 at 12pm Pacific Time – Brendon Villegas
June 7 at 9am Pacific Time – Derrick Levasseur
June 8 at 9am Pacific Time – Jason Roy
WHY SIGN-UP FOR THE LIVE FEEDS THROUGH ONLINEBIGBROTHER.COM:
By signing-up for the live feeds through one of the links on our site you are helping support all the spoilers we provide all season long at no extra cost to you. Its just one of the ways you can help support all the hard work we put into the 24/7 live feed updates.
Share it YO!!
Tweet