| | | | |
| --- | --- | --- | --- |
| HOH Part 1 | Paul | HOH Part 2 | Nicole |
| HOH Part 3 | ? | Final HOH Winner: | ? |
Watch the last week of the feeds for FREE! 1 Week Free Trial!
The houseguests woke up around 10am. Lotsa speech practicing, lotsa going over the season, lotsa sleeping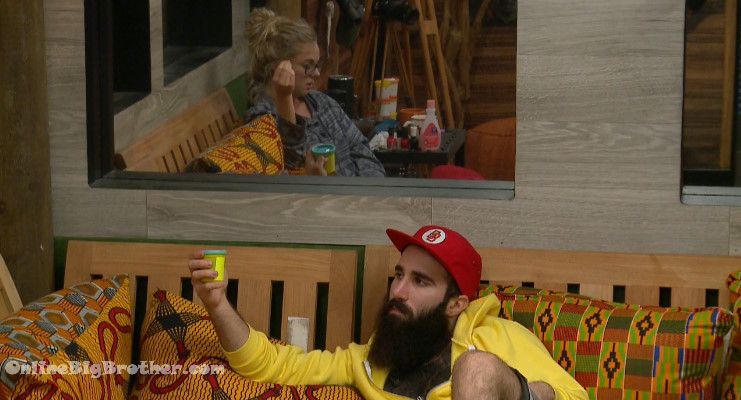 3:19pm Safari room Nicole and Paul chatting about the season. Nicole highlighting how screwed her side was after Zakiyah left and the house flipped.
Nicole about Corey winning the double eviction "God was watching over Corey at that point" (She must have free time on her hands)
At 3:20 Nicole leaves to use the bathroom they do not turn the Microphone off so we hear her pee.. (Sometime I think I deserve hazard pay for this… LOL)
When she comes back she's telling Paul that Corey and James were really close.
Nicole – that's like you best friend voting you out
Paul – really..
Nicole – I don't have someone that close to me other than Corey..
Nicole – they were super close.. Texas..
Paul says he had no idea.
Nicole – he was never going to vote James out.. It would have been mine and your votes to vote James out.. I cannot believe James votes him out.. It makes me feel bad because I can't imagine how america thinks because they couldn't have been closer.
Paul is super surprised by this he had no idea.
Nicole called into the Diary room, they head into the bathroom so she can get ready.
She heads into the Diary room and we get a Diary room leak
Female voice (Production) "Hi darling.." (Darling??)
Nicole – Hey
Production – "This will be super quick"
Audio cut..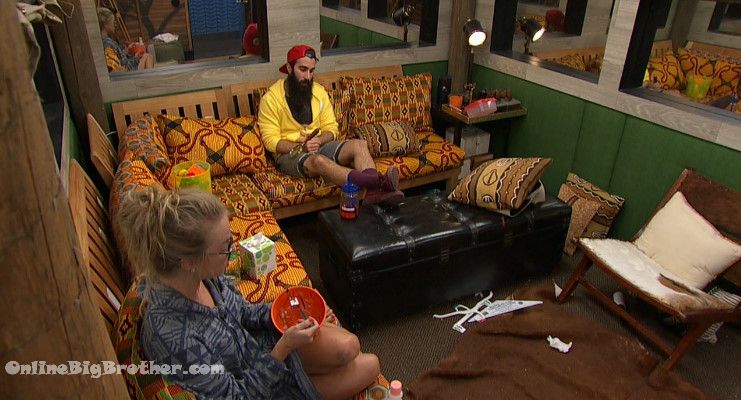 3:30pm Safari room Nicole and Paul
Nicole _ James acted like him and I were as close as Corey..
Nicole – James has a soft spot for girls if you haven't noticed..
Nicole – he said he worked a lot behind the scenes. (James)
Paul – what was your favorite moment in the house
Nicole says she has to think about that stuff asks him what is his.
Paul – I say winning the final 3 comp..
Nicole – the one you cried
Paul – that was a pure feeling of euphoria .. I was at a lost for words..
Paul – how long will this scale comp last 10 minutes..
Nicole – yeah…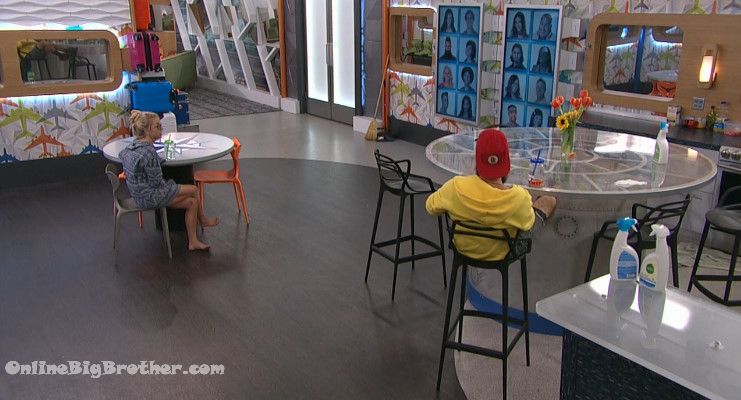 4:04pm Kitchen Paul and Nicole
Talking about the order of people solving the riddle that led to the tunnel, Paul, Victor, Corey and Natalie.
Nicole says Corey wouldn't tell her then Victor blurted it out
Paul says Victor was a idiot to do that. Goes on about how he bitched Victor out for it. Paul impersonates Victor "He's confident in his win"
Paul – every time you mentioned his battle backs weren't a win he would try and kill you..
Nicole going on about Corey not telling her the riddle answer says it put red flags up for her.
Nicole brings up a story about victor telling her in front of Corey that she stood him up for a coffee date.
Paul tells her that Victor had a crush on her.
Nicole – he was just a good guy… he didn't think Corey liked me.
They talk about Tiffany not really being that big of a threat. Nicole says Tiffany wasn't but for some reason Paulie thought she was. They agree when Paulie left it was time for him to go he lost touch of the game.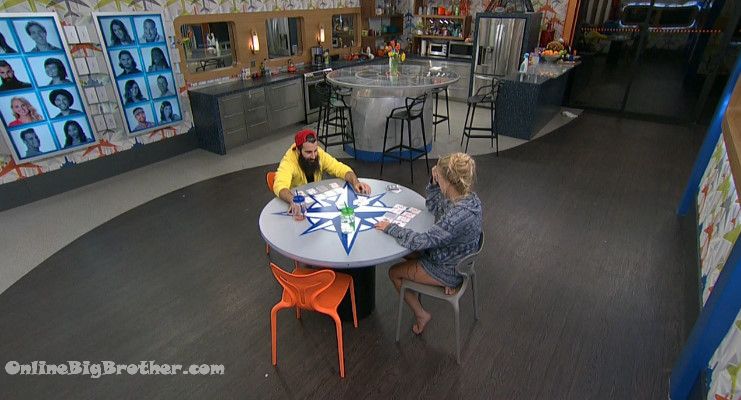 4:42pm Cards
5:25pm – 6pm Nicole and Paul are chatting in the safari room. Nicole tells Paul about how the finale happens. Paul – I think it will be 5 – 4 vote. Nicole – no, I think it will be a 6 – 3 or 7 – 2. Paul – for you. Nicole – no. Paul – I think you give me way too much credit people liking me. I think you're just peppering up the blow for me. You're selling yourself short. Nicole – Natalie, Michelle and Da won't vote for me. It doesn't matter if I was sitting next to the Grinch. Paul – me. Nicole No, if I was sitting next to this tissue box, they would vote for it. And I know I don't have Victor's vote. You have that. I know I have Corey and maybe Paulie. Paul – you'll have Paulie and Bridgette over me. Nicole its going to be 6 – 3 for you. Paul – Nope I am telling you, you're going to win. Nicole talks about how in the beginning Victor was saying they should go out some time. It was really awkward because I liked Corey.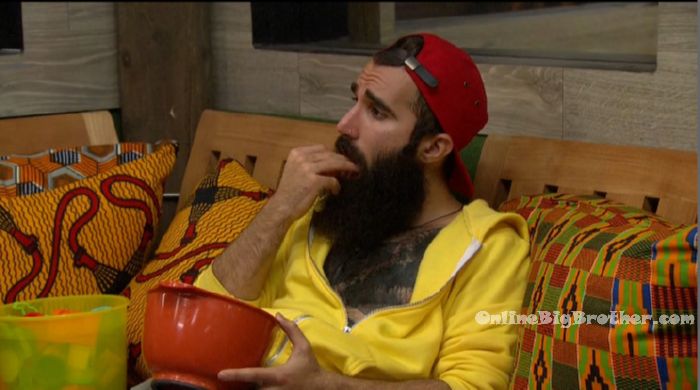 6:20pm – 7:15pm Nicole is laying in bed practicing her final 2 speech. She keeps going over the same things and points she discussed the other day. If you want to know her speech – here's what she plans on saying –
Nicole's finale 2 speech.
7pm Paul and James are in the kitchen talking. James thinks no one will care about him because this is his second time. They'll just push me aside. Paul disagrees.
7:20pm – 8:30pm Nicole, Paul and James are in the kitchen talking about past events of the season. Nicole heads back to bed and practices her speech again. Nicole turns off the light to go to sleep.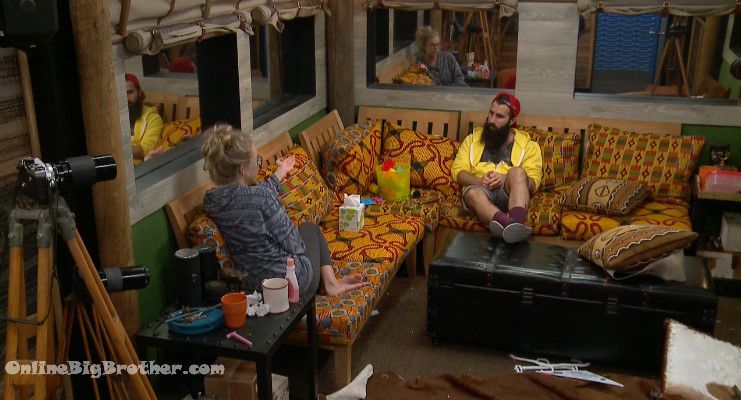 9:23pm Paul and Nicole Safari room
Chatting about final 2
Nicole – I'm freaking out tonight.. I'm not goign to be able to sleep, I'm goign to vomit..
Paul – I want to take you
Nicole – I want to take you, I just want to make sure you're not bull-assing me..
They mention James is doing nothing and it's got them both worried.
Paul tells her straight up if she scum bags him he will be deeply hurt and would expect Nicole to be deeply hurt if he scumbags her.
Paul says their odds are better together than against James.
Nicole says she doesn't know where her odds are better, "To be honest I want to win this game"
Nicole says she's trying to find which one she has a fighting chance against Paul or James.
Nicole says she knows she's goign to freeze up during her speech, "I'm freaking out i'm only going to get Corey's vote"
Paul – you are jumping the gun.. you need to stop thinking about jury..
Paul mentions Da, Michelle, Zakiyah and Paulie are all toss ups
Nicole agrees
Paul says he's got Victor, she's got Corey. His maybe is Bridgette her maybe is James and Natalie.
Paul – if it's him he's tied to 3 people possibly 4..
Nicole – he's tied to a lot of people
Paul – He's tied to at least 3 I don't know where Bridgette is..
Nicole says she's still sticking to their plan she just needs some reassurance..
Nicole – If I was him I would be trying to fight for my game a little bit more.. why isn't he trying to fight..
Nicole – I hate what it feels like to not know
Paul tells her no matter what
Nicole – what if I could get first with James and Second with you
Paul – I could say the same thing.. what if what if… my mind is made
Nicole – My mind is made.. I'm going to what if my entire life
Nicole – Cody could have brought Victoria and won 500 thousand dollars..
Nicole – I don't think my Chances with him are better.. I know my chances are slim
Nicole says she would have taken Corey even if it meant getting second.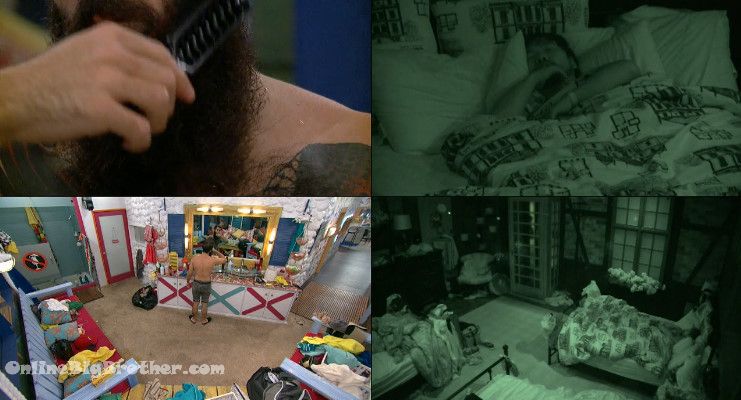 10:31pm

11:00pm Paul and James playing cards
12:10am The final 3 house guests go to bed for the last time in the Big Brother house…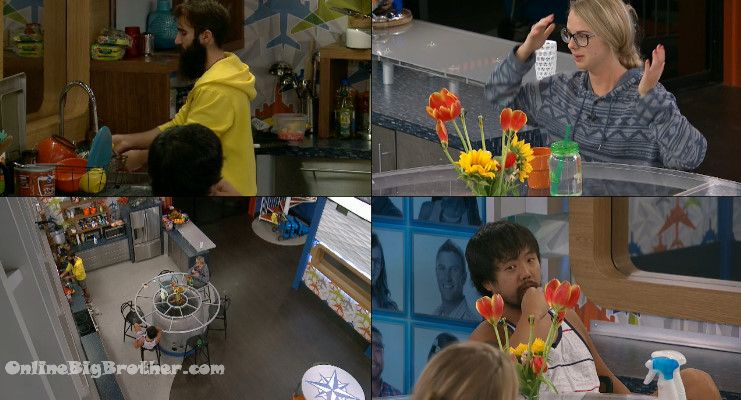 9:46:40am Feeds shutdown for the season…
PAul – remember Victor couldn't poop his balloon during the carnival..