Week 10 ended with Meg and James begin evicted. Later that night Steve won the HOH with his target being one of the Austwins, Preferably a twin. Steve nominated Liz and Austin. The ultimate fear was Julia winning the POV using it on Liz resulting in Steve having to nominate Vanessa or Johnnymac. During the POV Vanessa was ostensibly helping Julia but was actually ensuring she didn't win the POV. Austin ended up winning and the Vanessa's wheel's started spinning.
Vanessa went on to explain her actions during the POV 400,004 times don't believe me go back and read the updates it was insane. She made deals with the twins, Asutin, Johnnymac and Steve many of these deals were dubious at best. For example, once it was known that the twins were on the block she told them she will honour their wishes and vote out the twin they want. At this point the twins said they wanted Julia to stay which was exactly what Vanessa wanted. She scampered around the house preparing for Liz is go, Setting up final 2 deals, with Julia and everything with a pulse. Later in the week the twins decided their best chance to win the game will be for Liz to stay. Telling this to Vanessa put some panic in her. She came to the twins with a deal that they must agree to for her vote. Now remember it was her that said she would honour their wishes and told them they had a choice in the matter. Austin had told them a similar thing.
Vanessa's deal went something like this..
1- they agree to something meaningful that was yet to be discussed, "Not front door… and if I'm the backdoor I have your votes.. "
2- If Steve and JOhnnymac are on the block next week it's her call for who stays
3- If it's one of them and her with Steve/jmac in the final 3 and they win final HOH they have to take her.
Well this set of major alarm bells with the Austwins. hey start comparing notes and after some round about conversation with Jmac deduced that she's playing the whole house making her a major target.
Lucky for Vanessa the surviving twin has said they will target Steve first and will vote Vanessa to win if she's the only girl in final 2. Vanessa's game is starting come apart but at this stage it's really about winning comps.
Tonight we're confident Julia will be evicted, HOH on the other hand we have no idea.
We're nearing the end of the season with this week being the last regular week for Big Brother 17. This season's final 2 weeks should look similar to last year.
Last Years Schedule
Sept 10 – BB Rewind Happened
Sept 11 – Luxury competition
Sept 11 – Nominations
Sept 12 – POV Competition
Sept 14 – Veto Ceremony
Sept 16 – Live Feed Leak during blackout – HOH winner revealed
Sept 16 – Eviction and HOH episode
Sept 16 – POV competition
Sept 17 – Eviction
Sept 17 – Part 1 of 3 Part HOH
Sept 19 – Part 2 of 3 Part HOH
Sept 24 – Finale Night
Live Show results
[envira-gallery id="133019″]
Jury house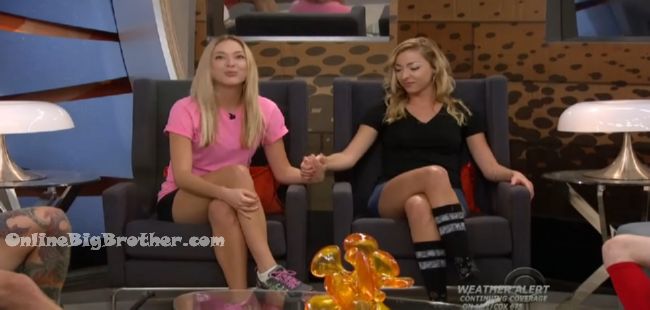 Vanessa votes to evict Julia
Austin votes to evict Julia
Johnnymac votes to evict Julia
[envira-gallery id="133027″]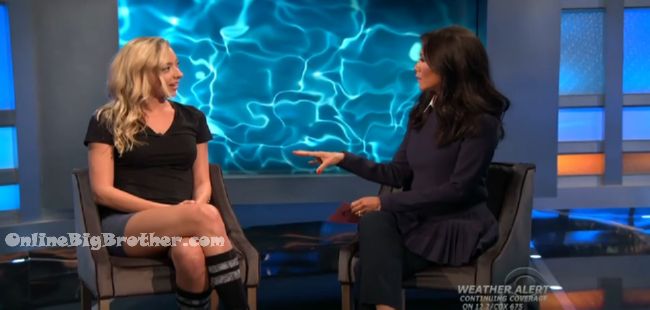 Evicted House guest is Julia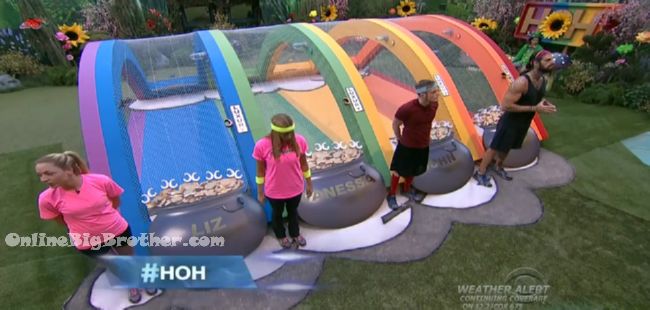 Head of Household Competition
"Over the rainbow"
If you go for the special prize you get a trip outside of the big brother house but it might slow down your chances to win the HOH.
The competition is played until both the luxury and the HOH is won. To win the HOH you need to move 10 eggs.
Tuesday is a eviction and HOH Episode
Wednesday is a eviction Episode
Thursday first part of final HOH is played.
Top 3 gifs from the week
Jmac and Austin Final 4 deal #BB17 @DawgsBigBrother pic.twitter.com/Fn379eKjpr

— OnlineBigBrother.com (@bigbspoilers) September 9, 2015
Failed Shark attack on JUJU #BB17 @DawgsBigBrother pic.twitter.com/VPtX8KnKhm

— OnlineBigBrother.com (@bigbspoilers) September 9, 2015
Austin pulling off a flawless Audrey #BB17 @DawgsBigBrother pic.twitter.com/oH4CSJnjDm

— OnlineBigBrother.com (@bigbspoilers) September 5, 2015
Steve "How cool is it that I'm HOH!" @bigbspoilers #bb17 pic.twitter.com/9CXc4kHQSG

— Dawg (@DawgsBigBrother) September 4, 2015
Amazon Purchases
Purchase your Amazon goods through our link. It doesn't cost you anything and we get a percentage of what you buy.
Amazon Canada
Amazon USA
[polldaddy poll=9059938]
[polldaddy poll=9063299]