POV Holder:
Austin
POV Competition
Sept 5th
POV Used
Yes
POV Ceremony
Sept 7th
HOH
STEVE
Next HOH
Sept 10th
Original Nominations:
Austin and Liz
After POV Nominations:
Liz and Julia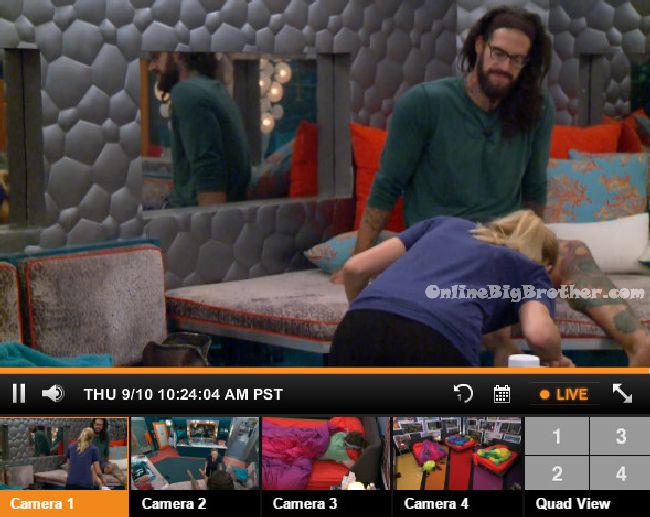 Watch the NEXT WEEK of the Live Feeds for FREE! 7 DAY FREE Trial
10:20am – 11am Austin, Liz, JUJU and Steve are now awake. Liz is cleaning up the kitchen saying they ants are in everything. Austin complains of having a leg cramp. Big Brother asks Liz 3 times to put her microphone on. Austin asks her why won't you put it on? Liz says she's going to go on strike until they clean up the ant problem. She then puts her mic on. And then "kisses Austin's leg better". JuJu says they've got 2 weeks left with the ants. You've just got to live in harmony with them. Johnny Mac joins them to have breakfast. Julia starts talking about Adam Poch (Big Brother 13) and how he loved bacon. Julia says she's going to be pumpkin head for Halloween. Johnny says you know how ugly he looks? he looks like an alien. He doesn't look like a pumpkin! A really big ugly alien. He looks like ET but 10 times scarier! The conversation turns to talking about Teenage Mutant Ninja Turtles. Vanessa joins them. She talks about never gambling when she is drunk but would with $20 just to f**k around. Steve says he would never gamble with $20.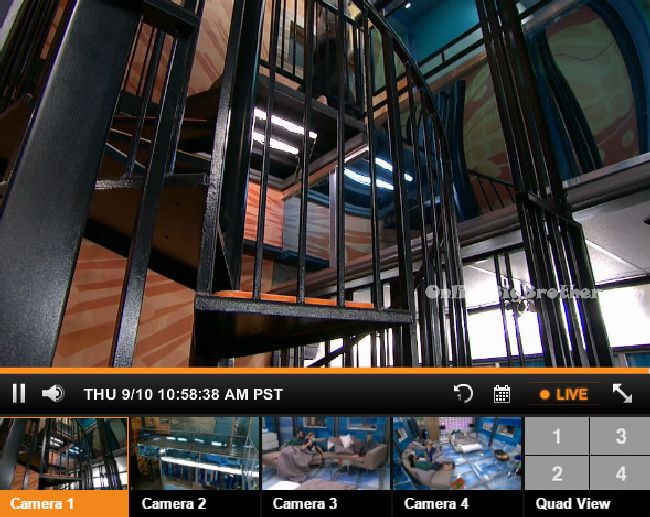 10:55am – 11am Big Brother blocks the feeds and when they return all of the house guests move up to the HOH room for the HOH lock down. The boy gets in his corner. Vanessa tells Julia – JuJu I'm going to miss you! Julia says I know, I'm sad! Vanessa says maybe I'll be the next one out right after. Will you do me a favour? Julia says yes. Vanessa asks can you make sure everyone doesn't hate me too bad? Julia says yes. Vanessa asks can you tell them I'm a good person. Julia says I'm going to tell them, I don't know why you all hate her so much but she's a really good person. I swear! No, I'll get the low down. I feel the only one that would hate you would be Becky. Vanessa says but even Becky should realize I'm a good person. They head into the HOH room and Vanessa says "Steve you suck!" (Because he brought up her stuff but left it outside the HOH room door.)
Big Brother then switches the feeds to the live feed highlights.
1:10pm Still blocked..
1:15pm The Live feeds return to all the house guests out of the HOH room. The lock down is over. In the bathroom – Steve comments on how he wants to throw up because the havenot room is officially locked. Vanessa starts cutting Johnny Mac's hair. She comments on how he has a forest on his back and says she's not cutting it. Julia says they're probably going to have a button in the havenot room. Didn't they have pandora's box in 15? (BB15) Austin says no, they just locked the havenot room.
1:30pm – 1:35pm In the kitchen – Big Brother blocks the feeds. And then switches the feeds to Austin and Liz in the kitchen. Austin says you're scaring me, I thought things were happening. Liz says I get excited about things like that. Austin says he's nervous. Liz says that she's nervous too. Julia comes in and asks did you kiss and make up? Austin the meany head. (Not sure what they're talking about. Possibly about the havenot room being locked.)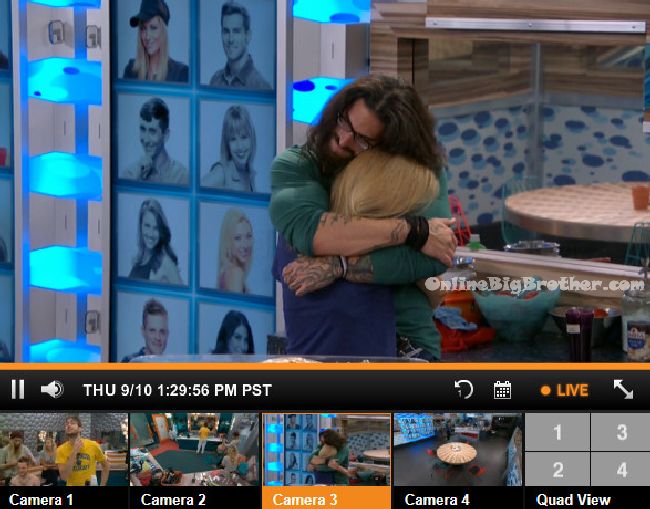 Steve says he's nervous about the havenot room being locked. I don't know what they're going to put in there. Julia says it could be nothing like what Austin said.
1:50pm – 2pm Julia and Liz go into the comic room. Liz says you need to talk to Johnny Mac. Austin says like .. if he wins HOH and tries to turn it around he can't have anything to do with us .. its like just you doing this just looking out for him. Julia says honestly I'm not like friends with him. Liz says please. Julia ask why do I care about him. I have no concern for him. Liz says its not about you though its about me. If he wins HOH he is going to come after me. Julia syas okay so just be like I want to let you know that… I just want to confirm that you're voting to keep me … and I just wanted to let you know that Vanessa and me had a final 2 deal. And I don't think that you could really trust her. Liz says say that… Julia says this is so stupid. Liz asks why its for me. Its not going to hurt you in any way! Just be like I was kind of manipulated by her in that veto thing and I just don't think you should trust her. Julia says okay. I will do it but I just hope it doesn't backfire. Liz says if he wins he needs to know that going in the the HOH. If Austin and I try to tell him .. then he will get manipulated by her again. They start practising their speeches.. Austin joins them and Julia tells Austin what she is going to tell Johnny Mac.
Liz comments on how while the feeds were blocked they were told they have to wear athletic gear (for tonight's HOH competition).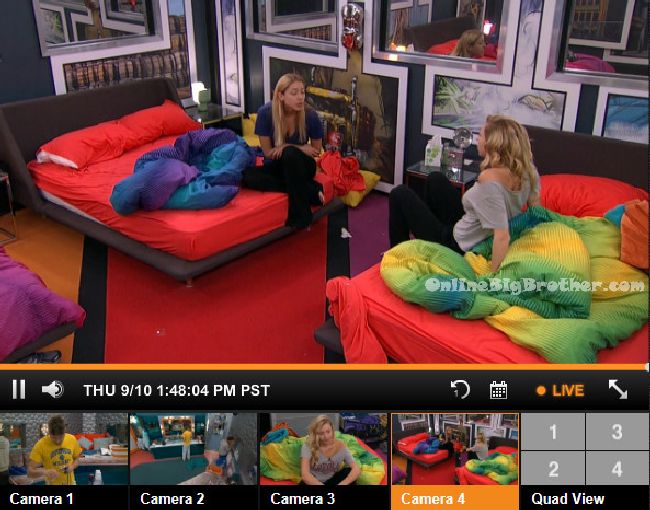 2:05pm – 2:10pm Big Brother calls Steve to the storage room and he finds his stuff teddy bear. He says oh I get to keep him. (He left the bear in the HOH room because he thought he couldn't keep it.) Julia asks do you actually sleep with him? Steve says yes he sleeps with his teddy bear and has no shame. Julia says oh my god .. I can't!

2:20pm In the cabana room – Liz and Julia continue to practice their speeches.

2:20pm – 2:30pm In the comic bedroom –
Steve asks Johnny – I don't creep you out do I? Johnny says no. Steve says unlike James. Johnny says HA! Pen!s jokes! Steve says compensating. Johnny asks how do you know? Steve says that James compensating? You don't know what happened up in the HOH room John. Things happened. We don't talk about them. We don't talk about what happened up in the HOH room that night. Much like camping. That was the first night the camping joke started. When I introduced that joke camping had nothing to do with $ex that was 100% James.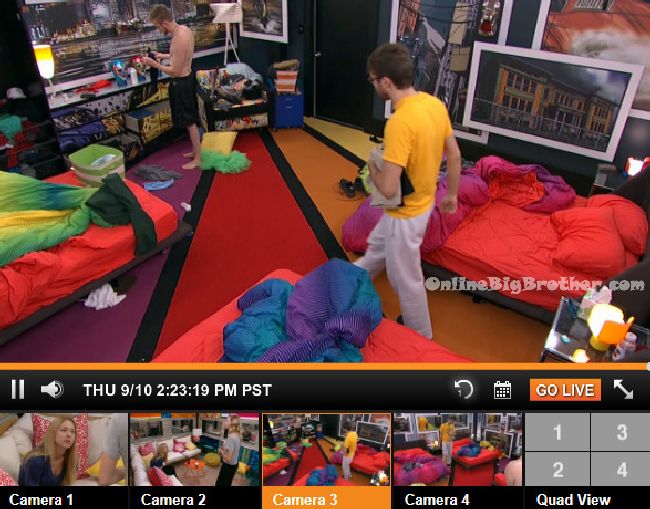 2:35pm In the bathroom – The twins are getting ready. Liz says she's nervous about the HOH comp and hopes its not the shovel comp. Julia tells her to go slow. Meanwhile in the living room – Johnny mac is vacuuming and Vanessa is straightening up.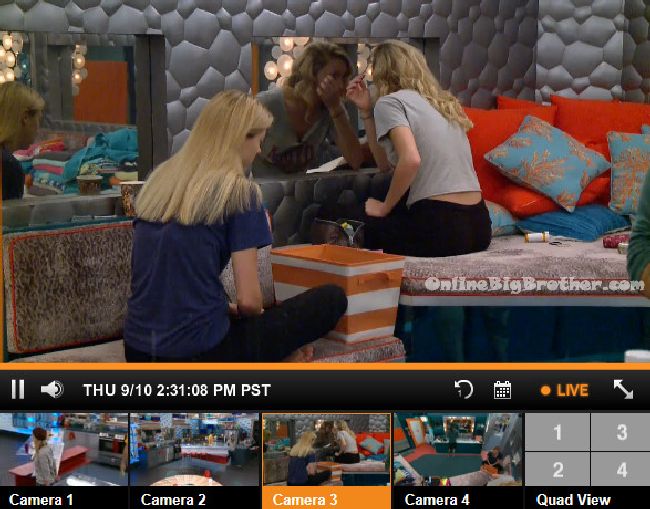 3pm The house guests continue to get ready for tonight's eviction / HOH competition happening tonight.
3:20pm Big Brother switches the feeds to the live highlights. The live feeds won't be back until after tonight's Eviction / HOH episode. Julia is supposed to be evicted tonight which will be the end of the twins. Who do you want to win HOH tonight??
If you've enjoyed the spoilers please consider a donation using the drop down box below. Simon and I work 24/7 all season long to keep you updated on everything that happens inside the Big Brother house.
[polldaddy poll=9059938]

[polldaddy poll=9063299]