POV Holder:
?
Next POV
?
POV Used
?
POV Ceremony
July 5th
HOH Winner Team 1:
Becky
HOH Winner Team 2:
Shelli
Nominations 1 :
Steve, Jason
Nominations 2:
Day, JohnnyMac
Battle of the Block Winner
Steve & Jason
Next HOH/ Next BOB
July 9th / ?
Original Nominations:
Day, JohnnyMac

tr class="row-3 odd">

Current Nominations:
?, ?
Have Nots
Steve, Jason, James and Meg
TRY the Big Brother 17 Live Feeds FREE for 1 WEEK:
Click here to ensure your live feed subscription supports OnlineBigBrother.com at no extra cost to you.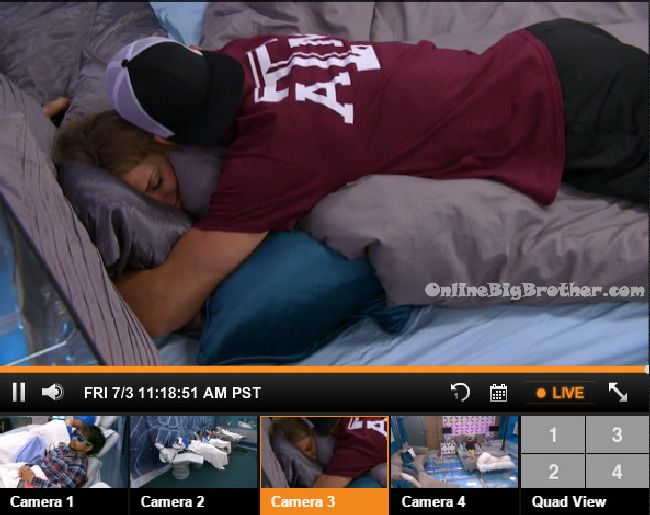 11:20am – 12pm HOH room –
Clay returns from the diary room. Shelli asks how are you not tired? We've had 3 hours sleep. You'll crash. Clay gets Shelli come chocolate. Shelli says thank you for nutritious breakfast. Clay says that's my plan for you. Get you all fattened up so other guys will be like EHHHH what is that. Clay gets in bed and says chubs McChubs! Shelli says no I have so many chubs right now. Clay says I have chubs right now too. Clay says he's really touchy feely. Shelli says she's the opposite. She is if she likes really someone but when that changes she's not.
Clay says I talked to James and asked him if Day approached him after she talked to Jeff. He said that Day was just asking if Jeff knew about it. Jeff said I think the main target is still Audrey. Clay says I told James to just make sure she keeps thinking that. SHelli gets mad and says don't say it like that! Don't say it like that. Now you've let James know that the plan is to deflect that. The plan is to not let people know. Clay says you told everybody though. Shelli says Everyone probably thinks there's a chance that Audrey might go up. Shelli says you don't know what James is going to run and tell them that. You don't know what James is going to tell Day. Clay says James won't do that. Shelli says I'm serious this is my plan, just don't screw it up for me! Clay says I didnt say deflect. Shelli says it doesn't matter what you said its what you implied. Clay says wow I'm like your little servant. You win 1 HOH and you're walking around like King Tut. Shelli says I just don't want you to mess up my plan. Shelli tells Clay do not promise Johnny we're going to take him off because then I have to put somebody else up there. Clay says you said that last night. Shelli says I did not! You can't give people false hope! You need to talk less. You kept saying 100% he'll come off .. I'm like no zero percent… the only way he comes off is if he wins veto and take himself off. Clay says sorry. I'm just going to stop talking. Shelli says we need some kind of sign to tell you to stop talking.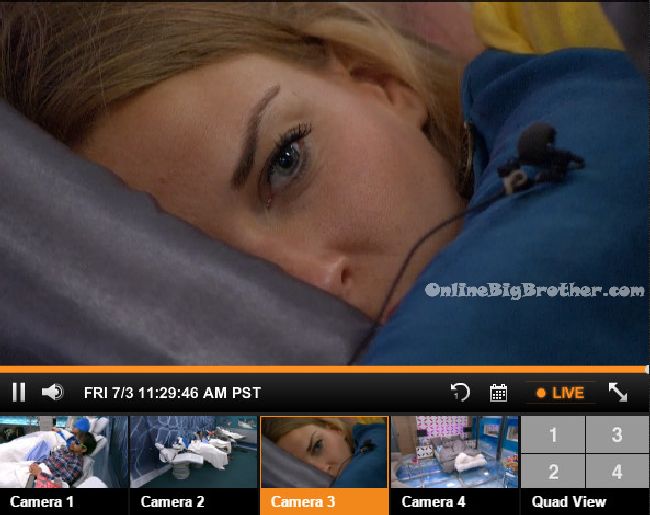 In the bedroom – Vanessa is talking to Liz. Liz says she knows she's (Day) going home. Vanessa says can you believe its working!?? Liz says even when she got nominated she was like MMmHHHmm. Vanessa says that's the risk you take when you make an 8 person alliance. The other side of the house is going to. That's the same thing they were doing last week. Liz says me and Austin were just talking about how we dont trust Audrey and then she runs and tells her. If I get put up in that veto I do not want to have to saver her. I am not using it if I win it. I do not want to get involved.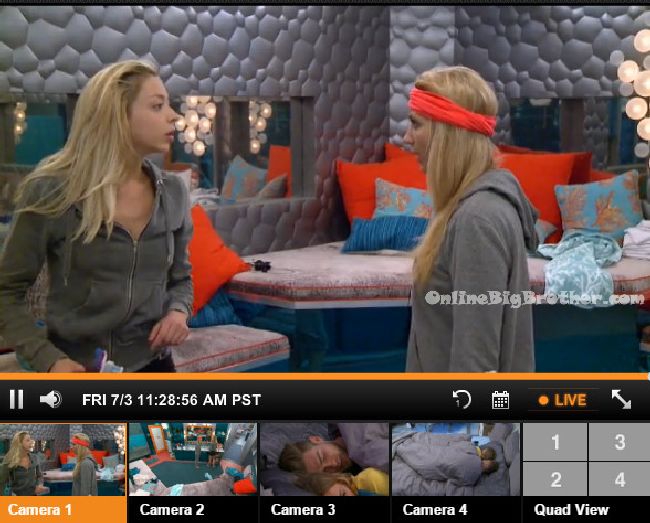 12:20pm Liz is in the kitchen cleaning. She comments to Shelli who's heading to the diary room that the ants decided to multiply last night. If you remember ask for raid in the diary room. Meg joins Liz in the kitchen. Liz says I'm glad Jace is gone he was so mess and never did one dish.

12:30pm – 1pm
Big Brother blocks the feeds. When the live feeds return – The house guest had picked players for the Power of Veto competition.
Power of Veto Players: Clay, John, Meg, Day, Shelli, Steve
POV HOST: Jackie
In the living room – Jason is talking to Becky. Becky says I think Shelli brought up skeletons. And Day is Calm. Audrey needs to go, not Day. Its not her week. She needs to not pack her bags.
In the kitchen – Shelli tells Clay she is creating a target on me and she needs to stop going up there. In the bathroom – Vanessa tells Johnny Mac that Shelli is someone that you can trust. I have trusted her numerous times. Johnny says okay. I'm still going to try and win it.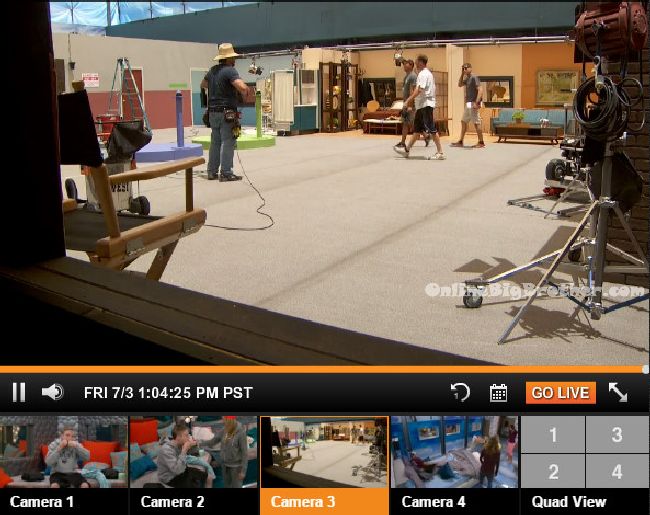 1:10pm In the cabana room – Shelli talks to Day. Day says you know me I'm a straight shooter, when did the target switch to me. Shelli says the target could be both of you. Shelli says you didn't start trying to establish trust with me until you wanted to turn against Audrey. So I felt like you were only using me for a benefit in your game. Anyone else in the house I don't feel a distrust with. You're the only one I was unsure where we stood. If it was turned around I thought you might put me up. Since day 1 we haven't built that trust. Day says its a game. Shelli says its not a personal thing at all. I love you and think you're a hilarious person. Its a game decision. Days says okay.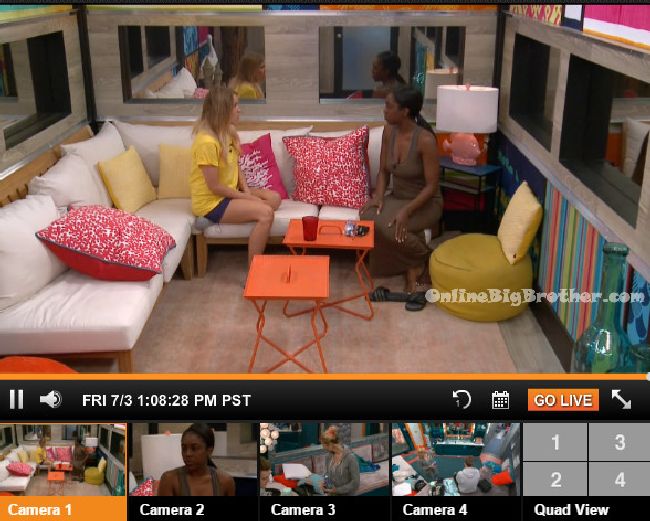 1:20pm – 1:40pm In the havenot room – Day asks James if he know she was going up. James says no. You just need to win. She tells him that the house has flipped. James says I could be next. Day says I am positive this house has flipped. James says you just have to win. Day says there's some sh*t going on. You just watch your back in here James. James says I know. Day says and you watch Steve.. 1000%! James says it will be very interesting to see how this veto works. I had another scenario that Shelli could pull John off the block and put Audrey next to you. Day lists off the veto players: Clay, John, Meg, Day, Shelli, Steve. Day says look at you … you took all that blood and look whos still talking to you. Nobody. Day says this house is going to flip because I am going for blood. To hell with my list, I am going for blood. James asks have Meg and Jeff been clinging towards Shelli and Clay? Day says I don't know. Jeff joins them. He tells her to talk to Meg and Steve. Day says I don't think she would use it and I don't think Steve would use it because he's too much of a puppet. Jeff says who knows maybe someone would use it on him. Day says the vibe I'm getting I think I would still go home if I was against her (Audrey). Jeff says if they put up anyone other than Audrey it would expose them so bad. Day says they could just put up Becky. Or Jackie again. Vanessa comes in and leaves. Day tells James to watch her.. She is playing this game.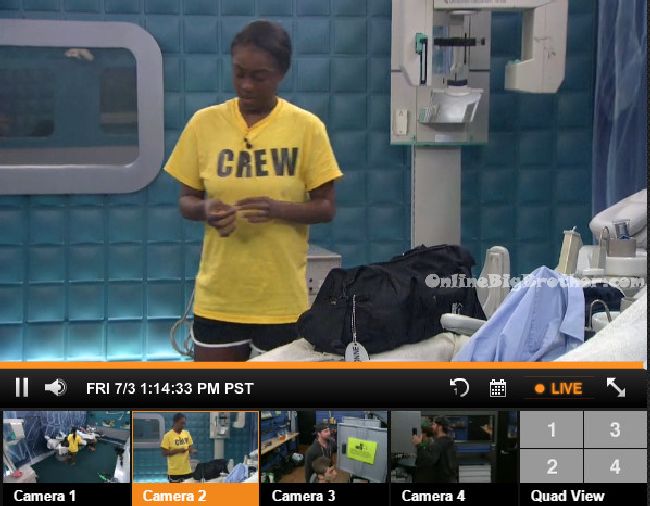 1:45pm – 1:55pm In the cabana room – Liz and Austin are talking. Austin says Day, James and Jason are a trio. If they attack Day, they attack James too. Liz says I am so glad I didn't get picked to play because if I won she would expect me to use it on her. AUstin says and we have that twist this week too. I hope its something America decides because then Day wouldn't get it. He says maybe it will be a coup d'etat. Austin says Shelli told me she wouldn't backdoor me. Austin comments on how Audrey went up to the HOH and Shelli told Clay to tell her to get down. She needs to stop talking game. Austin says I think Day is the target. Liz says especially the way she is acting. Austin comments on how pissed he was that James was up talking so loud last night with his alliance.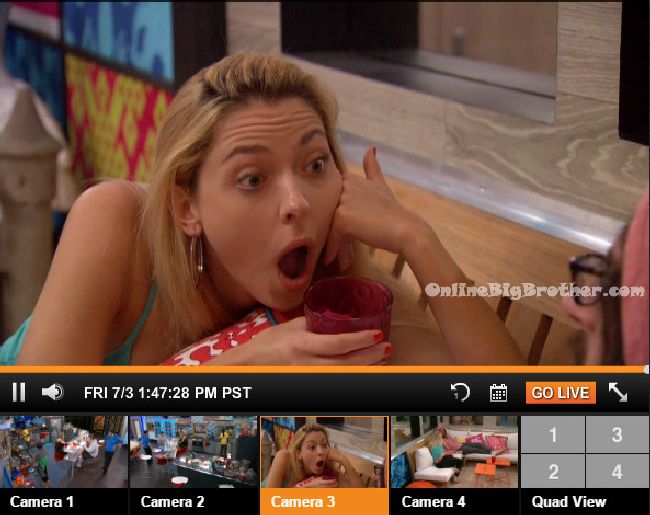 1:55pm Jeff talks to Clay in the bedroom. Jeff says Day feels like she made a big mistake blowing up Audrey because ever since then everyone has avoided me. Jeff says she asked me if I knew anything about it. Clay says I was talking to Shelli and we decided we need to get everyone together and make it official. Have you talked to Jackie at all? Jeff says next week we have to get rid of Audrey. Shelli is trying to get away from her. She told me to go up and tell Audrey to get out of there. I told Audrey she needs to keep her f**king mouth shut. Anyone that wins next week will get her out.
Meg tells Shelli that her concern is that one side of the house will be pissed if Audrey doesn't go up. Shelli asks are you saying you're going to take her off if you win? Meg says no! I just didn't want you to get backlash. Shelli says I will have backlash either way. I know Clay won't use it, I won't use it. Meg says I just wanted to know what the plan is. Shelli says I think if Day stays I am in trouble. But now I don't know. Meg says if Day did stay and ended up winning HOH next week .. the card you could play with her is that you gave her the chance to play in the veto and didn't backdoor her. Meg says I think there's an opportunity to see where Johnny mac stands then this would give him the opportunity to show us. Meg says Becky and Jackie are going to be pissed because there was an obvious target (Audrey) that should have been sent home. Shelli, Meg and Clay head into the cabana room. Shelli says my target is Day because she hasn't built any trust with me. Audrey is untrustworthy but she has tried to build trust with me. Shelli says I realize Audrey is dangerous and I am trying to not be around her… but for me Day has to go first. Shelli asks do you think the Day could talk others into voting out John? Clay says I gave my word that John wouldn't go home. Meg says that James will be fine voting out Day. Clay says we have to make sure Day doesn't win the pov.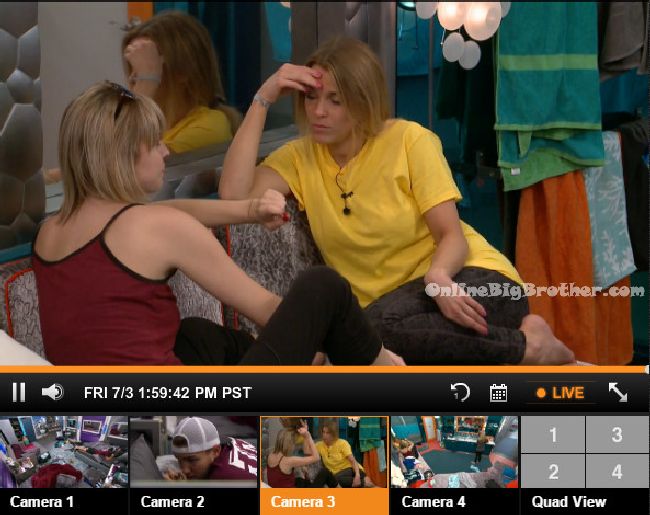 2:10pm Becky tells Johnny that Shelli and I didn't talk about our noms. I didn't know she was going for you and Day. I think we just wanted an even playing field for our main target. How do you feel about this? Johnny says I just need to win. Johnny says I'm in a really hard spot.

2:12pm
Big Brother blocks the feeds.
Live Feed subscription gives you CBS All Access thousands of archived shows. Live Shows like Big Brother, all the Big Brother Seasons, and 24/7 coverage of what is happening inside the Big Brother House. Plus there's flashback that lets you go back to any second of the feeds and rewatch what happened. Simon and Dawg will index the season just watch the parts worth watching.
All this for $5.99 a month try it out 1 week free. Support our efforts and get your feeds via a link on this site. Live feed subscription Sign up

Share it YO!!
Tweet