POV Holder:
Steve
Next POV
July 3rd
POV Used
YES
POV Ceremony
June 3rd
HOH Winner Team 1:
James
HOH Winner Team 2:
Jason
Nominations 1 :
Jace, Jackie
Nominations 2:
Becky, Johnny mac
Battle of the Block Winner
Becky and Johnny Mac
Next HOH/ Next BOB
July 2nd / ?
Original Nominations:
Becky, Johnny, Steve, Jackie
Current Nominations:
Jace, Jackie
Have Nots
Austin, Da'Vonne, Liz, Vanessa
Watch the first week of the live feeds for FREE with the 1 week trial!
Click here to ensure your live feed subscription supports OnlineBigBrother.com at no extra cost to you.

12pm Alone in the backyard Steve talks to himself/the live feeders. "As I said at the veto meeting .. the veto was a short term solution to a long term problem. Very happy I won it, very thankful I won it. No right to complain. Happy I'm not in Jace's position. I absolutely have more to do prior to the next HOH. As you already know I've been making a lot of 1 week deals … I mean Vanessa .. Oh and by the way I'm throwing the next HOH because lines are going to be drawn in the sand. And I don't want to make sure .. If I were to win HOH people would see me as the ring.. Because there's kind of the inside and the outside. And I think the inside is going to be James, Meg Audrey, Day… Maybe Day. Maybe some Jason in there too. I know that James and Meg are super super close. And there is a 200% chance that James and Meg have some type of a alliance or deal. And then you throw Jeff in the mix. I think Jeff just desperately wants to be included. He is trying so hard to be with the boys because the boys are on the inside. And I think that James is keeping him at a distance. I think that Jeff is kind of in and kind of not. The part of him that is in .. is definitely at the way bottom of the totem pole of that inside alliance. And this could work for me and Day because she would be on the inside and I'd be on the outside. How's that for an alliance name "On the outside" … Audrey, Audrey, Audrey has an alliance with just about everyone in this house. I saw her with Shelli, I see her with Austin. I think Audrey has an alliance with everyone in this house."
12:30pm Shelli and Jason are talking in the backyard. Shelli says that Jace seems to think that 1 person stabbed him in the back. He thinks that 1 person might have turned James against him. I don't know what he's talking about when he says things like that. He said that its someone that you wouldn't suspect. Jason says you want to be emotionally supportive but you don't want to say anything either. I almost want to do the Johnny mac thing and just say you don't have my vote so he won't bother me any more. Jason says that Jace was the backdoor plan all along. Liz and Jace join them on the couch.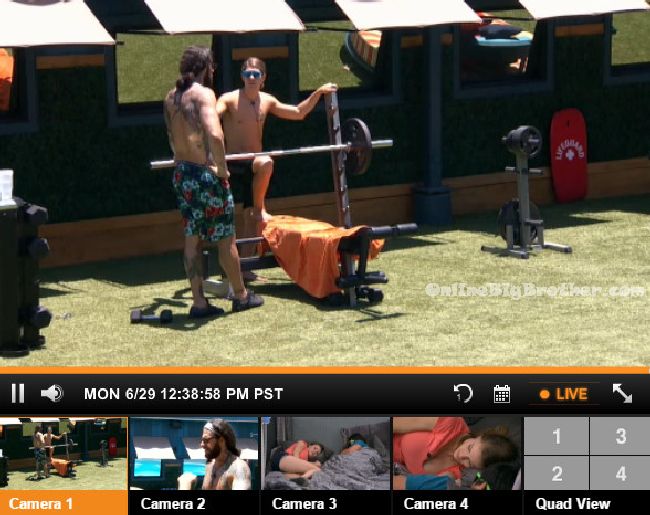 12:40pm Backyard by the weights.
Jace and Austin are talking. Jace says I honestly have no one in the house. Austin says I will start campaigning for you secretly. I think this has to wait till wednesday because there's still too much time. Jace says you're one of the coolest people I've met and this really hurt me. As long as you haven't turned your back on me. You have to understand where I'm at.. I gave up everything to be here. Everyone is avoiding me. Steve said I have his vote if I get the votes but no one will give me there vote. I had a dream that Honeycutt threw me under the bus. Austin says I can't talk game any more .. I already got thrown under the bus. Did Liz throw us under the bus? She might have freaked out right after the veto ceremony and then now recanted that. You just have to act like you're leaving and then Wednesday make your big push. Then maybe shake it up. Jace says I have something crazy planned. I have this weird feeling that the producers don't want me to go yet. Can you imagine if I go out and come back and win HOH. Austin says Imagine you go and come back in 2 weeks. That would be sick! Jace says can you imagine! Austin says that would be perfect!
Get your 1 week FREE trial of the ?#?BB17? live feeds: CBS All-Access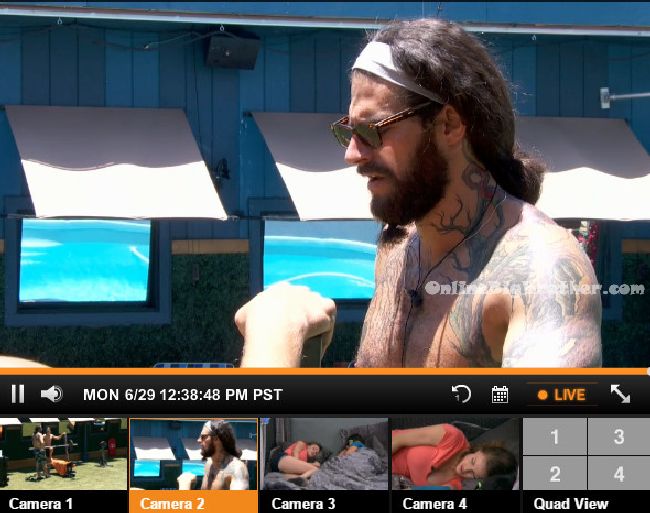 1:10pm – 1:50pm Backyard. Steve and Liz are in the pool. Steve talks about survivor and past seasons of Big Brother. Steve asks Liz if her applied or if she was found. Liz says applied. Steve asks you've been watching forever? Liz says my ? (sister) is super in to it and watches the live feeds. Austin is working out. In the kitchen Jace, Jeff and James are cooking/eating. Meg, Vanessa and Austin join them to eat lunch.

Backyard. Jason, Meg and Jackie are talking about Jace. Jackie says I can't wait for his eviction speech. Meg thinks the person Jace thinks screwed him over is Clay.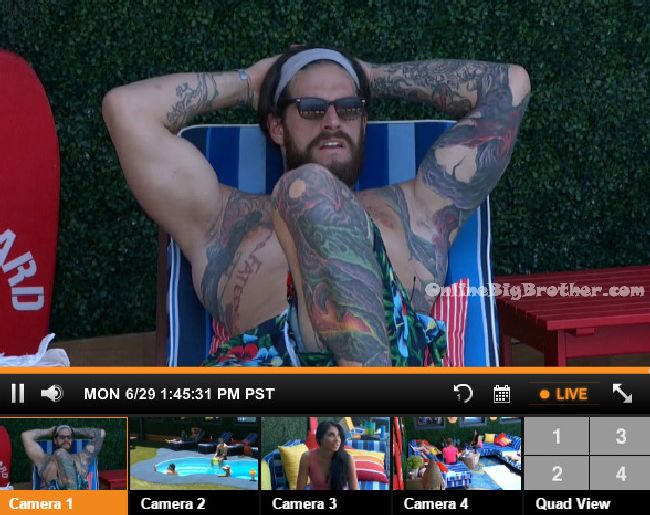 1:50pm In the bedroom Steve is talking to Jace. I'm not going to tell you. Its kind of a last minute plan. I'm not going to do it until the live show. It may sway peoples hearts. I'm going to try and rally some votes. I'm hoping that give you the confidence to vote for me. You know how people go out like Zach .. I'm not going to do that. That's not me. Steven says good, I'm glad you're trying something.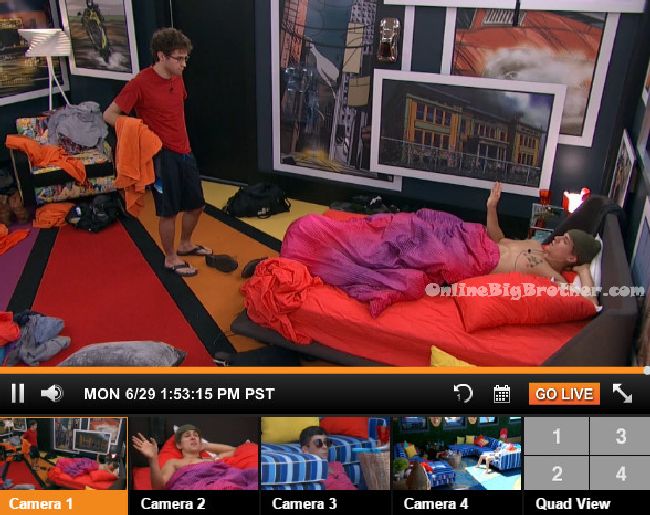 2:15pm In the kitchen –
Jace is whispering / mouthing the rap speech he has planned for the eviction. Da tells him for some positivity .. this is a long season you might come back. Jace says I just want to show people the real me. Jace says the old testament talks about an eye for an eye but it doesn't say that in the new testament. The bible says plead with your neighbour. When I read that it changed my perspective. You're speaking to me right now.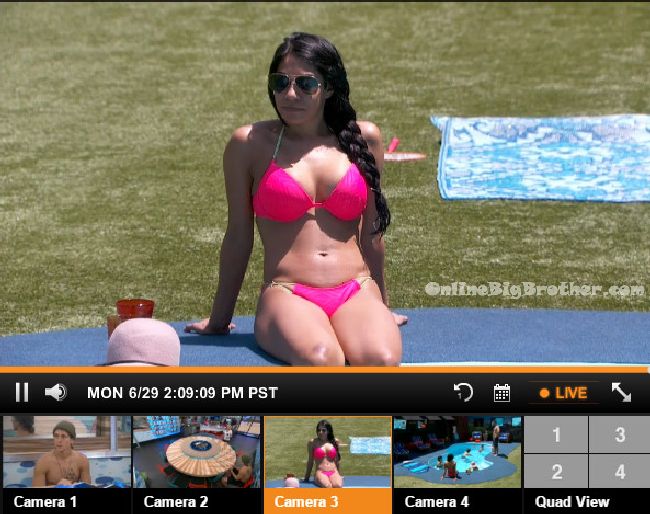 2:25pm Jace campaigns to Johnny Mac. Jace says so pretty much if I want you on my side, I need the house that's what you're saying. I don't think I can get the house but I think I can get enough votes to stay. Here's another thing no one knows who you vote for. If you did decide to step out on a limb and vote for me and I stayed I would always be a bigger target than you. I could carry though the game. That's a pretty good deal for you. The people that are trying to take me down will try and take you down too. Jackie is putting out the vibe that she's good, she's safe. What does she bring to the table…. boobs! Johnny laughs. Jace says there's still a lot of time. I'll talk to you again before then.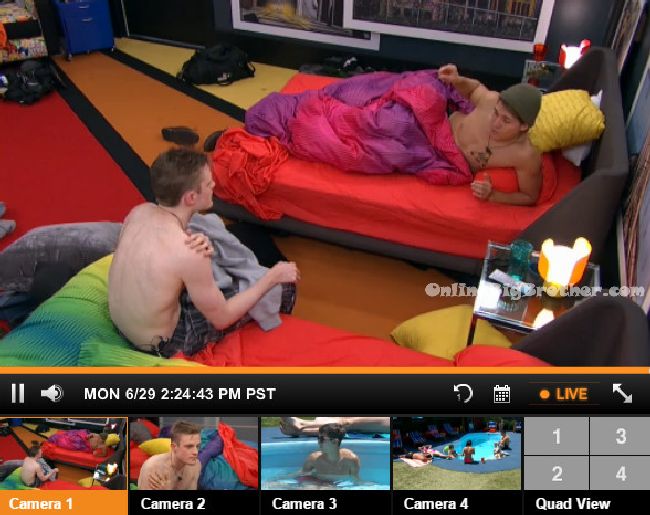 [polldaddy poll=8954355]
Live Feed subscription gives you CBS All Access thousands of archived shows. Live Shows like Big Brother, all the Big Brother Seasons, and 24/7 coverage of what is happening inside the Big Brother House. Plus there's flashback that lets you go back to any second of the feeds and rewatch what happened. Simon and Dawg will index the season just watch the parts worth watching.
All this for $5.99 a month try it out 1 week free. Support our efforts and get your feeds via a link on this site. Live feed subscritpion Sign up