POV Holder:
?
Next POV
July 11th
POV Used
?
POV Ceremony
July 13th
HOH Winner Team 1:
Vanessa
HOH Winner Team 2:
Austin
Nominations 1 :
James & Johnny Mac
Nominations 2:
Jason & Meg
Battle of the Block Winner
Jason and Meg
Next HOH/ Next BOB
July 16th / July17th
Original Nominations:
?
Current Nominations:
?
Have Nots
?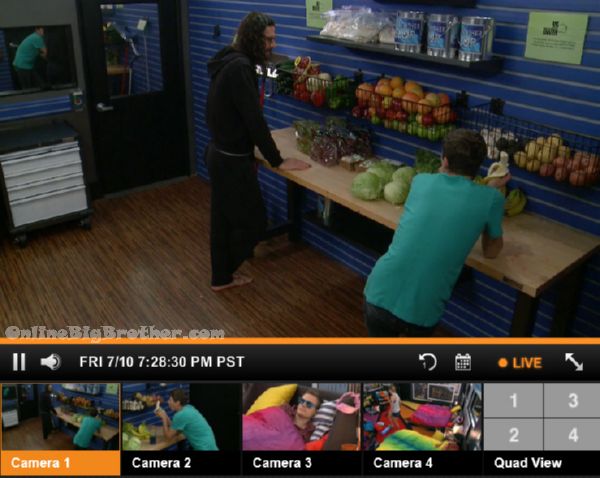 7:29pm Storage room Austin and Jason
ASutin saying he's glad Jason and Meg won the BOB he didn't want them to stay on the block. Austin mentions how he really wants to play in the veto to make sure they can stick with the plan. (fake plan to backdoor Ausrey)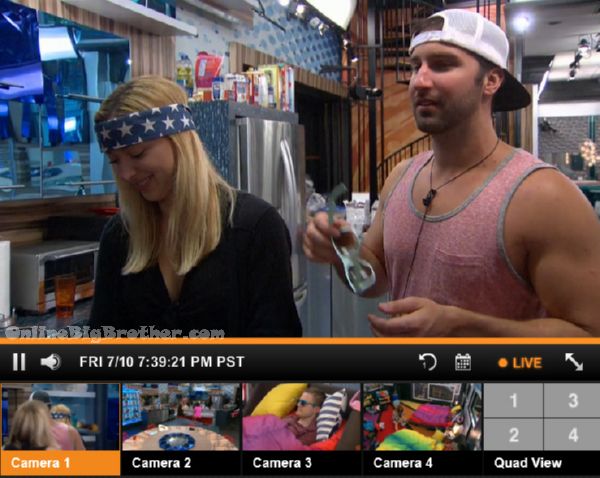 7:36pm Kitchen, House Guests coming in and out
They are talking about the extra's during the competitions. Sounds like they were 'Beef Cake" guys and 'Skanky" Girls.
Austin says when they took off their sunglasses he could see "They were all on cocaine"
Sounds like Jeff was flirting one of the girls says she liked him.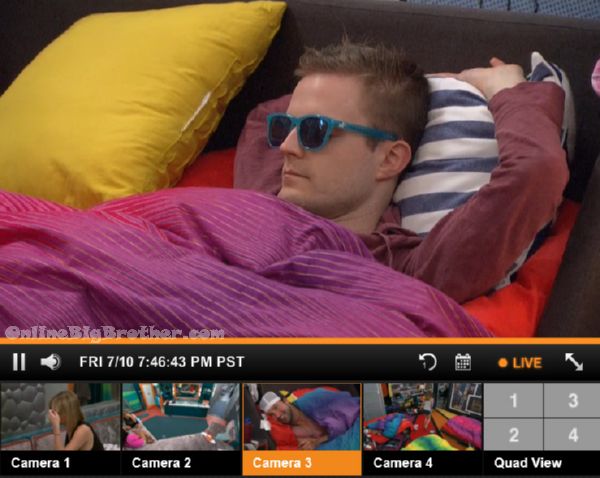 Throws comps like a boss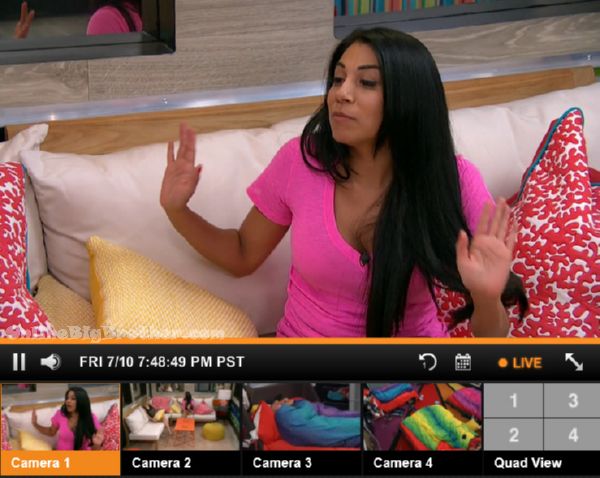 7:49pm Jackie and Meg
Talking about how much it sucks being a pawn. Jackie the first week Meg the second.
Jackie saying there's tons of people in the house she doesn't want to see Meg go.
Jackie says she was the target for 12 days she says she's "Done her duty"
Meg says not knowing she's was going up doesn't sit right for her. Meg has noticed "The three of them all working together"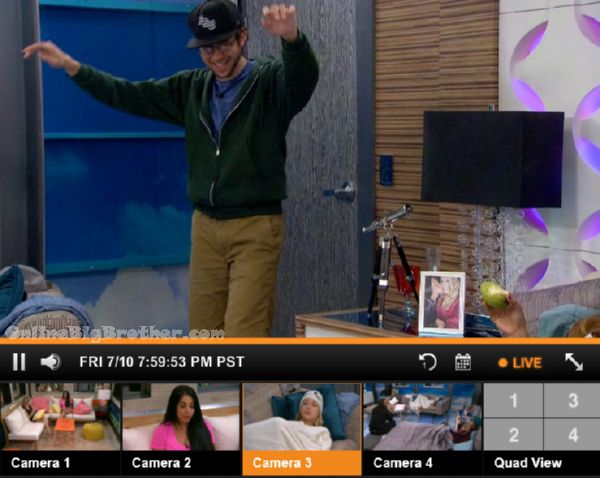 8:00pm HOH Austin, Liz and Vanessa
talking about James not looking worried at all. Austin says the other side if buying they are talking about Audrey.
Vanessa says she's doing the same thing to Jeff.James than they did with Jace
Liz says James has never talked game to her mentions James saying "I have nothing to worry about"
Steve comes in high fives everyone.
Steve – I would say I had no idea
liz – what one am I liz or the twin
Steve – Liz
Steve says the entire house knows she's a twin
Liz – no they don't
Steve – Liz, I'm sorry they do.
Liz says the memory wall picture is her "That was press day I was the only one that did press day"
Steve tells her tell people downstairs are saying the picture is photoshopped together.

They start thinking about how the can deal with Liz being outed.
Steve recommends they use the angle that it's better for them to have two liz' instead of a member from the jury brought back.
Steve brings up that JohnnyMac has noticed she has a cap on her tooth.
Liz says she has to survive 6 weeks.
They tell her the rule with Big Brother 5 twins was they cannot be discovered but with Liz they have to be evicted.
liz blames Da'vonne for all this.
Steve says the weeks before the season the internet was filled with rumours about a twin in the game. He says Da and Jason knew about this.
Steve says any playing that Liz does is a waste of time.
Austin – she should come clean?
Austin recommends they play up the fact that she can't tell anyone.
They agree Jeff, James, Meg and Jackie are the people that cannot know the twin.
Steve warns them that John is close to Becky and Becky is close to Jackie.
Steve – Jackie is playing a great James Rhine game right now Between Becky and John
They tell Steve Jeff's main target is Audrey then Steve
Steve wonders why he did to steve
Vanessa says it's just game, his name is easy to throw under the bus.. you're just not aligned with him
Steve – why did you nominate John
Vanessa – because he told me he wouldn't mind.. he knows he's not going home.. He came to me volunteering.
They count the votes if the nominations stay the same. Steve is worried there's something strange going on with the votes. Austin says it was Audrey.
Vanessa says Liz needs to go and confine to a small group of people, "The main people that are suspicious"
Austin – I think we should wait till after Veto
VAnessa – I'm going to be dead honest to you Audrey is not the target this week.. I don't care if it's Jeff or james
Steve says that sounds good.
Vanessa says James, Jeff and Meg came up to the HOH and gave the same story take out Audrey this week followed by Steve and Becky.
Steve says they should pick Shelli or Clay as houseguests choice.
Vanessa and liz suggest Becky.
Austin – Becky or Shelli
They agree Jeff has his hands in too many things. Clay brings up telling Jeff that.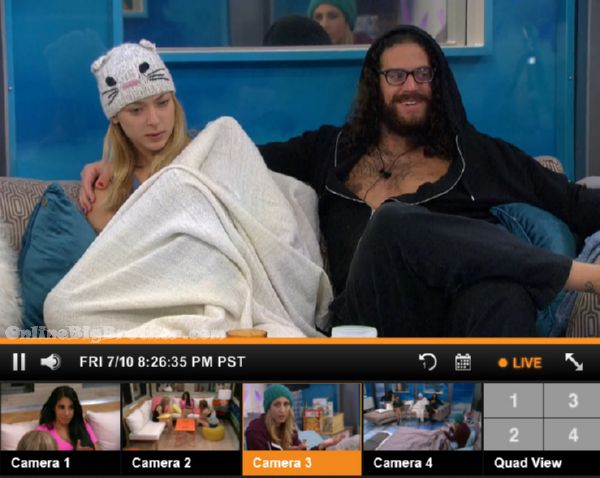 [envira-gallery id="120439″]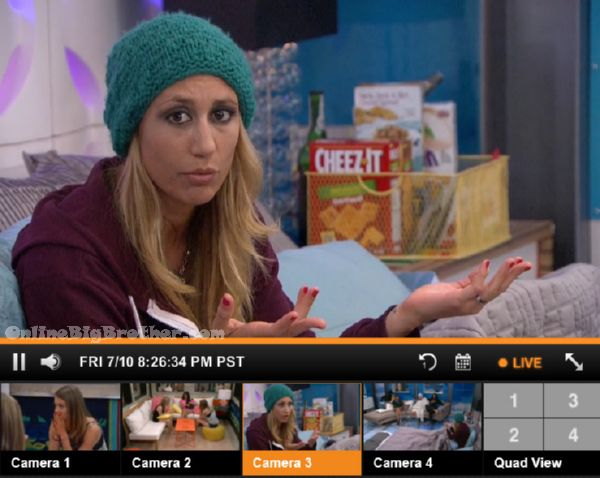 Vanessa – It's better for me personally if James goes home
She adds they are of equal weight and can be convinced either way.
Vanessa – It would be best if the Noms stay the same
Steve explains she wants to get out of this week with that she unsuccessfully tried to backdoor Audrey
Steve recommends they expand their alliance (Freaks and Geeks). suggest either Shelli/Clay or Becky/John
They all say they trust Shelli and Clay
Steve says he has strong relationships with Clay and John and a decent one with Shelli.
Steve again brings up the John From Becky to Jackie 'Train"
Austin wonders what happen with Jackie if Jeff leaves.
Austin – I think I can pull Jackie in
Steve says Jackie is throwing competitions and laying low.
They notice Jackie and Meg were in the Cabana room for the last house. liz points out those two were being major sketchy today.
They agree Jackie isn't very charismatic. Steve points out the advantage of getting rid of Jeff is it free sup Jackie.
They agree not to tell JohnnyMac who to pick as Houseguests choice. Liz mentions that Johnnymac is in love with Becky.
Steve leaves.
(Vanessa and Austin already have an alliance with Clay and Shelli)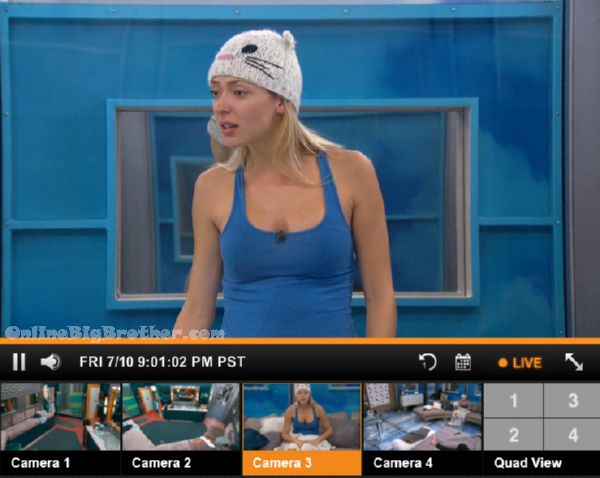 9:01pm Vanesssa, Austin and Liz
Liz messed up during their talk with Steve said something she wasn't supposed to and Steve heard it. Vanessa says she's going to do the talking from now on.
Them mention that Shelli/Clay are saying that the house isn't sure Liz has a twin but Steve makes it sound like the house is in on it.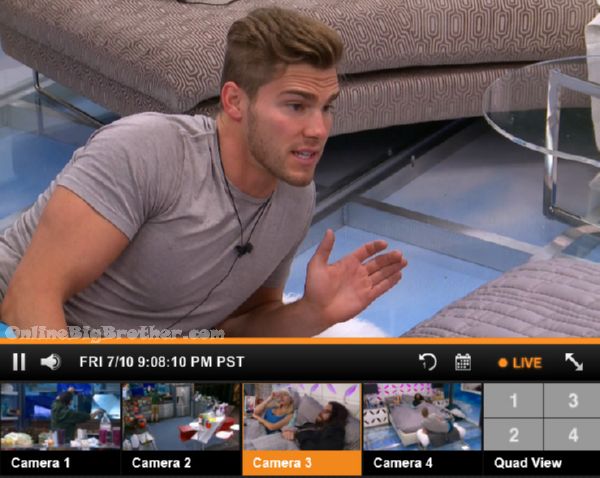 Clay comes up
Austin says Jeff is wanting to start an alliance with Jackie, Meg , Austin and Jeff.
(During the BOB they had alcohol)
Austin says Jeff got drunk and told him everything
liz – He's go the biggest mouth
Clay says Jeff was throwing the other side under the bus.
Austin wants to make sure Meg knows that. They agree to wait until after the POV.
Clay says Meg and Jason are on board to get rid of Jeff if the chance comes up to get him out.
Austin Jeff is singing like a canary right now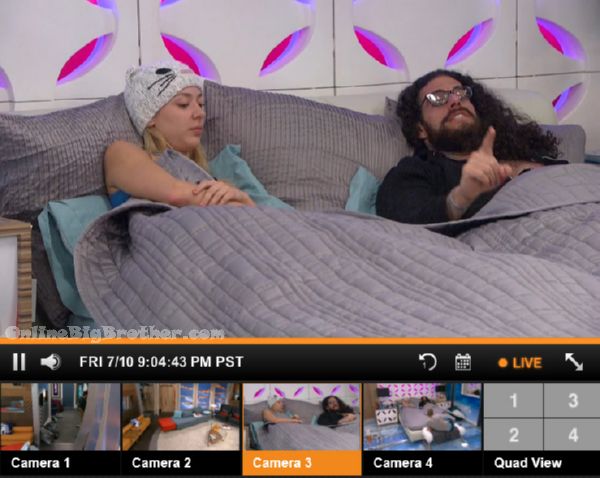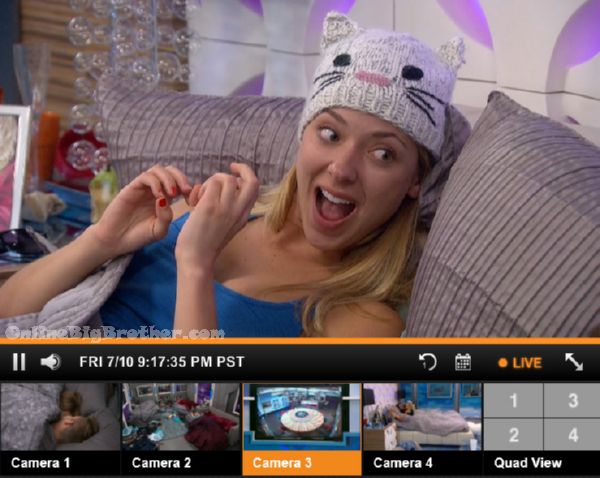 9:17pm HOH Austin and Liz
Liz says she doesn't get a good vibe from Jackie until Jeff leaves
Austin – I can't believe she had s$x with him too.. .so gross. .
Austin – He told me they did.. he said it's not that hard.. during the show .. .according to what he's been whispering to me
Live Feed subscription gives you CBS All Access thousands of archived shows. Live Shows like Big Brother, all the Big Brother Seasons, and 24/7 coverage of what is happening inside the Big Brother House. Plus there's flashback that lets you go back to any second of the feeds and rewatch what happened. Simon and Dawg will index the season just watch the parts worth watching. All this for $5.99 a month try it out 1 week free. Support our efforts and get your feeds via a link on this site. Live feed subscription Sign up
[polldaddy poll=8972565]
Share it YO!!
Tweet