POV Holder:
JohnnyMac
Next POV
?
POV Used
?
POV Ceremony
July 5th
HOH Winner Team 1:
Becky
HOH Winner Team 2:
Shelli
Nominations 1 :
Steve, Jason
Nominations 2:
Day, JohnnyMac
Battle of the Block Winner
Steve & Jason
Next HOH/ Next BOB
July 9th / ?
Original Nominations:
Day, JohnnyMac
Current Nominations:
?, ?
Have Nots
Steve, Jason, James and Meg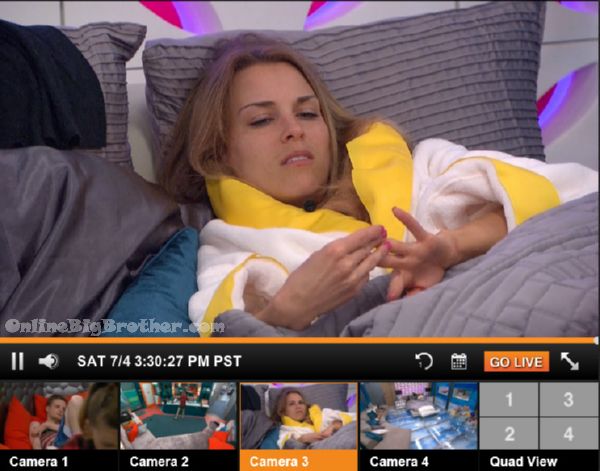 2:50pm HOH
Shelli and Vanessa
Vanessa says Austin told her last night after they went to bed people people were joking "There goes the couples" Day is starting to rally the house to keep her so she can go after CLay and Shelli. Mostly Clay he's the first target.
Vanessa says JohnnyMac was out there, warns that JohnnyMac knows a lot of information now.
Shelli – JohnnyMac owes us right now
Vanessa – no it's even
Shelli says Meg and James are telling her they are voting out Day she thinks she has the votes.
Vanessa tells her they are just saying that to her. What else do you expect them to say?
Shelli doesn't trust James even though Clay is "Die hard James" She's not.
Clay comes in "Austin briefly mentioned something to me"
Austin comes in.. "There's some games"
Austin fills them in on what happened last night. Jason, Jeff, Audrey… Day were in a room talking he could hear them in the adjacent room. "The walls are paper thin".
Austin – Jeff's just in there I trust him right now
Austin warns they are trying to set Clay and Shelli as an isolated entity to turn people against them. Adds that it's mostly just Day.
Austin – I didn't hear Audrey say anything
Austin – I'm worried about JohnnyMAc and Steve being floaters.. Every Time I have a read on Steve… I Don't know
Audrey comes in asks Vanessa where the glue is. (LOL)
Clay says she guarantees Audrey is now going to go to Day and tell her we're working together.
Shelli points out that Austin and Audrey are getting close.
Austin says Audrey told him she has this tattoo man in her dreams that she can trust. So he guesses they are closer. (LOL)
Austin – She's pathological
Austin and vanessa say Day doesn't trust them anymore and is giving them dirty looks.
Austin is really concerned that Day has the 7 votes downstairs. It's possible she does and they don't know about it.
Shelli tells Clay he has to be downstairs tonight.
Liz comes in. Clay heads downstairs "To see where everyone is at"
Liz and Austin trying to get Meg nominated, She's with the other side, this makes them decide which one of their own goes home. Austin continues to stress Day getting the votes to stay.
Austin about Da'vonne – I caught her in two lies she's not a teacher
Shelli – she's an actress
Vanessa points out her musical tattoos and her history dancing
Shelli – So that blow up could have been acting
Vanessa and Austin tell her Audrey might vote to keep Day in the house because that would keep a bigger target in the house.
Vanessa, Austin and Liz pressing the only way to get Day out is to put up Meg.
Shelli – the only way to get Day out is put her up against someone nobody will vote out
Austin points out Day is the ringleader of the other side. Liz adds if Meg is up against Day it'll reduce the number of rumours she'll spread because meg and her are friends.
Jackie comes in
Shelli – what's going on downstairs
Jackie – Nothing
Chit chat… Jackie leaves.
Shelli says she's down with the change of plans to put Meg up over Liz.
Jackie comes back. Before she enters Shelli says someone is sending jackie up here.
(Sounds like Meg is going up now)
[envira-gallery id="118905″]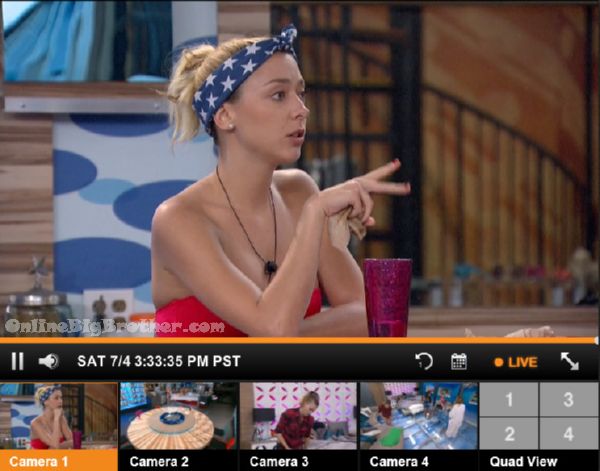 3:34pm Liz and Austin
Agreeing the two of them Vanessa, Shelli and Clay are a good group and Shelli is starting to realize that.
They start listing off all the immature things the other side of the house does. Austin mentions James being 31 and is caught humping a giraffe.
Austin is pissed by how inconsiderate the house is late at night when people are sleeping they run around being silly and loud. Doesn't understand why they don't go to another room where people are not sleeping.
Austin – It's the nerd herd What the f**k
They agree jackie is showing her hand, she's working with someone else.
3:43pm HOH Nail party Becky, Shelli, Vanessa and Jackie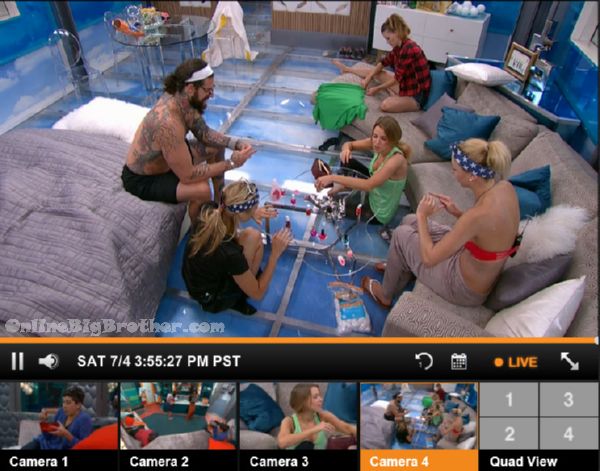 3:56pm Austin, Liz, Shelli, Becky and Vanessa
Nail party continues. they agree to be "Fatties" and eat mac and cheese tonight.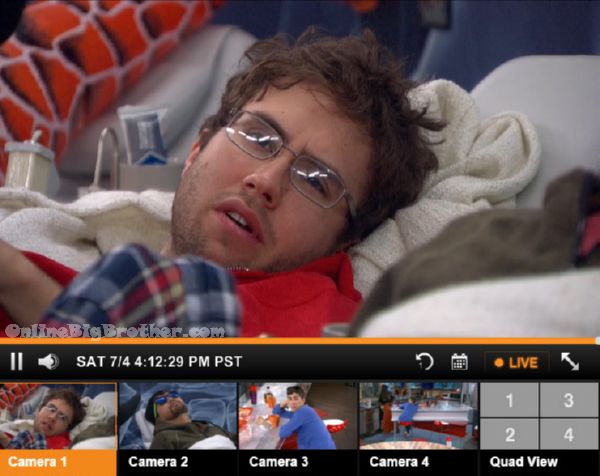 4:10pm Havenots James and Steve
Steve saying this game is a lot different on the inside. Steve explains last season how Caleb, Cody and Derrick turned out in the end. Adds that things got nasty for Caleb.
James says one way to protect yourself in this game is to win HOH.
(This conversation degrades to James stating the obvious like it's a grand revelation )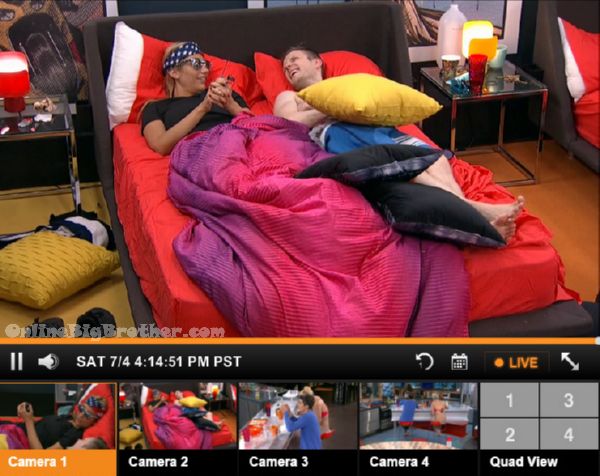 4:15pm Vanessa and JohnnyMac
Talking about the skybridge. How nobody is ever there so it's a great place to get away from it all. They mention how it looks sketchy when people are up in the skybridge.
JohnnyMac talking about his dental practice, Says after the needle it usually goes smoothly. Adds that talking to the patient before the needle is important to calm them down his assistant has alot of 'Female Energy" which is important.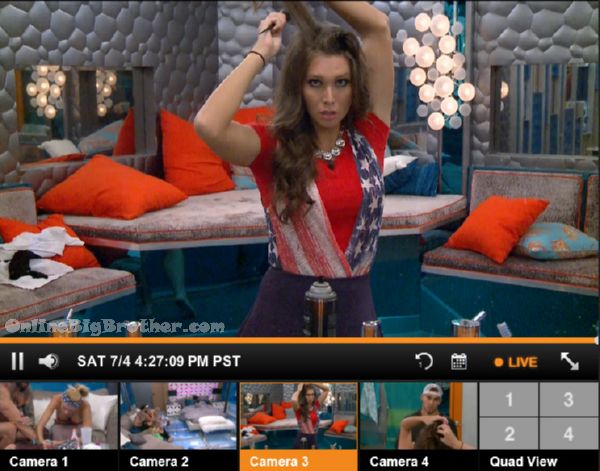 4:27pm Audrey and Clay
Clay saying they really need Day home this week and he doesn't want anything to jeopardize things. Audrey hints they might want to Backdoor Becky, 'Her loyalty is to jason, JAckie and Jeff"
Audrey – "I've been calling Day momma Demon.. Shelli is the demon slayer"
Audrey reassures him she will not vote out Da'Vonne,
She now claims the only people she talks to is Clay, "I talked to Jeff in the storage room"
Audrey says Becky is a competition beast sh'es going to win the competitions over time.
Audrey says she will never trust Day or Jason after what they did to her, "I heard her in he shower saying to James and Jason I know you will be my only two votes"
Audrey does't see the house flipping to keep Day, "She'll get two votes"
Audrey – What do you have to do when you have to pick sides. Audrey says they need to go back to the new sleeper cell.
Audrey warns him of Vanessa "She's smart she might catch on to some patterns"
Clay – I do want a legit alliance..
Audrey doesn't have a preference with who to work with whoever wants to work with her she'll give them a shot
Audrey says Jeff is going after Austin and Austin is going after James.
Audrey asks him who she should work on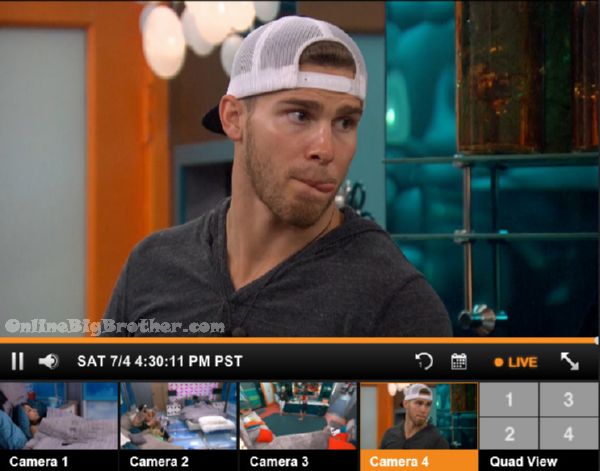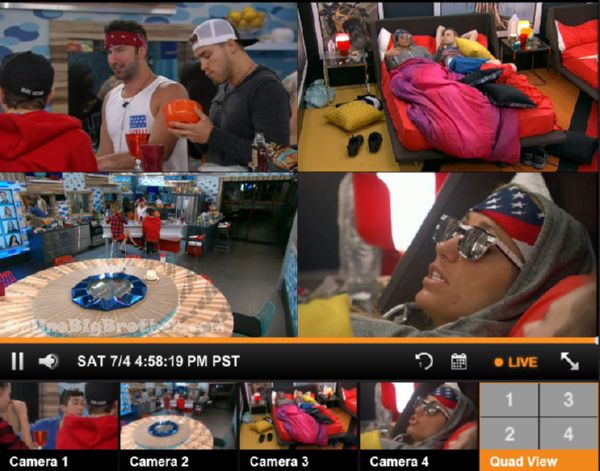 5:00pm Chit chat …
Live Feed subscription gives you CBS All Access thousands of archived shows. Live Shows like Big Brother, all the Big Brother Seasons, and 24/7 coverage of what is happening inside the Big Brother House. Plus there's flashback that lets you go back to any second of the feeds and rewatch what happened. Simon and Dawg will index the season just watch the parts worth watching. All this for $5.99 a month try it out 1 week free. Support our efforts and get your feeds via a link on this site. Live feed subscription Sign up
[polldaddy poll=8961340]
Share it YO!!
Tweet