POV Holder:
Liz
POV Competition
Aug 15th
POV Used
?
POV Ceremony
Aug 10th
HOH
Liz
Next HOH
Aug 20th
Original Nominations:
Johnny Mac and Becky
After POV Nominations:
? and ?
Have Nots
Vanessa, Johnny Mac, Steve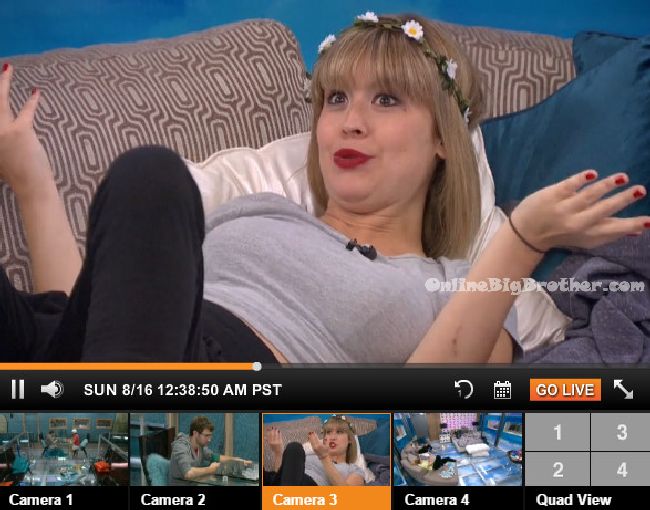 Watch the NEXT WEEK of the Live Feeds for FREE! Click here for your: 1 Week Trial
12:40am HOH room – Meg asks what do you guys think is the best this week. Austin says I think Becky. Meg says there's two .. it doesn't really matter to me. She is always trying to out you guys as her team. She's won money already (10K). She's going to jury and could come back but we could vote her right back out. Johnny is willing to work with us and throw something if he feels like he is with a group. We could get him to win the HOH or B throw something to one of us. Meg says right. Austin says I think Johnny did throw the veto because I did really bad on the first round. This is our chance to get her (Becky) out. I know that Liz feels more insecure with Becky. Meg says that's who we have to go with them. Meg says I'm down, I don't really have an opinion of either. Austin says I feel like Johnny Mac could be steered in a direction. We would need to make sure the veto doesn't get used because he wouldn't go after Steve. Meg says we have to get Steve out. Austin says well Johnny Mac doesn't have to win HOH next week. If one of us wins, even better. Meg says no, hell no, yeah are you kidding me. Steve just scares the sh*t out of me. Austin says he is good and final 4, final 5 we can't beat him. He is smart as f**k. Meg says Vanessa is a little less dangerous now. She has lost her power to manipulate now that we're all on to her. Austin says that Becky said to Liz .. oh you've won as many competitions as me now! Is that her weird way of saying Liz is a bigger threat now. I wouldn't base my vote in the end to who won competitions to get to the end. I would base it off strategic game play. If Becky so safe why did she knock me out of the way.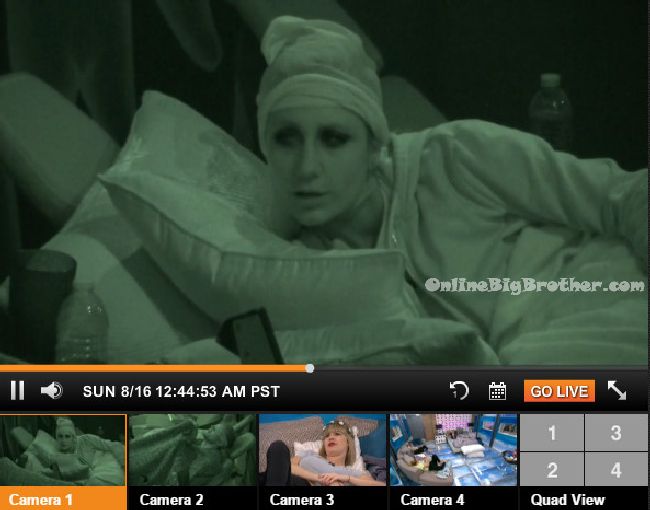 Vanessa say there were 4 bottles of win and four beer. Johnny says he came out of the diary room to a lot of energy. Vanessa says she misses home. Johnny says I always thought I would do alright with prison but not after this and in prison you can't move from room to room. Vanessa says yeah but at least you get phone calls and visitors. Johnny asks if Vanessa is going to put a ring on it when she gets home. (Marry her girlfriend Mel.) Vanessa says yeah.

12:50am Meg comments on how next week Vanessa will throw it because she feels so comfortable. Julia says Vanessa needs to go. Austin says next week is her week to go. Hopefully Johnny Mac wins it and does it but I wouldn't want the veto getting used and one of us getting f**ked. That's why it would be better if one of us win it. Like sh*t what if I did it to her. People would either love it or hate it. Meg says she had her hands in everything. Steve and James join them. Austin says I think Johnny threw it to me. I haven't talked to him yet but he saved me in that first round. He wanted to show an act of faith that he would go after Vanessa next week. Vanessa thinks she is safe from everyone. I told Steve not to believe anything Vanessa says. James did not start that 8 person thing. James asks she said it was me!? Vanessa is out to get me! Meg says you can't tell James any more about her because he is going to blow up soon. Austin says we told Steve that Vanessa has been throwing him under the bus left and right. So he is pissed now. She is the one that put it in his head to go after Jackie. Meg says that's sad. Austin says we're all on to her. Meg says Vanessa has to go so that only one of them (Shelli or Vanessa) come back. If Vanessa was still here and Shelli came back that would be bad. She has to go next week. Austin says as soon as Vanessa goes up it would be mount saint helens. Julia says I'm going to tell Johnny he has my vote. Meg says I would wait because Johnny and Becky talk a lot. Meg says Becky knows the noms are going to be the same and said she would feel more comfortable if they did. Austin says I think next week I would need to put up Steve & Johnny Mac and then backdoor her (Vanessa). How can Vanessa win HOH next week if she has a deal with everyone.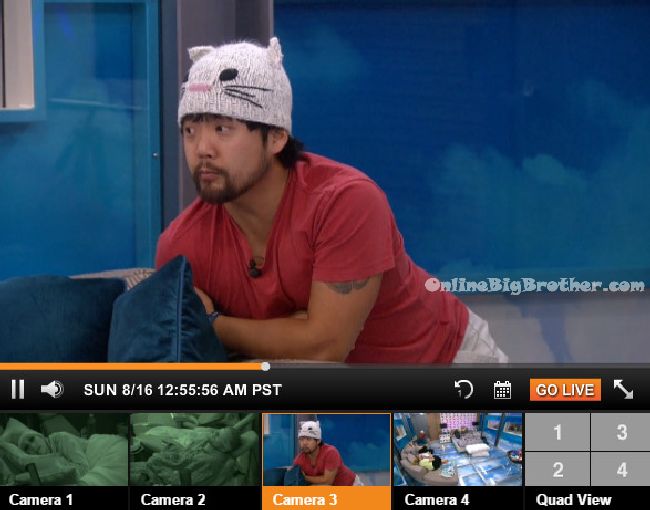 1:20am – 1:40am Liz joins them. Liz says that she's worried about Becky being mad at her. Austin says its not you sending her home, its us voting. Meg tells Liz that Becky wants the noms to stay the same because she is worried I would go up and then she would know she is going home. Liz asks what are you going to do about voting? Meg says she didn't vote for me last week. James says Becky keeps calling us a damn group. James asks when he talks to Vanessa .. should I just take any deal she offers? Austin says yes and then we can use it next week against her. Showing all the deals she's made. Austin says I would like to do it to her. James says Johnny Mac will do it to her too.. Like you're a bit*h! Meg says we just have to make it till Monday and then Thursday. She (Vanessa) has to feel so safe so she doesn't want to win HOH. Austin says Vanessa made me sell my soul to the devil that week I was going home. I'm still here and next week I can send her home. Meg says all Vanessa thinks about is being backdoored. They all head down stairs.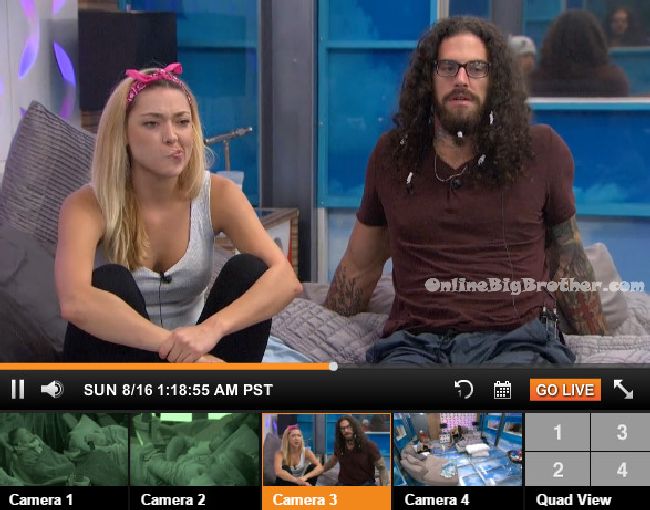 1:55am Julia and Liz check out the "Still H8 U!" written on James bed. Julia says you need to show him because he might run and jump into bed. He needs to know we hate him. They bring James in to show him and then push him onto the bed. James then chases them throwing chocolate at them.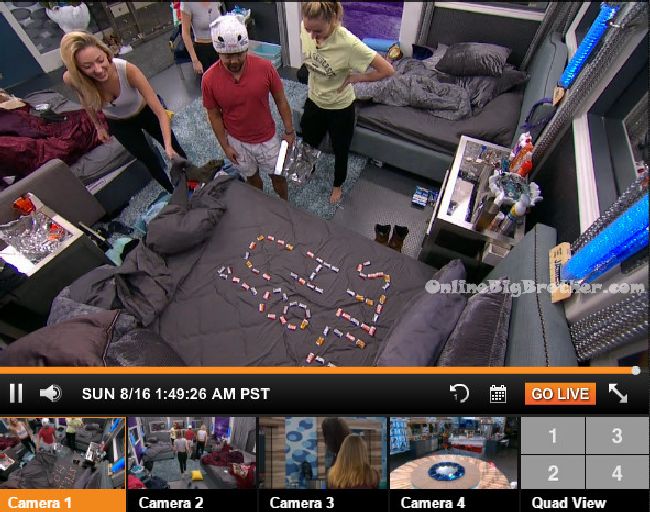 See what they can't show you on TV Try the live feeds for FREE!
Mean Girls @bigbspoilers #bb17 pic.twitter.com/unpG3xBeV3

— Dawg (@DawgsBigBrother) August 16, 2015
1:50am – 2:25am
In the living room the house guests make foil figures. They make fun of James "sword" saying it looks like a penis. James says it's not a penis, it's a sword! This is arts and crafts, you can express yourself without criticism.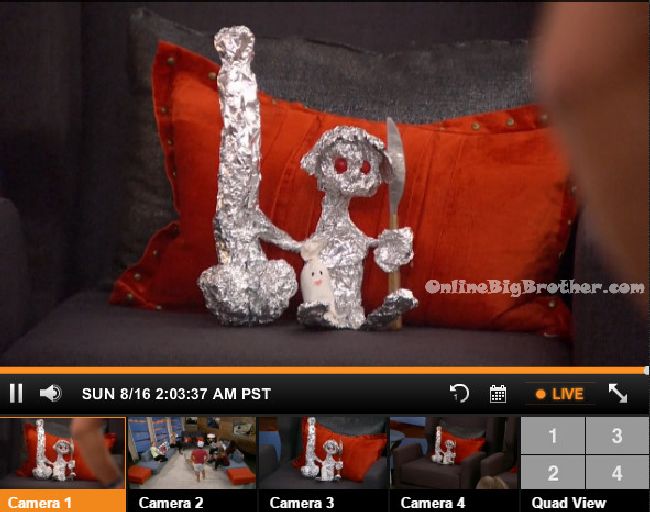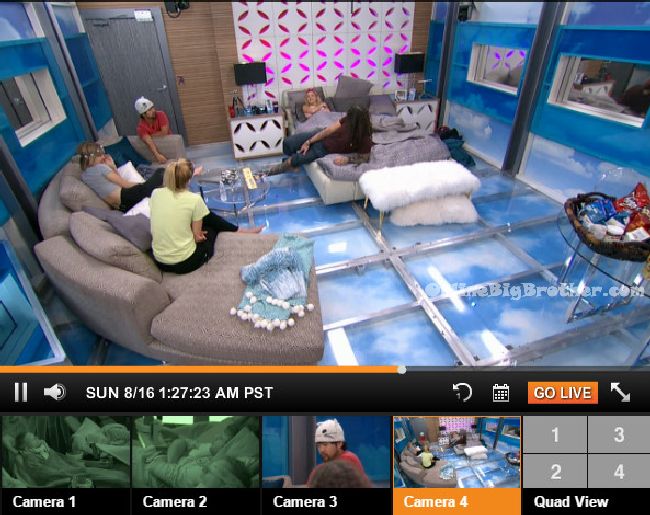 2:25am
Julia finds another foil and chocolate bed prank by Steve and James.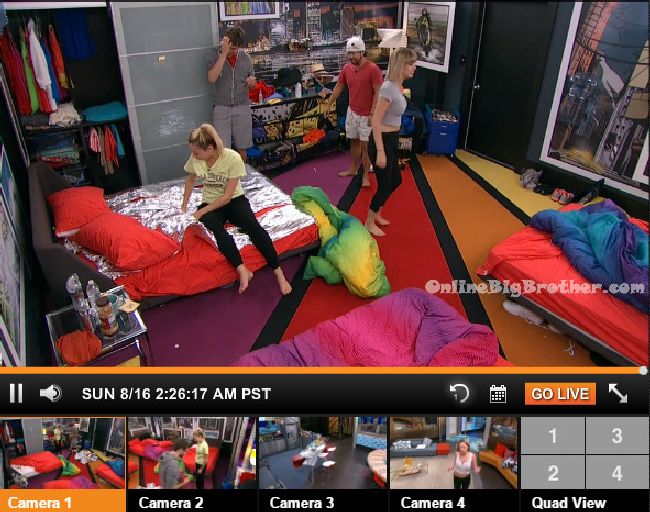 2:35am Liz tells Austin it would be really tricky if you won HOH next week to put up Vanessa because she would blow up all our games. Austin says I don't care if she outs everything. Most of what I did was harmless. She would out the sixth sense alliance. She would out Freak and Geeks but no one wanted to do it, not even Steve. They talk about how awkward and weird Vanessa is being. Austin asks why didn't we see her like this before. Austin says Brenchel never made it this far. Liz says I know we're killing it! Liz says the jury house is going to be full of girls. She (Vanessa) would see it coming from you more than Julia or I. She made you sell your soul that week to stay. Austin says she might try to blow me up but everyone would be so happy.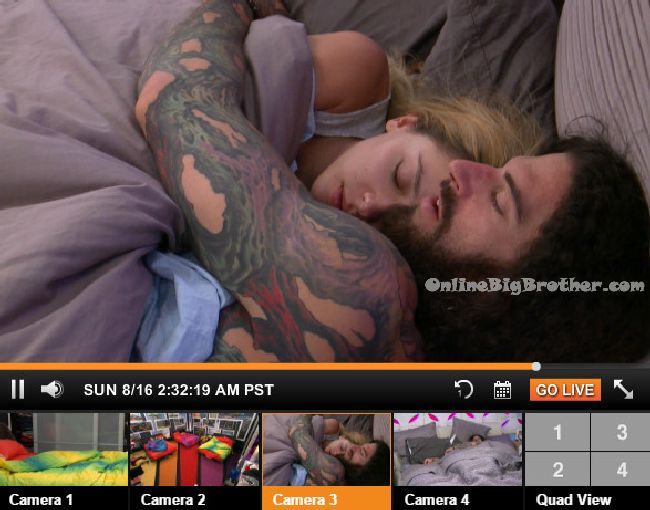 3:10am – 4am
Big Brother opens up the backyard. Steve says my bedtime just got several hours later. Steve and James head out to sit by the hot tub. James says I am pretty sure you and I are safe this week. Steve says I think the noms will stay the same. Liz doesn't want any more blood on her hands. Steve comments on how there is only 5 weeks left. James comments on how 3 people are going to win cash prizes – 500K, 50K, 25K. I would be very happy with the 25K. Steve says he would as well. Steve comments that the America's Fave has only ever gone to a jury member. James says I think I'm in the top four running for it. Steve asks James if he would come back for allstars? James says yeah. Steve tells James that he was scared of him the first week. You were the short Asian wearing a camo hat that was HOH. You had a successful HOH (Getting Jace out). James says and I didn't really get blood on my hands. James says when he gets out he wants to pay the taxes right away. Steve comments that he's nervous about the plane ride home with people recognizing him. I will either be loved or hated.
Steve talks about how he messaged Christine (BB16) and said he thought the hate she got was more than she deserved. He says she said thank you and the he said asked for his twitter handle and said wanted to be careful talking to her because he was apply for BB17. He says he didn't hear from her after that. James says that in the "space ship" (sequester) they were told not to reach out to past house guests to ask about strategy or other things because would be eliminated right away. Steve says his conversation with Christine was back in January.
James talks about how he's lived off 17 – 20K a year which has been hard because after paying child support there is nothing left. Steve says I can imagine that would be very hard.
10:20am Big Brother wakes up the house guests. Its a quiet Sunday morning.
5am – 5:30am Steve is up alone in the backyard doing laundry / playing pool / talking to himself. "People are so mad at Vanessa. Could I beat Johnny Mac… Maybe. He hasn't formed a lot of relationships. I might be cocky for saying this but I feel like I could beat Johnny Mac and Vanessa. I need to work on my relationship with Meg. I can't tell if Meg likes all the Grandma stuff. Does calling her Meg make me closer? Or more distant because I'm not close enough to make fun of her. Meg is going to be here for awhile. She might already be the runner up. How the hell do I bond with Meg. Bonding with her would be so much easier if I didn't put her up. For the record feeds I did not want to win that HOH. What can I do to gain Megs trust again. Steve wonders around and heads to bed.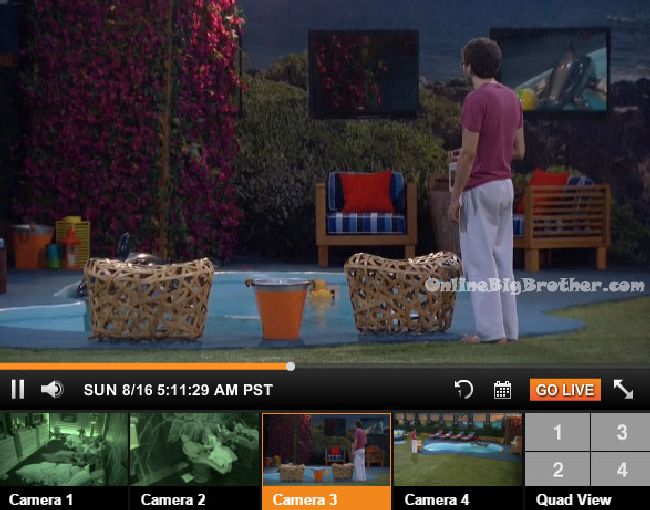 ALLIANCES:
Goblins/Gremlins = James and Meg
Generals = anyone allied with Becky
SOS = Steve and Vanessa
Rockstars = Steve and Jmac
AUS-Twins = Austin, Julia and Liz
"Brass Tacks"  Gobins and Austwins
The new "Brass Tacks" = Aus-Twins, Meg, James + Vanessa
"Freaks and Geeks" "The Scamper Squad" – Aus-Twins, Vanessa, Steve
[polldaddy poll=9025485]