POV Holder:
Liz
POV Competition
Aug 15th
POV Used
?
POV Ceremony
Aug 10th
HOH
Liz
Next HOH
Aug 20th
Original Nominations:
Johnny Mac and Becky
After POV Nominations:
? and ?
Have Nots
Vanessa, Johnny Mac, Steve
10:20am Big Brother wakes up the house guests. Backyard – Johnny Mac and Vanessa lower the awnings. Vanessa comments that on Thursday they will be 2/3 of the way through the game. Vanessa heads inside and talks to Liz about the James foil / chocolate pranks from last night. Steve says in James's defence I put the chocolate in the bed. Liz heads back to the HOH room. Liz comments on how thank god Steve was down there deflecting. Austin says Steve is our last loose end with her (Vanessa). Austin and Liz go back to sleep.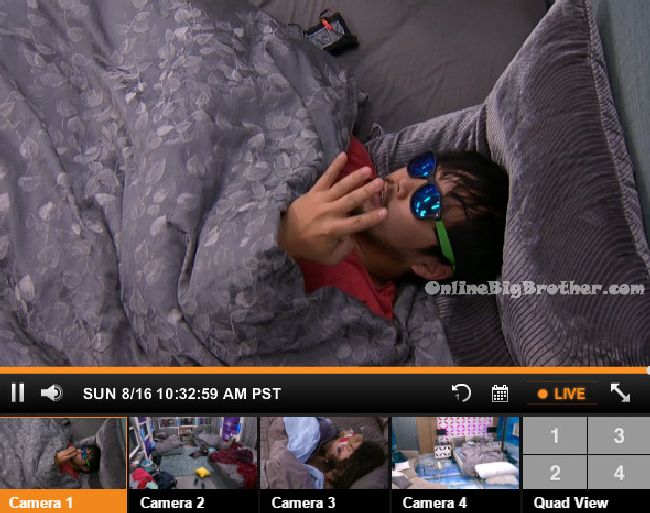 10:45am Bedroom –
Meg and James are reminiscing about past events of the season. Meg wonders if Clay is still mad that Shelli went home. James says oh yeah he's pissed. They know what they did though. Its one thing to be sent home like Jason where you get caught up in friendly fire. Meg says Jason could have won this game. James says I'm not going to say Jason would have won that on the wall (HOH) but we would have been up there a long time.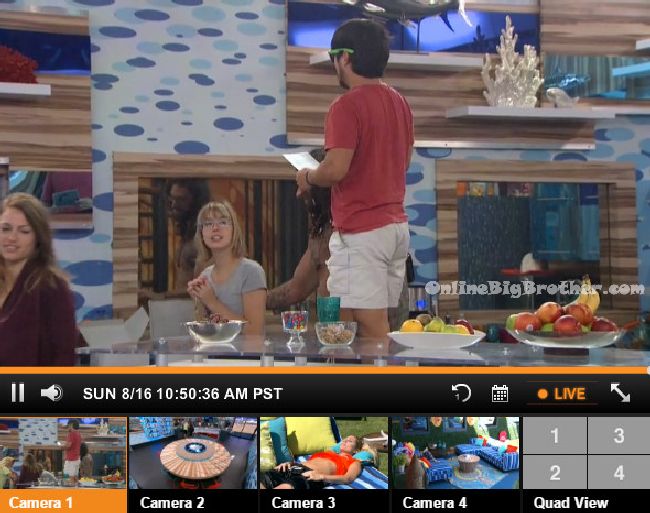 10:50am – 11:10am Big Brother blocks the feeds for a minute and come back to Meg and James going into the storage room to find the Cinnamon rolls voted on by the live feeders in the exclusive vote. They bring them to the kitchen and they all thank the live feeders. Out in the backyard Johnny comments on how this is a bad week to be a havenot. Julia says that James scratched her on her lower back last night. James says things got rough last night. Julia says I love the live feeders! Julia heads outside and joins Johnny Mac on the couch. Johnny says when you're stuck in there for so many days it just starts to feel like prison.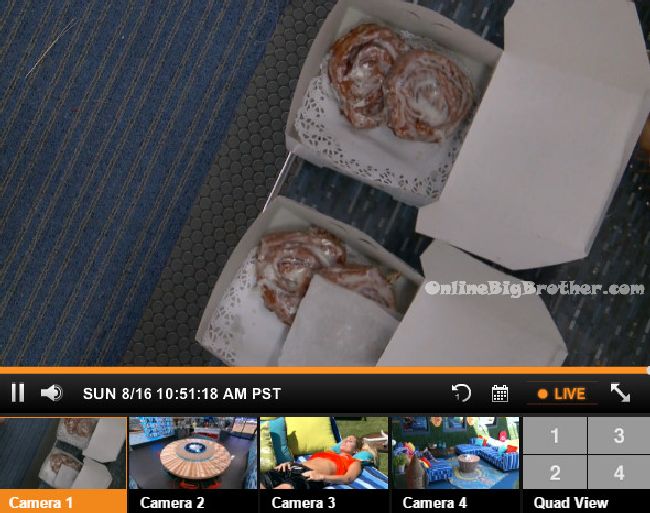 11:20am Bedroom – Meg and James head back to bed. James says he's heard enough about Clay. Meg says she would never date Clay. Its his personality. Mr. Sweetman. James says not the last couple days he was here! Meg says at least to Shelli he was. He was sweet as pie! James says I crossed 6 nations for you… I wouldn't even jump over a puddle for you. Meg says so no I would not (date Clay).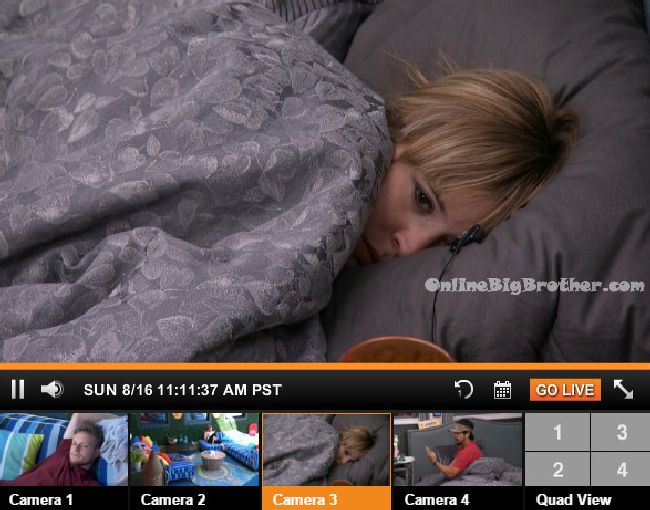 11:45am – 12:10pm Backyard – Becky and Johnny are the only house guests awake talking about life outside the house. They talk about fast food / roommates / jobs. The conversation turns to Becky talking about Europe, language differences and beer. Becky heads back to bed.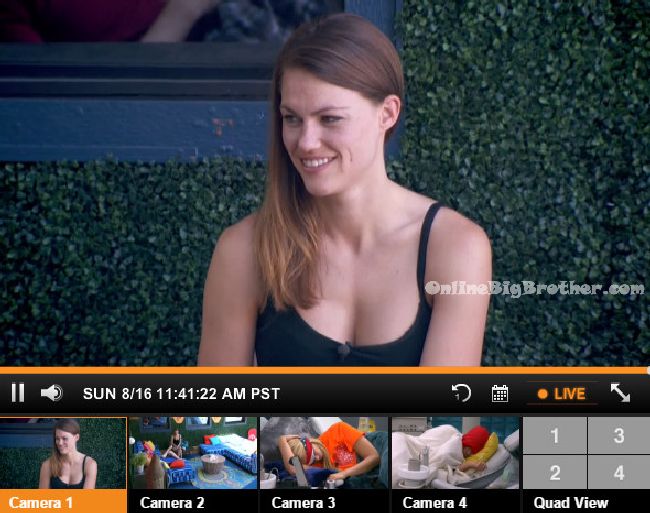 12:10pm – 1pm Johnny Mac is the only house guests awake .. eating, flossing and lounging in the backyard.
1:20pm – 1:45pm Vanessa and Steve join Johnny Mac on the backyard couch. They talk about the OTEV competition. Steve asks so they got cinnamon buns this morning? Johnny says yeah. Steve says that was nice. Steve says he's going to go back to bed but knows it won't break his sleep cycle. Steve heads back to bed. Johnny comments on how he didn't realize it would be so hard and that being locked inside it the worst part. Vanessa tells Johnny that she finally remembered her address because she forgot it. She says that she was going to go into the diary room and ask them to send flowers to her girlfriend .. and all of a sudden I remembered it.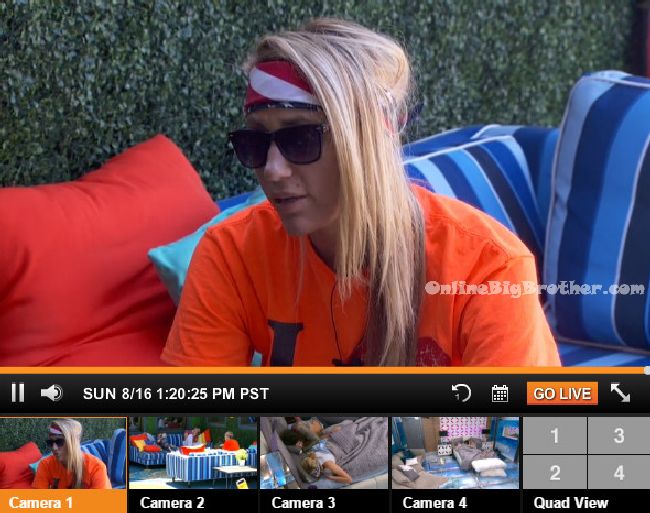 2pm – 2:15pm Austin gets up to make breakfast. It's a very quiet day in the big brother house. Vanessa talks to him and wonders what happened to the meals we were supposed to get? They said we were supposed to get 3 means and they only gave us two of them. Its been 2 weeks now and people have left and we still haven't gotten them. Becky says she asked the whole time she was HOH. They know about them.
2:20pm – 2:35pm Austin bring Liz her breakfast. He leaves. Liz says oh my god he's so cute! He makes it just the way I like it!
In the kitchen – Johnny Mac talks to Austin about how he owes a quarter of a million dollars in student loans. Liz comes outside the HOH room and tells Austin he didn't come up to eat.. that's rude! Austin says I was talking to Johnny Mac. I make her breakfast and I get in trouble. Austin heads up to the HOH room and says he thought she was sleeping. I was getting in some Johnny Mac talking time. Liz says oh that's true I didn't realize that. She tells Austin to go back and talk to him.
ALLIANCES:
Goblins/Gremlins = James and Meg
Generals = anyone allied with Becky
SOS = Steve and Vanessa
Rockstars = Steve and Jmac
AUS-Twins = Austin, Julia and Liz
"Brass Tacks"  Gobins and Austwins
The new "Brass Tacks" = Aus-Twins, Meg, James + Vanessa
"Freaks and Geeks" "The Scamper Squad" – Aus-Twins, Vanessa, Steve
[polldaddy poll=9025485]