POV Holder:
Liz
POV Competition
Aug 15th
POV Used
?
POV Ceremony
Aug 10th
HOH
Liz
Next HOH
Aug 20th
Original Nominations:
Johnny Mac and Becky
After POV Nominations:
? and ?
Have Nots
Vanessa, Johnny Mac, Steve
8:54pm Steve not the target still begins his transformation into Audrey. He's got as long way to go.
Vanessa walks in asks him why he's sleeping on the floor
Steve – it's better than on the chairs
Steve says he didn't throw it but he's not too upset he didn't win
Steve says it will be four / two Becky goes, 'Even if someone flops she's safe"
Vanessa – have you talked to Johnny about me
Steve – he mentioned he was frustrated, I sympathize with him
Vanessa says Jmac holding onto the Clay and Shelli "Things" is "so F*****G old"
Vanessa asks him if they should stick with scamper squad
Steve – I think we should take this one step at a time.
Steve says he's trying to build a bridge between her and Jmac.
Steve says if Becky leaves this week that means Becky and Jackie will never be together again.
Steve – You're playing games with me Vanessa
Vanessa says she's not playing games
Vanessa – It's a motivational tool, he sits on his Cornell brain
Steve says Jmac has been in a "Funk" Since "Chelli" Left
Vanessa – I don't know how to talk game with him
Steve- Let me talk him out of his funk
Steve – so Vaneesa Target for next week, Me.. JOhn..
Vanessa – You're not a target you f*** tard
She won't tell him who her target is unless he tells her a name.
Steve claims to not have one .
Vanessa – what's the percent chance she keeps Noms the same
Steve – 100
Vanessa – OK
Steve – Maybe 99 and a half
Vanessa – I think it's 100
Vanessa leaves
Steve says to the camera he's highly skeptical of Vanessa but he'll never let her know that.
Steve -I don't trust you However I need you for Final two you're going to take all the blood for the things I do and no one will vote for you in the end
Steve – AS long as I play the blindly loyal minion you'll never get rid of me
[envira-gallery id="128634″]
9:30PM Alcohol.. Very little 🙁
9:35pm James and Austin sharing stories about bar fights. For Austin it involves when he was a bouncer with Eddie the winner from BB1. Becky tells them taking a German train to the face. james brings up a bar story were a guys face got shattered.
Becky says her train accident was 18 months ago.
Becky – "We didn't drill and do surgery to my Skull"
Becky – They're tram trains there it meant to be heard
Austin – she got hit by a train you would think she would die.. her head got hit of all places
Becky – I've had no reconstructive surgery
Becky – it was when the broncos lost the super bowl..
Becky says her medical bills would have been 50 grand if the accident happened in the US but in Germany it cost much much less (25K)
Becky says her family doesn't have a lot of money it was very expensive for her mom to fly to Germany to see her after the train smashed her. Took her mom a week to get over there.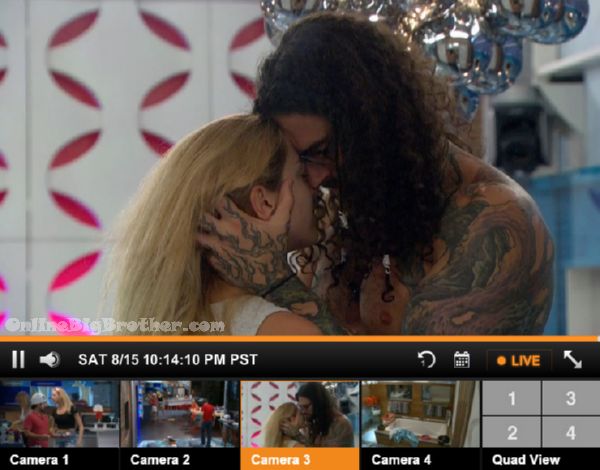 10:12pm HOH Liz and Austin
Liz – I'm so lucky I didn't have a F****g strategy.. I just got lucky with everything that says something
Austin – we got really lucky.. we've been lucky the whole game..
Liz – I'm so happy we got Alcohol we won
Liz – I just got lucky with everything, I didn't have a F****g strategy @DawgsBigBrother #BB17 pic.twitter.com/ZCKtpcZQ5A

— OnlineBigBrother.com (@bigbspoilers) August 16, 2015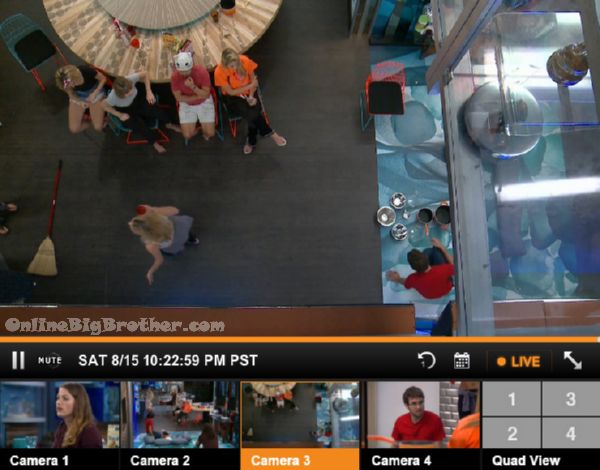 10:25pm
Gl*ry H*le time!
10:47pm Still playing Pot Ball
[envira-gallery id="128648″]
Pot Ball Victories James and Julia #BB17 @DawgsBigBrother pic.twitter.com/XKEFtIGBy0

— OnlineBigBrother.com (@bigbspoilers) August 16, 2015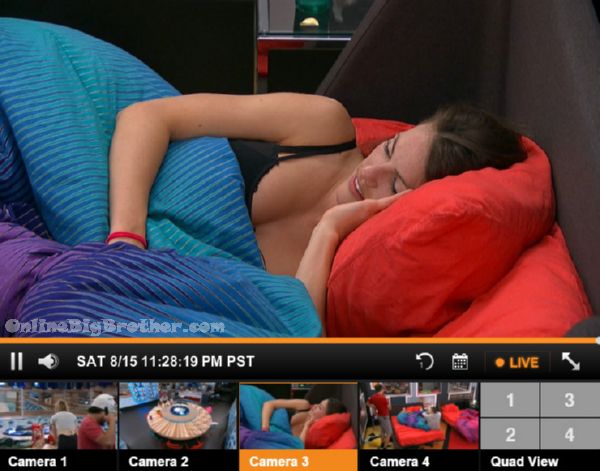 11:29pm Becky and Jmac
Becky talking about how Austin and the twins have been playing like it's summer camp all summer.
Jmac says the last few days have been rough.
11:32pm James finds the message Julia left for him. "WE H8 U"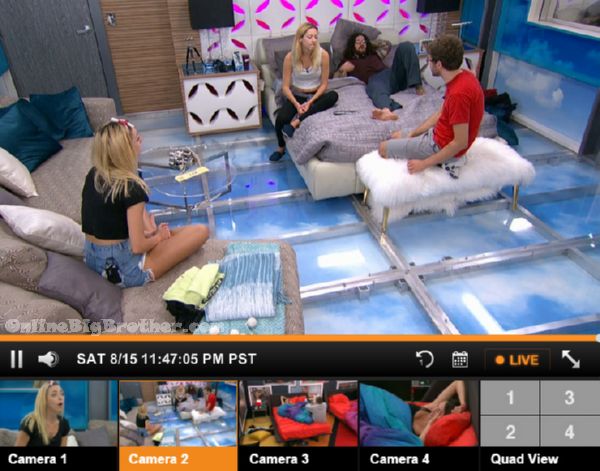 11:44pm HOH Austin, Liz and Steve
Liz tells him she's keeping the noms the same.
Steve – it will be 4 -2
Liz – Whose voting for Becky
Steve – James and Meg
Austin doesn't Think They will once they find out the majority is voting out Becky.
Julia comes in tells them Jmac and Becky are scheming in the comic book room. Steve says that is expect they are friends and on the block together.
They talk about Becky trying to steal the "Clay" during the Otev POV competition.
Liz tells them the target this week is Becky
Steve says he did not throw the POV he wonders if Jmac threw it.
Austin says Jmac does not trust Vanessa is his target her
Liz – we have to keep it like that
Austin says Steve winning the HOH set things on the right course again. Points out that they were a bit on the ropes Clay and Shelli were taken out "They weren't coming after us"
Steve – And Jackie, Meg and James are
Julia asks them who Jmac will put up if he wins NExt week. Austin thinks he'll put up Vanessa and a goblin.
Austin brings up Vanessa telling them that Johnnymac was going crazy and she was scared he was going to hurt her popshcyally, "Awre eyou kidding me Johnnymac.. It' too much enough is enough already
Liz – It feel like she's the one going crazy and going to physically hurt somebody not johnnymac
Steve- nobody's hurting anyone in here
Steve goes to give them the real definition of "Backdoor" in contest of the Big BRother Game.
Austin tells Steve that Vanessa has turned into their shield now. Steve recommends they promise Jmac their vote if their mind is made up the sooner the better.
Austin – Before the other side has.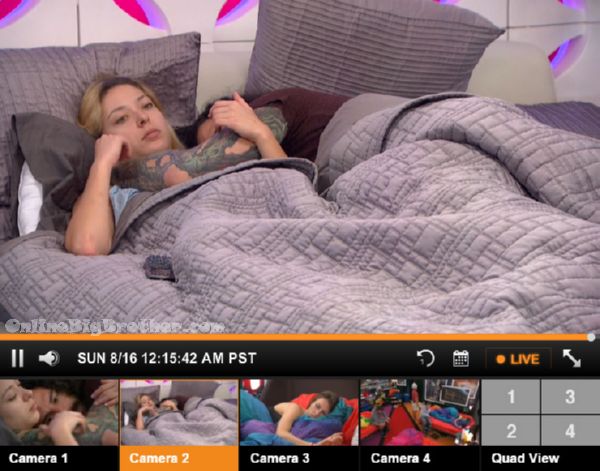 12:14am HOH Liz and Austin Julia in the bathroom
Liz says they are killing it this week. "Becky is pissed"
Austin – lets see what happens she might say some shit about Johnnymac
Liz asks if she should talk to Jmac/becky or wait for them to come to her.
Austin says they have to come to her.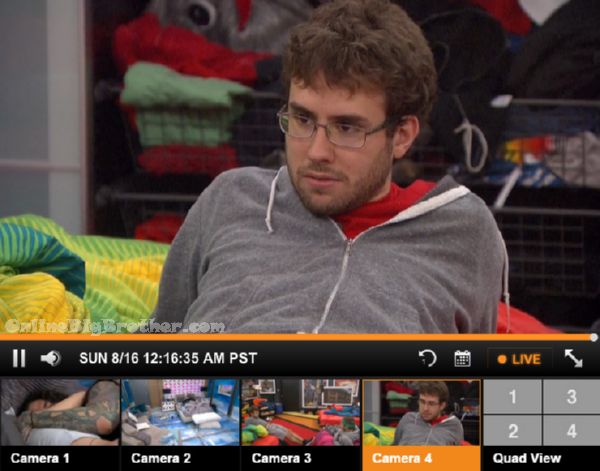 12:15am Comic room Steve and Jmac
Steve – what happened may I ask what got you into the funk
Jmac says it all went wrong trying to get Vanessa out.
Steve – you need to win the HOH
Jmac- why
Steve – to stop being the pawn again
Jamc – if we take out Meg and James we're next
Steve – true
12:30am HOH Meg, Liz, Julia and Austin
Meg saying that Becky has been dealing with it well. She's being positive about the jury member coming back in.
Austin – Before the Veto JOhnnymac came up to me and was like I trust you guys.
Austin wonders ig JMac threw the veto to him.
Austin – they both think they're staying
They Start talking about Vanessa
Austin – Everything's Game, Game geam geam..
Meg – what do you think is the best thing this week
Liz Johnny Mac or Becky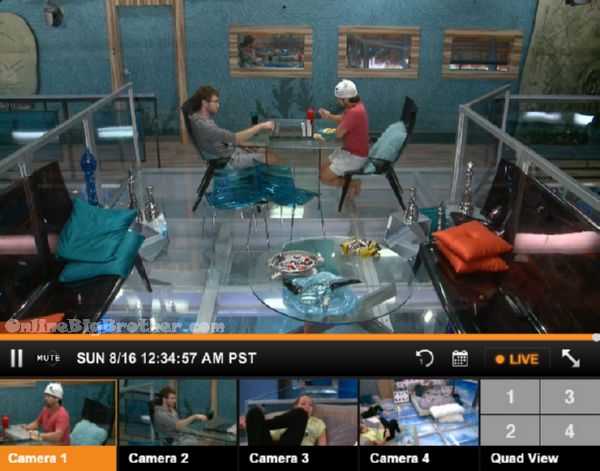 12:37Am Chess
ALLIANCES:
Goblins/Gremlins = James and Meg
Generals = anyone allied with Becky
SOS = Steve and Vanessa
Rockstars = Steve and Jmac
AUS-Twins = Austin, Julia and Liz
"Brass Tacks"  Gobins and Austwins
The new "Brass Tacks" = Aus-Twins, Meg, James + Vanessa
"Freaks and Geeks" "The Scamper Squad" – Aus-Twins, Vanessa, Steve
[polldaddy poll=9025485]