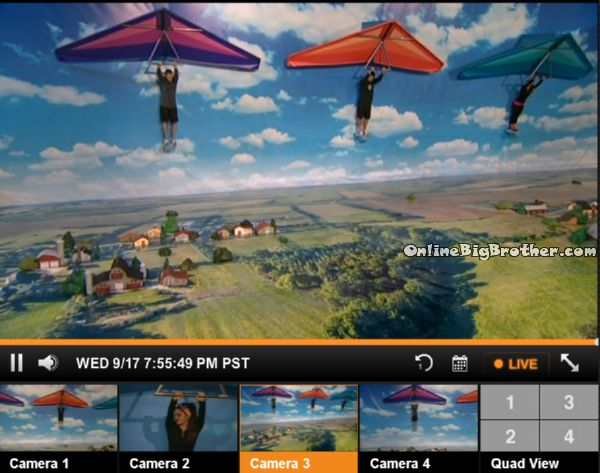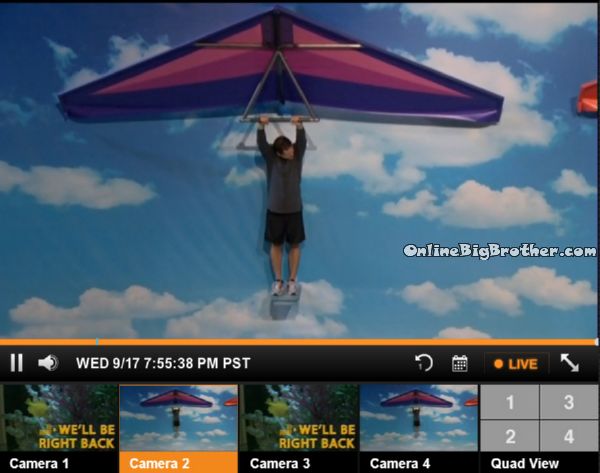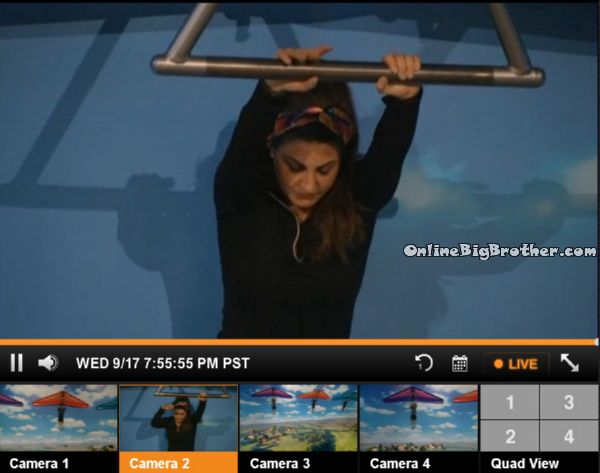 7:58pm Competition has just started, Cody – We're going to get soaked"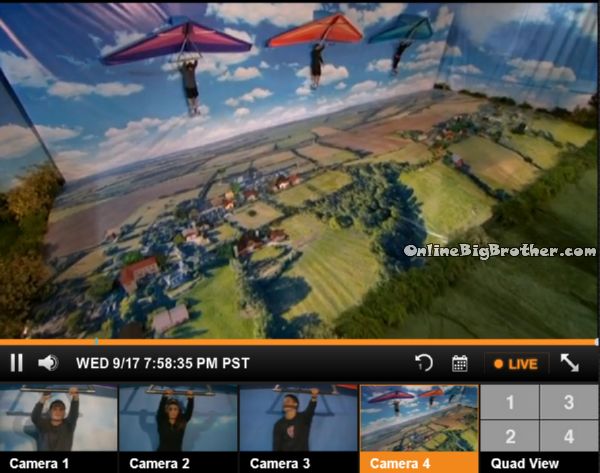 8:01pm – 8:15om They are getting misted periodically by cold water.. Derrick says you think this is good (the hang-glider above them) but its really a ramp for the water. Cody asks do they give us time checks? Derricks says Julie did on the spit one. Cody says yeah you're right. The mist hits them again. Derrick says that torrential! Cody asks is that water or paint?! It smells funny! Cody says wow that was intense. We were down there dude! (The wall moving forward. (There's flashes of lightening too.) Derrick says that sucks! Cody says dude we get down there. Make sure you feet stay on. (Victoria hasn't said a word. The angle shifts far forward. Derrick asks you are serious right now?! Cody says this is sick!!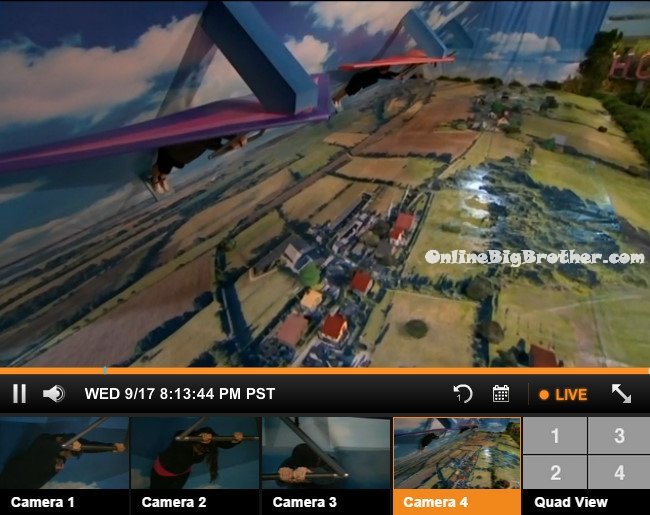 8:20pm – 8:36pm Victoria asks how long do you think we've been on here .. 10 minutes? Cody yells to ask if they're able to get time checks? Big Brother blocks the feeds. VIctoria says Frankie wouldn't have done well in this challenge at all. Derrick says he would have crushed it! Victoria says no his fingers would have turned purple and he would have fallen off. Derrick says true. (The cold water is really getting to them already.) Victoria says that her hands are slipping. Derrick tells her to hold on. Cody says we're going back up. Derrick says his hands are killing him. Cody laughs. Derrick asks what?! I'm old. Victoria says her hands were falling asleep.
I'm confused where are the holes by their feet for Big Brother to push them off the platform? @bigbspoilers #bb16 pic.twitter.com/miunNIYxme

— Dawg (@DawgsBigBrother) September 18, 2014
8:37pm – 8:50pm Victoria fell off! Derrick says stay for a couple and I'll jump off. Cody asks what? Derrick says you're not going anywhere. Derrick asks what do you think about the next comp? Cody says I don't know. Derrick asks do you want this one? Cody says yeah. It would make me feel good. Endurance. Derrick says its no doubt you know it better than me.