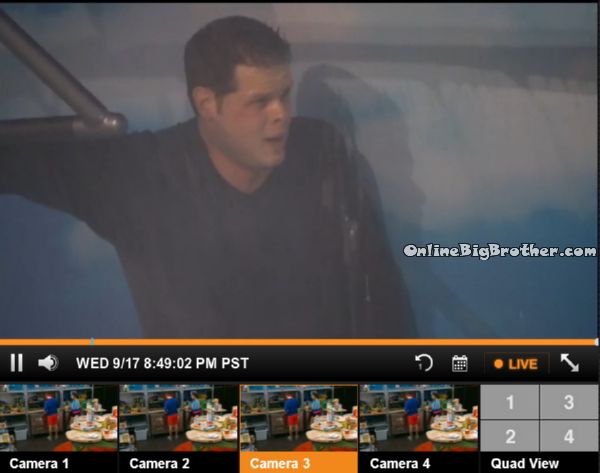 8:51pm
Derrick – Hurting I can't feel my hands
Derrick wants to jump off but wants to know if they've made it to a "respectable time"
8:55pm Derrick jumps off giving the win to Cody.
Derrick will compete against Victoria in the second part of the Final HOH.
9:06pm bathroom Victoria and Derrick
Victoria asks Derrick if he threw it.
Derrick gets mad "The fact that you would ask me that.. unbelievable" Says he still can't feel his hands.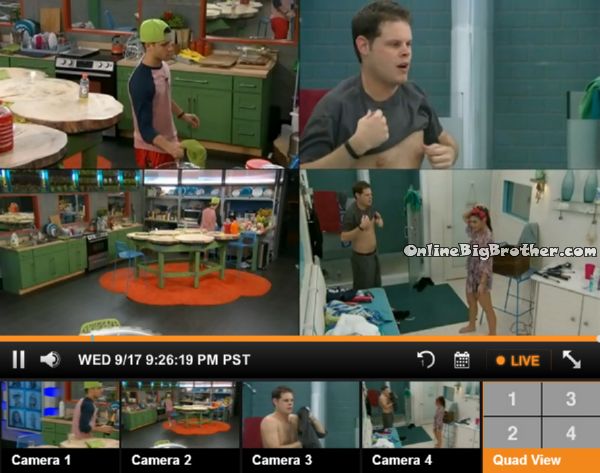 9:27pm Derrick seems very pissy at Victoria for questioning he threw the HOH.
Victoria – I didn't see you slip off… wqere you trying to convince him to through it
Derrick – Ya..
Derrick says his hands were getting cold he couldn't feel them. Places some blame on his cut finger as well.
9:32pm Cody and Victoria in the kitchen. Cody tells her he was fine could have stayed up on the wall for much longer. Only his fingers were hurting but not that much.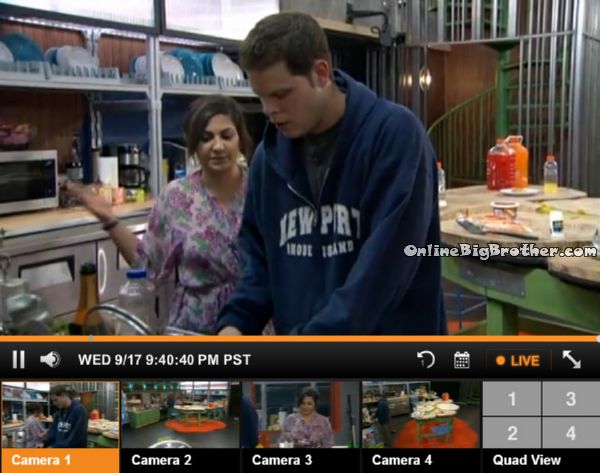 9:39pm Kitchen Victoria and Derick
Derrick still pissy at Victoria. Victoria says the only reason she asked him was he seemed fine.
Derrick – I was shaking like a f***g leave.. After you fell off they made it 10X harder..
Derrick tells her she's hurt his feelings suggesting he threw it, "I was trying to get him to fall"
Victoria says Cody looked like he was in rough shape. Derrick makes a big deal about Cody being a D1 soccer player.
Derrick – I was trying to get him to drop I knew my hands were kill me"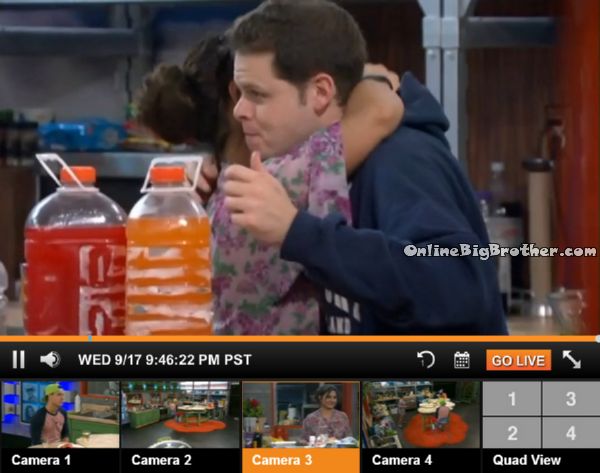 9:45pm Kitchen final 3
Cody excited about them them making it to final 3.
Cody tells her she was the hitmen's little sister.. Tells him Derrick protected her this entire game.
Victoria leaves to go to the Diary Room. Derrick says they are going to smoke Victoria in the Mental competition.
Derrick says he promises Cody he will smoke Victoria in the next HOH.
Derrick – Even Chilltown didn't make it to final 2.. Renegades did they were on our level.
Victoria comes back.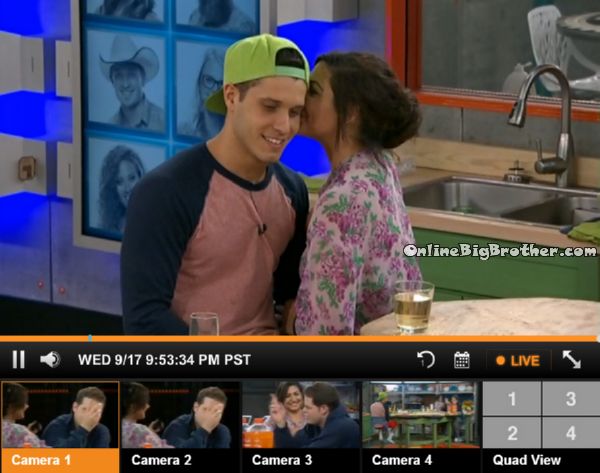 The Diary room has told Victoria who out of her family is coming to see her on Finale night. She whispers this to Cody.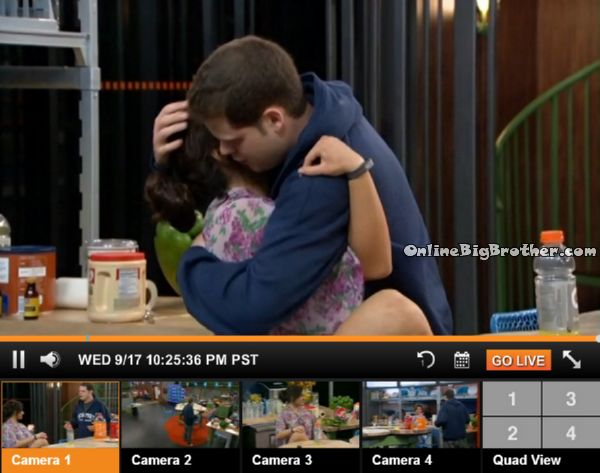 10:19pm Derrick tells Victoria that he protected her all year when he got in a fight with Zach he Crushed him and after that Zach and everyone else stopped saying things about her.
(Derrick isn't 100% truthful people talked sh1t about Victoria including him. )
Derrick back on why he fell from the HOH competition. Says his hands were numb the one hand already is numb. Derrick thought Victoria was going to be proud of him instead she questioned him throwing it.
Derrick says she can beat him tomorrow in the mental
Derick – I know I can beat him in the final.. I've done it 4 times.
Derrick says he's got her back outside the house gives her a hug.
Derrick tells her they are in the house for the whole week it's going to be so much fun. he wants her to stay positive they made it to final 3 they should be happy anything could happen. Derrick says she doesn't have to win the next HOH he's got her back.
They head over to the living room. Derrick thinks tomorrow's competition will be puzzlew, " Do you swim well.. might be something to do with swimming"
10:49pm Victoria tells Derrick Nicole and Hayden Hate Cody they will not vote for him.
Derrick says he has to make it to the end end and wins Money for his family, "I gotta do it I don't have a choice.. I don't have a choice.. I can't wait for them to meet you"
Victoria tells him if she wins the final HOH she'll take him
Derrick says he'll do the same.
11:04pm Derrick says Christine and Cody were very close. Victoria wonders why they never had a name like Derrick and Cody did. Derrick says they were best friends they didn't need a name.
Victoria in the Diary room
Derrick and Cody talk about Vciotira not "getting this game" Derrick mentions she was dumbfounded about the hitmen. Derrick says they have to make sure she doesn't make it if she does make it to the end they will look like "Straight Schmucks"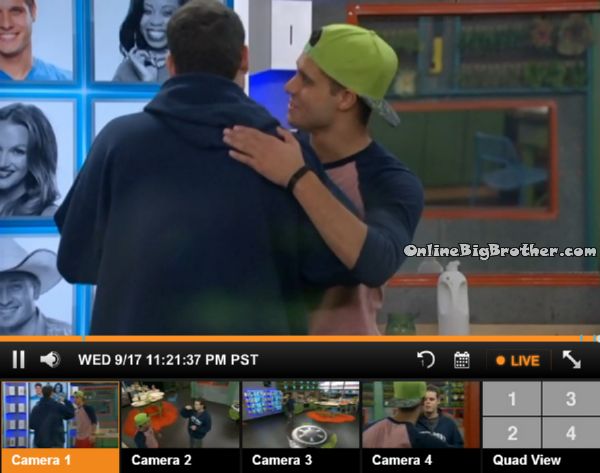 11:19pm They don't give a shit about Frankie and what he thinks of them on finale night. They both hope Caleb is cool with them they like him. Derrick thinks he will be. Cody will be upset if he;'s not.
Looking at the Memory wall Cody is saying that Caleb won America's favorite based on the cheers.
Derrick bets him $100 says one of them is winning 50K another 500K Derrick thinks Zach will win. Cody thinks it will be Caleb. After second thought Cody doens't want to make the bet until they are confirmed final 2.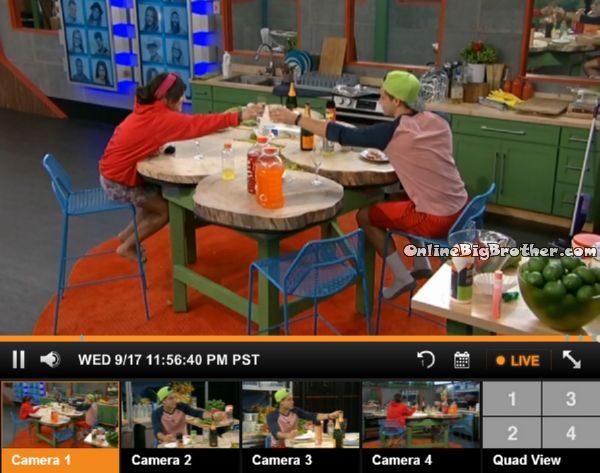 11:54pm Derrick in the Diary room now. Victoria and Cody trying to figure out when they get the backyard. Victoria wonders if the second competition will be tomorrow. Cody doesn't think so. Cody tells her Caleb was blindsided today.
Victoria – I never thought I was staying that's the funny part.
Cody – you're welcome.
They have a toast.
12:01AM Cody tells Victoria about the detonators says it was a spin off of the bomb squad.
Victoria comments how sad this season was with only 3 that were not unanimous.
Cody tells them about Hayden, Nicole, Derrick and Cody being in an alliance called the rationale. Victoria says she knew about that alliance but never knew the name.
12:06AM They bring up Brittany not liking Nicole and Christine.
Cody – I loved Christine from the beginning of the game..
Adds that when he was first HOH he "Loved" Christine and after he found out Brittany was after Christine he had to get rid of Brittany.
Make your Amazon purchases through the links below it Supports this site
Share it YO!!
Tweet