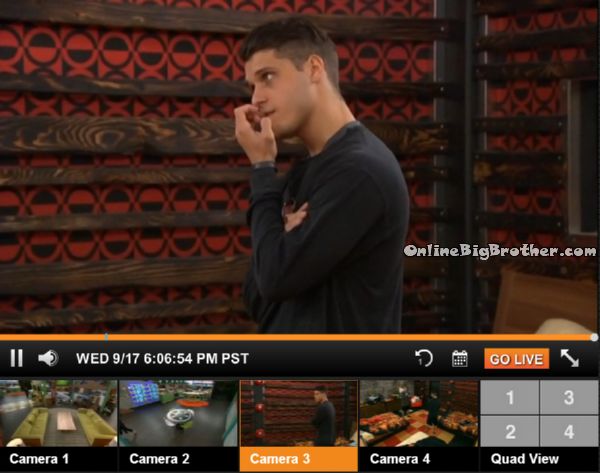 6:07pm FIRE ROOM Derrick and Cody
Confirming their Hitman Alliance. Derrick isn't going to kill himself in the endurance as long as Cody can beat Victoria. Derrick will study his a$$ off to win the mental.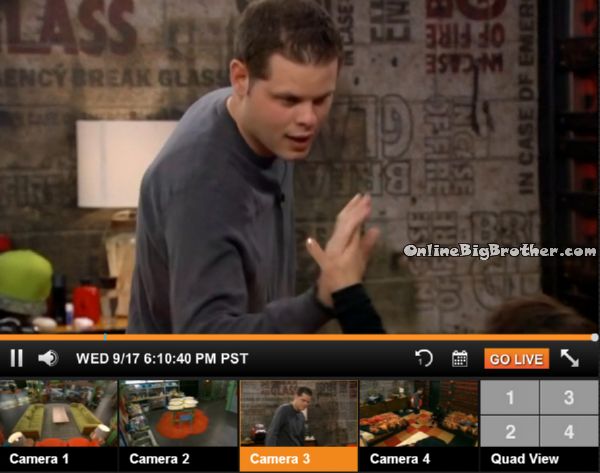 6:11pm FIREROOM Derrick and Victoria
Victoria wants to know what he was talking to Cody about. Derrick wsaya he said it in the speech he wants to take Derrick to the final 2
Victoria – would you really betray him like that
Derrick – Doesn't matter this is big brother.. You are like a sister to me.. Don't kid yourself there.. You be the queen and take your Big Brother how about that"
Derrick walks out "I hope it's soon"
They meet up in the living room. Victoria doesn't know how the days will work out this final week.
Derrick – "we'll have one COmp tonight"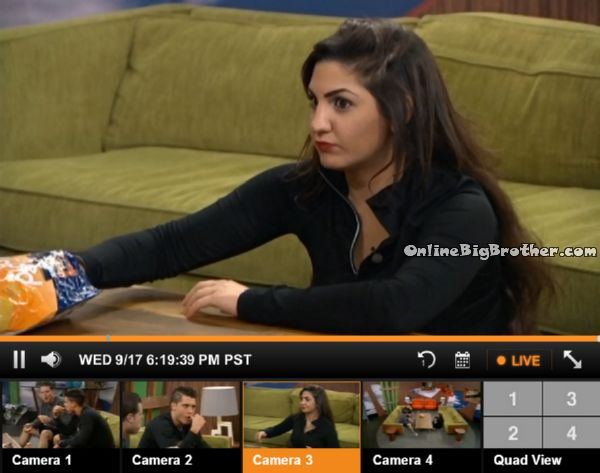 6:16pm Living Room
Derrick thinks Caleb is going to be pissed tonight but after time he'll be OK.
Cody – He's a respectful person he's not Christine
Derrick and Cody don't blame Caleb for being upset with them they would be to. They get it 100% but after he figures things out he'll be OK.
Cody is worried about what Frankie will say to Caleb "He'll get him in there and rip him down.."
Derrick – Frankie is going to crush him
Cody thinks Frankie will throw it right at Caleb's face his mistakes in the game. Frankie will tell Claeb all the things about the game that Caleb didn't know and highlight the weeks they tried to get him out.
Cody – Does he need all that thrown at his face.. no .. Frankie will and that is what's making me mad"
Derrick – we did what was good for us.. you know..
The guys tell Victoria about the season's alliance's.
Cody tells her she was never getting played.
Victoria – I appreciate that..
Derrick – I've never crossed you.. you and I are friends.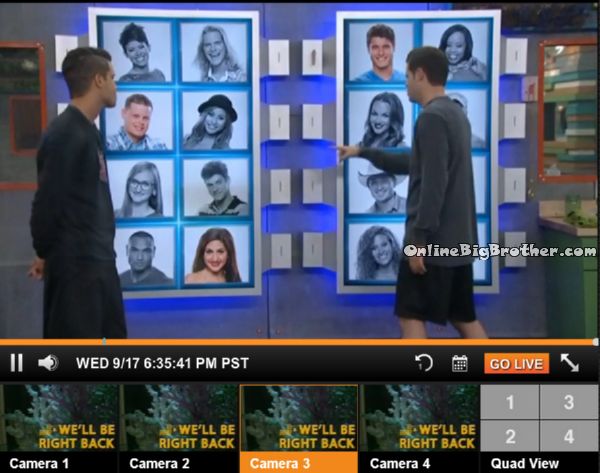 6:36pm Memory Wall Derrick and Cody
Derrick thinks the America's favorite is between Caleb and Zach, Maybe Donny. Derrick points out that Caleb's cockiness may not have been shown much on the show and he had a lot of pivotal moments "Biting the head off a fish" Derrick points out that Frankie has no shot.
6:43pm Living room
The HOH competition is coming up they are Chit chating about the season having some laughs. Victoria knows all about the hitmen. Derrick tells Victoria – you are lucky you never had a contract out on you.. because I love you.. you are lucky you are my sister..
6:47pm Victoria calling Christine malicious and Evil
Tells Cody he doesn't understand all the crap she was saying about Victoria. Nicole told Victoria that Christine hated her.
6:58pm Cody asks Victoria if she knew him and Derrick were so close. Victoria didn't.
Cody tells them that Caleb didn't trust Cody at first. Derrick points out that was because of Amber. Amber liked Cody and Caleb liked Amber.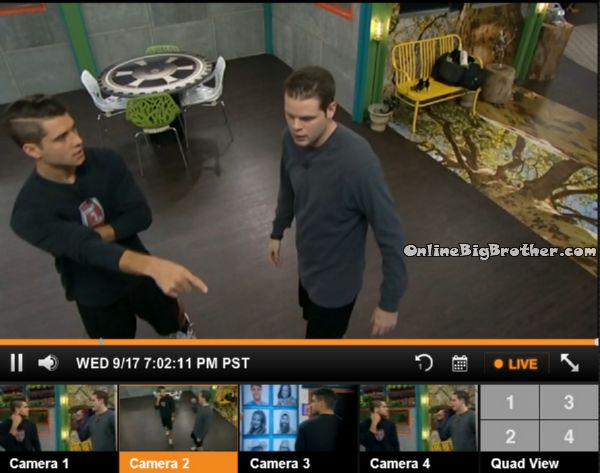 7:03pm Derrick and Cody Memory wall
They are saying to each other that Victoria will win because of a spiteful jury.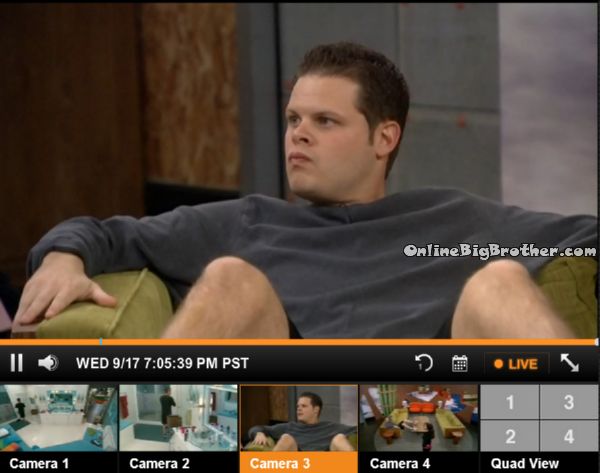 7:05pm living room Victoria and Derrick
Derrick says he'll beat Cody in the final HOH and he'll take Victoria
Victoria a- You better f***g take me
Derrick – I got ya I got ya… we'll talk later.
Cody joins them says production told him within the hour they will have the competition. Derrick points out they are still "Drilling and shit" in the backyard.
7:20pm Jeff on the feeds
Support this site make your Amazon purchases through the links below.
No extra cost to you. links are valid throughout the year.
Amazon.com Link
, Amazon.ca Link
[polldaddy poll=8244330]