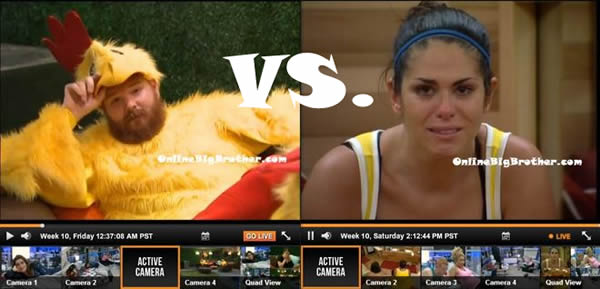 Big Brother 15 Live Feeds: FREE 2 DAY TRIAL
Tonight will be the second Double Eviction of Big Brother 15 which will bring the number of house guests down from 7 to 5. Double eviction episodes are always a huge surprise as everything happens so fast and there is next to no time to campaign or conspire.
2AM Alliance + Elissa formerly known as 3AM – Amanda, McCrae, Elissa and Andy (Who is faking being with them) all believe they are going to blindside Spencer, Ginamarie and Judd by evicting Spencer.
The Exterminators Alliance – Andy, Ginamarie, Judd and Spencer all believe they are going to blindside Amanda, McCrae and Elissa by evicting Amanda.
The Exterminators Plan for Tonight – Andy has been lying to Elissa, Amanda & McCrae all week telling them he is voting with them to vote out Spencer, when he will actually vote out Amanda. McCrae and Elissa will be voting to evict Spencer. Judd and Andy will vote out Amanda. Ginamarie will then break the tie, to vote out Amanda. Andy then plans to act shocked and upset blaming it on Elissa so that McCrae thinks that Elissa voted out Amanda. This will then make McCrae target Elissa over the members of the Exterminator's alliance (Judd, Ginamarie, Andy, Spencer). The exterminator's also plan to tell Elissa right before the voting happens that McCrae told them he is voting out Amanda. This way if either McCrae or Elissa win HOH during the double eviction they will target each other.
Items given to Amanda to prove voting loyalty:
Elissa gave her wedding ring to hold (Amanda's Est. Value $4000 but likely fake)
Andy gave his Organ t-shirt (Est. Value $20)

Prediction:
Amanda evicted after Ginamarie puts the nail in the coffin by breaking the 2 – 2 tied vote.
CONFIRMED Double Eviction Results:
Andy votes to evict: Amanda
Judd votes to evict: Amanda
Elissa votes to evict: Spencer
McCrae votes to evict: Spencer
In the event of a tie vote – As Head of HouseHold Ginamarie votes to evict: Amanda
First House Guest Evicted During Double Eviction: AMANDA
WINNER of the First HOH Competition: McCRAE
Nominations: Ginamarie and Elissa
Power of Veto Winner: JUDD
Veto used: NO
Second Evicted House Guest: ELISSA
WINNER of the Second HOH Competition: ? The second HOH will likely happen later tonight.
Julie Chen says "Less than 2 weeks remain before we crown the winner of Big Brother 15!" BB15 Finale September 18th!

Please consider donating. Simon and I work 24/7 all season long to bring you all the live feed updates and spoilers. ANY amount is greatly appreciated, your donations go directly to paying the server and bandwidth fees needed to run this site.
[polldaddy poll=7375044]
Use the Big Brother Live Feeds to FLASHBACK to SEE what they can't show you on TV:
BB15 N!p Sl!ps / N*des