POV Holder:
McCrae
Next POV
Sept 7*
POV Used
YES
POV Ceremony
Sep 9th*
HOH Winner:
GM
Next HOH:
Sept 5th
Original Nominations:
Amanda and McCrae
Current Nominations:
Amanda/Spencer
Last Evicted Houseguest
Aaryn
Have Nots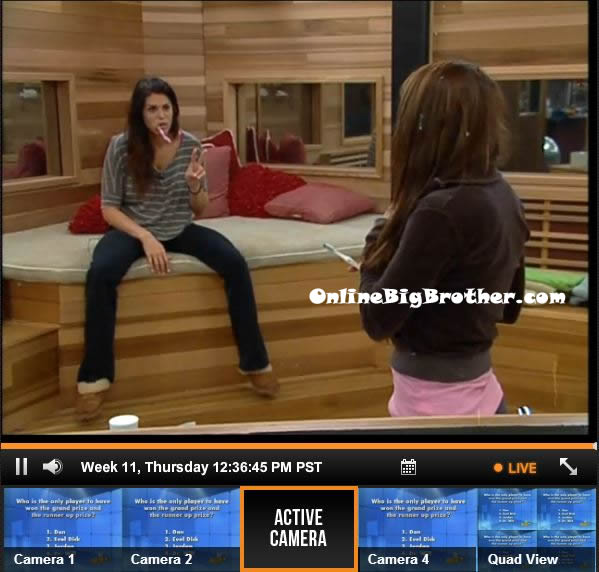 12:35pm When the live feeds come back from showing TRIVIA while the house guests were in the HOH room lock down – Spencer and McCrae are sleeping in the bedroom. Judd and Ginamarie are sleeping in the rainbow room. Elissa and Amanda are in the bathroom talking. Elissa says that she is so excited but I am so nervous for tonight. Elissa says she wants to win the first HOH of the double eviction. Amanda says it doesn't matter as long as it is one of us. Elissa asks would you want to win the second one? Amanda no because then you can't play in the next one but I am still going to try. Amanda says that she wants Ginamarie out but that she and he (Judd?) are equal to her on who to get out, whatever everyone else wants to do. Amanda says I look so .. I need to do something with my life. Elissa leaves the bathroom for the kitchen and Amanda heads to the bedroom. Elissa asks Amanda in the hall "are you sure McCrae is going to take me over Andy?" Amanda tells Elissa that McCrae 100% wants to take her further rather than Andy. He wants to take you further because he doesn't think anyone could win over Andy, which he is right. 100% you're good. Elissa says okay.
Big Brother 15 Live Feeds: FREE 2 DAY TRIAL
1:05pm Elissa is doing yoga in the hall. Amanda is getting ready in the bathroom and the others are napping.
1:25pm – 1:45pm In the bathroom – Amanda comments that she thinks Spencer is just feeling safe because he has been on the block for a month and a half now. He thinks he is just a pawn, but sometimes the pawns go home.. Amanda says that she overheard Spencer getting up from sitting with Ginamarie in the hammock and he said in a very staged way "Thanks for hearing me out." He is such an a$$hole. I think he volunteered to go up. Elissa says yup. Elissa takes a shower. Andy and Judd finally wake up.
Judd joins Elissa in the bathroom – Elissa says that Double Evictions are so stressful! Judd says you think they are, I went home on one. Judd calls Aaryn an a$$hole for nominating him/sending him home.
2:35pm Elissa doing her hair in the bathroom. Judd and Andy are back in bed. Ginamarie is doing her makeup in the rainbow room. Spencer is lying on the living room couch.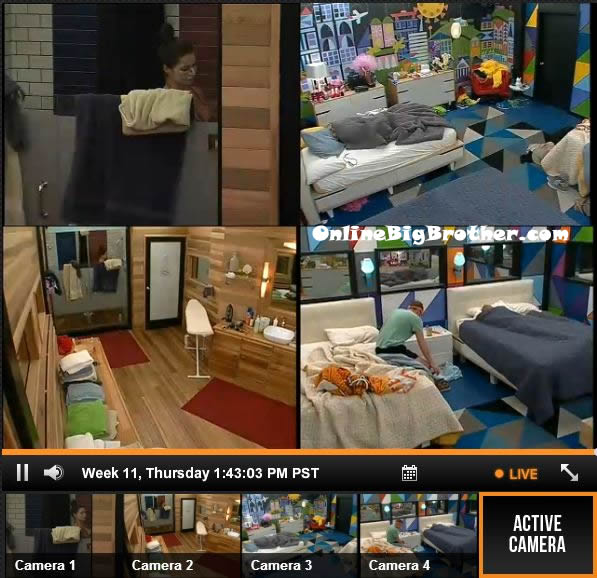 In the bathroom – Amanda is getting ready. Judd joins her and hugs her. He says this might be the last time I see you for a while. Or will it?! I might go out right after. Amanda says as soon as you feel safe you go home.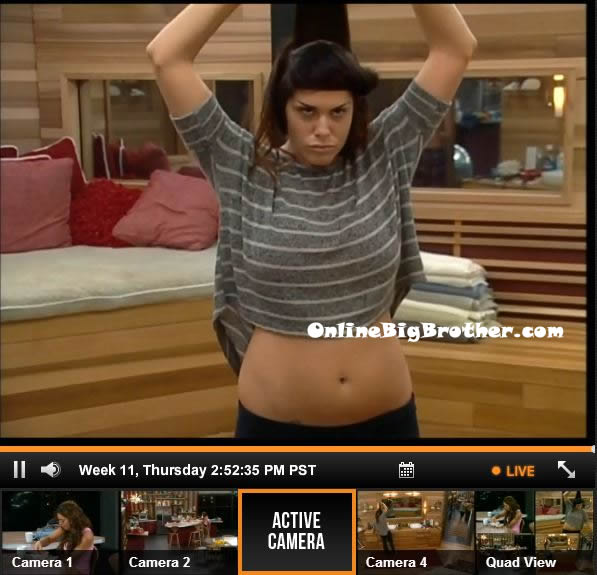 3pm In the rainbow room – Judd tells Andy and McCrae we all just need to stick together. They all agree that they will go after Elissa to get her out. Judd asks them if they heard Elissa taunting me in the kitchen. She was telling me that you (McCrae) had my hat and that you were hiding it. McCrae says no I don't have it. Judd says if we can't win HOH over Elissa, then we don't even deserve it. McCrae says there is no way she will win it she gets so nervous. Judd says it would be disgusting if she won it.
3:05pm McCrae tells Spencer that he is sorry but he has to vote him out tonight. He says he has to vote for Amanda to stay. Spencer says he understands and knew he would, that's why I didn't even talk to you about it. McCrae says Amanda would kill me if I didn't vote to keep her. McCrae says it will still be a 3 – 1 vote for Amanda to go home. Spencer says oh really? McCrae says she would murder me! Elissa comes in and tells McCrae he would never get laid again.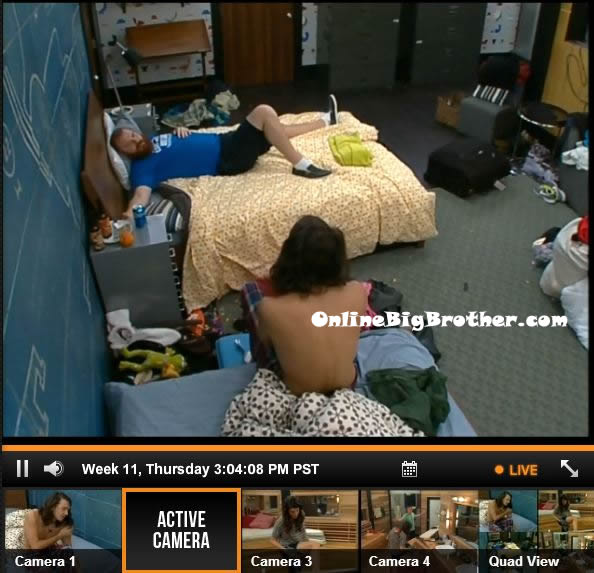 3:04pm In the bathroom – Judd talks to Amanda. He tells her that he is nervous. Amanda asks why are you nervous. Judd says because I am always nervous and plus because it's a double eviction. Judd tells Amanda that he is thinking about it (Voting to keep her). Amanda says you should, it would be in your best interest. Judd says if I did, you better not f**k me! Amanda says I won't. Judd goes into the toilet. Elissa comes into the bathroom and tells Elissa that McCrae just broke the news to Spencer that he is voting him out. I said he would never get laid again. Amanda tells her that Judd is in the washroom. Judd comes out and he smiles. Amanda asks what are you smiling about. Judd says I love you.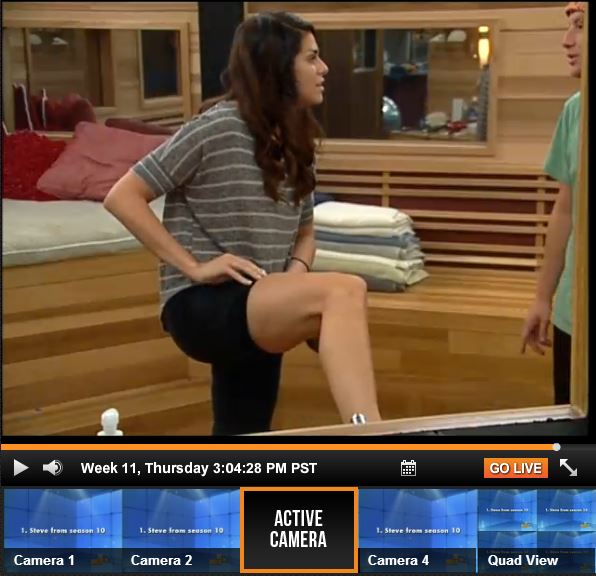 3:08pm The Big Brother 15 Live Feeds switch to TRIVIA for the live double eviction episode tonight..
5:16pm Still TRIVIA .. the live feeds won't return until after the show airs on the east coast..
If you like the spoilers on this site please consider a donation it helps us pay for the costs of keeping the spoilers flowing.
[polldaddy poll=7369039]
[polldaddy poll=7368019]