POV Holder:
DAN
Next POV:
Sept 1 (Saturday)
POV Used
Yes
POV Ceremony
Sept 3 (Monday)
HOH Winner:
Ian
Next HOH:
Sept 6 (Thursday)
Original Nominations:
Jenn and Frank
Current Nominations:
Frank And Joe
Last Evicted Houseguest
Britney
Superpass Big Brother 14 Live Feeds: 3 Day FREE Trial!
11:35am – 11:50amFrank and Shane are talking in the arcade room. Frank comments on how Joe isn't too happy and that he is up in the HOH talking to Ian right now. Shane says yeah and Ian doesn't even have a vote. Frank says yeah that's why I am talking to you. Shane is talks to Frank about how wishy washy Joe is and how he can't be trusted. Shane says that he is still down to work with Frank. Frank says we just need to worry about Danielle's vote right now. Shane says that he will work on her. Frank and Shane shake hands and leave the arcade room. Shane heads out into the backyard and tells Danielle just a heads up, Frank is going to be all over you for the vote. Danielle says gross. Shane says that Frank thinks he has Jenn's vote but he doesn't. He thinks he just needs your vote. Shane tells her to just tell him that you are voting the way Dan does or just tell him that you aren't telling anyone how you are voting. Danielle says that she will just do that, I am going to tell him that I am not telling anyone how I am voting. Joe comes out into the backyard and tells Shane that Frank is going to come at him hard. Shane says he knows. Joe says that he and Frank just made a deal not to campaign past 1am, because last time we were on the block we campaigned till 5am.
Watch what happens, AS it happens: Big Brother 14 Live Feeds!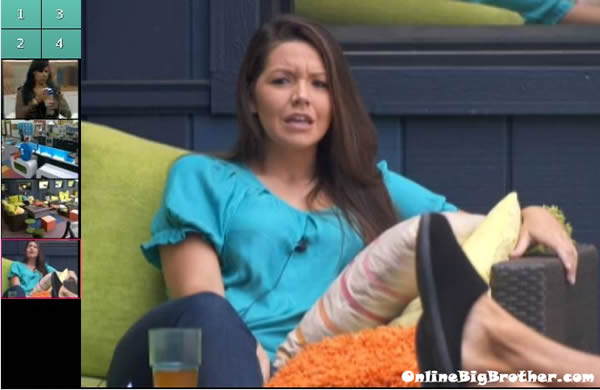 Joe and Danielle are talking. Joe is campaigning for votes. Joe tells Danielle that Frank is going to be all over her. Danielle tells Joe that there is nothing on this earth that Frank can offer me to want to keep him here. Joe tells his story about thinking Dan was Shane. Danielle and Joe talk about the funeral.
12pm Jenn and Shane are talking in the kicks room. Shane tells Jenn that he talked to Joe before and wanted to wait to see what happened in the veto ceremony to tell Jenn that Joe was admitted me would nominate you if he won the HOH. Jenn tells Shane that if anything comes up she will 100% come and talk to him first about it. Shane agrees that he will as well. Shane then leaves and goes to the arcade room and tells Dan that he told Jenn about how Joe is targeting her, so that if she wins HOH she will go after Joe and Ian. Shane tells Dan that he appreciate him sticking to his word. Shane tells Dan that his speech was great. Shane leaves and heads back outside.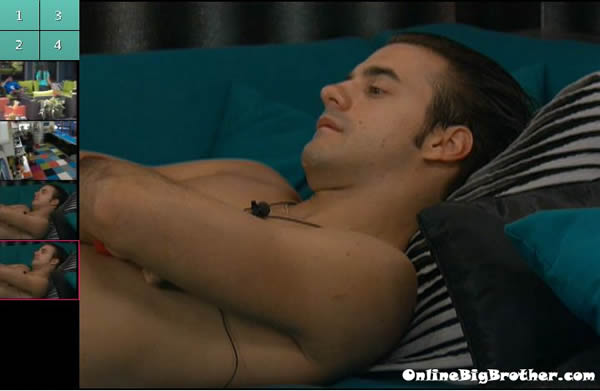 12:25pm
Jenn and Dan are in the arcade room talking about needing to get Joe out. Dan talks about busting Joe last night. Jenn says he knew he was going up after that. Jenn says that she wants Ian out. She says that she knows she could beat him at the social game. She says that she is out for blood! Dan tells Jenn to just be nice to Joe. Jenn says yeah but he is ruining it for himself right now. Dan wonders if Shane wins HOH how much they can trust that he won't put us up. Jenn says that is why she is working on Danielle. Jenn says that Danielle is at the point where she is starting to think about to roll with Shane or Dan. Jenn says that she was talking to Danielle and telling her you have already been here like 60 days what is another 2 weeks to see if something will happen between you and Shane. Dan says that's awesome you are already planting seeds. Dan says that for us to get through this, we really need her. Jenn agrees. Dan and Jenn talk about Dan's funeral.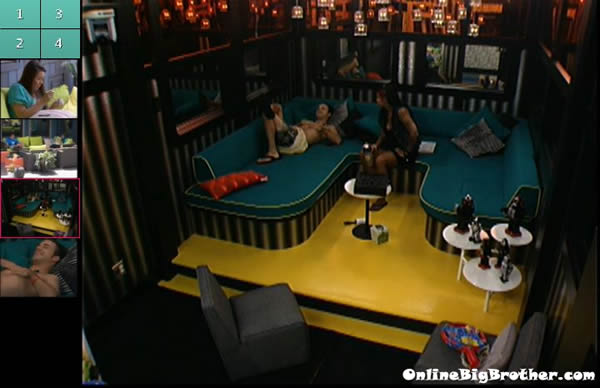 12:30pm – 12:45pm Danielle, Joe and Shane are talking on the backyard couch. Danielle complains about it still being three days before the eviction. Shane says that Joe needs time to campaign for votes. Danielle says that he can do that in an hour. Danielle says that Joe only needs three votes and he's got them. Shane says that Joe may need to campaign to Ian for the tie breaking vote. Joe tells Danielle and Shane that if he was a betting man he would bet that the vote will be a tie. The conversation turns to talking about what this week's HOH competition will be. Joe comments that Danielle would beat him in a quiz competition because she is smarter than he is. Joe tells Shane that he would be marrying up if he married Danielle. Shane says please! Then says brain wise yes. Danielle says that's mean. Shane says it's not mean I was giving you a compliment. Danielle says that it's still a knock at me. Joe starts asking Danielle and Shane parenting and life questions. Joe catches Shane when Shane says "our" kids. Shane denies saying it.
12:50pm – 1:20pm Shane and Danielle are talking alone. Shane asks Danielle if she thinks it's best to be a 2-2 vote so Ian decides who goes. Danielle says no, I want Frank out. Shane tells Danielle that he talked to Jenn and she said we are not her targets. Shane says that Joe wants us to meet with him today. Shane talks about Danielle making Dan think she will take him to the final two. Shane says but that you will really take me. Danielle says duh! Shane says that if Dan thinks he knows you are taking him, he might not try as hard. But if he doesn't know then he knows he has to win the last HOH's. Danielle starts talking about her schooling and nursing. She starts to tell Shane about a girl that had a potato shoved up her whoha, and that it started to sprout. Shane and Danielle both talk about how they are without a doubt voting out Frank. Danielle talks about how Dan won't get the votes if he gets to the final two, he has already won once. Danielle asks Shane if he was into Kara. Shane says no, she was cute and all but she was too stand off'ish. Danielle agrees. Shane says but you are beautiful inside and out. Shane jokes that he was into Jojo. Danielle asks what, then why are you talking to me right now. Shane says he is kidding. Joe joins them and tells them that no one (Diary room) is here working today. Joe talks about how Dan swore he was not using the veto. Shane jokes and says well you should have talked to me last night instead of him. Shane says it was maybe 20% your fault that he used it, but he didn't put you up, Ian did. Joe says I knows, I will calm down by tomorrow but right now I don't like him. Joe says thank god I have you two and Ian because I would hate to have to grovel to Dan. Joe gets called to the diary room.
1:50pm Lunch time! Dan has a flag, a knife and some rope that he is going to try and raise the American Flag. Jenn is in the pool playing hoops trying to avoid being jealous about the others eating food.
Share it YO!!
Tweet