Get the BB13 live feeds on your Android and iOS devices. Sign-up for the 3 Day Free Trial
Spoilers POLL CAST your VOTE!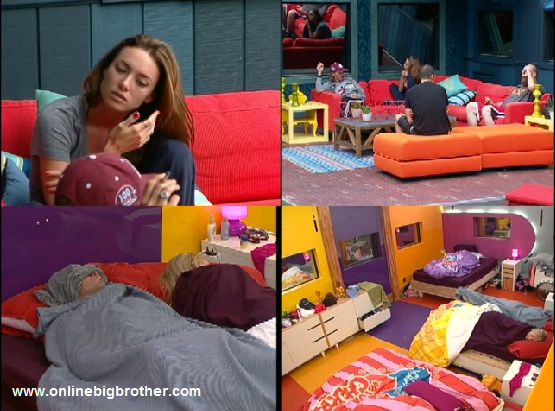 8:50am – 9:30am Shelly wakes up, makes coffee, changes her batteries, and goes to sit out in the backyard on the couch. At 9am Big Brother tells the houseguests that its time to get up for the day.When the live feeds come back, Cassi is out in the backyard talking to Shelly telling her all about how Porsche came up to her to talk early in the morning. Adam and Brendon are now outside sitting on the couches talking about how Brendon got called into the diary room twice last night. Shelly says that absolutely nothing stays inside that kid (Porsche). Shelly says that Porsche told her that if she heard her name mentioned she would come tell her… Shelly says to Cassi why would you put that in my head ..if its not something negative …like someone likes you or you wore purple today… why would you mention it. Cassi says that their conversation kept going around in circles and just wanted to stop talking about it. The conversation changes to talking about Brendons short hair and how he used to have it longer.
TRY the out the Live Feeds for FREE SUPERPASS – 3 DAY Trial!
9:30am Shelly and Brendon are on the couch alone talking. Brendon asks what happened with Cassi and Porsche. Shelly says yeah the got into it last night ..they really don't get along. Brendon tells Shelly about how he and Rachel had a fight last night about how she acted. Brendon talks about how Rachel was in the hammock with Porsche, Dominic and Lawon and they were yell the pet names Rachel uses and laughing. Brendon says that made it a joke and thats not funny to me ..they don't know us or our relationship. Shelly agrees and says you're totally right. Brendon talks about how he really didnt want to come back on reality tv but that he did if for Rachel and this is how she acts. Brendon loves Rachel but thinks she is upsetting some times and needs to keep things about them private. Brendon says that Rachel is generally good but she needs to grow up some more. Brendon gets called into the diary room again.
10am Adam comes back outside to sit on the couch. Adam asks so is it a fore gone conclusion that we are getting rid of Porsche this thursday? Shelly says …I still don't know anything solid yet. Adam says that he thinks people in the house will have a problem if it changes to voting out Keith. Adam says that the only reason he is still talking to Porsche because if she stays he wants her vote on his side. Shelly says that the more Porsche isolates herself from us newbies the more she shows her true colors. Shelly tells Adam that he knows how to keep his mouth shut and that's important. Adam says that Keith is a strong kid but he's not a good competitor. Shelly says right. Adam goes and gets on the elliptical. Brendon comes back out and talks to Shelly on the couch. Shelly tells him that its sucks that he has to worry about what his partner is doing all the time. Brendon and Shelly start talking about Brendons season and the competitions. Brendon says that Britney wasn't a strong competitor and that he is still extremely upset with Matt's game play.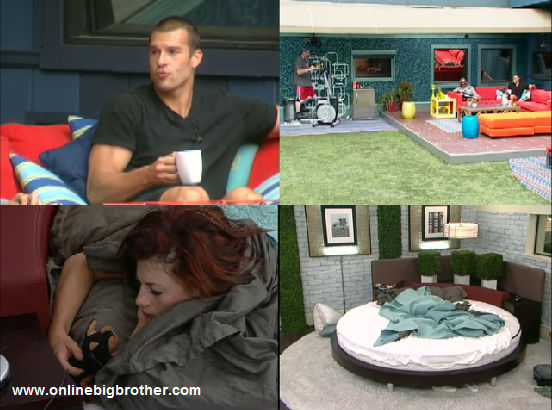 10:10am Brendon, Adam, and Shelly are outside talking about random things while Adam works out. Brendon says that he was amazed at home many people from Canada watched the show and were fans of theirs.. he starts listing off names and Big Brother cuts the live feeds.
If you like this site and want to help us keep it running please consider donating, Your donations go directly to paying the server and bandwidth fees. Donate Link
BB13 Live Feed Screen Captures , These are being updated every 10 minutes all 4 Cams 24/7
@BigBspoilers and @Dawgsbigbrother on Twitter for recent crazed out spoilers. Theres also a Facebook page here .
Share it YO!!
Tweet