Watch the first few days of Big Brother 13 for FREE! 3 Day Trial
12:40 – 1pm Jeff and Jordan hang out in the bathroom in silence while the other are in the kitchen eating and talking about random stuff. Jordan gets up and they head into the storage room to find something to make for lunch. Most of the houseguests are in the kitchen eating and talking. Adam says that he wants the POV to happen already. Brendon tells Adam that they usually pick the power of veto players a couple hours before it happens.
If you're on a mobile device don't forget that the Big Brother 13 live feeds are accessible this year on your Android and iOS devices. Sign up 3 free day trial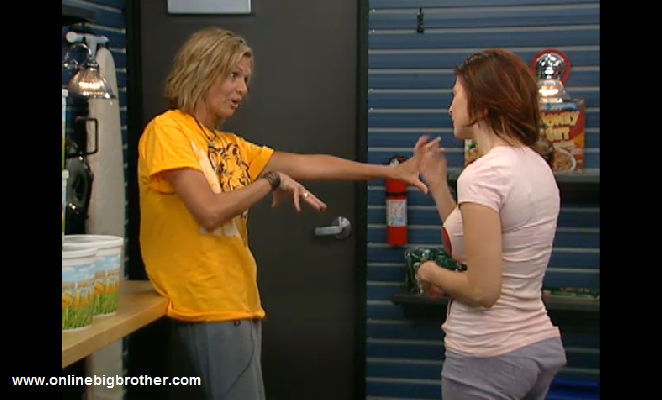 1:15pm Shelly and Rachel are in the storage room talking. Shelly tells Rachel that she really doesn't want her to quit and that she would regret it. Shelly says that she has a chance to give everybody such a different impression of her.. and that she has a yellow brick road to get what you want. Shelly says that she knows it sucks and it's hurtful. Rachel says that she's an emotional person and that she's not a quitter and that she never quits anything… it just that some times it gets to be too much. Shelly tells Rachel that she has more people than on her side than she thinks she does. Rachel asks Shelly to be upfront with her. Shelly promises her that she always will. Shelly says that Rachel can trust her. Rachel says that she does. Shelly says that she would never go around behind people's back.
BB13 Live Feed Screen Captures , These are being updated every 10 minutes all 4 Cams 24/7
@BigBspoilers and @Dawgsbigbrother on Twitter for recent crazed out spoilers. Theres also a Facebook page here .
1:35pm Shelly, Rachel, Dani, Lawon, Kalia and Adam are sitting around the kitchen table talking about random stuff. Rachel and Dani are painting large boxes into dice. They're talking about 90210 and then Dani starts talking about how much she loves the TV show Top Chef.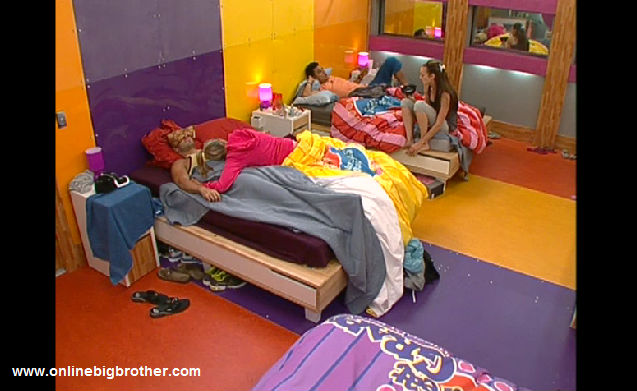 1:40pm Dominic Cassi, Jordan, and Jeff are talking in the candy room. They are talking about what type of competitions they will have. Jeff and Jordan talk about how they will probably be doing some goofy competitions. Jeff says think of a carnival game on steroids. Dominic says that he really wants to be the host for lots of competitions. Jeff says that he would let him be host. Dominic says that he's going to BLANK himself out to be the host of competitions. They all laugh.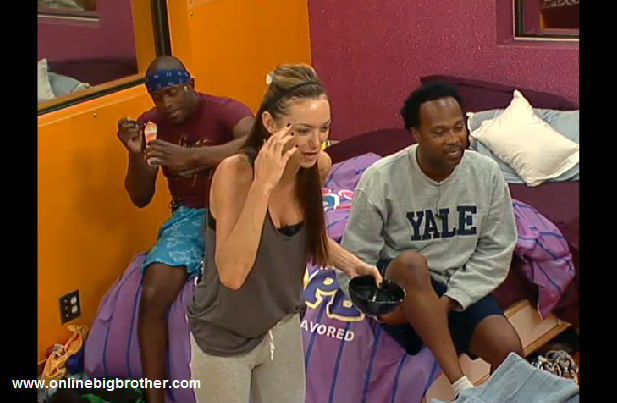 2pm Porsche comes in and Dominic asks her if she was HOH and she got to pick the host for the competition who would she pick? Porsche says she would let Lawon do it. Jeff jokes and says you BLANKing sell out! Adam comes in and they ask him who he would choose as host. Adam says he would chose Lawon. They all laugh. Dominics annoyed that no one would pick him. Jeff then gets Lawon to practice and say how he would host saying "Houseguests MOOOOOOooove into the backyard for our first veto competition. Lawon keeps trying. Then Dominic steps up and gives it a go and everyone tells him that he nails it on the first try. They coach Lawon on how to do it right. Lawon tries again and gets it. They talk about how they are having a hosting battle. Jeff tell Lawon to make up lines and for Dominic to battle his version after.
TRY the Live Feeds for FREE for 3 days! SUPERPASS!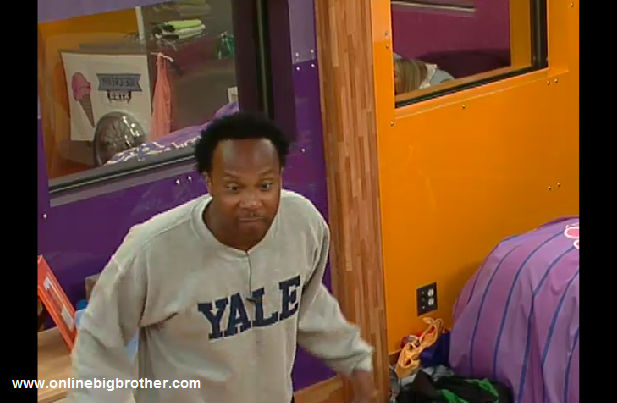 Share it YO!!
Tweet