Uncensored Live Feeds Free Trial
2:00pm HOH Dani, Rachel and Brendon
Major game talking – Dani wants them to get Kalia and Lawon on their side Rachel agrees Brendon isn't sure about lawon. Rachel doesn't trust Keith she mentions the conversation Dani had with him earlier in the day, Dano says nothing important was talked about it was mostly Keith giving her some support for loosing her "duo" in the house. Rachel warns them that Keith is playing up the smooth talker attitude but it's a complete act. Dani notices it to and thinks it's a stupid tactic. Rachel gets called into the DR, on her way out Dano jokes "you have something going on in the DR" Brendon: "why do they need you again" Rachel:"I have a secret alliance". Right before she leaves she says she thinks that Jeff and Jordan are probably not going to play the POV just because "this is Big Brother and that's what happens" She warns them that they have to start thinking about who to pick to play. Their thinking about Shelly because they want to have her in their pocket. Dani "well what if you get to pick rachel who will you pick to play POV" rachel: "Umm duh Jeff and Jordan hahahahahahahahahahahhahahaha" Dani: "ohh duh that was stupid" Rachel: "hahahahahahahahahaha". rachel leaves.
Brendon ask Dani if they told her she can't play POV. Dani says she can't do shit when she's sitting on the golden key she feels like all the air has been sucked out of her, "I'm a balloon with all the air let out".
Dani is sure that DOM is younger then he says he is and that he doesn't deserve the money he's too young. Dani about Dom "you can totally take me to the prom if you win big brother". Dani thinks DOM is smarter than he makes it sounds. Brendon enthusiastically agrees. Dani: "ohh wait wait don't give him too much credit" Jordan is super close to kalia we need her to get super close with Keith. They both agree that the best way to get lawon is to make him think he needs them in order to get farther in the game.
Dani "these people are playing stupid they are playing emotionally not logical.. there thinking week one we've jumped to week three cmon get on the ball here" (dani thinks she's the BB master mind lol)
Brendon "ye
Brendon: "We need to send Dom home soon"
Dani: 'ya"
Brendon: "If we can get Dome and Keith out that removes their smartest and most physical competitor… we have Me and Jeff"
Dani: "yeah…. "
Dani brings up if they can win the next 2 HOH comps then they will have this game in the bag…. Feeds cut Veto picking
2:34pm Bedroom Porsche, jordan, Brendon, Shelly, Dani, rachel, Jeff Porsche: "I hope that there is alcohol in this competitions i'm not going to be Lydia but i'll make some rude comments".. Dani "wait you can get hammered in a competitions?". Jordan:" yeah remember Lydia in my season" They starts talking about having drinks in the comps. Jordan explains to them when lydia got drunk on her season… and flipped the table over and how she was acting crazy.
Adam joins them and we learn that he is the host of the POV comp. Jordan jokes that he's going to be like the announcer for UFC, Dom: 'Lets get ready to… COPYRIGHT"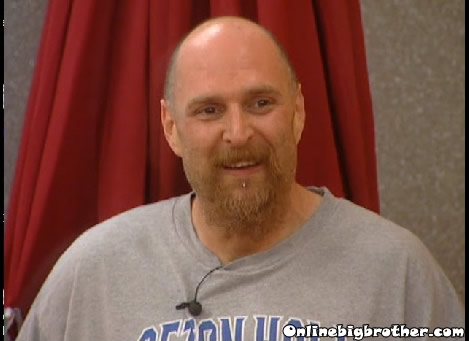 2:35pm Have nots Keith and Kalia Keith is worried that he doesn't have the numbers to stay
Keith I got your vote? Kalia Yes of course but you have to remember people in this house have conversation all the time you should not get too worried about people talking. Kalia continues to reassure him that she thinks he's safe and she thinks they (newbs) are all on the same page she has not reason to think other wise. She adds that Lawon and her arr close they talk all the time. Kieth: "I believe you I know DOm is still down, Cassi is down.. Shelly is down and you" Kalia: 'Yes nothing changes I think what happened is benefit us.. we just need to chill and stick with our plan" Kalia reminds him that so much of the game is social and she doesn't feel like she has the personalty traits that are needed in this type of game.
Keith brings up that he's attracted to Casssi, Kalaia asks if he's ex girlfriend was white.. Keith says she was. Kalai: "you normal do white girls" Keith stutters but says most of the girls that come on to him.
2:55pm Bathroom Dani and rachel Rachel: "Did you see his face… Keiths face.. when we pick Jeff and Jordan to play in the POV?" Dani: "Ohh yeah i'm sure they(Newbs) all think it's rigged.. whatever I don't care" Dani starts to impersonate Rachel when she was picking for POV.. Rachel is having a blast watching (these 2 sure are BFFs now… ) dani starts whining about having the golden key and not being bale to play in competitions win any prizes "this like seriously blows" PRODUCTION "Rachel please put on your microphone" rachel: "I am" Dani: "Her big Titties are hiding it" They start to go over the time frame of the game and how many HOH's Dani has to site out in. Dani mentions how all her friends that have played the game in the past are all probably watching the show right ow saying how seriously screwed she is because Dick is gone. (Dani is really pushing the disadvantage player angle with Rachel I wonder if Rachel will clue in on this) Dani is predicting that Jordan will win HOH this coming week then all they need is one of them to win the next and they'll have the numbers. Dani: "They think we're stupid … we've played this game before we know what to do" Lawon some out of the shiter and talk changes to coffee.
Share it YO!!
Tweet