Watch the first few days of for FREE! SuperPass – 3 Day Trial

10:10am – 10:20am Adam wakes up and goes out into the kitchen and starts talking with Shelly while she cleans the kitchen. They talk about what happened last night with Keith. Adam asks Shelly what happened last night? Shelly says that she doesn't have a clue. Adam says that he has a clue and says that he takes it all in and observe it. Shelly says that she thinks Keith must feel a little bit crazy for all that last night. Shelly and Adam talk about how they are concerned that Dominic and Cassi because they stayed up all night talking with Dani. Shelly says that it's just weird. Adam says that he is going back to bed, and then he tells her that he had a dream where he had to go back to the office but that he was still a part of the Big Brother game. Adam heads back to the bedroom and Shelly continues to clean the kitchen.
If you're on a mobile device don't forget that the live feeds are accessible this year on your Android and iOS devices. Sign up 3 free day trial
10:35am – 11:05am Lawon gets up and goes through the kitchen to the bathroom to get ready for the day. Shelly says good morning as he walks by. No wake up call from Big Brother. All the other are still sleeping with the lights off. Lawon finishes up in the bathroom with brushing his teeth and his facial and goes back to the bedroom to read the bible.
SEE what they CAN'T show you on TV! 3 Day FREE Trial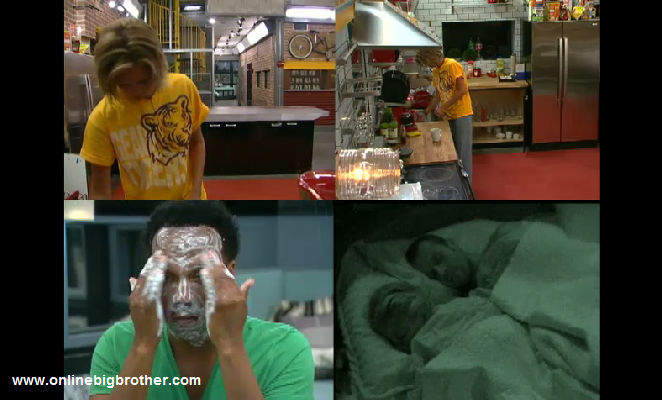 @BigBspoilers and @Dawgsbigbrother on Twitter for recent crazed out spoilers. Theres also a Facebook page here .
11:15am – 11:40am Big Brother tells the houseguests that its time to get up for the day. When the feeds come back Adam and Porsche are in the storage room changing their batteries. Adam, Cassi and Shelly are now in the lounge room talking about last night and how Keith went BLANK bonkers. Shelly says that it was one person on our side that was wigging out. Shelly starts talking about production and then Big Brother cuts the live feeds. When the feeds come back Adam says that his momma always told him you can't be rational with irrational people. Its not what you're saying its how you say it. We're not on the block yet, so we don't know what its like. Cassi says yeah, but you're not on the block for death. Cassi says that everyone was so emotional last night. Shelly says that someone wanted to puff up their feathers and say they were angry. They start talking about how Dick went home last night. Adam says that its a blessing and a curse. Shelly asks so what was the blessing and what was the curse? Adam says that someone went home, but that we didn't have to send someone home. Adam says that he couldn't wait to play against him and they took him away. Adam says that there is no way he left as a twist. Adam says that he lives for this show he wouldn't leave unless it was something big. Adam says that when he came into the house he was so excited when he found out he was going to play with Dick… and then he left. Cassi then says …somebody.. somebody please get me some Gasex!! Adam says I have some you can use.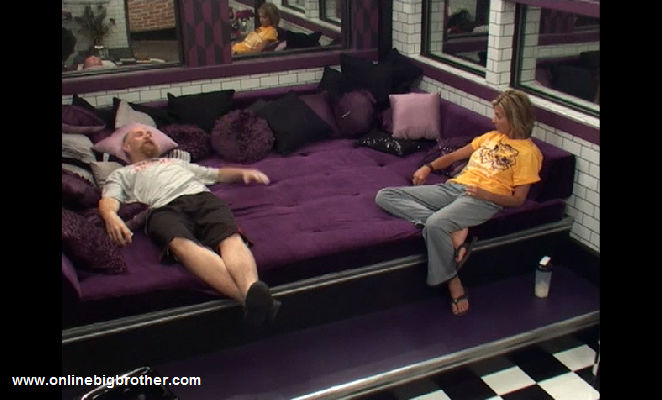 11:40am Dominic and Porsche are talking in the kitchen. Dominic says that he thinks all the new kids are still on our side, especially after last night. Porsche agrees and says Yeah! Dominic says that after last night the implication is that, after Keith's blow-up, he might be in more danger of eviction than Porsche.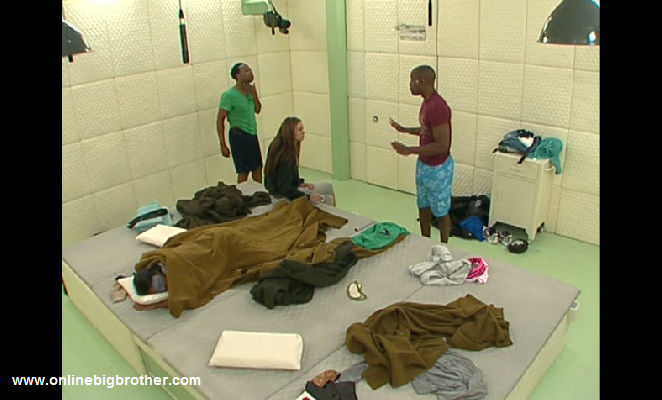 TRY the Live Feeds for FREE SUPERPASS!
11:50am In the have-not room, Keith, and Cassi are talking while Kalia and Lawon watch. Keith is trying to explain his actions last night. Lawon leaves and Kalia just lays there motionless while they talk. Keith says that you have got to vote and do what's strategically best for you, it's a game! Keith says that going into this he said never make anything personal. Come here and play the game. I wasn't mad or angry or upset but I had my idea and of course I am going to be upset with Porsche… she was the first person to turn. Keith says that he was upset because when they first came into the house before the vets came in … they all made a deal to stick together. Keith says that Porsche was the first one to sway to the other side and turn … she needs to be the first one to go. She brought that on herself… that's what she did. We came in here as a group and when you break that bond …its disloyal. Keith says that there was no need to go talking or campaigning with them …we had the numbers. Cassi says yeah right now we have the numbers.
12pm Shelly, Lawon, Cassi and Porsche are in the lounge room talking and joking around. Dominic pops into the room and just jokingly asked they would be okay if Vanessa Hudgens came into the house and he left with her. Cassi then asks Dominic, if came into the house and recruited him for his pack, would you leave? Dominic says that hell ya he would leave. Cassi asks what if you didn't get paid? Dominic says yeah i'd still go!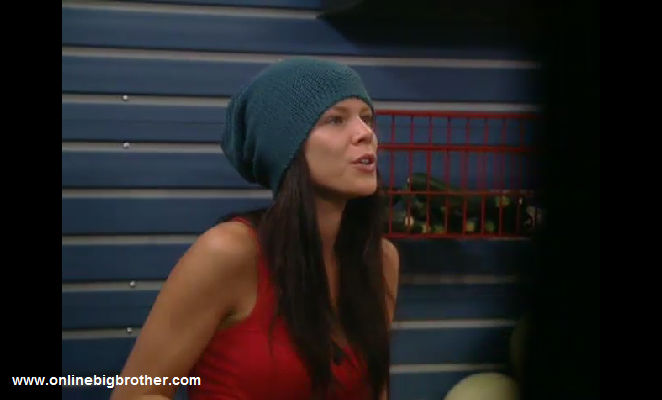 12:15pm Dani and Keith are in the storage room talk. Keith is telling Dani that everything he said in the diary room about her is 100% real. Dani says well it's like taking a strong competitor and cutting off their arms and legs. Keith tells Dani that she has nothing to worry about because she is safe for four weeks. Dani says that not one person in this house can understand her situation with Dick being gone. Keith tells Dani that she's good in the game. Dani says that she feels like she is useless because she can't do anything in the game because she has the golden key. Keith starts talking about how Porsche is a very disloyal person.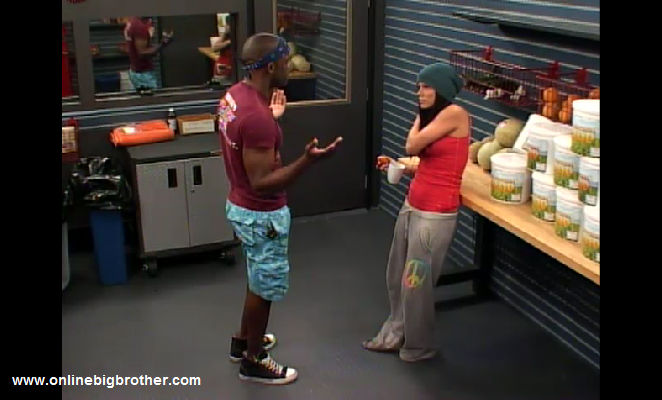 Keith tells Dani that he's a smart guy… Dani agrees that he is… Dani tells Keith that he should do something to change things up. Dani says that now that Dick is gone the game isn't teams anymore and that they're back to square one. She says that they took the cards… everything's reshuffled …and it's a whole new game now. Keith says that he wants to win this game but that he wants to make friends with everyone. Keith says that he doesn't want to come across as cocky or brash. Keith says that he has no personal issues against Dani or Jeff. Keith tells Dani that she is slick. Dani says she's not as persuasive as her Dad is… Keith disagrees and says that she's a good player. Keith says he isn't going to take anything personal, even if he leaves the game tomorrow. Keith leaves storage and Dani leave the storage room.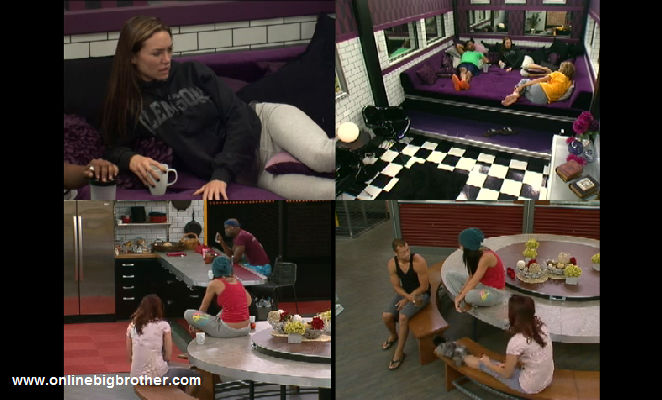 12:30pm – 12:40pm Up in the HOH room, Rachel and Brendon are talking. Brendon says that he doesn't trust Dominic, Keith, Lawon, or Cassi and that they need to take out one from each couple so that it eliminates them having to bringing in a newbie couple to their alliance. Rachel wonders if maybe they could pretend to bring someone in and feed them false information. They then head downstairs. Jeff, Jordan, Dani, Brendon, Adam, Dominic and Rachel are in the kitchen talking about random stuff and cooking lunch. Meanwhile, Cassi, Lawon, Shelly and Porsche are in the lounge room talking about relationships.