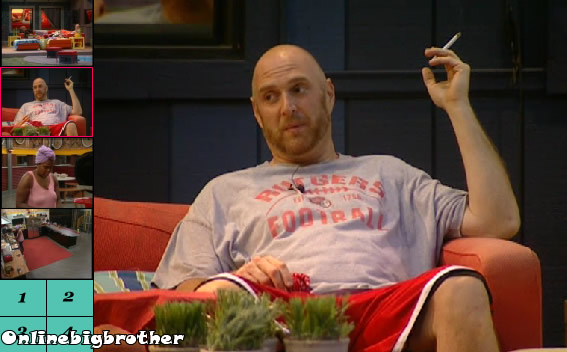 7:26pm Adam and Jordan They're going over what if Jeff never left how would the game turn out.
Adam: "At this point of the game was saying no to the Vets since day one"
Adam goes over all the angles that Kalia is working him. He mentions that when Kalia voted to evict him last week that changed everything between them.
Jordan tells him that Shelly was trying to tell her that Adam was fliping.. Jordan was starting to doubt Adam.
Adam: "I wanted to go head to head with Jeff"
Jordan says that Jeff really liked Adam and thought highly of him. Adam wants to go final three with Jordan and Rachel and fight it out. Jordan is really excited hearing him say this she thinks it's a great Idea for Adam. Adam mentions how entrenched he was with JJ for a long time and nobody knew it. Adam is worried about final 2 with R or J becuase they were popular in the house and people will vote for them. Jrodan thinks Jeff and Dani will vote on who played the best game. Jordan brings up that people change in the Jury. Adam says that is what he's worried about becuase he really did nothing all year and game voters may not vote for him. Jordan thinks they all have a equal shot at winning. Adam mentions if he comes in second and he lost becuase of popularity then theres nothing he can do, so be it.
Kalia comes outside and Jordan strategically escapes traping Adam in what could be a painful time spent with Kalia
7:42pm rachel and Jordan They're freaking out thinking Adam will not take them to final 2 he'll take Porsche. They are running through the scenario if Adam wins HOH and POrsche Veto. Rachel thinks it would be her leaving. Rachel and Jordan both agree that Adam is starting to doubt he can beat JR in finals so he might take Porsche. Jordan: "I told Adam if it was him and POrsche final 2 I would Vote for him… ohh I guess I shouldn't of said that.. oh well who remembers things like that" (out of everyone left in the house the only person that will catch and remember what Jordan said is Adam that guy remembers parts of conversations he had week 1 I shit you not, Still I doubt he'll do anything)
Rachel says Adam needs to be convicned it's 50/50 if he takes R or J to final 2.
Rachel is saying that Dani is not a person she will talk to outside of the house.. she'll be civil but won't be someone to hang out with.
Rachel talks about her and Ragan being friends after the show and she never thought she would. She talks about wanting to hang out more with KRisten (BB11). Jrodan mentions that Kristen leaves near Rachel. Rachel says she wants to do more things with Kristen but she always seems super busy.
8:00pm RJA in the hot tub rachel is listing all the things wrong with her body. She wants to build some definition in ther shoulders and arms, tighten up her tummy, lift her butt up a bit and get rid of the cellulite. Jordan in the background yelling "oh my god you look great"
8:06pm AR hottub chit chat..
8:33pm RA Rachel is telling Adam if he goes final 2 with her theres a 50/50 chance that he'll win. Adam thinks if it's him and her final 2 it will be a battle. Adam brings up it all depends if Rachel wins a majority of the last few comps. Adam thinks a lot of people in the Jury will vote for Rachel to win if she does that and if they don't then they don't respect and apreciate the game. Rachel says dani doesn't apreciate the game she'll never vote for Rachel.. she'll vote personally.. Rachel doesn't think Shelly will either or Kalia. Adam just shakes his head says it'll be a close on. Rachel reminds Adam if Kalia doesn't go home this week then she will win the Game and he needs to understand that. Adam agrees with her..
8:45pm PAK talking about the casting process.. Adam says there is 11 days left of Big BRother they all can't believe it's almost coming to a end.
8:46pm Adam heads to the hammock Rachel joins KP they all plan to play cards.
9:30pm Cards, smoking, drinking yo
10:04pn Chit Chat yo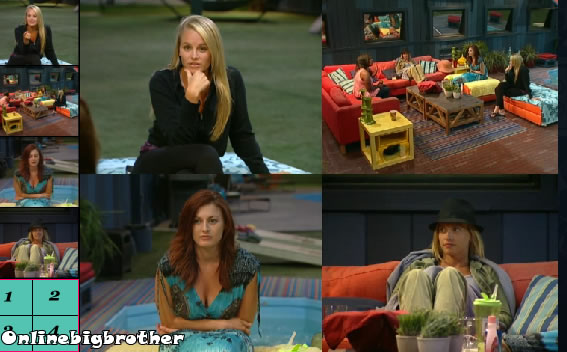 10:40pm Chit chat
10:46pm kitchen Porshe and Kalia Porsche telling her that She doesn't think Jordan has been workign Adam too much. She thinks Jordan was sayign she's not going to bother Adam about it. Kalia says that is fine JOrdan can leave Adam alone. Kalia won't though her ass is on the live Jordan's not.
11:35pm chit chat now with cards