Big Brother 13 Live Feeds Can be watched on your iPhone and Android Mobile devices sign up -> Watch Big Brother 13 on Your iPhone or Android Phone
4:45pm JRA backyard Adam folding laundry, rachel reading the bible and JOrdan exercising. Adam is starting to get pissed at Kalia he's not sure if he can take her much longer. Adam points out that Kalia is using the exact same argument Dani was.. Saying that Adam is a fan of the game and Adam knows the fans want to see big moves. Adam: 'Big moves that help them not me". Jordan and rachel agree. Jordan tells Adam he's got to keep his cool they don't want any Drama. (Yes lets try hard to make this even more boring)
4:51pm Kitchen Porsche and Kalia Porsche is explaing what she's been telling Adam. Basically she's just pushing the askpect that none of them will win if they are against a VET. Porsche asks Kalia if she has a final 2 with Adam.
Kalia: "no"
Porsche: "Oh OK I didn't think you did I just was asking" (Kalia offered Adam final 2 Adam has told everyone in the house)
Kalia thinks they need to push Adam harder.. Porsche is unsure if she should be doing it thinks Kalia should becuase she's better with words. Kalia and POrsche are shocked that Adam is actualy thinking he has a chance to win 500K with Rachel or Jordan.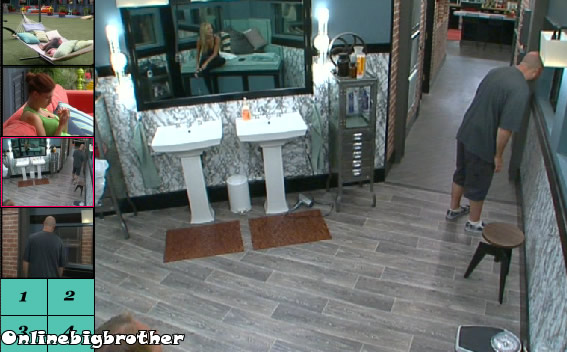 5:25pm Bathroom Adam and Jordan Adam is talking about casting and how they keep a list of promising cast members. Some times a player may not fit in a particular season but may in future season. He mentions Matt from BB12 was on a list and so was Adam. Adam says this will be a year to remember.. "My 40's I'll never forget"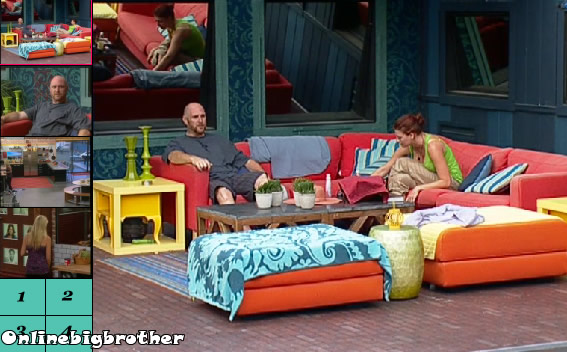 5:34pm Adam and Rachel Backyard
Rachel saying that she found out that Jeff Schroeder and Jordan were going to be on the show. When they did their press they had to write on chalk boards and she saw on one of them it said "Jeff and Jordan we're back". Rachel says she was all excited and told BRendon but he didn't seem to care. Rachel knew that she had to team up with JJ right from the begining. Adam knew something was up when he only saw 8 houseguests he was wondering.. whose in the HOH.. whose going to walk through the main door.
5:46pm Backyard JRA Adam talking about Shelly playing in 17 comps and not wining one of them. Rachel says she's played in only 17 to.
6:00pm HOH Jordan and Rachel They both are laughing that Kalia and Porsche are now working out after sitting around all year. (actually Kalia and Porsche did work out all yaer but not nearly as much as rachel) Rachel says now Porsche is figuring out that she's playing big brother and she can't just sit around and eat all day. Jordan doesn't want to be anywhere near them becuase if she's not busy they Kalia starts talking to her and she can't take it.
(Jordan is seriously rubbing her hair during this conversation. )
Jordan commenting on Prosche telling her that next week the HOH doesn't matter only the POV does, "Uhh what leason was that" Rachel: "Yeah what leason did Dani teach her that"
They both agree it would be a tragedy if Porsche made it to the final 2. Rachel says it won't be they can do it.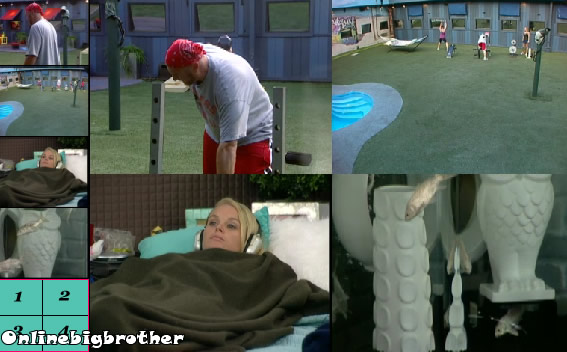 6:10pm Jordan listening to music in HOH everyone else working out
6:22pm PAR lifting weights, Kalia power walking around the back yard Jordna roaming around inside. POrsche makes a comments that they are doing prison worksouts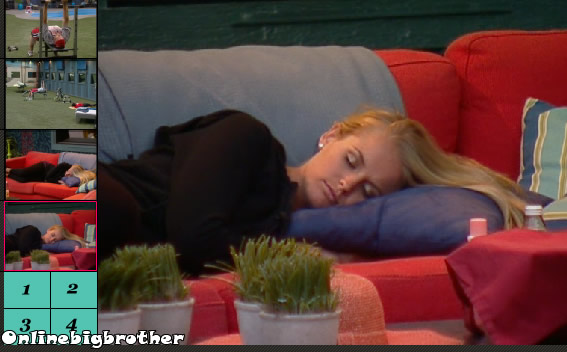 6:50pmJordan sleeping everyone else working out
6:54pm PAR working out.
7:20pm AP working out. Adam is asking if Kalia is cooking for votes (Kalia is cooking on cams 3-4) or is she just trying to keep busy. POrsche thinks she's trying to stay busy.
Sign-up NOW and watch the houseguests live! Uncensored Live Feeds 3 Day Free Trial