Watch the Big Brother 13 live feeds on your Android and iOS devices. Sign-up for the 3 Day Free Trial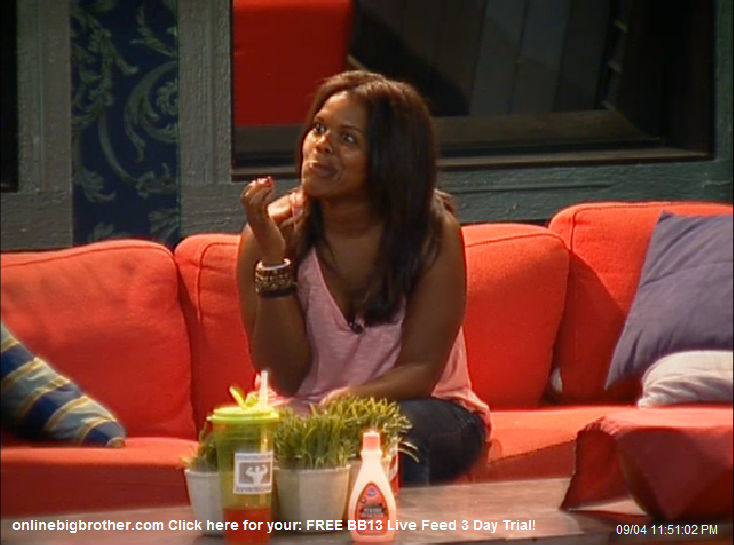 If you like this site and want to help us keep it running please consider donating, Your donations go directly to paying the server and bandwidth fees. Donate Link
11:50pm Out in the backyard, Kalia tells Adam that she has something very funny to show him, that no one else knows about. Adam asks Kalia for a hint and says that he may already know. Adam jokes and asks if it's a secret room she knows about? Kalia jokes and says there's a secret room behind a mirror, you tap it three times on the left… it rotates. Kalia tells Adam that she will show him later when it's just the two of them.
12am – 1:15am Kalia, Porsche, Rachel and Adam are playing cards. Jordan is in bed sleeping. Big Brother cuts the live feeds and when they return Rachel is up in the HOH room feeding the fish. Rachel comes back outside and the card game continues. The houseguests talk about random stuff while they play cards. Rachel heads to bed first while the others continue their card game. Eventually the card game ends. Porsche heads inside.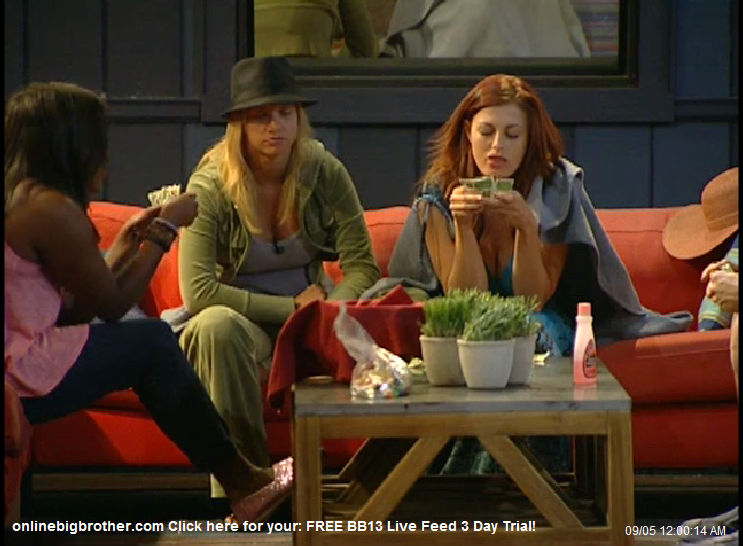 Adam and Kalia are all alone in the backyard. Kalia asks Adam …so do you wanna know my surprise secret? Adam says yes. Kalia says that she is trying to show him… after you know this you will know every aspect of my game …and know how much you can trust me …and how badly I want you to use that veto to keep us here. Adam says okay. Kalia says because I want you to be my king…. you have the queen? Kalia says yeah. Adam asks who has the pawn? Kalia says who knows. Adam says see I told you were the black queen. Kalia says she took it to throw people off about the competition back then. Kalia explains how Shelly said she found them and how she was lying about where she found them. Adam asks where is the pawn? Kalia says that she honestly doesn't know … maybe someone who went up as a pawn took it. Kalia says that if she ever found it …and she was going home she would set it down and say where it all begins ..it ends. Adam says you've given me food for thought. Kalia says I know.. and I know they are telling you everything you want to hear.. why not take me who you can beat …instead of someone who you can't beat. Adam high fives Kalia and says you've given me food for thought …thank you. Kalia tells Adam that if he tells anyone else she will kill him. Adam asks how does that help me to tell anyone… Adam and Kalia head inside.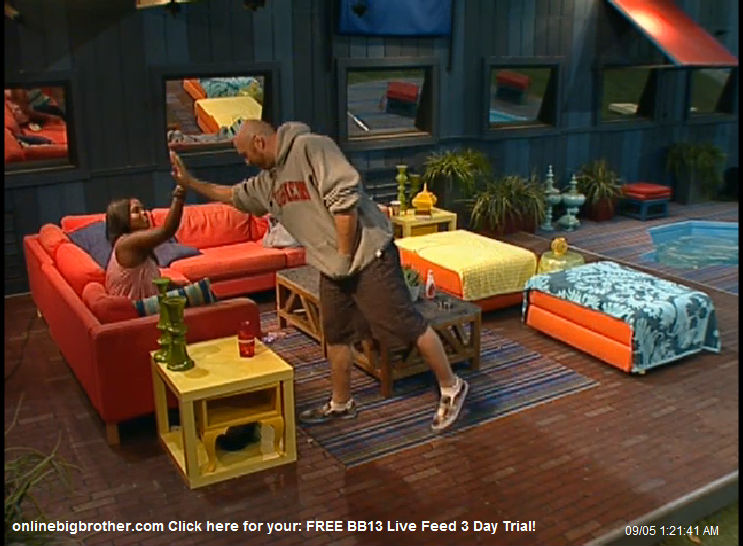 Big Brother 13 Live Feeds
Click here for your FREE TRIAL: SUPERPASS
1:25am – 2:50am Kalia and Adam get ready for bed and then go to sleep. At 2am Kalia still can't fall asleep. She gets up and goes out into the backyard. As she walks around the backyard she finds a hat and puts it on and then says ..Adam, please use this veto… Kalia says that Adam must have told Jordan that he would get rid of us. After pacing around the backyard for awhile she goes over to the backyard couch and sits down staring off into the distance. Kalia says that if he doesn't use this veto …if he picks them over us …he will be the stupidest player in Big Brother history! Kalia says I swear, we're his fricking alliance! Kalia sits in silence.. At 2:50am Kalia heads back inside and goes to bed.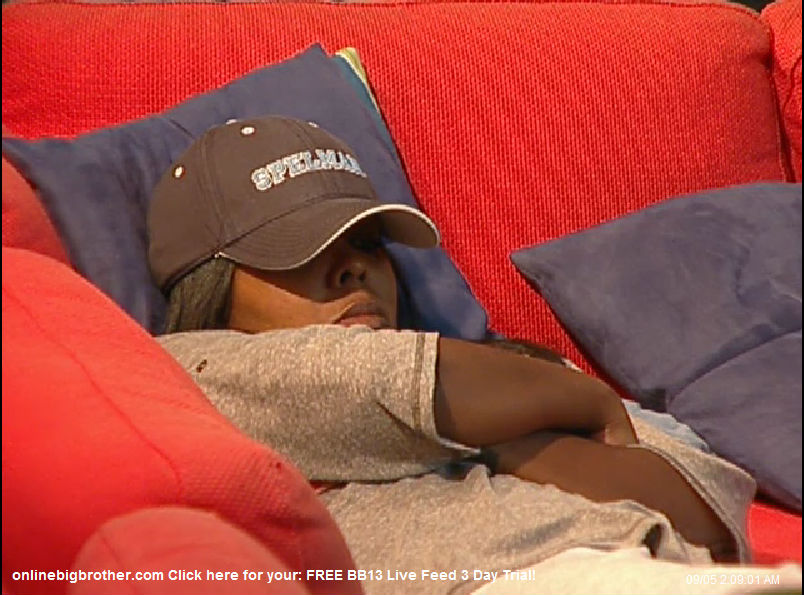 3:15am – 3:35am Adam is laying in bed awake. Adam then gets up and heads out into the backyard. Adam starts talking to the cameras. Adam says I think the line of the weekend was when Kalia said if he really wanted to make her squirm to use the veto on Porsche. Adam says really Kalia like I would every use the veto on you, Kalia …Jesus Christ! How BLANK stupid are you? No, sorry that's mean .. how caught up in your head are you? You thought for one second I was going to use the veto on you. You make a final deal with somebody, you tell everybody about it, you tell the people voting, tell me how you're voting so I can vote with you, you vote against me, apologize and think I'm still going to honor my deal with you and pull you off the block. Adam laughs. Adam says that's a good one Kalia, maybe when you get out of here, you can write a play where you take advantage of somebody and they do exactly what you say …you can even star in it. I just want to be there for the casting so I can see the person who will play me ..perfectly …Seth Rogen maybe? Judith Hill?
WATCH all DRAMA unfold LIVE on SuperPass! FREE 3 Day TRIAL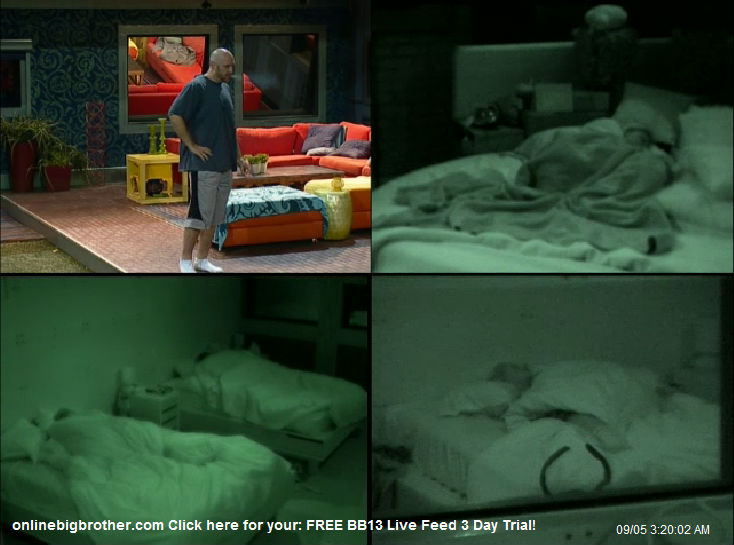 Adam laughs.. how do people get through this game thinking you can make 100 deals and no one else will know about it. We're playing with the vets.. the vets have told us whatever you say comes back around, so be careful what you say. You played with Dani, you used the exact same lines that Dani tried to use on me. The same exact  BLANK lines!!! Hey Adam ..you're a fan of Big Brother, make a huge game move… it would be a huge game move a huge dumb game move, you left that part out. Adam I guarantee Rachel won't win the veto next week… Really you know this how??! You have the inside scoop of how the game is going to be and how Rachel is going to do? It's three against one, hmmmm, how did that work before, you nominated Rachel and she stayed and Brendon came back. Rachel was on the block last week, and won the veto and stayed, huh, but you can guarantee me this time it's going be different ….you can't guarantee  BLANK. Adam you're a good guy do the right thing. I am doing the right thing for me NOT for  BLANK you! Do the right thing Adam.. here let me show you the chess piece that I stole as a sign of good faith. Oh yeah that's food for thought, you showed me a queen .. that you stole. Your desperation reeks, it smells worse than the backyard. Adam says this crazy house …these crazy people… I'm suppose to use the POV on Porsche so we can work together again, let's see how that works? Day 1 lets stick together as one.. and as soon as you thought Lawon was more popular than you, you ran to the vets. Soon as the golden keys were done you ran to Dani, because she was smarter than everyone. Did Dani know she was going to be evicted? No, she sat there and made me and Shelly a final three deal. Day 55 hey.. let's work together again and wipe the slate clean, I made a final deal with you and I'm going to tell everyone about it. Don't try to take advantage of me Kalia. You were so caught up in your  BLANK head, that you really think you can tell me something and think I'll believe. You tell me Jordan doesn't want to be here, how do you know, how the  BLANK do you know what Jordan wants… she's your BFF, you turned your back on her, you got her man out of the house! If Jordan doesn't want to be there …she can press the button, hmmm I think Jordan's sleeping in the back room right now… but she doesn't want to be here..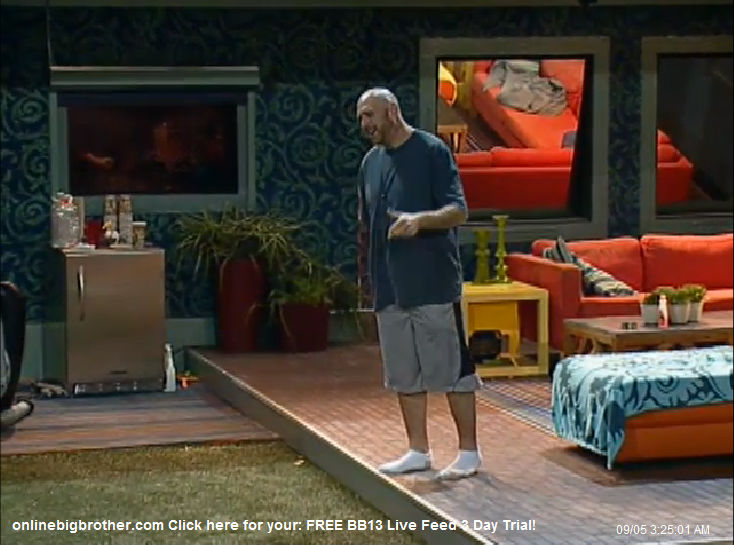 FLASHBACK – Don't miss all the drama!
Superpass – 3 Day FREE Trial
Adam says Rachel tried to make a final two deal with Kalia …hmmm thats interesting.. but if she did and he votes her out and she stays, then hey sorry Kalia you tried to get me out last week …let the best man win.. These people drive me  BLANK crazy… how can you be so god damn conceited ..that you know what is going to happen because Dani told you so… Adam says if Rachel and Jordan are playing him for a fool Kalia will be here and Porsche will be going home …sorry it's a game, this game isn't always fair. Adam says that he trusts Jordan and Rachel and they respect me back… if they play me for a fool …then you did a much better job than I did… goodnight everyone … Adam goes and gets back into bed to go to sleep…
6am All the houseguests are still sleeping..
9:15am Adam is awake laying in bed, all the others are still sleeping.. Big Brother then wakes up the houseguests…

Big Brother 13 Live Feed Image Gallery
Follow: @BigBspoilers and @Dawgsbigbrother on Twitter for recent crazed out spoilers. Theres also our Facebook page.
Big Brother 13 Spoilers POLL CAST your VOTE!