Big Brother 13 Live Feeds Can be watched on your iPhone and Android Mobile devices sign up -> Watch Big Brother 13 on Your iPhone or Android Phone
5:06pm final 3 Chit chat chit chat and even more chit chat.
Adam is telling them, The first 14 days we lost 2 people in the last 14 days we lost 5. Adam adds that the last full week they had was Prosche, "I only got 2 days in my HOH room.. but Rachel you spent 24 nights in the HOH room"
Porsche working out… Rachel running laps.. and Adam just laying their soaking in all his awesomeness.
Adam brings up pre-quester when he brought "Flight 666" with him to watch and production took it away but later gave it back to him. He explains that Flight 666 is a documentary about Iron maidens first world tour. The singer was the pilot. Porsche starts talking about what she plans on doing when she gets out. She wants to get into helping the poor do some travelling maybe go to Cambodia. Adam says that people will like Porsche because she walked around in a bikini
Adam starts talking about the last endurance comp. He says he was close to puking at one point he burped and he could smell the puke. Porsche brings up that she thought she was going to drown in the endurance comp. She explains that her legs and arms were so stiff she was worried if she fell off like Adam did she would be in trouble. Rachel tells them there is no way Big BRother would let her drown.
5:29pm Adam mentions that the "Bump" on the lawn is gone.. he adds that Tori spelling "Baby Bump was the cutest bump"
5:40pm Girls are getting ready for their special dinner tonight. Rachel has just cam out of the shower.
5:53pm Girls are trying to decide what to wear tonigt.
5:57pm Porsche is trying to figure out what to wear, her Butt has gotten bigger and some of her dresses are not fitting her. (Porsche said her butt is getting bigger not me)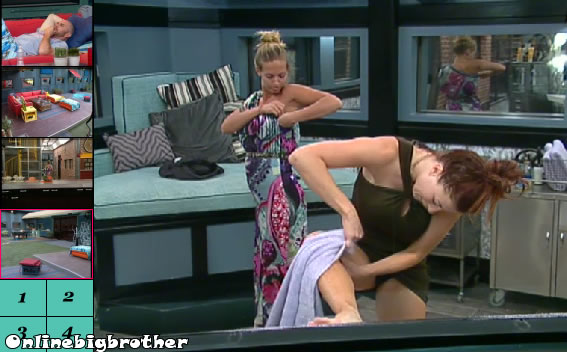 6:06pm backyard The girls show Adam what they plan on wearing for dinner tonight. Adam says what they are wearing looks very pretty. He suggests that Rachel wear a bra though. Rachel agrees says she's going to put one on. Porsche's Dress is her Jury Dress, and Rachel is wearing one of the dresses Porsche got in the luxury comp. It's a GUCCI, Adam calls it "the little black dress that isn't black". The girls head into the bathroom, their dinner party is at 7pm. Rachel asks Porsche if it's OK she wears the Dress. Porsche says it's OK she just doesn't want Rachel to spill wine on it. Rachel assures her she will be extra careful.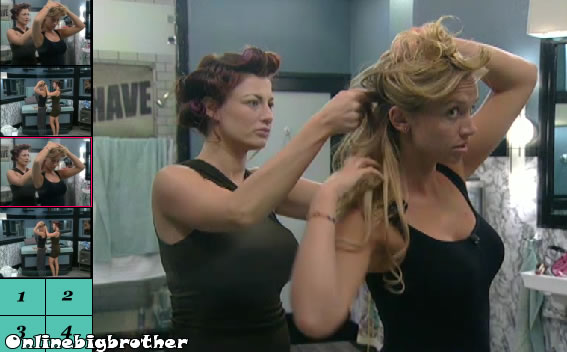 6:39pm Getting their hair extensions ready for tonight.
7:03pm Girls are going out tonight
7:04pm He may have been a boring player but he sure cleaned himself up this season. He's lost a ton of weight for Big Brother good for him.
WATCH the last few days of Big Brother 13 for FREE!
Click here for your: SUPERPASS – 3 DAY Trial!