Watch the Big Brother 13 live feeds on your Android and iOS devices. Sign-up for the 3 Day Free Trial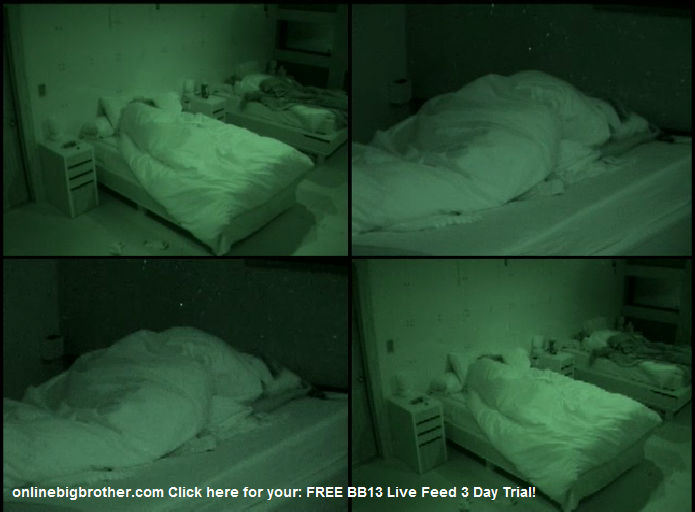 If you like this site and want to help us keep it running please consider donating, Your donations go directly to paying the server and bandwidth fees. Donate Link
11am – 11:30am Big Brother switches the live feeds to the we'll be right back screen to wake up the houseguests. When the live feeds come back, Adam is in the kitchen cutting up a pineapple. Rachel and Porsche are in the candy room. Rachel is unpacking her suit case. The backyard opens up from the lock down and Adam starts screaming OH MY GOD ITS OPENING … I LOVE YOU BIG BROTHER!! Adam heads outside. Porsche and Jordan are in the bathroom getting ready for the day. Porsche grabs the laundry to do out in the backyard. Adam gets called to the diary room.
WATCH the last few days of Big Brother 13 for FREE!
Click here for your: SUPERPASS – 3 DAY Trial!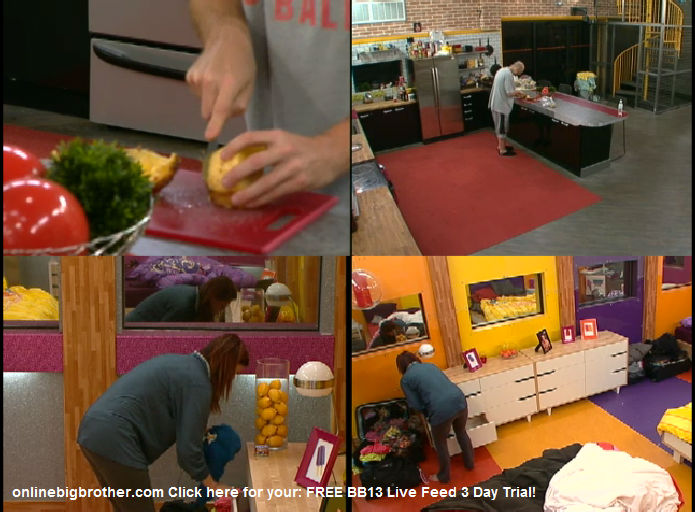 11:40am Porsche and Rachel are talking in the backyard. Porsche and Rachel are talking about the part 2 competition and how they need to study. Rachel says that Adam will probably do well at mash ups.. Rachel says that Porsche is faster than Adam. Porsche says that if she can't do it Rachel will need to start thinking about EV. Rachel starts going through what the evicted houseguests would be asked. Rachel says Shelly ..what would be one thing that you would do over this summer? A) stuck with your alliance B) Not vote out Jeff. Rachel says that she doesn't even know what Brendon would say either. Rachel says Dani what would you say would be the biggest move of the game? A) When Kalia got out Jeff out. b) When you got out Brendon twice. Porsche and Rachel debate whether of not Brendon could have made it this far in the game. Porsche thinks Brendon was the biggest threat but Rachel disagrees and thinks Jeff was a bigger threat. Adam comes back out into the yard. Porsche gets called to the diary room. Adam says that he was up for 27 minutes total and it lasted for 47 minutes. Adam tells Rachel that she is the endurance queen.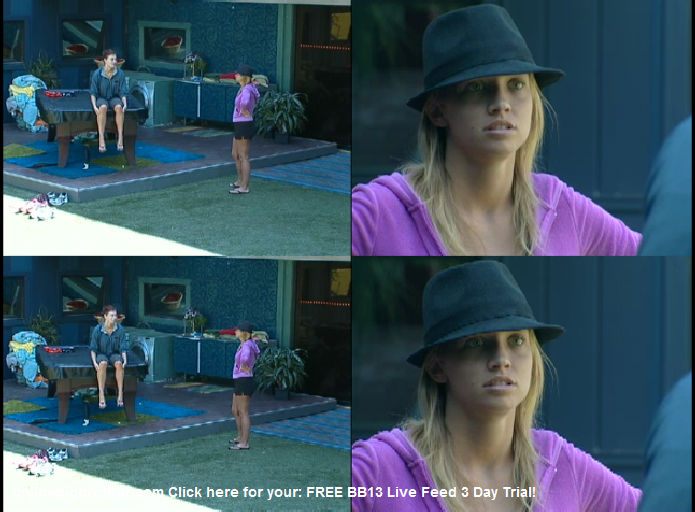 11:50am – 12pm Rachel and Adam are talking on the backyard couch. Adam says that he shouldn't be bothered by Kalia's comments to play like a player and not like a fan. Rachel and Adam discuss what the biggest game moves have been this season. Adam says that Kalia's worst move was not putting you up against me. They talk about how Kalia took the easy way out by nominating Lawon that of the twist. Adam says that making a big move at the right time is the most important thing in this game….and that Dani's move was a big move just not at that time. Rachel and Adam discuss the jury votes. Rachel tells Adam that she thinks he would win over either her or Porsche. Adam says really?! Porsche comes out to join them. Rachel gets called to the diary room. Porsche and Adam continue to talk about the events of the house. Adam says that the biggest mistake any of us made was trusting Shelly. Porsche says that no one really knew how much Adam was working with Jeff and Jordan until Adam and Jordan did that dance together.
WATCH all DRAMA unfold LIVE on SuperPass! FREE 3 Day TRIAL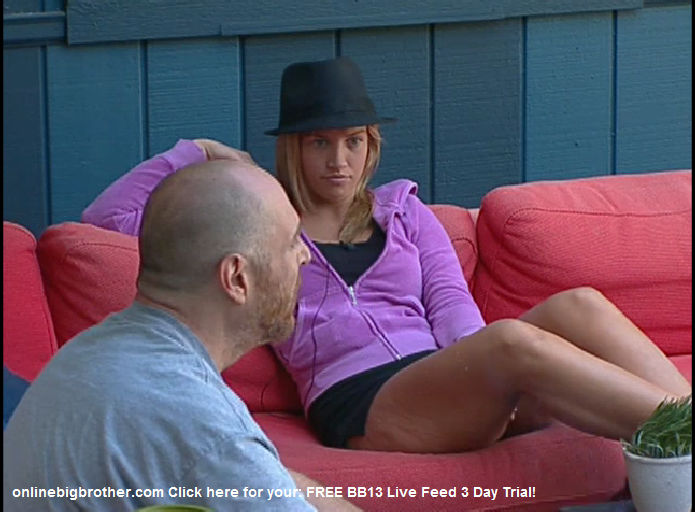 12pm – 12:25pm Adam tells Porsche that Jeff had talked to him about putting Jordan up. Porsche says that would have been awesome if he had and then she went home and he would have looked like the biggest asshole. Big Brother says remember houseguests if you win the half million dollar grand prize you will never have to eat peanut butter and jelly again. Adam and Porsche start talking about the possible final competitions and what they have been in previous years. Porsche heads inside and Rachel comes out. Adam and Rachel talk about part 2 of the HOH competition. Adam says that he wishes he had won the HOH last night so he could sit back and watch the next one. Adam says that he needs to win the next one because no one will vote for me if I get carried to the final 2. Rachel starts going through the votes ..she says that Adam has Dani, Shelly's votes and maybe even Kalia's … Adam tells he doesn't know why he is telling her this but ..that she should tell Dani not to vote personal but vote game.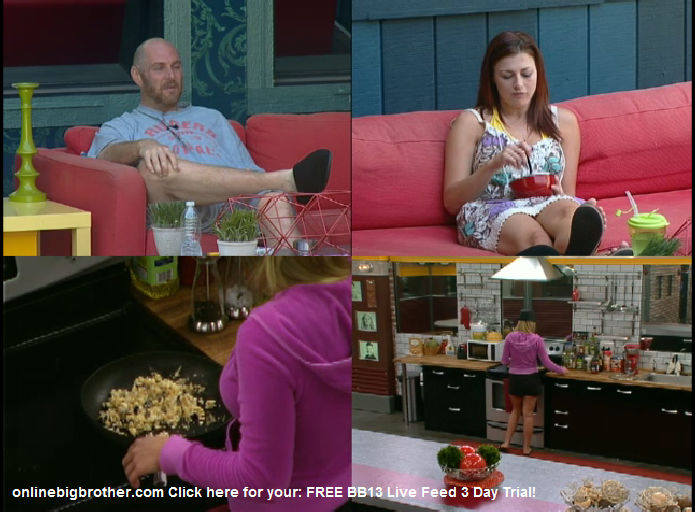 12:25pm – 12:45pm Adam and Rachel start to talk about from season 6 on …the most fierce girl competitors are … Adam says Rachel is definitely one. Rachel says really ..top three?! Adam says that he is proud of his 27 minutes on the comp last night. He says that after 15 minutes he was feeling it. Rachel, Adam and Porsche talk about random stuff. Rachel talks about how she and Brendon used to talk every three hours and how they made a promise not to go this long without each other… but that obviously didn't last. Porsche says that she thought about evicted Rachel just so she could be with Brendon …but figured she could wait a week. Adam says that everyone that wins Big Brother has a different game and no one will ever be able to use it again .. like no one will ever be able to be as mean as Dick.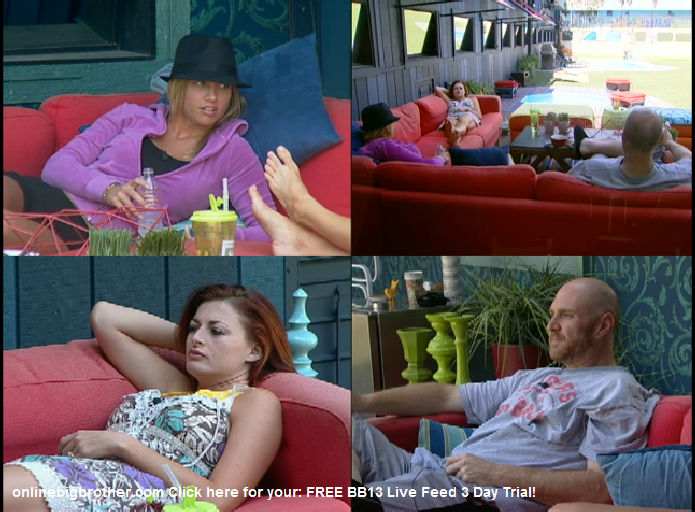 12:45pm – 1pm Rachel says that the first thing she would do is to pay for her and Brendon's wedding. Porsche says that she would set her dad up with an apartment and they get one for herself out here in LA… she says she wouldn't buy …just rent. Adam says that he would buy Fara a hand bag and buy himself a Camaro. Adam says that he would also donate some to charities. Porsche says that if she won and her dad came out to visit she might just relocate him. Porsche says that she would buy a place right away but would invest some. Adam heads inside. Rachel and Porsche continue to talk about how Brendon still has another 4 or 5 years left in school. Rachel says that Brendon told her that if she wins they can have a baby in three years. She says that is her motivation to win.
SuperPass: Flashback and rewatch BB13 and BB12
Click here for your FREE 3 Day TRIAL: Big Brother Live Feeds
1:20pm – 1:45pm Adam goes to get into the hot tub and then jumps into the pool. Rachel and Porsche head inside to put on their bikini's to suntan. Rachel and Porsche find a bug. Rachel stomps on it and then goes out to the backyard to tell Adam that he needs clean it up. Porsche says that it looked like a beetle and a spider mated and had a baby. Rachel and Porsche lay out on the loungers to suntan. They talk about what movies they love. They start playing the what Disney character am I game…
2pm Disney guessing game continues..
2:05pm – 2:35pm Adam heads inside and picks up the bug that Rachel and Porsche squashed earlier. Porsche asks Rachel if she thought she would make it to the final three? Rachel says no. Porsche says did you think you would be in final three with Adam? Rachel says no. Porsche asks did you think it will be a faces competition? Rachel says yeah. Porsche says that she thinks she will be okay at faces and that she looks at the eye brows to determine who it is .. Adam come back outside and the guessing game continues.. The guessing game comes to an end. Porsche gets into the pool. Rachel is laying out with her hat over her head. Adam is doing laundry. The backyard is quiet…
2:40pm – 2:45pm Rachel joins Porshce in the pool and they talk about LA and other random stuff.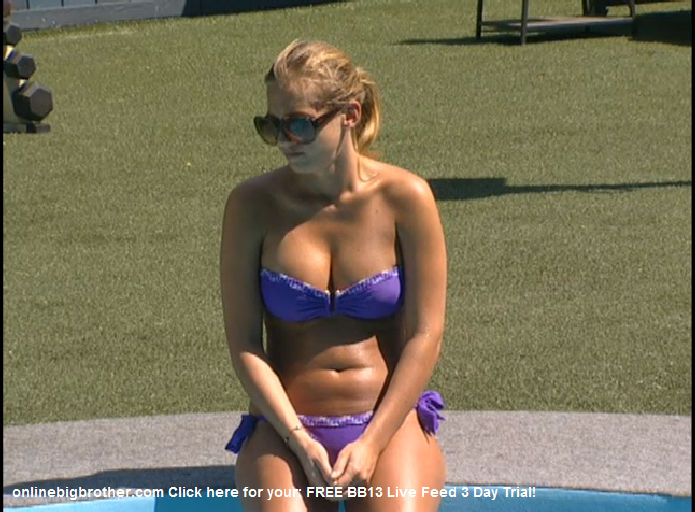 Big Brother 13 Live Feed Image Gallery
Follow: @BigBspoilers and @Dawgsbigbrother on Twitter for recent crazed out spoilers. Theres also our Facebook page.
Big Brother 13 Live Feeds Can be watched on your iPhone and Android Mobile devices sign up -> Watch Big Brother 13 on Your iPhone or Android Phone
3:22pm Backyard Final 3 Adam is talking about the fight rachel had on Big BRother 11. Rachel remembers it tells them Ragan said "the only thing real about you is the zits in on your chin?
Adam you walked back into the house saying "I'm back bitches"
Rachel: "I was not expecting Ragan to act the way he did.. he hated me"
Rachel brings up that Ragan and her are very good friends now but they did not get along on the show. She remembers him telling her that America hates her. Rachel brings up Matt from her season and how she got in a huge fight with him.. she called him stupid. Adam mentions RTVZone.com and talks about the "Live from the gremlin Cave" web show. Rachel explains the Gremlin cave. How Matt would make a little tent out of a blanket that covered hi face when he slept.
3:36pm They start talking about their house meeting and how Prosche and Adam were in the purple room when it started but then Jeff barged in and told them they better get out to the kitchen they are part of the house to.
Adam points out that Dom was the first one that started calling out Shelly and none of them listened. Rachel says she was on to Shelly before that.
Adam starts talking about what happened after Keith went home and the regulators where devastated. Rachel points out that it was her plan to get the vote to be 6-4 for the vets. Adam brings up after the eviction was over the newbs all went into the havenots room and Dom was super pissed. Rachel points out that her plan all along was to have the newbs fight each other.
Adam starts bringing up how the newbs couldn't figure out who flipped their votes week on. Adam thought it was Lawon at first. He would never of guessed it was Kalia. Porsche brings up what Rachel told everyone after she survived week one, something along the lines 'This might be a shock but some people in this house actually likes Porsche and now she's here for a month'.
Adam starts explaining how close him and Shelly were in the game. They would go over the pros and cons and talked about every move. Adam had no idea early in the game that Shelly was playing almost everyone in the house. Adam started getting suspicious about Shelly when he found out she was telling people that she had Adam "In her back pocket"
(This is just a side observation and hopefully I can get a second opinion from some of the feed watchers. I'm finding Adam is really starting to get cocky.)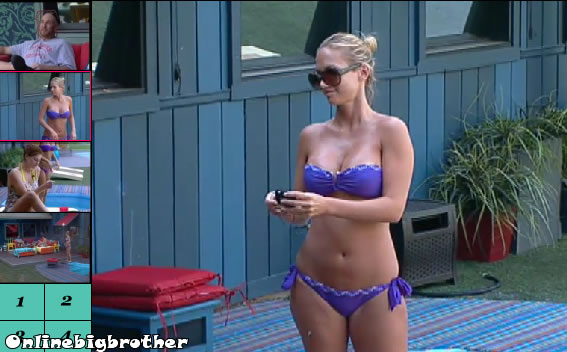 3:55pm Feeds are all about porsche right now
Big Brother 13 Spoilers POLL CAST your VOTE!