7:36pm Final three dinner party They got a bunch of food, champagne, wine and Beer. Some of the food is Calamari, edamame, cheese cake, Sauteed spinach, mashed potatoes, Steak..
Porsche: "Should we just put regular clothes on for this" Adam: "No".. They all thanks Production for the food.
They start eating Adam says congratulations everyone final 3 we all sure deserve it. Rachel asks them what they all thought their best game move was.
Adam says his best game move was week one saying NO to the vets becuase it showed them he wasn't here to be pushed around and bullied he was here to play. (He seriously said that… oh man and it gets better the more he talks. I'm pretty sure rachel is getting pretty annoyed at him but she holding it all in)
Porsche says her best game move was not picking sides and getting to know all of my castmates and getting to the final 3 with the 2 people she was close to in the game.
Rachel's says her biggest thing was having to change her entire game after BRendon left. Adam brings up that Rachel changed as a person as well.
Rachel doesn't think you can make it to the final 3 if you go balls to the walls the entire time.
Adam: "You have to know when to make your moves that was my best move… someone once told me to play my own game and I did.. It was Brendon he said CRUDDY PLAY YOUR OWN GAME.. and I did"
8:01pm Adam is saying he got really close to being on BB11 so he felt confident that he was going to get on the show. He never thought he would make it to final 3. Adam: "We'll in my dreams I made it to final 3" Rachel: "Is that the dream you met Tori Spelling"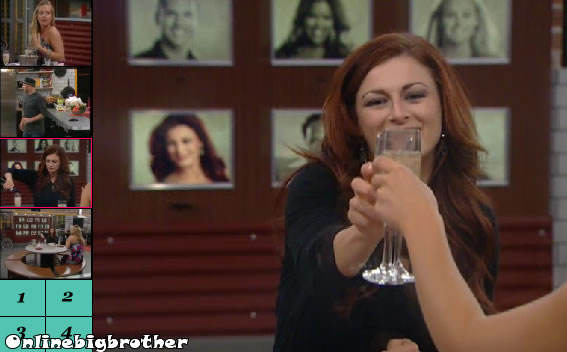 8:25pm Talking about Dick and Jeff walking around the house like gangsters. Rachel says she told Brendon to not get too involved with JEff and Dick.. Rachel and Porsche joke that the first week they were the Black out Alliance, Wine alliance..
They toast to the wine alliance.. Rachel and Porsche are tipsy from the champagne. Porsche is trying to remember what they did that entire week. rachel says they talked around tanned and thought they had Mad Solid game. Adam: "you guys had no game rachel had HOH she was safe and Porsche was getting a gold key she was safe"
They start talking about Kalia not talking to Dom then all of a sudden she was campaigning like mad for him to stay. Porsche: "PT would joke.. Who is that.."
Porsche jokes with Adam "I want you to fail tomorrow"
Adam: "Same here"
They toast
(HOH part 2 is tomorrow?)
UPdated
9:00pm Final 3 Chit chat..
Self proclaimed "mean girls" by Adam they go through the memory wall "Zinging" house guests.
Adam: Keith Too hard and too fast is that your big brother game or your sex life
Adam: Dani your a good player but not as good as your daddy.. Dani never got evicted when her father was here
Adam: first of all that wasn't her name nothing about her was real not even the zits on her ass.
Adam: Brendon really needed to win the money because he needs to get a better barber
Adam: Kalia should not be waiting by the mail box for a Pulitzer prize she should be waiting to bet sued for plagiarism… Every single line she used she took from Dani.
Rachel says how about Jordan,
Adam: I cannot burn sweet Jordan
rachel: Neither can I
Porsche: she's sweet and Innocent but she can't talk game to save her from getting out the door.
Adam: Jeff you had more voices than game..
Adam: Lawon Whats behind the door ohh is Julie Chen.. (Joking about Lawon thinking he'll get a power when he was evicted)
Rachel gets to cassi's pitcure, "I can burn this bitch oh cassi cassi cassi you and your own manipulative lies.. she tried to come between me and my blondes and no nobody comes between me and my blonde" (that was lame rachel)
Adam about cassi: have a cheese burger and call me
Rachel comes up to ED.. Porsche and Rachel can't think of anything.
Adam: I can't burn ED he's my man crush.
Adam then says something about him and ED facing off in the next allstars, "Let the best Dick win" (Ohh shit Adam is think allstars)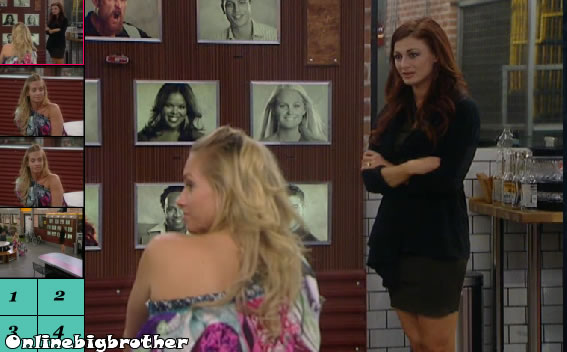 9:44pm Rachel and Prosche are talking about how good Jordan is at Big Brother and comparing her style of play to Dr. Will's style. Rachel goes on to call Dani the DEVIL and Jordan a Angel. Rachel points out that Jordan may not be good at comps but she can sure last long in the house.
10:30pm Cards yo
10:52pm They are briefly talking about Kalia's game. Adam thinks Kalia was trying to play Danis game but he still think she was a tough player. Porsche thinks Kalia was pretty shitty at the game. She mentions Kalia's first HOH where she got rid of one of her own alliance members. POrsche thinks Kalia was good at some comps but her game was really bad.
11:03pm listing off the best "show times"
Hot dog eating contest
Garbage bag Wedding
The bachelor Party
Dom and Brendon's hero battle
Adam brings up that they never had any good show time fights.
11:20pm Adam claims the best LIfe show was the one he did his cruddy elf dance in.. Porsche disagrees.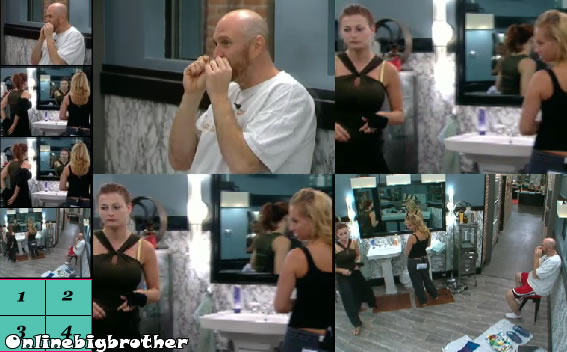 11:44pm rachel tells them that the one week she was so pissed off at KAlia for putting her up for eviction she was going to put one of her extensions in her pillow.
12:30AM everyone sleeping.. Adam had mentioned that the HOH part 2 is tomorrow.
8:34am STILL SLEEPING …
9:20am ZZZZzzzz..
WATCH the last few days of Big Brother 13 for FREE!
Click here for your: SUPERPASS – 3 DAY Trial!