Get the BB13 live feeds on your Android and iOS devices. Sign-up for the 3 Day Free Trial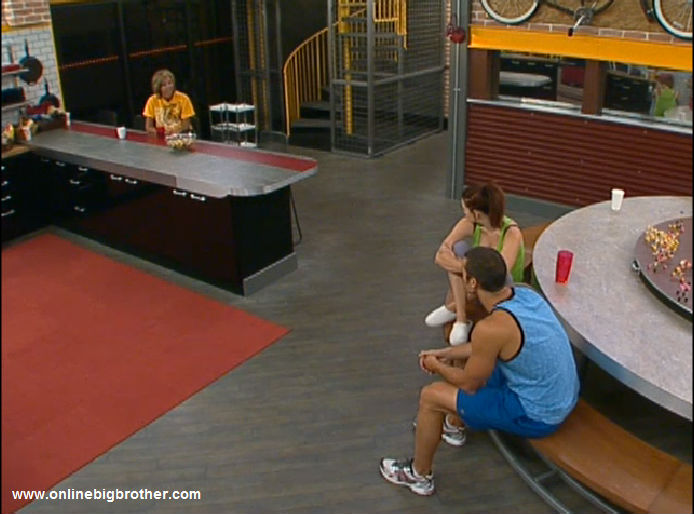 TRY the Live Feeds for FREE!
Click here for your: SUPERPASS – 3 DAY Trial!
10:40am – 11:10am Porsche, Rachel, Brendon and Shelly are in the kitchen talking and making breakfast. Shelly makes Rachel some slop pancakes. Porsche starts talking about the dream she had about Keith again, telling Shelly that she was moaning and everything. They continue telling about random stories about their lives. Rachel and Brendon talk about their dog Ben and how she is scared he'll get attacked by a bear. Rachel says if that happened she would throw a rock at it. Brendon and Shelly talk about hunting bears, and other animals. Rachel comments asking how is everyone else still sleeping. Porsche is in the bathroom picking her zits.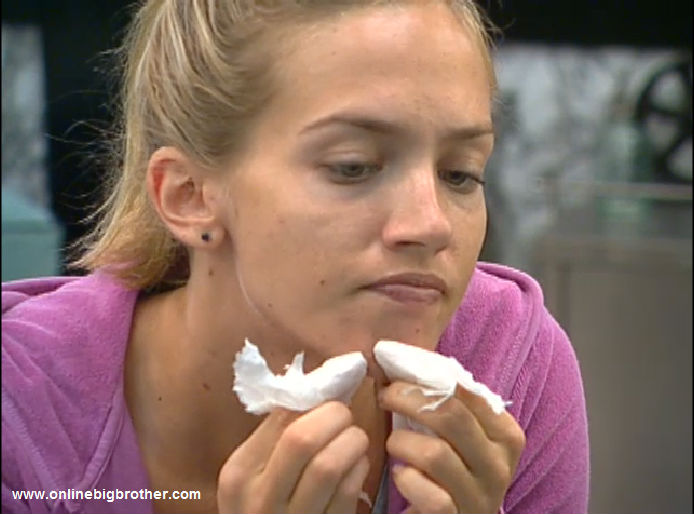 11:25am Shelly, Porsche, Brendon and Rachel talk about bad winters and driving during the bad weather. They wonder how long they will be on the indoor lock down. Porsche decided to go back to bed. Rachel, Shelly and Brendon talk about how some people come on Big Brother to be famous ..but that's not what happens. Shelly talks about how Adam already has an agent lined up and that she feels bad that he will be disappointed when he finds out you don't become famous after being on Big Brother.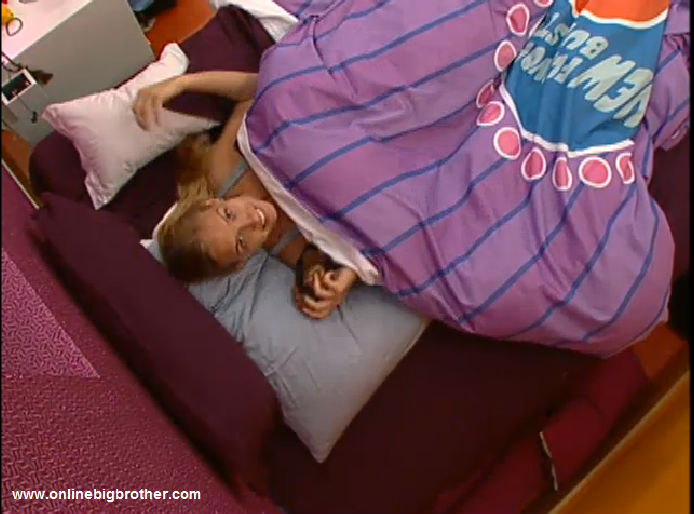 11:30am Rachel builds an element with the little plastic toys and asks Brendon what element it is? Brendon guess and then tells her then says that he doesn't want to play that game. Rachel gives him a dirty look and says EWWW! Brendon says that hes just tired and doesn't feel like playing that guessing game.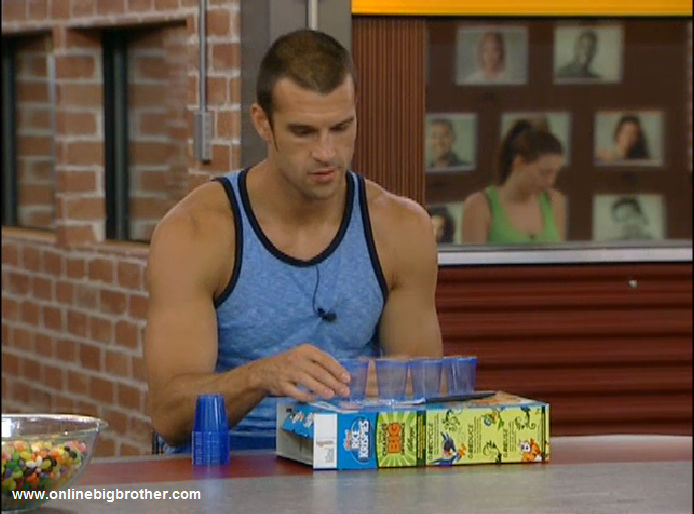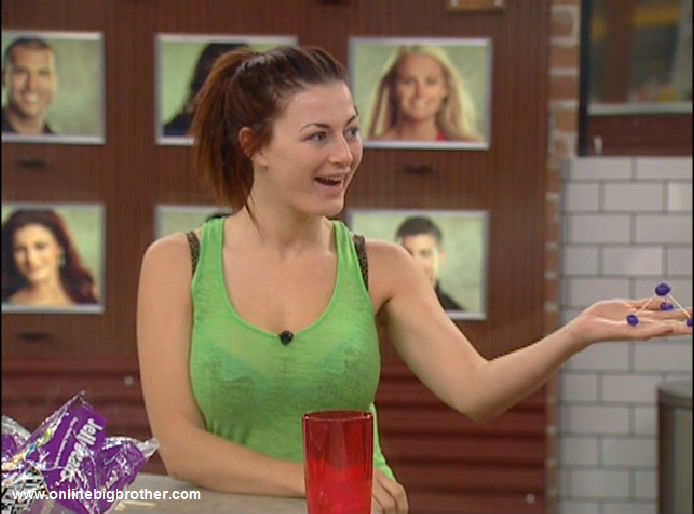 11:55am – 12:15pm Brendon and Shelly are in the kitchen talking about how Rachel doesn't trust him. Brendon says that Rachel reads all the stuff on the internet and that it gets to her. Brendon says that Rachel has all his passwords and stuff so that she doesn't have any doubt. Brendon says that he BLANK up once and now Rachel needs to get over it …we are getting married. Shelly tells him that a year isn't very long to get to know someone ..and that there's no need to rush into things. Brendon says that he and Rachel said they wouldn't let that stuff get to them any more. Brendon says that he will make sure Rachel talks to the psychologist when they get out. Rachel comes back into the room and starts talking about the manipulative girls on the internet. Brendon tells her to stop talking about it …we talked about how we wouldn't talk about that stuff any more. Rachel and Brendon start to get into each other. Rachel says she was just answering a question. Shelly leaves the room, as Brendon and Rachel continue to bicker. The live feeds go completely down for a few minutes and when they come back Jeff, Jordan and Adam are up.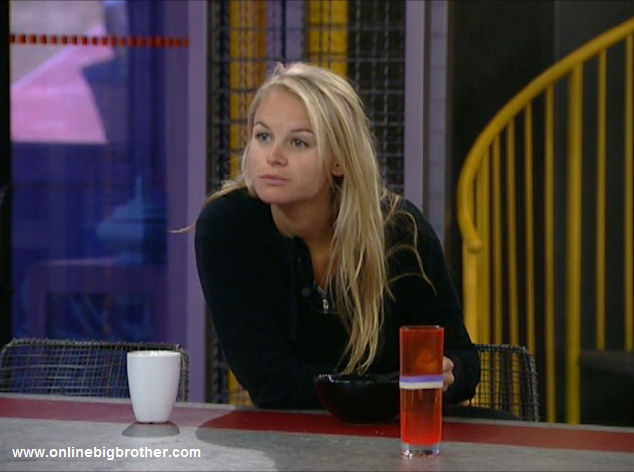 12:15pm Jeff and Jordan are in the kitchen eating breakfast. Jordan complains about her teeth hurting. Jeff tells her to never tell him about her teeth again ..because he's told her to use that toothpaste to fix it and she won't do it. Rachel comes in and Rachel and Brendon start talking about this weeks votes. Rachel thinks that Dominic is after Jeff. Jeff says that he doesn't think so because.. Cool you got Jeff out ..then what ..you're next! They talk about how once the golden key is done ..we are still in trouble. Rachel says that they need to win back to back to back.. Rachel says that she never talks to Adam. Jeff says I know ..and he already flipped once. Jeff says that Adam is smart ..he tells you what you want to hear. Jeff and Rachel talk about how the next HOH will be questions like which houseguest said what. Rachel says that they need to get Dominic on their side. They talk about how they should tell Kalia to throw the competition by picking A for all the questions till it is just down to the four of vets. Jeff says that we the endurance competition happens it will be down to him and Brendon. Jeff and Rachel head upstairs to the HOH room. They continue talking about what the competitions will be like. Jeff says that Dominic will probably stick around in the endurance too. Jeff says that he won't make a deal with him either ..that he will tell him he'll stick around all night so he might as well drop.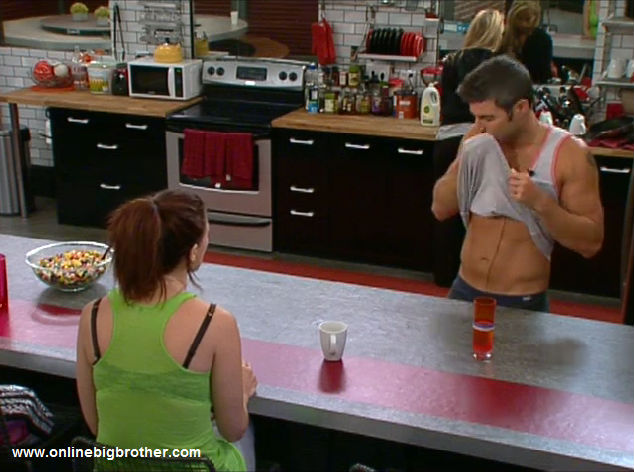 12:30pm – 12:45pm Jordan comes out of the HOH bathroom and Rachel and her talk about the competitions. They talk about how the HOH competition won't be a skill one because they would have had something to practice already …so it must be a question comp. Jordan and Rachel talk about whether or not to get Kalia to throw the comp. Rachel says that they need her to throw it so that they can get Lawon out. Jordan says that she doesn't trust Dominic.. and that if he wins he will probably put up Kalia and Lawon …then back door us. Jordan tells Rachel that if she wins HOH she should put up Kalia and Lawon ..then if they win POV use it to back door Dominic. They talk about how they don't know for sure if the deal with Dominic is still good. They continue to guess what this weeks HOH competition will be … True or False …Questions …A or B. Rachel tells them how she has already counted everything in the house. Jeff says they won't do that .. our season I counted everything and they didn't ask one question about that. Jordan says not one! They talk about how if its an A or B comp. they will get Kalia to drop out and that Jeff will to so that she doesn't think she is getting screwed over. Jeff says that way he can still play next week if it is an endurance competition. Rachel says that we just need to not lose control of the house cuz then we'll get nominated. Rachel heads downstairs.. Jeff tells Jordan that he is so not dropping out …Im not giving them this thing.. this is the last week of the keys. Jeff says that he's telling Kalia not to flop either … Jeff says what do you think Im a retard .. Im not stupid retard.
24/7 UNCENSORED Big Brother 13 Live Feeds!
Click here for your: FREE 3 Day TRIAL!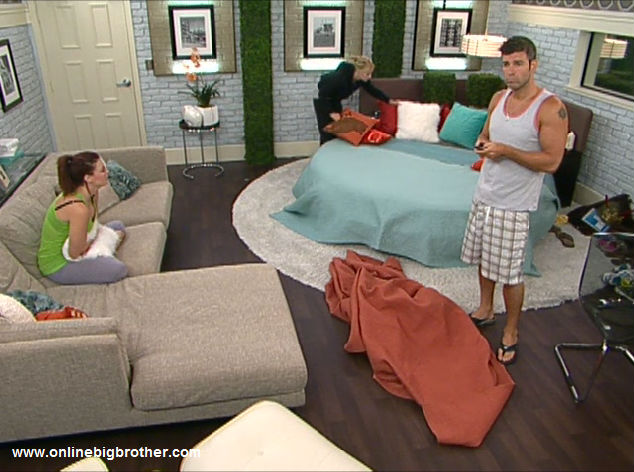 Big Brother 13 Spoilers POLL CAST your VOTE!
BB13 Live Feed Screen Captures , These are being updated every 10 minutes all 4 Cams 24/7
Follow: @BigBspoilers and @Dawgsbigbrother on Twitter for recent crazed out spoilers. Theres also our Facebook page.
If you like this site and want to help us keep it running please consider donating, Your donations go directly to paying the server and bandwidth fees. Donate Link
Share it YO!!
Tweet