Watch the Big Brother 13 live feeds on your Android and iOS devices. Sign-up for the 3 Day Free Trial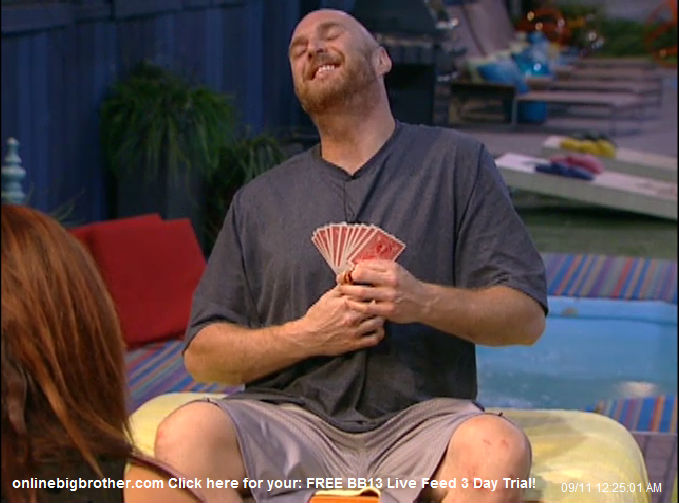 Simon and I work 24/7 all summer long to bring you all the live feed updates and spoilers, please consider donating. Any amount is greatly appreciated, your donations go directly to paying the server and bandwidth fees. Donation Link
12am – 1am Rachel, Adam and Porsche continue to play card games. The talk about past events of the house and other random things as they play cards. Adam heads inside and Rachel tells Porsche she feels so bad that she told Adam that she wouldn't take him to the finals. Porsche asks why does he still joke about it. Rachel says that she told him that she is taking Porsche. Adam comes back outside. The card game continues. They finish up their card game and Porsche and Rachel head inside. Adam talks to himself saying that he made one stupid move in the game and it cost him half a million… Adam says its now down to Rachel and Porsche …who deserves winning it more… it all comes down to who wins the final part of the HOH. Adam says BLANK!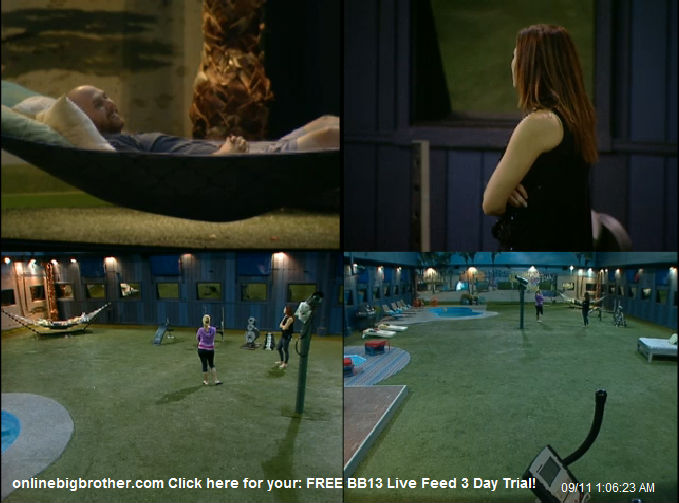 WATCH the last few days of Big Brother 13 for FREE!
Click here for your: SUPERPASS – 3 DAY Trial!
1am In the kitchen Rachel and Porsche are talking. Rachel asks Porsche if she is glad that she didn't have to work with Kalia at the end. Porsche says that she thinks everything worked out for the best. Rachel and Porsche head back into the backyard. Adam and Porsche are talk about the competition. Rachel says that no matter what happened today they should all be so proud they made it to final three. Rachel tells Adam that he beat out Brendon, Dani, Jeff, Dick.. Keith, Cassi… Porsche tells Adam that he beat her ass in the OTEV competition. Adam says that if this yard could tell stories. Rachel and Porsche say that it does and they are all recorded! Adam says on Big Brother! Adam talks about how there will be all new people coming into the house next summer. They try to figure how many days Rachel spent in the Big Brother house. They think Rachel has been in the house for 180 days out of the last 440 days. Rachel says that being on Big Brother was a very defining experience in her life, she met her fiancé here! Rachel says that she has seriously grown and changed. Adam says that even if I don't win first or second place or America's Choice, I have had the best summer. They all recount their time in the big brother house. Rachel asks them what they are going to do next summer. Porsche says that she will probably be back for all stars. Rachel says she will be married and then says maybe she will be trying to convince Brendon to have some Bookie Jr's. They start talking about the fortune tellers predictions for the houseguests. Rachel says that Shelly's book will never sell. Adam says that next year's houseguests will be comparing themselves to the houseguests from this season. Adam laughs and says that him and Enzo are the stupid clowns from Jersey, Enzo is the Meow, Meow and he is the Growl, Growl. Porsche says that she can't wait to watch their season when she gets out.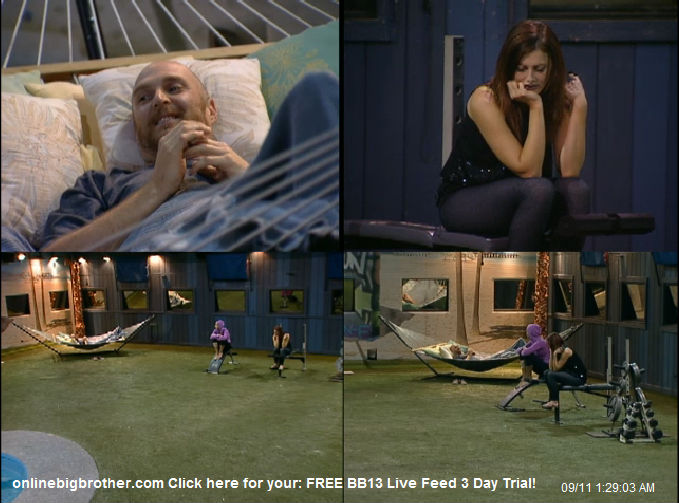 1:25am Rachel tells them that she wants to go out and have fun with everybody after the finale. Rachel says after she wants to go back to the hotel with Brendon and lock the door! Adam says that he will be doing the same thing with Fara. Porsche says this is all so weird that it's all coming to the end. Adam says that it is like the end of summer camp. They talk about how they all want to exchanging numbers after the finale is over to keep in touch. Adam says that while we were all drinking the hater-aide, Kalia said that she is the same inside the house as she is outside of the house. Adam says that Kalia is such a liar… Adam says the first thing out of Kalia's mouth was a lie. (She lied about her age.) Porsche says that Kalia looked good for 30. Rachel tells Adam and Porshce that on all the Big Brother fan sites the three of their faces aren't x'd out and on the opening credits for the show their faces are still in colour. Rachel says that she wonders if people think she has changed a lot since last season. Adam says that she has changed for the good. Adam says that after Brendon left for the second time she became a totally different person, the first time he left she acted like it was the end of the world but the second time she had her head on straight. Rachel says that at the beginning of this season she had to stop herself from comparing this season to last season and thinking it would be the same thing because she said last season was really hard on herself but that this season she had fun. They start talking about past houseguests. They hope to see and hang out with Howie, Chelsia and Janelle at the finale night. Rachel and Porsche head inside to get ready for bed. Adam is alone in the backyard and keeps saying that he BLANK lost, I BLANK lost half a million dollars. Adam says that if he had made it to the final two he would have won. Adam heads inside.
WATCH all DRAMA unfold LIVE on SuperPass! FREE 3 Day TRIAL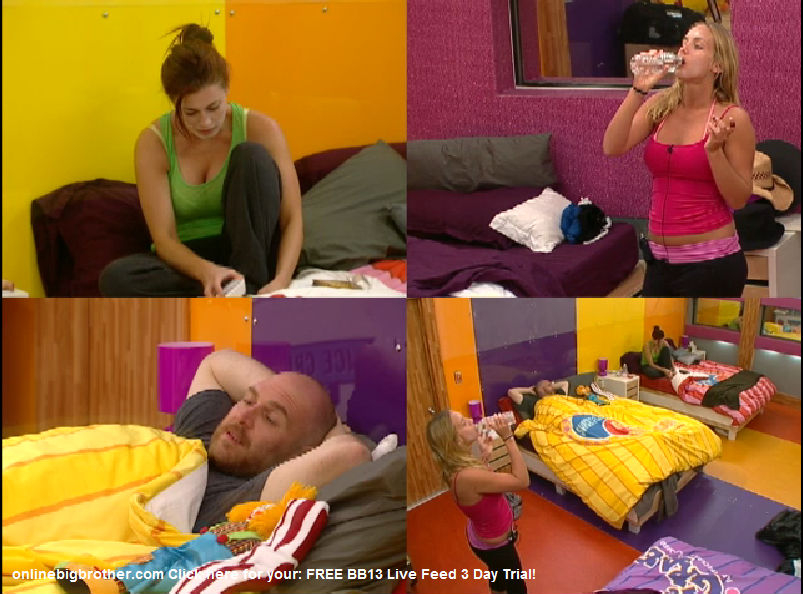 1:50am – 2:20am Adam, Rachel and Porsche are in the bathroom talking about what the finale night will be like. They all head into the candy room. Porsche says she is going to miss them. Rachel tells Porsche she will be living around the corner from her so she won't miss her. Porsche talks about how it will be weird to live alone after getting out of the Big Brother house. They talk about who they will know at the finale night. Adam tells Porsche congrats for winning today. Porsche says the competition today will look really cool on TV. Adam says yeah watching him gasp for air and blowing snot out of his nose. Adam says yeah kids smoking kills! Porsche says that Big Brother kept asking her if she needed a medic during the competition. Adam says him too. They talk about all the cuts and the bleeding they suffered during the competition today. They get in trouble from production. Porsche asks them won't it be weird when your house doesn't talk to you. They stop talking and go to sleep…
SuperPass: Flashback and rewatch BB13 and BB12
Click here for your FREE 3 Day TRIAL: Big Brother Live Feeds
2:40am – 3:10am Adam gets up and heads back out into the backyard to smoke… Adam starts talking to himself about how he made it so close and has nothing to be ashamed of.. Adam sits in silence and smokes with his head in his hand. Adam says I BLANK blew it dude! Adam goes over to the pool table and takes off the cover and plays pool with himself.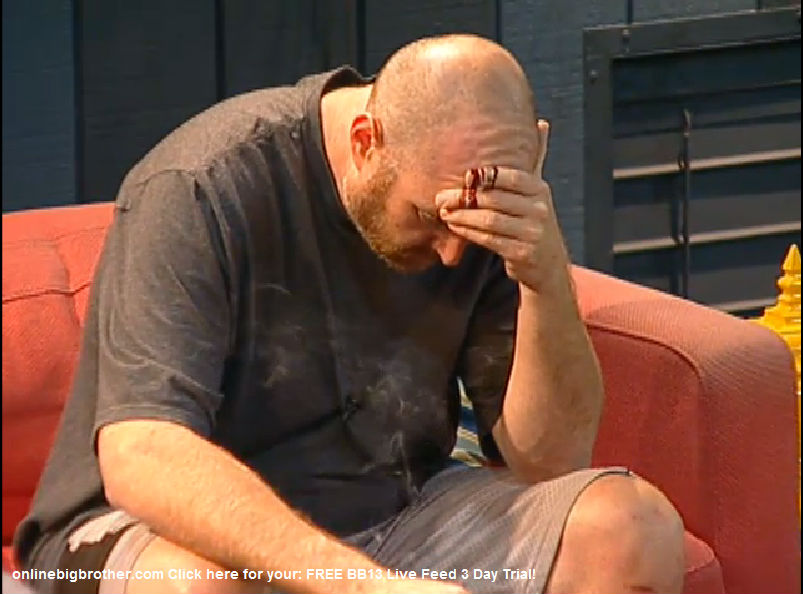 3:20am – 3:35am Adam continues to play with himself in silence.. Adam gets tired of playing with himself and covers up the pool table. Adam goes over and sits on the couch.. after awhile he gets up and says so close …so dame close.. Adam then heads inside, goes to the bathroom and then gets back into bed.
9am All of the houseguests are still sleeping ..
10am No wakeup call yet.. They are all still fast asleep..
10:40am Still sleeping..

Big Brother 13 Live Feed Image Gallery
Follow: @BigBspoilers and @Dawgsbigbrother on Twitter for recent crazed out spoilers. Theres also our Facebook page.
Big Brother 13 Spoilers POLL CAST your VOTE!