7:58pm Havenots room Dani and Porsche Dani saying that there's no way Jeff is putting Rachel up. she is convinced that one of them will go home this week. Dani explains to Porsche that Jeff is seeing this as us against them they want to take JJSAR to the final 5 there is no way he's going to pass up on that. Porsche thinks her and Dani will have a easier time campaigning for votes from Jeff and Adam than Kalia will. She brings up how pathetic Adam is getting with him kissing Jeff's ass. Dani: "I would never vote for him.. I love the man but he's done nothing in this game".
Porsche says if it's Kalia and her on the block she's going to go upstairs and sell her soul to JJ then go back on it next week. She has some good reasons for them to keep her. Dani says that Kalia has some good reasons to.
Porsche talks about the POV if She's in the lead and Dani is second she's going to throw the VETO to Dani. dani wants to know why. Porsche wants Dani to have it so when shes takes her off the block they are both safe. Porsche is worried if she wins veto then Dani goes up and goes home. Dani tells her to play for herself she would never want Porsche to do something like that.
Porsche tells Dani that Jeff must be their main target not Rachel. Porsche is tired of Rachel and she's the biggest pain to have in the house but Jeff is the head of that side and getting rid of him is the best path.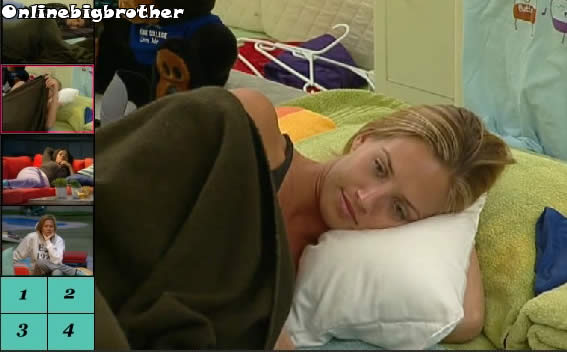 8:00pm Backyard Shelly and Kalia Kalia brings up the scenario that Dani wins the POV and takes Kalia off the block. She wonders who Jeff will pick as the replacement. Shelly isn't sure. Kalia points out that Adam has gotten very close to JJ, she wonders what would happen if She went up. Shelly really doesn't know what Jeff will do, she hopes he puts Rachel up.
Shelly saying that she saw Rachel had carved BV in the HOH bathroom door and BV in the main washroom.
Get the BB13 live feeds on your Android and iOS devices. Sign-up for the 3 Day Free Trial
8:52pm Kalia, Rachel, Shelly, Jordan
Rachel tells them about brendon being her soul mate and she never thought in a million years she would find someone that meshes with her so well. Shelly: "God Works in mysterious ways" (Kalia essentially reintegrating herself in social conversations she's turning up the charm and talking a mile a minute)
If you like this site and want to help us keep it running please consider donating, Your donations go directly to paying the server and bandwidth fees. Donate Link
9:01pm Kalia, rachel, Adam and Jeff mostly chi chat.. Rachel asks Adam a numbers questions.. "can you add the day of the first havenots comp to the day of the last veto".. Jeff starts working on the numbers says 46.. Adam right away correct him says 47. Rachel then asks what will happen 2 days after that. Adam: "umm Jeff put Kalia, Dani and POrsche on havenots and we picked players for the veto" (rachel is essentially trying to show Adam's freaky knowledge of dates to the other houseguests she's been doing it a lot lately) .. Adam mentions the carvings Brendon did in the washroom. at first Adam thought it said "3V" but it's really "BV"
9:16pm This is the most affection I have seen from Jeff to Jordan in Awhile. A one armed hug while he watches Adam and rachel play pool.
9:30pm Jordan and Jeff briefly talk alone in the backyard. He says the one person he wanted to win the POV the most was rachel. Jeff is confident that at the end of this week it'll be win win for them. Even if Dani win's the POV and uses it they still get rid of a floater. Jordan brings up if Dani uses the POV then they'll know she's not down with working with them. Jeff agrees says that is one reason why he wanted Rachel to play in the POV because it wold of told them what side she really is on.
10:10pm Dani and KAlia Kitchen Dani trying to make a slop cake.
10:11pm In the backyard Shelly is talking to Jordan near the hot tub saying someone from production told her that they have never cried before watching Big Brother but they cried watching the part we're shelly talked to her kids.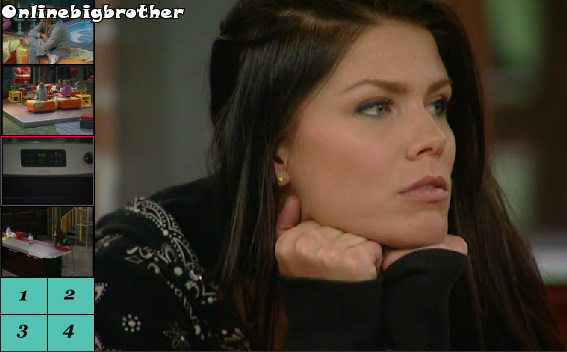 10:48pm Dani waiting for the slop food to cook
10:49pm JJSARP they're talking about Jessie from BB10/11, Shelly really doesn't like him. Jeff says that when Jesse was in the house his arms started getting smaller and smaller then after when Jeff met him in the Jury Jessie's arms were "Jacked".. "I was like holy shit dude".
11:10pm Jordan and POrsche backyard Porsche defending why she started to hang out with DDKL. She says they would hang out at night an talk there was no game just a group of people having fun. She felt like BR were stressing out all the time about the game and getting nasty. After people saw her talking with BDDKL they ousted her from their group after which she had so change her game up.
11:30pm Dani and rachel Rachel keeps bugging Dani about her not being happy. Dani tells her she's not upset she's just tired and on slop. Dani: "I know you think I hate you but I don't Rachel" Rachel keeps on her trying to get a response from Dani, asking why she's acting upset she should be happy her birthday is tomorrow. Rachel: "Do you hate me do you hate me there's no reason for you to hate me.. there no reason for you to act like this.. Oh you're mad at me for eating all your chocolate" . . Dani just walks away goes outside to sit with Jrodan and Adam. As Rachel follows she says "Ok BEST FRIEND.. " (Rachel gives her famous bitch look)
They head outside. Dani only stays for a bit of time then goes back indoors to check on her baking. Jordan asks Rachel what she's been saying to dani because she looks pissed. Rachel starts to explain some of the things that went on inside with Dani. Jordan tells her to stop doing that they don't need those 2 fighting. Rachel says she wasn't doing anything Dani and her are "best Friends" Jordan again solds rachel tells her to stop being pesky.
11:42pm Back in the kitchen Porsche and Dani Dani is giving Porsche a recap of what happened with Rachel as dani works on her slop cake. Dani is pretty pissed at Rachel wishes Rachel could just act like a normal human for once.
11:59pm Kalia makes dani a sash and crown for her 25th Birthday
Share it YO!!
Tweet