Watch the Big Brother 13 live feeds on your Android and iOS devices. Sign-up for the 3 Day Free Trial
12:20am In the backyard, Porsche, Rachel, Shelly, Kalia and Jeff are talking about the HOH competition. Everyone is really surprised that Rachel has no idea that the competition was on an incline. They continue to talk about the HOH competition and about past competitions. The talk turns to random conversations. Adam tells Porsche that if the POV is a napping contest, she and Kalia would be neck and neck. Jordan gets called to the diary room to get to take off the humilitard. Everyone is happy that she gets to take it off. Jeff and Shelly talk about businesses. Shelly starts talking about books on business that he should read. Jeff tells Shelly that he started a business and incorporated it because he knew he could get a lot more tax breaks. Shelly tells Jeff about some tax breaks a business can get. Shelly talks about how she created some kids clothing.
24/7 UNCENSORED Big Brother 13 Live Feeds!
Click here for your: FREE 3 Day TRIAL!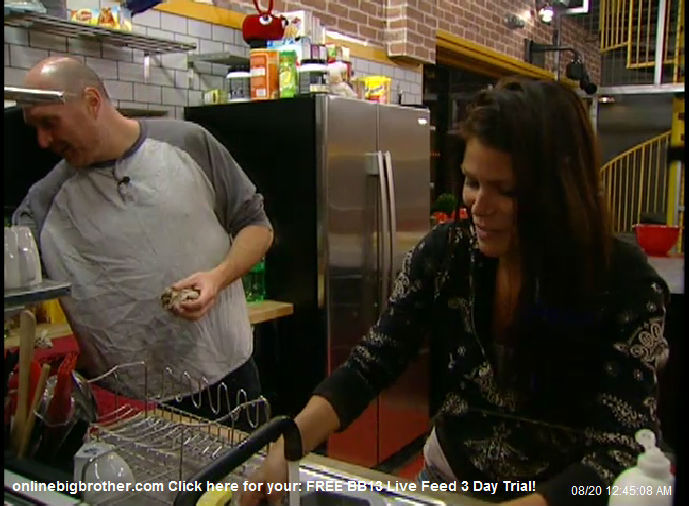 In the kitchen are Adam and Dani, Adam is asking Dani how her birthday cake turned out? Dani says that it didn't turn out too well. Adam tries it and agrees that it's not good. Dani and Adam start cleaning dishes. Adam tells Dani that Rachel is unhappy that she doesn't get to play in the POV. Dani tells Adam that Rachel was telling her that Big Brother loves her and that's why they gave them a bunch of alcohol tonight so that she could get drunk. Dani starts talking about the conversation that she had with Rachel for Adam. Dani then heads out into the backyard. The houseguests ask Dani why she isn't wearing her birthday crown and sash. Dani says that she wants to wait till Sunday to celebrate her birthday and that tonight they can focus on Jordan and how she gets to take off the humilitard. The talk turns to talking to Adam about 90210. Jordan gets out of the diary room and comes out into the backyard still wearing the humilitard. Jordan says that she needs Adam to do their dance again before she takes it off. Jordan and Adam get up in the backyard and do their dance. Jordan takes off the unitard and goes to the diary room. Jordan then comes back and says that she forgot to ask them what the favourite part of her wearing it that they liked. The houseguests tell her some of their favourite things about her wearing the unitard. Adam says that he liked the kick me sign and wish he had take advantage of it. Jordan then tells them that she is going to bed. Jeff says that he will be up soon.
WATCH all DRAMA unfold LIVE on SuperPass! FREE 3 Day TRIAL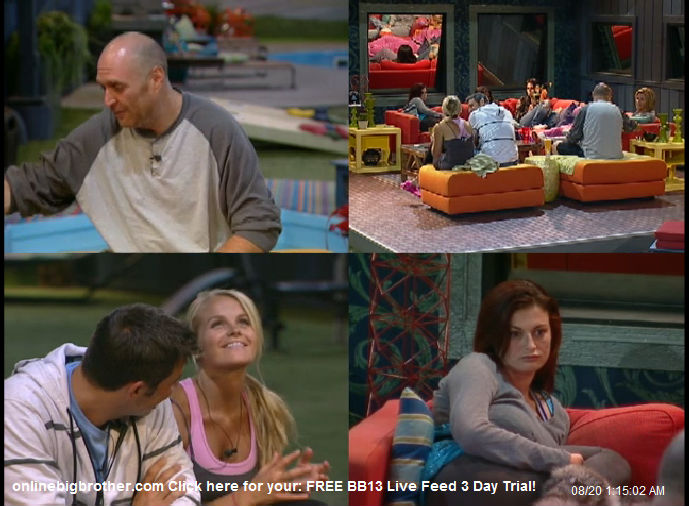 1:15am Jeff tells the other houseguests that he is going to quit smoking. Jeff says that his smoking is out of control in the house. Kalia asks Jeff if it is the stress. Jeff says that it's the stress and the routine. Jeff says that every time he comes over to the couches he wants to smoke. Shelly says that she doesn't smoke this much in real life either. Rachel, Dani, Porsche and Kalia all decide to go to bed as well and head inside. Jeff, Shelly and Adam are still in the backyard talking about Rachel. They talk about how out of control Rachel is acting. Shelly says that Rachel was being mean. Adam says Jordan pulled Rachel aside and told her that she is being mean. Shelly says that it was obvious that Rachel was trying to push Dani's buttons to start a fight. Shelly says that Rachel is a mean woman. Jeff says that he is okay with everyone being upset with Rachel because it keeps the target off of his back. Adam says that Jeff nominated two people today and no one hates him. Jeff says that he told Kalia that he was putting her up. Jeff says that he then told Porsche that it is now her chance to prove she is playing the game. Adam says that he is going to wait a few minutes before heading into bed because he wants to give Rachel a chance to fall asleep. Jeff says that he thinks Rachel will get up tomorrow and apologize for her behaviour tonight. Adam says that Rachel is in a bitter mood because she isn't playing in the POV. Jeff and Adam talk about what they think the POV competition will be like. Adam says that he thinks it will be something that doesn't take long to set up because they still aren't on lockdown. Jeff says that it won't be physical competition after the HOH competition because everyone is still hurting after that one. Jeff says that he thinks it's going to be something brainy. Jeff then heads up to the HOH room. Jeff has a shower and then he and Jordan talk about how Rachel behaved tonight. Jordan tells Jeff about how Rachel was annoying Dani. Jeff says that Shelly was telling him that Rachel was eating all of Dani's HOH food out of the fridge! Jordan laughs and says that Rachel was drunk tonight. Jordan says that Rachel is crazy! Jordan says oh my god that girl and her mouth… Jordan says that she wishes Rachel was playing in the Veto because she's like a caged lion. Jeff says that he wishes she was playing in the veto too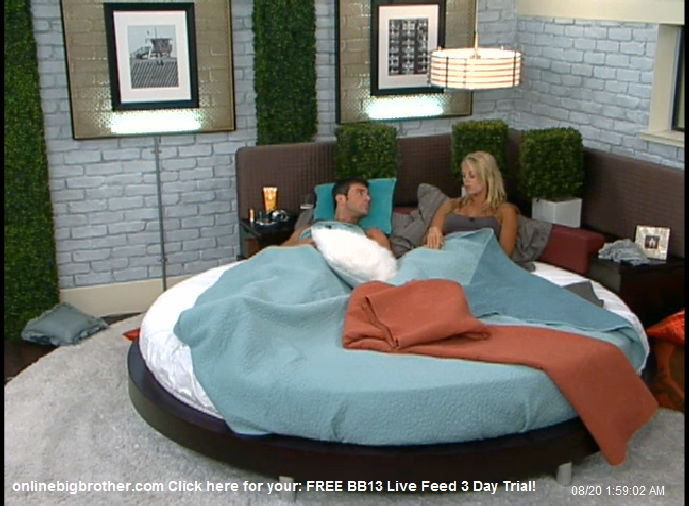 2am Up in the HOH room, Jordan is talking to Jeff and telling him that she forget to tell him about her conversation with Porsche about her being on the block. Jordan says that Porsche said she thought they were all together and they shook on it. Jordan says that she told her that after all that stuff happened a few weeks ago and everyone went their own ways they all didn't really talk after that. Jordan says that Porsche brought up Dick and being with the vets. Jordan says that she thinks Porsche was shocked that she went up. Jeff agrees. Jordan says that she told Porsche that Jeff didn't nominate her because he didn't like her it was because they hadn't talked and it seemed to them that she was on the other side. Jordan says that Porsche told her that she hangs out with the other side because she doesn't always want to talk game and she was trying to get to know people. The conversation changes to talking about Dani. Jordan says that he doesn't have to get rid of Dani this week. Jeff says that he wants to get Dani out this week. Jeff doesn't see any reason to keep Dani around. Jeff and Jordan agree that if they can't get Dani out then they will evict Kalia. They talk about not talking as much with Shelly. Jeff says that its bullshit that Adam and Shelly aren't going to try for the veto. Jeff says that they are a waste of space because they don't have the stones to use the veto because they know Dani would go up. Jeff says that he wishes Kalia had pulled Rachels name just to see her get pissed. Jeff says he worries that this season will be the same as their season where he made a big move and then was sent home because he didn't have teammates that could step up and win. Jordan says that she thinks if Dani stays and wins HOH then she would put up Rachel and Jeff on the block and not her and Jeff. Jeff tells Jordan that he isn't mad at her, but that he wishes she would win something. Jordan tells Jeff that she will try and win the POV tomorrow.
FLASHBACK – Don't miss all the drama!
Superpass – 3 Day FREE Trial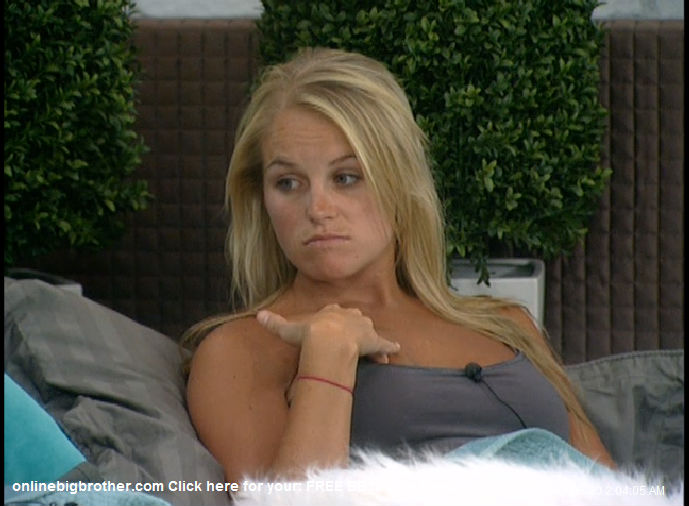 2:30am – 3:25am Jeff and Jordan continue to talk in the HOH room. They talk about whether or not there will be a pandora's box. Jordan says that she hopes they get it and says that it will be fun. Jordan mentions that they are the last of the couples. Jeff says that he wishes they could get a prize for that accomplishment. Jeff says that he always wants a prize.. They talk about what they think the competition will be like. Jordan says that Rachel thought it would be one where Big Brother wakes them up at 4am to spell words. Jeff and Jordan start talking about the days of the events in the house. Jeff says that if Kalia was HOH …she would put him and Rachel up on the block. Jordan says that in a perfect world she would want to evict Dani, Kalia and then Adam. Jeff is surprised that Jordan would keep Porsche over Adam. Jordan says that she thinks Adam could potentially win a lot near the end of the game. Jeff says that Dani will do anything to win the POV tomorrow. Jordan says that she doesn't have the votes to stay. Jeff says that if they do get Dani then they have to tell Rachel to keep her mouth shut. They agree that Rachel will be so mean to Dani. Jeff and Jordan laugh about Brendon seeing Dani walk into the jury house. They talk about if Dick were still in the house. Jeff spots Dani on the spy screen pealing a hardboiled egg … and says that she's up to something. Jeff talks about putting Dani, Kalia and Porsche on slop. Jeff says that he wanted to zing them but couldn't just in case they stayed in the house. Jeff says that they just have to get through the double eviction and the next two weeks. Jeff is worried because he can't play for HOH next week. Jordan says that she thinks after the POV Jeff needs to talk to Porsche. Jordan tells Jeff to bring her up here and tell her that she isn't your target and try to make her comfortable. Jeff says that if he gets Dani out and they can't win HOH next week ..he is going to be upset. Jordan says that if her and Jeff got put on the block ..she would want him to stay because she already won. They talk about what its like being in the big brother house. Jeff and Jordan decide to go to sleep…
6:20am All the houseguests are still sleeping..
Sign-up NOW and watch the houseguests live!
Click here for your: SUPERPASS – 3 DAY Trial!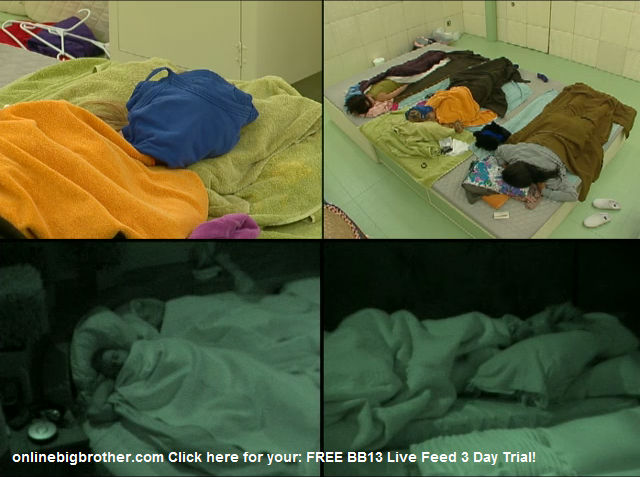 If you like this site and want to help us keep it running please consider donating, Your donations go directly to paying the server and bandwidth fees. Donate Link
Big Brother 13 Spoilers POLL CAST your VOTE!

Big Brother 13 Live Feed Image Gallery
Follow: @BigBspoilers and @Dawgsbigbrother on Twitter for recent crazed out spoilers. Theres also our Facebook page.
Share it YO!!
Tweet