11:00pm Backyard Couch Shelly and Cassi Shelly is complaining that the newbs are really getting on her nerves they all won't stop running their mouths and are gettign so paranoid it insane. (about 25 minutes ago Keith cornered Shelly in the have nots and went wacky paranoid on her i didn't post it because he's been doing it all day) Shelly points out to Cassi that she's starting to think that the people she'll target are the paranoid people. Shelly: "You don't see Jeff and Jordan running their mouths all the time" Shelly asks Cassi what rachel is doing in the hot tub with Dani and Dom (She's being pretty loud) Cassi rolls her eyes says she's "telling a story".
11:13pm Keith joins them
Shelly I cannot believe Kala hasn't shut up and stopped singing they have talked to her 14 times now and they are getting serious.. Shelly: "But negative reinforcement works on me… i'm amazed that some of these people even yell back to production…Oh my god I would die" Shelly I think i'm so scared of production because i'm still in shock that i'm still here.. "I've never been a rule break". Shelly is worried about when the house starts getting ugly and people will forget it only a game. Cassi will be so choked if it's Porsche that take her out Shelly tells her that it's jealousy, she came into this house thinking she's going to be the hottest thing and she in here with you and jordan cmon she's jealous. Shelly also reminds cassi that POR is younger than most people in the house and she's really acting that way. Shelly: "I can't tell you the number of times she's told me how good looking she is and how hot all the guys thinks she's. but have yo noticed non of the guys want anything to do with her.." cassi is shocked she says that, "How says that.. seriously"
Jeff and lawon join them.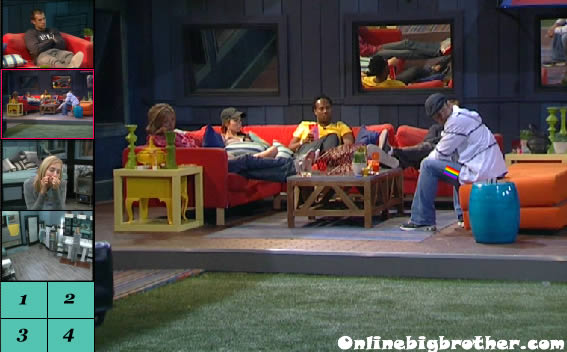 11:29pm backyard couch Brendon joins the above bunch of houseguests. Cassi: "Does anyone know about steam boat"
Nobody know what it is. Cassi explains it's a Music festival in steamboat colorado. Brendon: "I have no idea what that is" (Hayden belched out Steam boat the entire season)
11:56pm Bathroom Kalia and Por Por is seeking reassurance that Shelly is going to vote for her. She 's seems to be worried about Shelly. Kalia says that you can't trust anyone in this game. Por expalins that she's heard that the guys had these deals to not vote them out and some how Shelly made a deal with KEith. She says if she stays she will help Kalia. Kalia says that if the votes are off by 1 or 2 they will be gunning for me. Por says she will vote to Keep kalia over her partner. Kalia points out that If Por stays she'll be safe for a couple weeks and her ass could be out of the house. Kalia doesn't know if she can trust Por. Kalia says that if the vote is Por tells her she doesn't know what to do to get Kalia's trust "Do yo like want me to swear on god".
Kalia: "Did you know anyone outside of here Did you know Dick Before you came into the house" Por says that dick put me under his wing and help her out but other than that No she didn't know anyone. Por ads that she doesn't have a deal with Brendon and Rachel. Kalia asks her again if she knew someone outside this house. Por says she didn't know anyone directly. She says that when Dick left she had nothing in the house and had to start her game from scratch. Porsche says we had an association with someone on the outside but not directly. POr tell her that is her being 100% honest.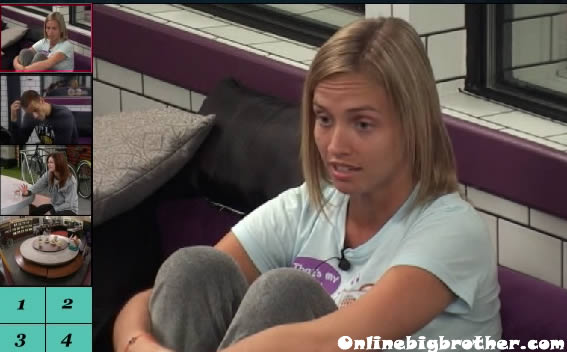 12:00AM Fortune room Por and Brendon Porsche is freaking out that Kalia just asked her if she knew someone out side the house. Porsche tells Brendon that the only people that knew that her and Dick had an association with someone on the outside the house were the repeats. Brendon tells her there is no way anyone in their group would oh told Kalia that. Porsche says that the way Kalai asked her was so direct it was almost as if Kalia knew already. Brendon does think so he thinks Kalia was just guessing and Por fell for it. Por doesn't think so. Brendon now says that Kalia probably over heard Por say that. Por is completely freaking out Brendon tells her to calm down and just keep campaigning. Brnedon says he's going to go talk to Kalia and tells her to not press
12:15AM Kalia, Cassi and Lawon Kalia telling them that Por is a "Crack pot" Lawon" She is crazy right now… She Crazy" Kalia: I think she's just so nervous that she keeps cornering me and asking me questions.. at this points it like… it's like tomorrow just pack your bags and hope and pray " Cassi says that Shelly was complaining about the same thing. Kalia says the two of them need to go home they have the worst game ever. Kalia says that Por thinks that Keith is walking around like he has the votes and that the guys have some crazy deal, "Do you realize he's just feeding you that stuff… Por has gone crazy"
Share it YO!!
Tweet